Story highlights
Two boys who were treated for cancer treasured their time with therapy dog Swoosh
A new study looked at the impact of therapy dogs on children and their parents
Squeals of delight echo around the room at Vanderbilt's Children's Hospital in Nashville, Tennessee. Nine-year-old cancer survivor Bryce Greenwell turns to his mother, Jenny. "Did you know about this?" he asks, hands cupped to his face in surprise.
"Yes," she says with a nod, smiling from ear to ear.
"Oh, my gosh, he has missed you guys so much!" pet therapist Michelle Thompson says as she hands Swoosh, her trained toy Pomeranian, over to two eager boys. "Did you miss him? He talks to me about you boys all the time."
"I haven't seen him in a long time," says 7-year-old Mitchell Montalbano, who recently graduated from chemotherapy treatment, cancer-free. "Swoosh, what have you been up to?"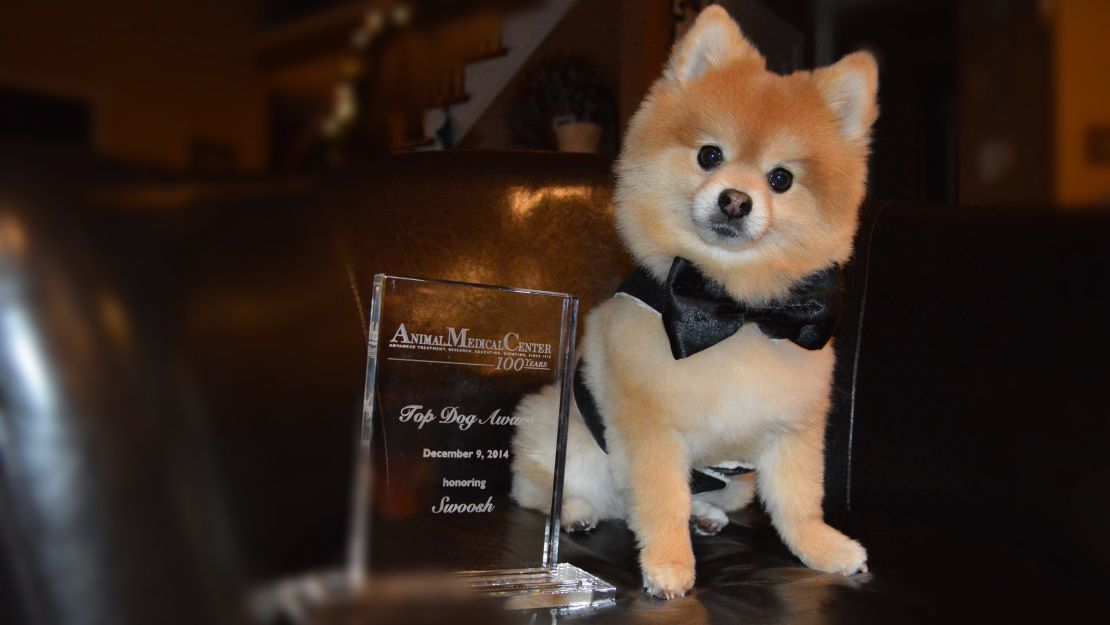 Studying stress
Bryce and Mitchell met Swoosh and Thompson in 2014, when both boys were undergoing treatment for acute lymphoblastic leukemia, one of the most common childhood cancers, more commonly known as ALL.
Leukemias are the most common cancer in children, according to the National Cancer Institute, which estimates 15,270 children and teens through age 19 will be diagnosed with some type of cancer this year. Many of those patients suffer through invasive and painful procedures during their years of treatments, including vein punctures, spinal taps, surgery and chemotherapy.
Thompson and Swoosh were part of a new study assessing the benefits of pet therapy as part of cancer treatment, targeting such areas as reductions in pain, stress and anxiety. Science has shown that animals can reduce loneliness, help us relax, lower blood pressure and help children with autism, but many pediatric hospitals have been reluctant to allow therapy dogs into oncology centers, citing infection and other potential dangers.
"Dogs in general are man's best friend, and there is a lot of feel-good evidence that they can help with cancer treatment," said Robin Ganzert, president and CEO of American Humane, one of the nation's oldest animal safety organizations. The study was sponsored by American Humane, with funding provided by the nonprofit Human-Animal Bond Research Institute and Zoetis, a global animal health company.
"But there's not been a randomized clinical trial," Ganzert said. "So we created the first and the largest clinical trial that's ever been done to show the benefits of animal assisted interaction on kids with cancer." The results of the study were published Friday in the Journal of Pediatric Oncology Nursing.
The four-month study enrolled 106 children newly diagnosed with cancer, pairing 60 of them with 26 therapy dog teams at five major pediatric centers in Portland, Oregon; Sacramento, California; Tampa, Florida; Boston and Nashville.
Before each 15-minute visit with a therapy dog, the children had their blood pressure and pulse taken. They then answered a battery of stress questionnaires, which were also administered to the child's parents. Those tests were repeated after the dog's visit.
A control group of 46 children received standard pediatric cancer care without an assigned therapy djog visit.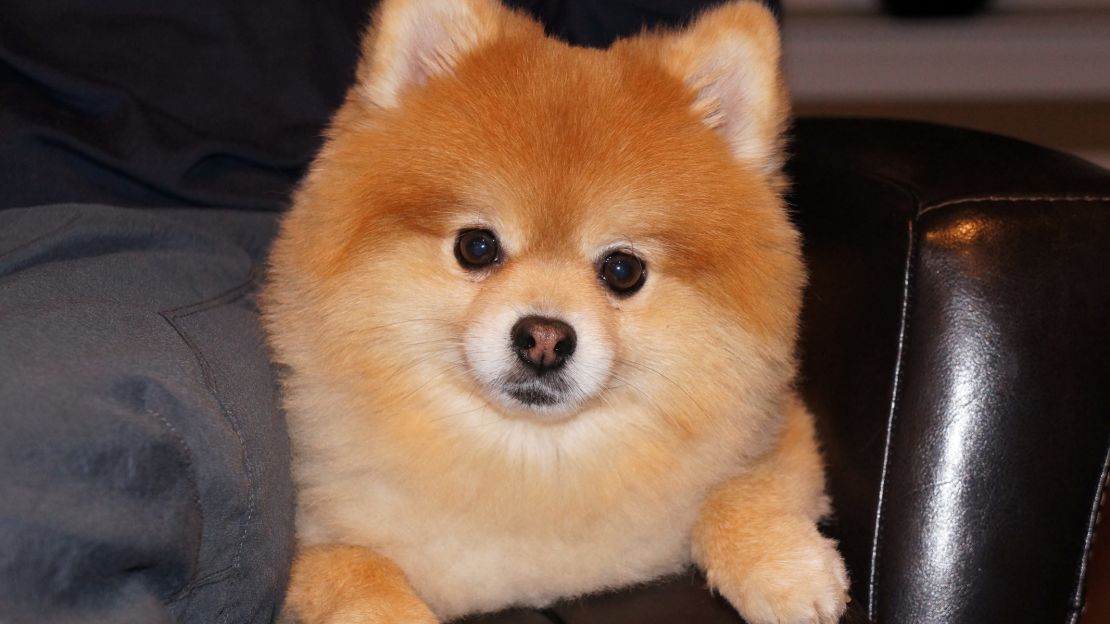 Vanderbilt University Professor of Nursing Mary Jo Gilmer, who led the study in Nashville, said the study is "unusual in that it's with a very young population of cancer patients, it's longitudinal – we have the kids in the study for four months – and it's across the country. We studied the stress levels of the parents and dogs, as well."
In a twist, each therapy dog also had its saliva tested for the stress hormone cortisol, and the dog's handlers answered a questionnaire on the animal's behavior. Each session with the dog was also videotaped and reviewed for signs of stress.
'A little light'
"I think Swoosh remembers me!" Bryce says with a pleased smile while his hand is being covered in sloppy Swoosh kisses.
"Of course, Swoosh remembers you!" Michelle agrees.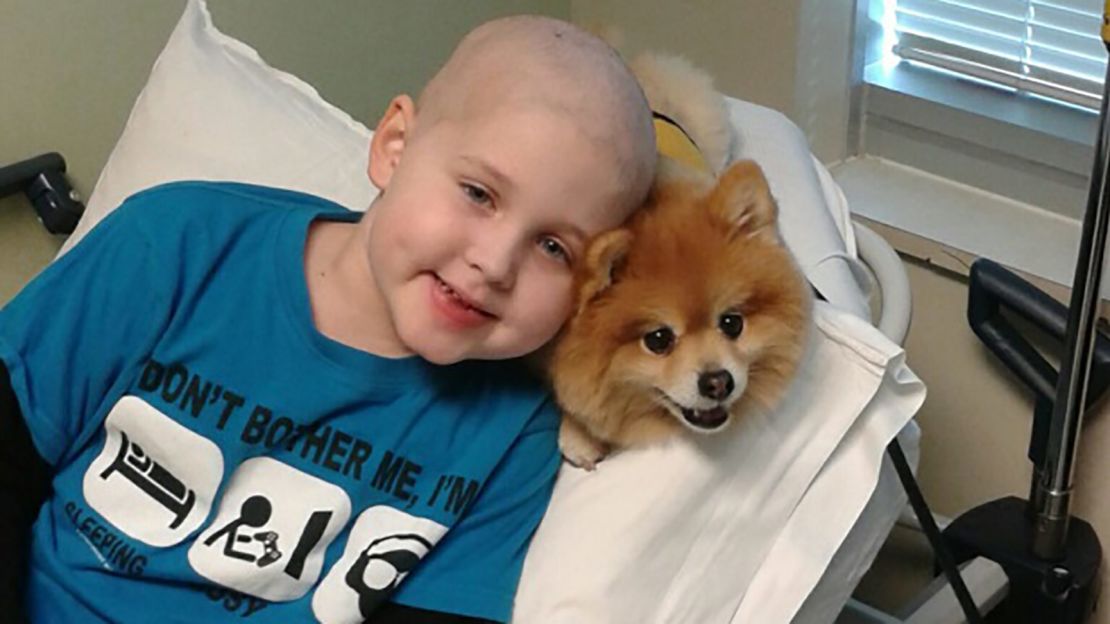 At 5, Bryce was the first child enrolled in the clinical trial at the Monroe Carell Jr. Children's Hospital at Vanderbilt. For mother Jenny and father Dustin, the request came as a welcome diversion for an overwhelmed family.
"It gave us something to talk about, to take his focus off what was really happening," Dustin Greenwell said. "It wasn't all about the needles and pokes and prods. For Bryce, Swoosh was something to look forward to. … He could hang out with Swoosh for a little bit."
"Bryce would have to take an anti-anxiety medication prior to many clinic appointments to ease his anxiety," Jenny added. "But when he saw Swoosh, his anxiety level went down without the use of medicine. It was a little light into the nightmare that we were living."
Children diagnosed with acute lymphoblastic leukemia, like Bryce and Mitchell, are immediately put into induction therapy, a 29-day regimen of chemotherapy. At the end of that period, most go into remission but are kept on maintenance chemotherapy for two to three years to lessen the chances of relapse.
Bryce's cancer didn't respond to standard treatment. When several additional rounds of high-dose chemotherapy also didn't help, he was admitted to a clinical trial of T-cell therapy, which put him into remission by the summer of 2014.
But because T-cell therapy was so new, Bryce's doctors also recommended a full bone marrow transplant, which he received in August. Unfortunately, the transplant triggered a rare form of chronic graft-versus-host disease, in which the donor's immune cells attack the recipient's normal cells.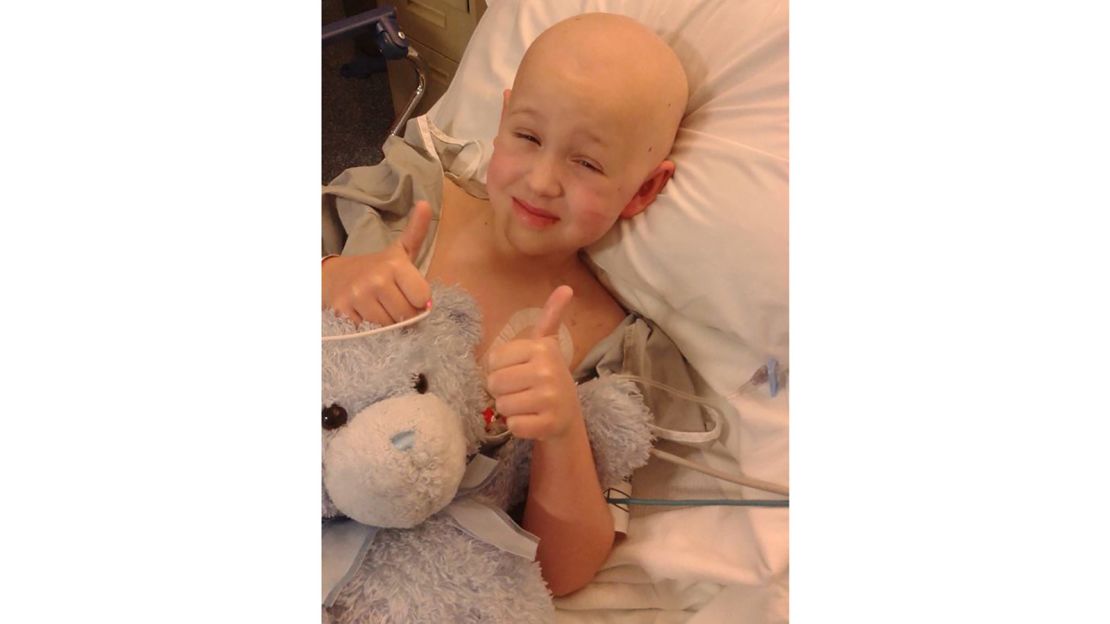 Now 9, Bryce continues to struggle with chronic anemia, painful muscle spasms and range of motion issues. During these difficult moments, Jenny says, Bryce often tells himself, "Think of Swoosh. Think of Swoosh."
"When Bryce saw Swoosh today, after not seeing him for about two years, it really warmed my heart," she says, tearing up. "He was so excited to get to see Michelle and Swoosh again. It just reaffirms how beneficial it was for Bryce in the beginning and the bond that was formed."
'Mighty Mitchell'
"It seems like Swoosh's hair has grown," "Mighty Mitchell" Montalbano muses as he pets Swoosh's head and gets a kiss for his effort. Mitchell got his nickname from his love of superheroes and the kindness of friends.
"A dear friend came to the hospital with some goodies and a card made out to 'Mighty Mitchell,' and I thought 'wow, that's it!' " Kristy Montalbano says. "That's what we'll call this journey."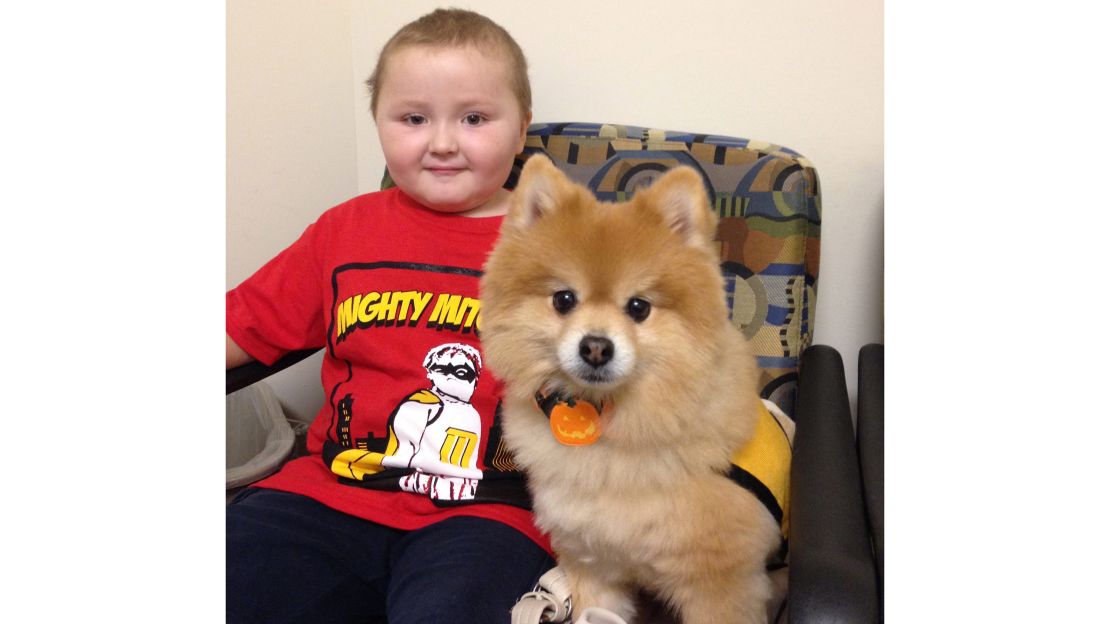 Mitchell was only 4 when he developed the leg pain, extreme lethargy and a high fever that are hallmarks of acute lymphoblastic leukemia.
"The leukemia cells crowd out the red and white blood cells, so you start to see signs that they are tired, that they start to bruise," his mother explains. "Their legs really hurt. The morning we took Mitchell to the doctor, he couldn't get out of bed."
For the Montalbanos, Mitchell's diagnosis was a crushing reminder of cancer's genetic legacy; dad Joey had lost his father to lung cancer earlier in the year, and Joey's mother had died of pancreatic cancer a few years before.
"When Mitchell was diagnosed, you could tell he was very scared," Joey says. "He and his brother had had just seen their grandfather pass away from a different type of cancer. So we knew that they would equate the word 'cancer' with death."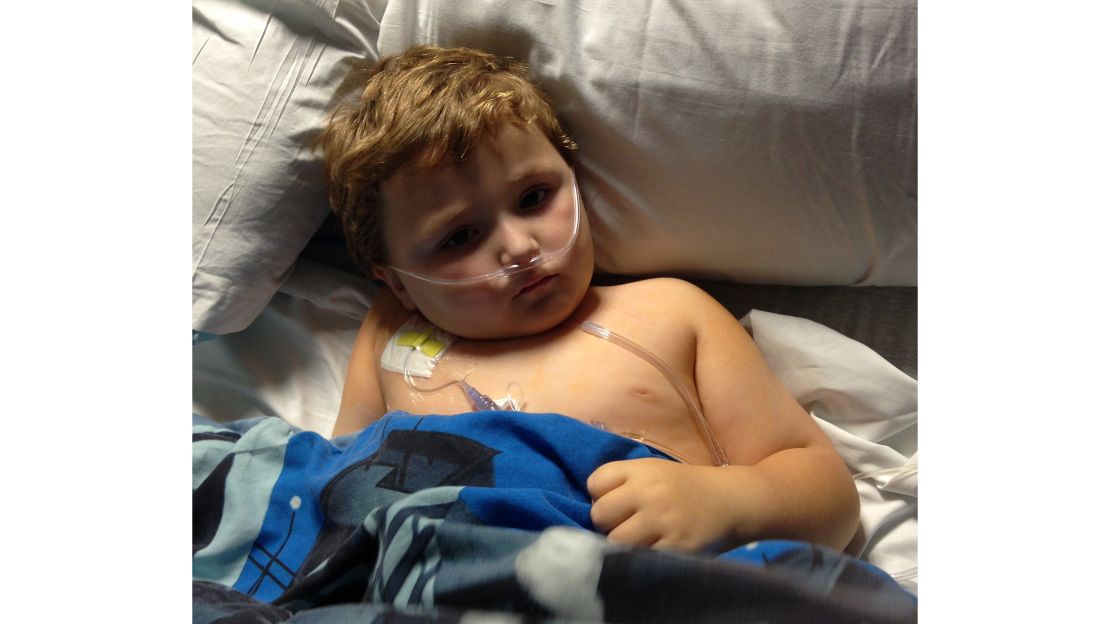 Mitchell's parents worried when the once outgoing boy became silent and moody. "It was almost like if he didn't look at you and didn't talk then he wasn't there, and it wasn't really happening," Kristy remembers, adding that on the rare occasions when he would speak, it was to ask his mother about dying.
"Mommy, if I go to heaven before you, are you going to know who I am, when you … when you get there," Kristy relates with a catch in her voice. "And, you know, I just tried to answer that 'I will never forget you. And besides, honey, that's not gonna happen.'
"And that's where we honestly give Swoosh and Michelle credit for helping Mitchell get comfortable in the clinic," she adds. "It was after those first few visits with Swoosh that he would say, 'OK, you know, I'm not going to die. I'm good.' "
A major benefit for parents, too
"At first, Mitchell wouldn't really look at Swoosh, wouldn't touch Swoosh, didn't want to do anything but look at Swoosh's pictures," recalls Thompson, Swoosh's owner and trainer. It wasn't until later that she got the full story from Mitchell's mother.
"She said the day they got in the car to leave after their first visit with Swoosh, Mitchell started talking again, and he just talked about Swoosh constantly," Thompson says. "And he started becoming his old self again – kind of bubbly and talkative."
Kristy adds incredulously, "and he would say, 'Mommy, when do we get to go back to the hospital so I can play with Swoosh?' I couldn't believe it. He wanted to go get chemo so he could play with Swoosh."
"We have a dog at home, and he loves the animals," Kristy says, "but to see the difference between that first visit where he was very scared, very shy, wouldn't talk and was curled up on my chest, and a couple of visits later where he's playing with the dog, having fun, laughing. It eases some of the pressure off of us as parents."
Bryce's parents, Jenny and Dustin Greenwell, echo that sentiment.
"Whenever Bryce would smile during the hard times, it made us smile," Jenny Greenwell says. "Even though we're facing such obstacles with the surgeries and all that they have to go through, something that brought a smile to his face made us happy for sure."
A statistically significant reduction in parental stress was one of the key findings of the randomized clinical trial, Vanderbilt's Gilmer says.
"In the group that had the intervention with the therapy dogs, we found parents showed decreased stress in their parenting role over time," she explains. "That was striking to us, because stress that parents feel usually is reflected onto the children. If Mom is stressed and Dad is stressed, a child usually feels it."
Both groups of children showed a reduction in anxiety; however, the difference between the dog-therapy and non-therapy groups was not scientifically significant, which was a surprise to the researchers, says Gilmer.
"Indeed, in contrast to the researchers' expectations, the kids in the dog therapy group showed small but statistically significant increases in their blood pressures over the course of the study," says anthrozoologist Hal Herzog of Western Carolina University, who has spent more than two decades researching human-animal relations. Herzog was not involved with the new study.
"No research is perfect," Herzog says, adding that he found the study to be important methodologically, due to its "fairly large sample" size, the videotaped sessions with the dogs and the use of five pediatric cancer centers as evidence of a "likelihood that the results would generalize to other settings."
American Humane's director of research, Amy McCullough, explains the rise in the children's blood pressure was "likely due to the children playing with the dog, as opposed to the control group who were mostly stationary–reading books, playing on a tablet."
For McCullough, who served as a principal investigator on the study, another significant finding was the fact that there were no issues having dogs in oncology units, despite many hospitals' concerns.
"There was not a bite, a scratch or infection contracted from any of the study's therapy dogs," McCullough says. "That shows us that highly trained volunteer dogs can be safely used."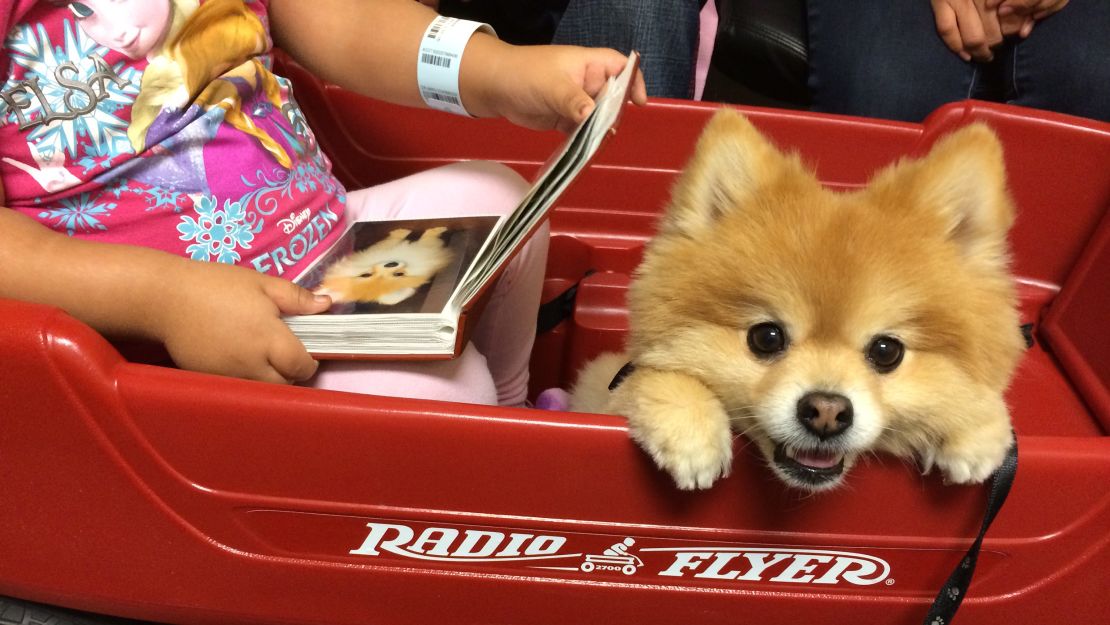 Therapy dogs in the study also showed no signs of stress while working with the children and families. Swoosh's owner Michelle Thompson wasn't at all surprised; she believes that dogs who graduate from pet therapy training are a bit, well, special.
"Swoosh loves it," she says. "We put his little vest on him, and he behaves differently. He knows he's going to work. Some dogs can't do this. I'm sure it's like some people can do nursing and be doctors, you know, but my husband always says Swoosh was born and put on this earth to do this job because he's just so good at it."
Therapy dogs for all
For American Humane's Ganzert, the study results are a "real game-changer."
"I have a dream about a child going into a medical office and on the prescription pad, the doctor can write 'therapy dog intervention.' Would that be cool?" she says. "And not just for kids with cancer but for kids facing emotional abuse, for kids facing all sorts of illnesses."
She says American Humane plans to take the results of the study to Congress to inform legislators about the importance of "human animal bond research and how therapy dogs can be used as an alternative therapy in addition to the medical procedures for a kid with cancer."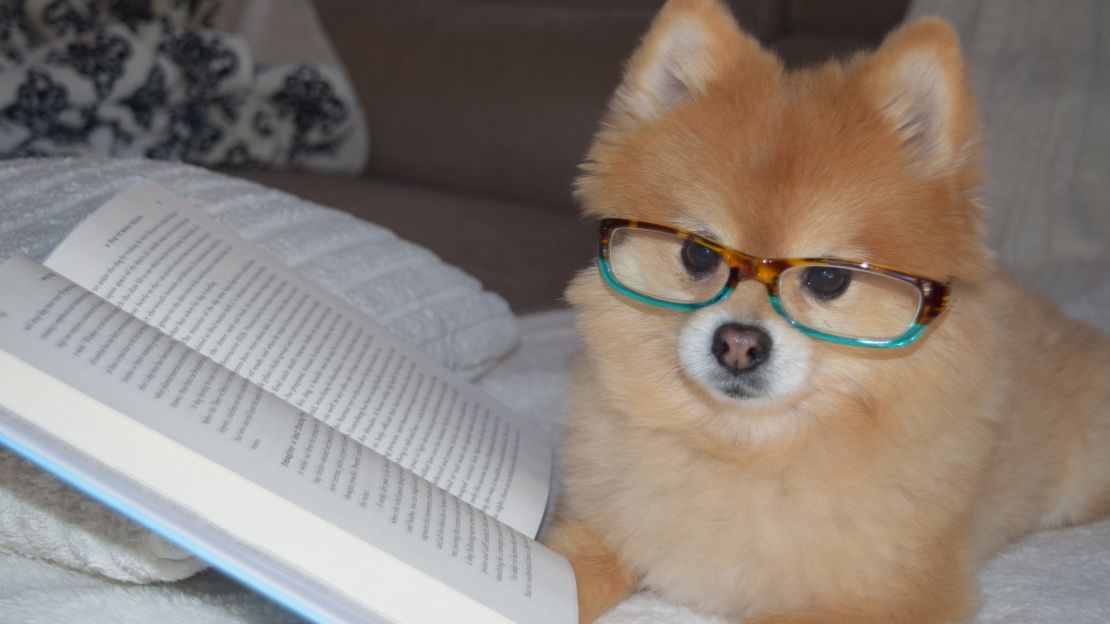 That sounds right to the Greenwells and the Montalbanos.
"Mitchell's experience was so positive that I've decided I want to be a pet therapist," Kristy Montalbano says. "I want to get a fluffy furball, and I want to take it to these children, because I know that that will in turn help the parents and the other siblings as well."
Jenny Greenwell says she thinks "it would be amazing if they had on-call therapy dogs at hospitals. And if a parent is debating whether or not to use a therapy dog for their child, I would push them towards allowing their child to develop a bond with a furry friend to help get their mind off of what they're really going through."
Dustin Greenwell agrees: "I would say go for it. It'll make that parent happy as well, because they'll get to see their child smile."
What do Bryce and Mitchell think?
"I think everyone should have a chance with Swoosh," Bryce says. "Let them have the feeling that I once did. Nothing in words can describe how good it felt to see Swoosh again."
Mitchell resoundingly agrees: "Yes, yes! One hundred percent! "It would not make them scared anymore. I think they'd be happy."