Story highlights
Sanctions cut exports of gasoline, diesel and other products
North Korea says resolution is a "complete economic blockade"
A new round of United Nations sanctions against North Korea are an "act of war," Pyongyang said Sunday, adding that the US and other nations which supported the strict measures will pay a heavy price.
The UN Security Council unanimously adopted US-drafted sanctions against North Korea last week, following a November intercontinental ballistic missile (ICBM) test experts said was Pyongyang's most advanced yet.
Nikki Haley, the US ambassador to the UN, said the new sanctions will strangle North Korea's energy supplies and tighten restrictions on smuggling.
The resolution cuts exports of gasoline, diesel and other refined oil products by a total of 89%. It also bans the export of industrial equipment, machinery, transportation vehicles and industrial metals to North Korea, and requires countries currently hosting North Korean migrant workers to repatriate them within 24 months.
Around 100,000 North Koreans work overseas, according to the UN, many of them in "slave-like" conditions. Most of their wages are sent back home, raking in an estimated $500 million each year for Kim Jong Un's regime.
The new UN resolution also prohibits countries from smuggling North Korean coal and other prohibited commodities by sea and authorizes member states to inspect, seize and impound any vessels in their territorial waters found to be transporting prohibited items.
Earlier this month Washington asked the UN to ban 10 ships from entering ports across the world over alleged dealings with North Korea.
The latest round of sanctions come just three months after the UN passed a US-drafted resolution described by Haley at the time as "by far the strongest measures ever imposed on North Korea."
The previous measures, unanimously adopted in September, had been designed to accomplish six major goals: cap North Korea's oil imports, ban textile exports, end additional overseas laborer contracts, suppress smuggling efforts, stop joint ventures with other nations and sanction designated North Korean government entities, according to a US official familiar with negotiations.
'Complete economic blockade'
In a statement on its official KCNA news agency, North Korea's foreign ministry lashed out against the latest sanctions, saying the US is intimidated by the nation's nuclear power.
"The United States, completely terrified at our accomplishment … is getting more and more frenzied in the moves to impose the harshest-ever sanctions and pressure on our country," the statement said.
North Korea warned that if the United States "wishes to live safely, it must abandon its hostile policy" toward North Korea.
"We define this 'sanctions resolution' rigged up by the US and its followers as a grave infringement upon the sovereignty of our Republic, as an act of war violating peace and stability in the Korean peninsula," the statement said.
It described the new resolution as a "complete economic blockade" and threatened nations that helped pass it.
"Those countries that raised their hands in favor of this 'sanctions resolution' shall be held completely responsible for all the consequences to be caused by the 'resolution' and we will make sure for ever and ever that they pay heavy price for what they have done," the statement said.
It said the US should "wake up from its pipe dream of our country giving up nuclear weapons."
The US State Department said Sunday it had no comment on North Korea's latest rhetoric, citing its past condemnations of the regime. The White House and National Security Council did not immediately respond to requests for comment.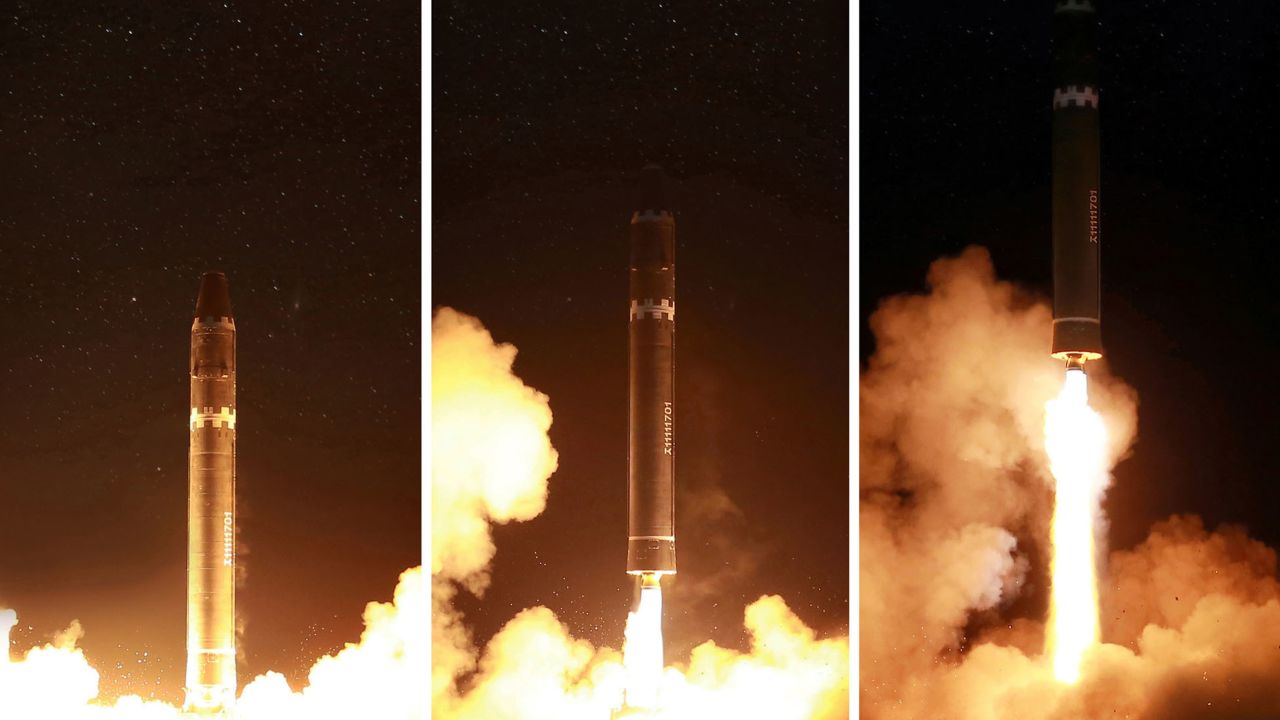 November missile test
Last month, North Korea said it successfully tested a new type of ICBM, which it claimed was topped with a "super-large heavy warhead" and capable of striking the US mainland.
The Hwasong-15 missile reached the highest altitude ever recorded by a North Korean missile.
The country launched it despite repeated warnings from US President Donald Trump. Commenting on the missile test, US Defense Secretary James Mattis said it demonstrated North Korea had the ability to hit "everywhere in the world."
Photos of the weapon released by North Korean state media showed a large, tall missile that appeared to be significantly wider than the Hwasong-14, previously Pyongyang's most-advanced missile.
Experts said it seemed to be a significant advancement, adding North Korea's claims about the Hwasong-15's range and carrying capability should be taken seriously. Some even compared it to Titan II, the the largest and heaviest missile ever built by the US, during the Cold War.
Following the launch, a North Korean official told CNN Pyongyang was not interested in diplomacy with the US until it had fully demonstrated its nuclear capabilities.
Reiterating remarks made in the past, the official said one step in this process was to conduct an above-ground nuclear detonation or "large-scale hydrogen bomb" test. The other was the "testing of a long-range ICBM," the implication being this had been achieved with the most recent launch.
A government statement said the Hwasong-15 "is the most powerful ICBM which meets the goal of the completion of the rocket weaponry system development set by (North Korea)."
CNN's Tim Lister, Nicole Gaouette, Elizabeth Joseph, Dugald McConnell, Dan Merica and Kevin Bohn contributed to this report.