Story highlights
Williams hasn't played since January
Djokovic & Murray sidelined since July
If you like a comeback, then tennis is your sport next year. There aren't one, two or three multiple grand slam champions making a return in 2018 but a handful.
Fresh injury problems for Djokovic but can he dominate once again?
An elbow problem cut short Novak Djokovic's 2017 campaign in July and on December 29 the former world No.1 withdrew from the Mubadala World Tennis Championship, citing he had "started to feel pain" in his right elbow.
"After several tests, my medical team has advised me not to risk anything, to withdraw from the tournament and to immediately continue with the therapies," the Serb said on his official website.
"I am very sad because I was eager to return to playing official matches …
"Now I need to accept this situation, and to wait for the results of the therapies, in order to start playing tennis again and getting back to full rhythm. This might affect the start of the season and the tournament plan, but the decision will be made in the following days."
With the reemergence of both Roger Federer and Rafael Nadal this year, it can be easy to forget that Djokovic was once the most dominant tennis player on the planet.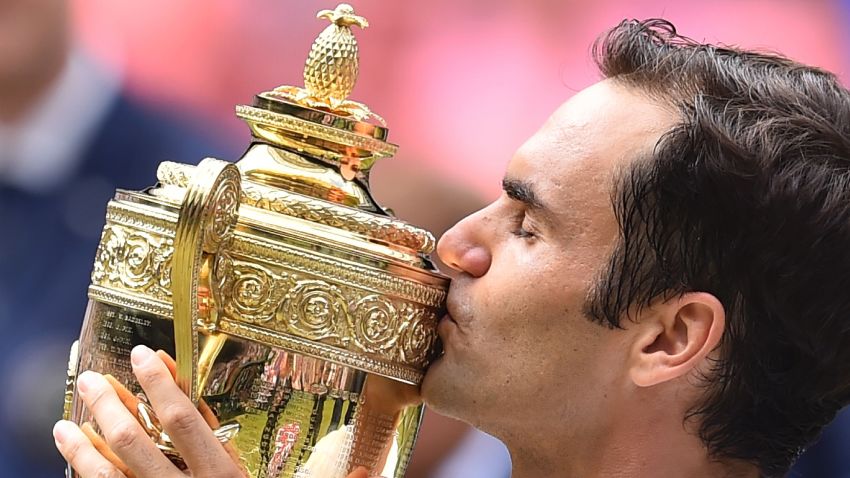 Federer: 'Dream scenario' to win 8th Wimbledon
Indeed despite Federer and Nadal owning more grand slam titles than Djokovic's 12, the Serb achieved something the pair hasn't: Winning four consecutive grand slams – from 2015-2016. He was the first man to claim four straight since Rod Laver in 1969.
When he triumphed at the French Open in June 2016 to complete the job, there were those who – rightfully – thought Djokovic would catch or even surpass Federer for the all-time men's lead in majors. That now looks unlikely.
Djokovic hit a roadblock, a barrier that not even new coach and tennis legend Andre Agassi could remove in 2017.
Why the slump? Djokovic has referred to "private issues," his former coach Boris Becker said he wasn't practicing hard enough and then there were elbow and arm injuries.
But he will have a new entourage in tow when he does return to the court. Flamboyant Czech Radek Stepanek – who retired from the game this season – will coach Djokovic alongside Agassi. Djokovic also added match analyst Craig O'Shannessy.
Will Djokovic or Murray return to No. 1? Have your say on our Facebook page
Serena's quest for 24 … as a mum
What an eventful, unforgettable year it has been for Williams. The American won the Australian Open in January while pregnant, gave birth to her first child about four months ago – daughter Alexis Olympia – and got married to Reddit co-founder Alexis Ohanian in New Orleans last month.
Serena Williams shows off new baby girl
Williams' coach Patrick Mouratoglou told CNN in November that a decision hadn't been made yet as to whether she would compete at next month's Australian Open although Melbourne tournament director Craig Tiley has twice said he expects the 36-year-old to show up at the season's first major.
And that could very well be the case after it was announced that Williams would be making her comeback at a lucrative exhibition in Abu Dhabi on Dec. 30 against French Open winner Jelena Ostapenko.
"I am delighted to be returning to the court in Abu Dhabi for the first time since the birth of my daughter in September," Williams told the exhibition's web site.
Despite not playing since January, no one would rule out the now 22nd-ranked Williams winning in Australia if she is in the draw. Williams, after all, could be the greatest tennis player of all time.
Collecting a 24th grand slam title would see Williams tie controversial Australian Margaret Court for the all-time grand slam lead, women or men.
Andy Murray to resurface too
Born a week earlier than Djokovic in May 1987, Andy Murray matched his longtime friend by becoming the world No. 1 – replacing the Serb – late last year.
But getting there took its toll: A grueling schedule surely led to the Scot's longstanding hip injury getting worse.
Although Murray managed to make a grand slam semifinal at the French Open, he visibly struggled with his movement in a defeat to Sam Querrey in the Wimbledon quarterfinals.
READ: Murray, Djokovic exit Wimbledon
Like Djokovic he shut down his season following the fabled grass-court grand slam before playing in a November exhibition in Glasgow against Federer.
Whereas Djokovic is set to return to the ATP circuit the first week of January in Doha, Murray is scheduled to join Nadal at the Brisbane International in the same week.
Their performances at the Australian Open foreshadowed the tough times – six-time winner Djokovic was upset by wildcard Denis Istomin in the second round while Mischa Zverev stunned five-time runner-up Murray in the fourth round – so the pair will no doubt be hoping for a better start in 2018.
But first, they'd take a clean bill of health.
So would Nadal. The Spaniard pulled out of the exhibition in Abu Dhabi with knee problems after experiencing knee pain at the end of the 2017 season. He – along with his fans – will hope it's a relatively minor issue for the player who has dealt with knee injuries throughout his stellar career.
Azarenka ready to resume soon?
This year was supposed to be Victoria Azarenka's big comeback. And while Azarenka did return to the tour in June about six months after giving birth to son Leo, the Belorussian was another player who – as it turned out – called time on her season after Wimbledon.
It wasn't however because of injury.
The twice Australian Open winner became embroiled in a custody battle with Leo's father, Billy McKeague, and said she couldn't travel outside California with her son – the 28-year-old lives in the US state – while the case was ongoing.
Azarenka decided to skip the US Open in New York and November's Fed Cup final, where Belarus lost 3-2 to the US in her hometown of Minsk. During the layoff, Azarenka's coach Michael Joyce – formerly in the camp of Maria Sharapova – then switched to Britain's Johanna Konta.
Azarenka received a wildcard for the ASB Classic in Auckland the first week of January and suggested she would be in the field but ended up withdrawing.
"We are obviously very disappointed to not have someone of the caliber of Victoria in Auckland and know how desperately she wanted to be playing here," tournament director Karl Budge was quoted as saying by the New Zealand Herald.
"However, I think we can all appreciate family comes first …"
Azarenka was also the beneficiary of a wildcard to the Australian Open but skipping Auckland may put her participation in doubt.
First full season back for Sharapova
Sharapova reappeared this April after serving a 15-month suspension for testing positive for meldonium but what unfolded thereafter likely wasn't what she hoped for following a promising start in Stuttgart.
Sharapova on her rivalry with Serena (2017)
The five-time grand slam winner failed to receive a qualifying or main-draw wildcard for the French Open – the lone major she's won twice – and withdrew from Wimbledon qualifying with a thigh injury. She was limited to eight events.
Visit CNN for more sports stories
Sharapova however upended current world No. 1 Simona Halep in the first round of the US Open – where the Russian did get a wildcard – in one of the matches of the year before claiming a title in Tianjin, a first title since Rome in 2015.
Sharapova's ranking was high enough to receive a direct entry to the Australian Open, the tournament in which she tested positive in 2016.
Meanwhile 2013 Wimbledon champion Marion Bartoli is also coming back.
Rumors of a return surfaced in October only for the 33-year-old Frenchwoman to deny those reports before taking to Twitter last week to say she hoped to be back by March's Miami Open.