Story highlights
Logan Paul was blasted for a posting video of a man hanging from a tree in Japan's "suicide forest"
Suicide rates in Japan are higher than most in the developed world
A controversial video by YouTube star Logan Paul shows what appears to be a body hanging from a tree in Japan's Aokigahara forest, known throughout the country for the suicides that happen there.
The video sparked wide backlash for its allegedly tone-deaf treatment of suicide and mental health in a country where suicide rates are higher than most in the developed world.
Paul posted a written apology on Monday and a video apology online Tuesday after intense criticism on social media.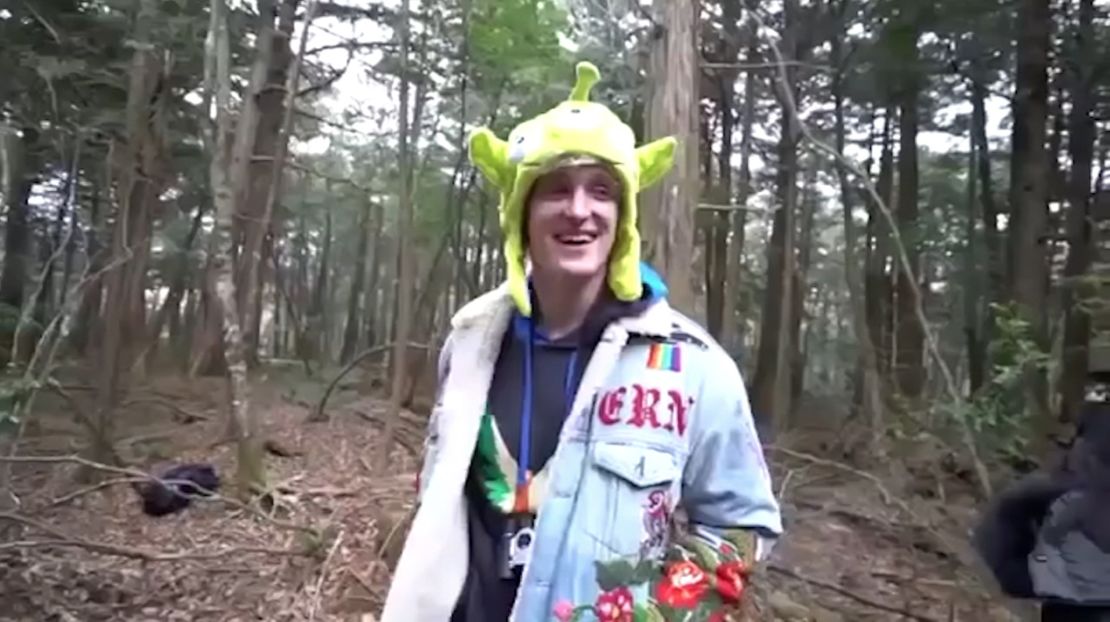 The place where he filmed the video, the Aokigahara forest, "is known as a place where many people choose to commit suicide," said Karen Nakamura, a professor of anthropology at the University of California, Berkeley, who studies disability and other social movements in contemporary Japan.
"It's not surprising to find a body there," she said. "But there's a degree of outrage that a foreigner would choose to trivialize or monetize it through YouTube."
In the introduction to the original video, Paul denied that his video was "clickbait" and said he was not monetizing the clip "for obvious reasons."
The 'suicide forest'
The Aokigahara forest, also called the Sea of Trees, sits right along the edge of Mount Fuji, roughly a two-hour drive west of Tokyo.
At the entrance of the forest, a sign reminds visitors that "life is a precious gift" from their parents.
"Quietly think once more about your parents, siblings or children," the sign says in Japanese. "Please don't suffer alone, and first reach out."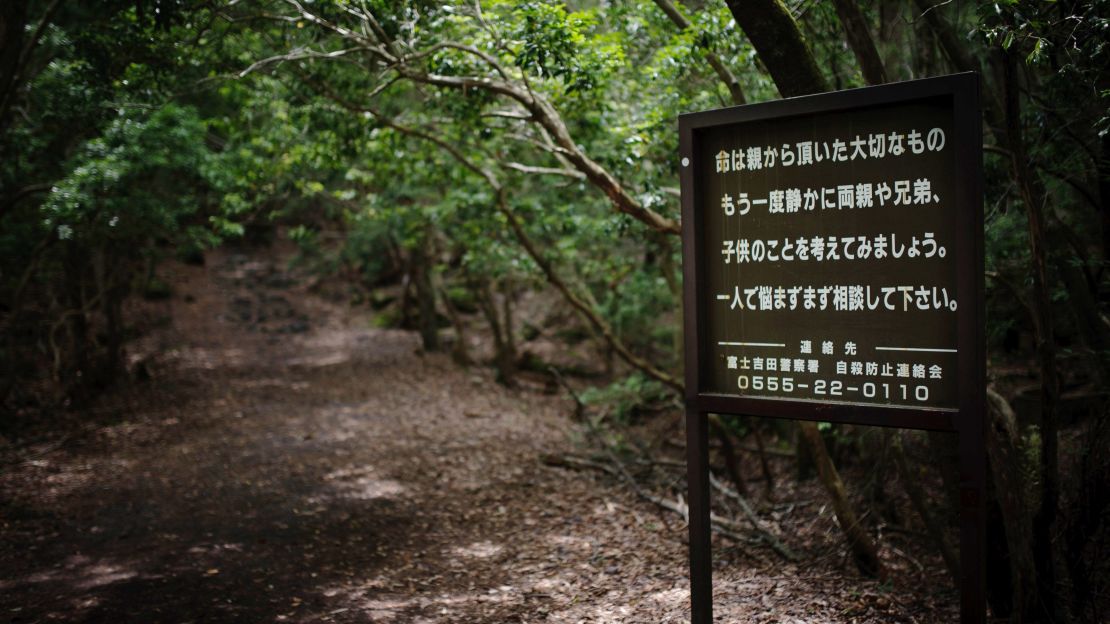 Aokigahara's dark reputation has been around for decades. In a popular 1960 novel by Japanese author Seicho Matsumoto, a heroine heads into the forest to take her own life. More recently, in a 2016 American horror film, "The Forest," a woman goes there looking for her twin sister, who mysteriously disappeared in the woods.
More than 100 people who were not from the area surrounding Aokigahara committed suicide there between 2013 and 2015, according to a local government report. Countrywide, suicides totaled roughly 24,000 people in 2015 alone, according to the country's Ministry of Health, Labor and Welfare. These numbers do not include attempted suicides.
Experts have long considered why some choose to come to the forest to die. Three decades ago, a Japanese psychiatrist who interviewed a handful of Aokigahara suicide survivors wrote that a key reason was that "they believed that they would be able to die successfully without being noticed."
The psychiatrist, Dr. Yoshitomo Takahashi, believed that movies and media reports may have also played a role. Some may have traveled to the forest from other provinces because they wanted to "share the same place with others and belong to the same group," he wrote.
Nakamura pointed to research by Emory University anthropologist Chikako Ozawa-de Silva on the trend of online suicide forums in Japan. According to Ozawa-de Silva, the internet provides an outlet for those seeking social connection, and who fear isolation, "to die with others."
Nakamura sees a potential parallel to the thought process surrounding the forest: "Many people have committed suicide at Aokigahara; thus you won't die alone."
'That's why I went there'
CNN previously interviewed one man who attempted to end his life in Aokigahara.
"My will to live disappeared," Taro, a middle-aged man who did not want to be identified fully, told CNN in 2009. "I'd lost my identity, so I didn't want to live on this earth. That's why I went there."
Taro bought a one-way ticket to the forest, having been fired from his job at an iron manufacturing company. He lost any sense of financial stability.
"You need money to survive," he said.
When he got to the forest, he cut his wrists, but the wounds were not fatal. He collapsed and nearly died from dehydration, starvation and frostbite but was found by a hiker and saved.
Over the years, there have been some attempts to curb suicides in the forest and nationally. Local authorities posted security cameras at the entrances of the forest, hoping to track those who walk inside, according to Imasa Watanabe of the Yamanashi prefectural government.
The local government also mentions other suicide prevention methods in the forest, such as raising the height of bridge rails, training volunteers to talk to potentially suicidal visitors, increasing police patrolling at the entrances of the forest and discouraging movies and TV shows that might promote the forest's reputation as a place to end one's life.
"Especially in March, the end of the fiscal year, more suicidal people will come here because of the bad economy," Watanabe previously told CNN. "It's my dream to stop suicides in this forest, but to be honest, it would be difficult to prevent all the cases here."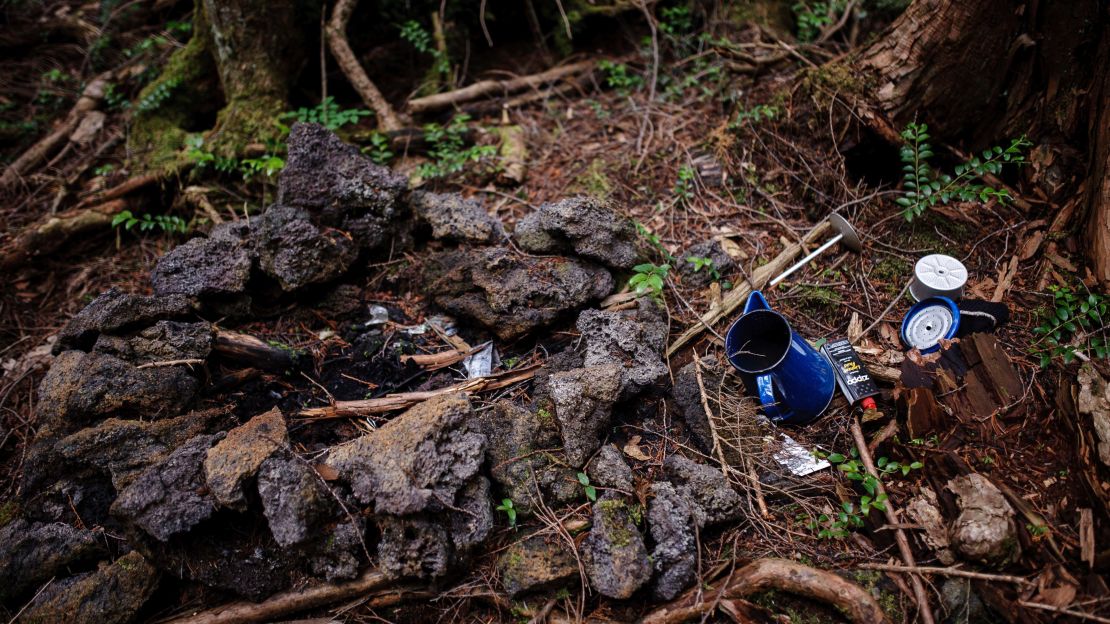 Suicide in Japan
Japan was ranked 26th globally among age-adjusted suicide rates in 2015, according to the World Health Organization. Overall, there were 15.4 suicides per 100,000 population, which breaks down to 9.2 for women and 21.7 for men.
That figure sits above most developed nations, including the United States (12.6), the United Kingdom (7.4) and Italy (5.4) but below several others, such as Belgium (16.1) and South Korea (24.1).
One study found suicide death rates to be on the decline in many peer nations from 1985 to 2010, except in Japan and South Korea, where rates increased by 20% and 280%, respectively.
Multiple analyses suggest a major impact in Japan was the economic crisis that struck the country in the late 1990s.
Other studies and government materials have cited a number of risk factors, including academic pressures, depression, overwork, financial struggles and unemployment.
"Suicide is an extremely complex phenomenon with multiple factors," including economic recession in Japan, Nakamura said. Beyond that, there's stigma around receiving mental health care, especially for men, and a greater tendency in Japan to view suicide as "a rational decision."
"One of the terms for suicide is 'jiketsu,' which means to decide for yourself," she added.
Research has shown that some forms of suicide are also seen as less acceptable in certain religious cultures – but religion in Japan takes less of a hard line, Nakamura said. "Suicide is not a mortal sin as it is under Christianity."
Though suicide has historically been a taboo subject in Japan, according to the WHO, the Japanese government has responded since the 2000s with research and programs aimed at lowering the suicide rate across the country.
Some experts have called attention to cultural differences, saying that doctors need to be aware of them in order to offer mental health care that's inclusive of Japanese communities at home and abroad.
For example, Takahashi wrote about how American psychiatrists might learn to spot atypical depressive symptoms in certain Asian populations for whom mental illness is surrounded by stigma and who might be more reluctant to discuss their problems with therapists.
But when it comes to the now-viral YouTube video, the story is less about what sets Japan apart and more about how it's often perceived as "other" by Americans, like 22-year-old Paul, according to one anthropologist.
"His motivation to go to this particular spot is not an accident," said Allison Alexy, a cultural anthropologist at the University of Michigan who specializes in contemporary Japanese culture. "It is part and parcel of a larger American fascination" with Japan.
Clarification: This story was updated to reflect that Logan Paul said he did not monetize the controversial YouTube video.

CNN's Yoko Wakatsuki and Kyung Lah contributed to this story.