Story highlights
Trump did little to quiet what has become a consuming question in Washington
"I think that would qualify as not smart, but genius....and a very stable genius at that!" he wrote
President Donald Trump, coming off a week of heightened scrutiny over his mental health, sought to put the topic to rest on Saturday by declaring himself extraordinarily intelligent and undeniably right in the head.
By personally inserting himself into the debate, however, Trump did little to quiet what has become a consuming question in Washington: Is Trump's mind sound enough to govern?
The series of three tweets came early Saturday from the frozen woods of Maryland, where Trump is huddling with Republican lawmakers at Camp David, apparently in response to allegations contained in a damaging new book about Trump's first year as president.
After a night of polite social interaction that included a screening of the circus musical "The Greatest Showman," Trump went to bed seeming cheerful, aides said.
By morning, however, he felt compelled to defend the state of his mind. Trump alleged that his critics were "screaming mental stability and intelligence" as compensation for a Russia investigation that has, thus far, failed to produce evidence that he or his associates colluded with Moscow.
Citing his unlikely trajectory from businessman to reality television star to US president, Trump declared himself "like, really smart."
"I think that would qualify as not smart, but genius….and a very stable genius at that!" he wrote.
Like many of Trump's tweets, the messages caught some aides off guard. By midday, chief of staff John Kelly hadn't yet seen or heard of them, and offered only a clipped "OK" when read them by reporters.
Explanation
Trump: I'm a very stable genius
Later, during a news conference alongside the Republican leaders, Trump offered a fulsome accounting of his credentials in explaining why he sent the tweets.
"Only because I went to the best colleges, the best college, I had a situation where I was a very excellent student, came out, made billions and billions of dollars, became one of the top businesspeople, went to television for 10 years and was a tremendous success, as you probably have heard, ran for president one time and won," he said, before disparaging the triggering book's author, Michael Wolff, as a fraud and liar.
Flanked by Vice President Mike Pence and House Majority Leader Kevin McCarthy – both stone-faced – as well as a bemused-looking Republican Whip Steve Scalise, Trump shrugged off the descriptions of himself in the book as the work of his fired chief strategist Steve Bannon.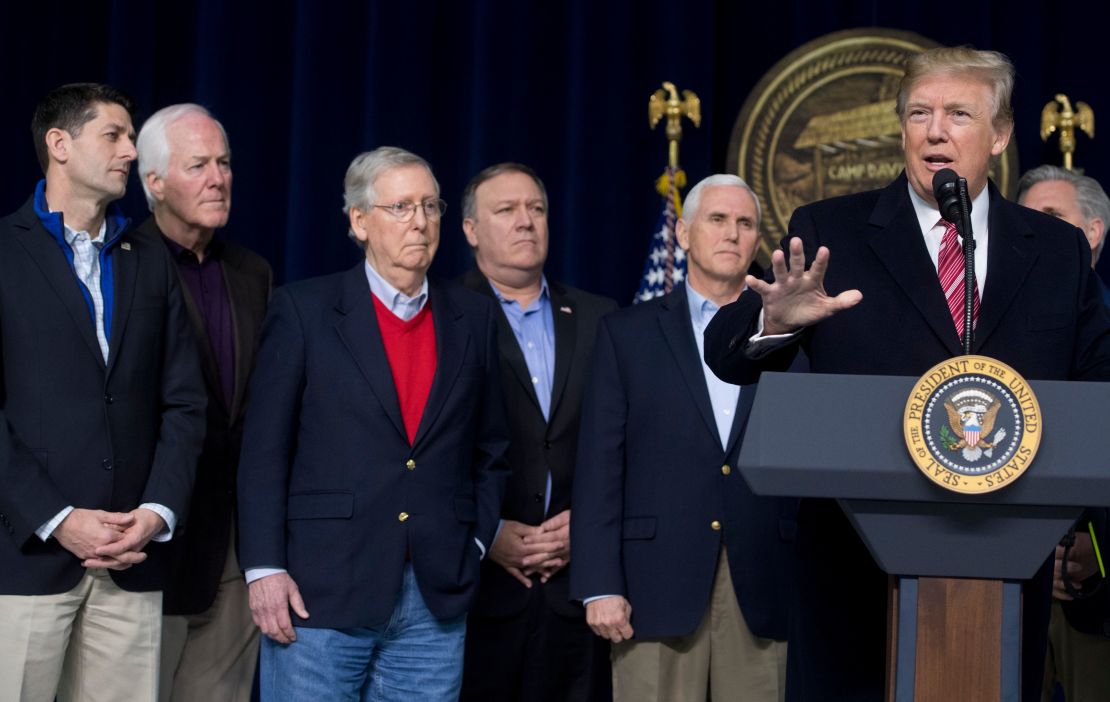 "It was one of those things," Trump said. "I guess that's why Sloppy Steve is now looking for a job."
The debate over Trump's mental health has been a persistent subtext of the first 11 months of his presidency. It erupted to the foreground last week when excerpts of Wolff's "Fire and Fury: Inside the Trump White House" included anecdotes of top White House staffers painting Trump as childlike and erratic.
CNN has not independently confirmed all of Wolff's assertions. But the broader portrait of a President surrounded by aides and advisers wary of his temperament has been borne out in conversations with officials over the past year.
People who work with proximity to the President have sometimes questioned his erratic moods, short fuse, micro attention span and penchant for obsessiveness. Briefings and meetings have been tailored to suit his style, often to scoffing from some aides who were accustomed to working for more traditional politicians.
Trump's allies, many who speak regularly to the President, insist publicly they see no evidence of mental degradation in a man whose behavior and speaking style has always been proudly atypical.
"I've never questioned his mental fitness," Secretary of State Rex Tillerson said in a CNN interview on Friday. "I have no reason to question his mental fitness."
"He's not psychologically unfit or 'lost it,' " said Chris Ruddy, the CEO of Newsmax, who spoke with Trump frequently over his Mar-a-Lago holiday last week. "I conversed with him numerous times, and I saw him interact with people, and he was remembering things and he was on point and following up on discussions."
Newt Gingrich, the former House speaker who speaks with Trump regularly, downplayed claims last week that Trump has become prone to repeating himself.
"No more than every other President I've talked to," Gingrich, who spoke with Trump on Wednesday at the White House, told reporters on Capitol Hill. "Presidents get good lines and they repeat them."
Questions swirling for months
Comment: On the mental fitness issue
Nevertheless, questions about Trump's fitness for office have been swirling for months. Democrats in Congress have proposed a law requiring Trump to undergo a psychological exam, and invited a Yale psychiatrist to deliver a briefing last month on the topic.
"Lawmakers were saying they have been very concerned about this, the President's dangerousness, the dangers that his mental instability poses on the nation," said the psychiatrist, Dr. Bandy X. Lee, in a phone interview on Thursday.
"Mr. Trump is showing signs of impairment that the average person could not see," Lee said. "He is becoming very unstable very quickly. There is a need for neuropsychiatric evaluation that would demonstrate his capacity to serve."
Lee's public comments are highly unusual given protocols from medical professional organizations, such as the American Psychiatric Association, which ban psychiatrists from diagnosing patients without a formal examination. She is due to conduct further briefings with lawmakers over the next month or so.
Democrats have largely dominated the push to assess Trump's mental health, but at least one Republican lawmaker attended Lee's briefing on Capitol Hill in December. Lee declined to name who it was.
Rep. Jamie Raskin, a Maryland Democrat, has introduced a bill called the "Oversight Commission on Presidential Capacity Act," which would use the 25th Amendment of the Constitution to create a "body" to determine whether the President is unable to execute the powers and duties of his office.
Raskin, who attended Lee's presentation, said on Thursday that Trump's behavior is "increasingly delusional" and there should be an independent body to evaluate his fitness.
"We got some serious stuff to deal with and instead we're caught up every day in what looks like the country debating the mental health of the President, so it's a very dangerous and unstable situation as a number of Republican senators have themselves observed," Raskin said on CNN.
Publicly, most elected officials in Trump's party have remained quiet about the President's mental state. The highest profile exception has been Sen. Bob Corker, the Republican chairman of the Foreign Relations Committee, who lambasted the White House on Twitter as an "adult day care."
Some of Trump's Republican primary opponents questioned his fitness for office while they were competing with him during the 2016 campaign, but have since grown silent on the matter.