Oprah Winfrey accepted her Cecil B. DeMille Award on Sunday night at the Golden Globes with a message to the young girls watching: "A new day is on the horizon."
The media mogul's message came during a Golden Globes ceremony notable for being the first major award show since Hollywood first began addressing rampant sexual harassment against women in the entertainment industry and beyond.
This year's ceremony was one of the most political yet and saw the red carpet awash with A-list actresses wearing black.
Some of the biggest names brought with them activists for gender and racial justice, including #MeToo founder Tarana Burke, who started the hashtag campaign which exposed the scale of sexual harassment against women worldwide.
Part of the mission of anti-sexual harassment group Time's Up, which led the night's all-black fashion movement, has been to raise awareness of sexual harassment occurring outside of Hollywood.
Winfrey made the same point in her speech, saying sexual harassment "transcends any culture, geography, race, religion, politics or work place." Read the full speech.
"So I want tonight to express gratitude to all the women who have endured years of abuse and assault because they, like my mother, had children to feed and bills to pay and dreams to pursue," she said. "They're the women whose names we'll never know."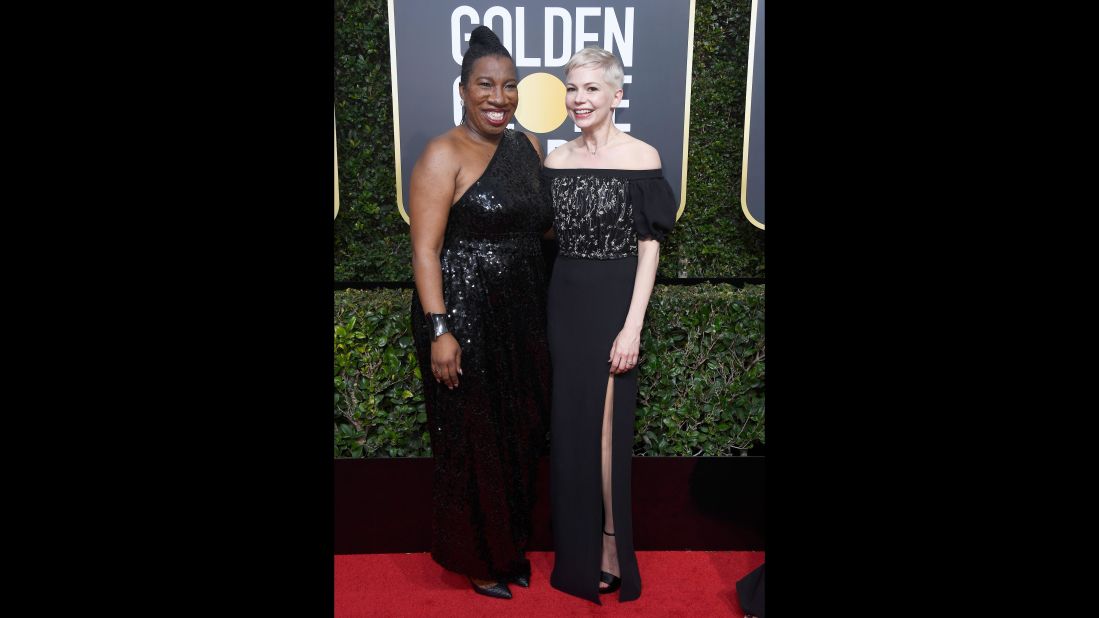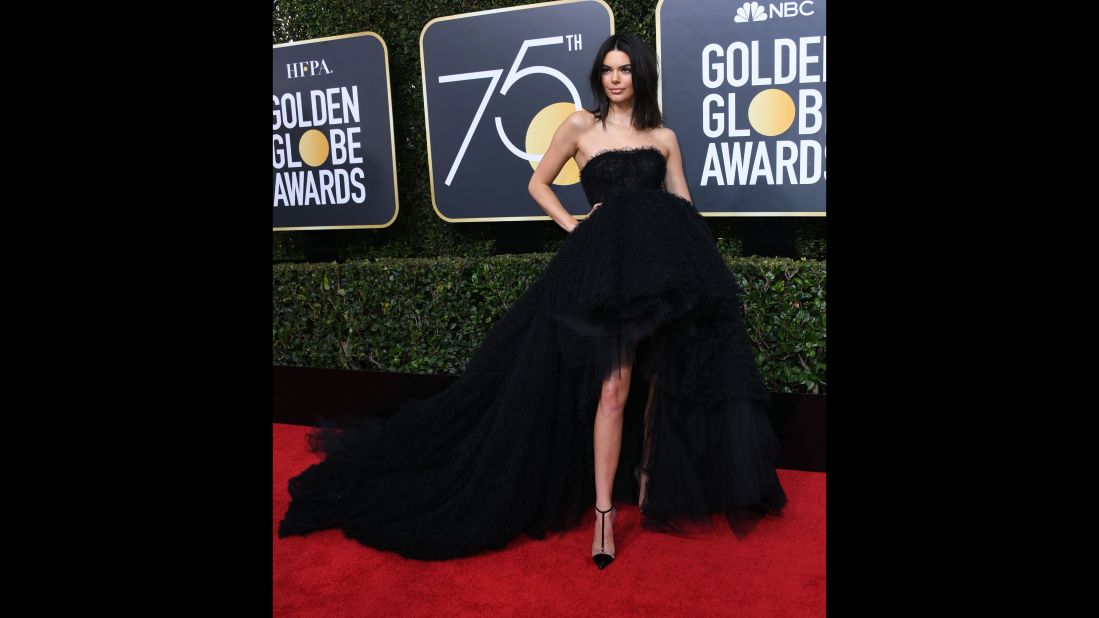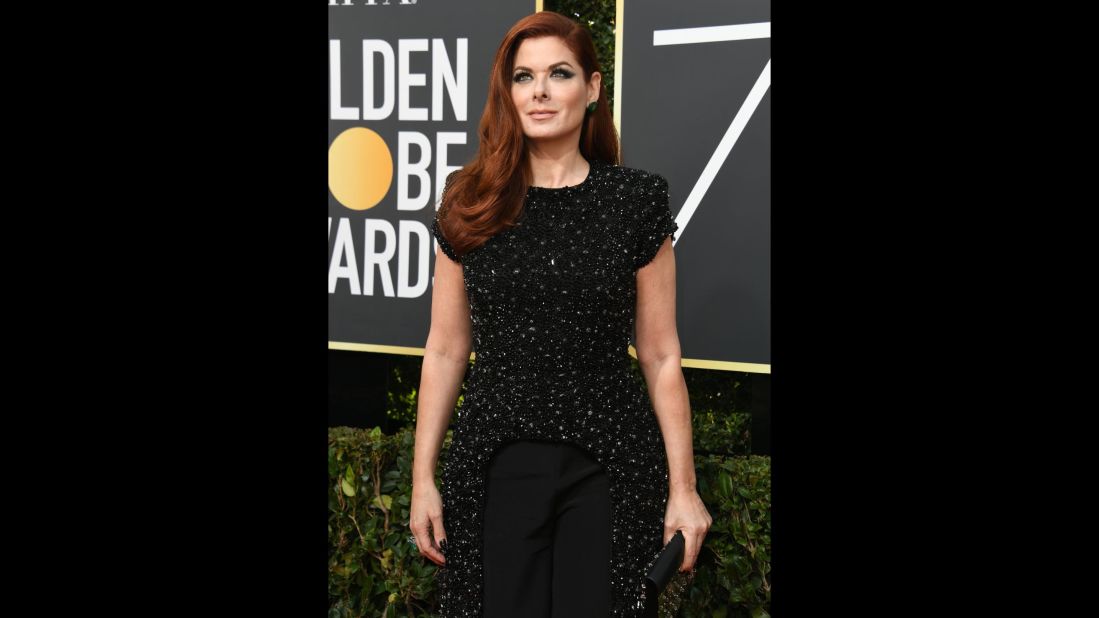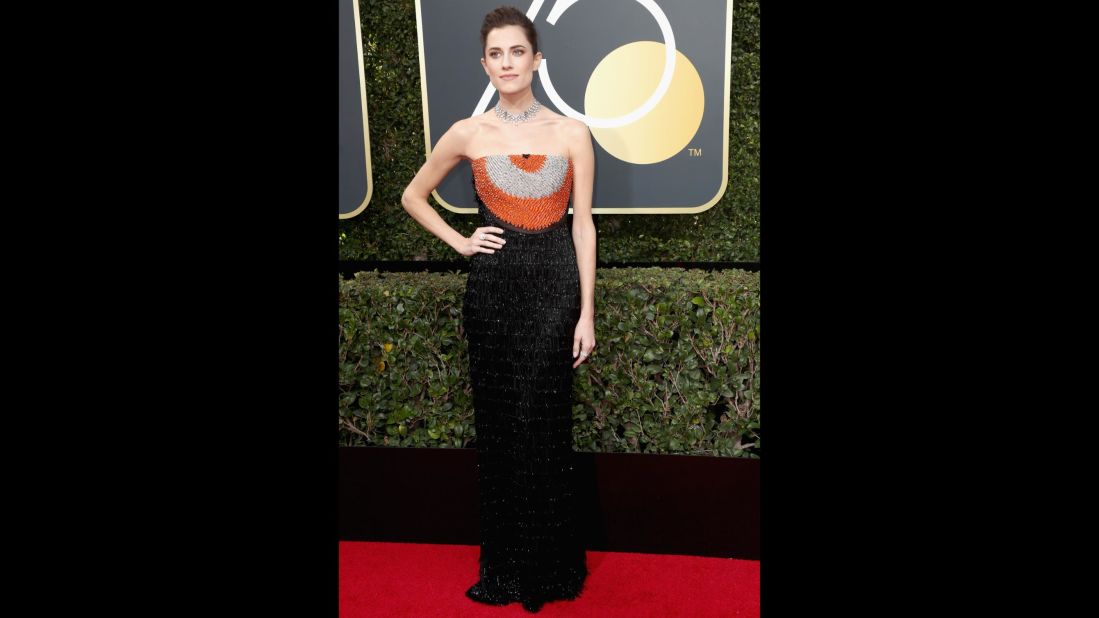 Golden Globes 2018: Red carpet
RELATED: The anti-harassment accessory you'll see on the red carpet at the Golden Globes
Winfrey said she has been "inspired" by "all the women who have felt strong enough and empowered enough to speak up and share their personal stories."
In her speech, Winfrey highlighted the story of Recy Taylor, a black woman whose 1944 rape by six men did not lead to any convictions. Taylor passed away last month at the age of 97.
"She lived – as we all have lived – in a culture broken by brutally powerful men," Winfrey said. "For too long, women have not been heard or believed if they dared to speak their truth to the power of those men, but their time is up."
Her statement prompted enthusiastic applause from Hollywood's elite and shouts of approval from women and men in the room.
The audience rose to their feet and remained standing as Winfrey sent a message to "all the girls" watching her speech.
"I want all the girls watching here, now, to know that a new day is on the horizon! And when that new day finally dawns, it will be because of a lot of magnificent women, many of whom are right here in this room tonight, and some pretty phenomenal men, fighting hard to make sure that they become the leaders who take us to the time when nobody ever has to say "Me too" again."
Reactions to Oprah's speech: 'We went to church'
The Cecil B. DeMille Award is given "to a talented individual who has made an incredible impact on the world of entertainment," according to the Hollywood Foreign Press.
Past honorees include Sidney Poitier, Barbra