Story highlights
Luciana Vega is an 11-year-old Chilean-American who dreams of being the first person to walk on Mars
The doll, accessories and books launched January 1
There's a new role model encouraging girls to reach for the stars.
Luciana Vega is an 11-year-old Chilean-American girl who dreams of being the first person to walk on Mars. And she's American Girl's 2018 Girl of the Year.
Though American Girl is known for its original line of historical dolls, books and accessories, Luciana isn't a historical figure. Her story was created with modern girls between ages 6 and 12 in mind – or, as NASA likes to call them, the "Mars Generation." Luciana is the first American Girl character created to encourage an interest for science, technology, engineering and math, or STEM.
The doll and the first two books in her series debuted on New Year's Day. A third book will follow this year. Her doll can be accessorized with flight and space suits, as well as a Mars habitat and maker station. A purple streak in her hair hints at her colorful creative side.
In the first book, Luciana goes to Space Camp, where she works on a robotics project and learns how to pilot a spacecraft and conduct experiments on the International Space Station in a simulated environment.
American Girl worked with an advisory board that included astronaut Megan McArthur Behnken, former NASA chief scientist Ellen Stofan, US Space and Rocket Center CEO and Executive Director Deborah Barnhart and NASA's manager of strategic alliances, Maureen O'Brien.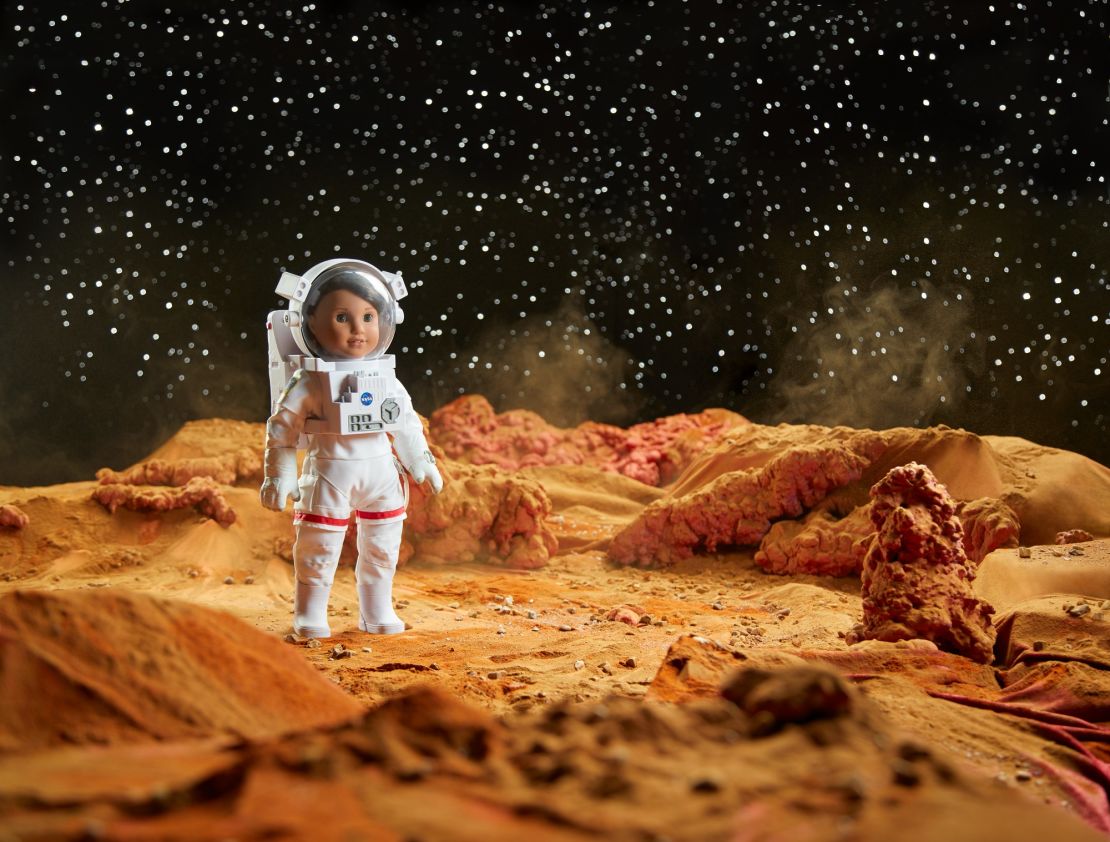 "We wanted to make sure we were getting it right, but we also wanted to bring attention to the fact that there are some really amazing women in this field," said Julie Parks, director of public relations at American Girl. "This is something that could happen for you. It's no secret that females are underrepresented in this area. We need strong innovators and a wide range of thinkers."
The women reviewed Luciana's stories for accuracy and authenticity, and weighed in with their own personal experiences in field.
Though the stories show that Luciana can succeed when she perseveres, they also show the reality of failure.
"We have an award at NASA called Fail Smart," Stofan said. "If you do everything so carefully that you never fail, you never achieve great things. If you look at the history of NASA, every time we made a mistake, we haven't given up.
"I think a lot of girls are sometimes intimidated by STEM careers because they think they have to be perfect in math or the top of their class. But what you really need to have is determination, the spirit to pick yourself up when you make a mistake and keep going. I really think it's that determination, that will, the ability to come back from failure, that are the most important characteristics. I hope that girls who read these books are inspired by these tales of failure but persistence."
The author and advisory board also thought it was important for Luciana to have a supportive family. Stofan's own experience with that encouraged her career in planetary geology.
"For families reading these books out loud to their daughters, I hope they see that too," Stofan said. "Girls need to be encouraged and told, 'you can achieve these things.' "
Stofan said it's also important to establish for girls that women have been making huge contributions to the STEM fields for a long time. She's frustrated by the fact that the idea that "girls don't do science or math" still persists. The popularity of the book "Hidden Figures" and the movie based on it, as well as toys like the "Women of NASA" Lego set, are a step in the right direction, she said.
But after visiting classrooms around the world for years to speak with kids about space and science, Stofan wants to see more visibility. She noted that the classrooms are papered with posters of men who have made achievements in their fields but not women like mathematician Ada Lovelace, NASA mission mathematician Katherine Johnson or cultural anthropologist Margaret Mead.
Images like those classroom posters matter, Stofan said. Growing up, she saw photos of Marie Curie and Mary Leakey. For a long time, she thought women could only be chemists, biologists or archaeologists, like in the images she saw.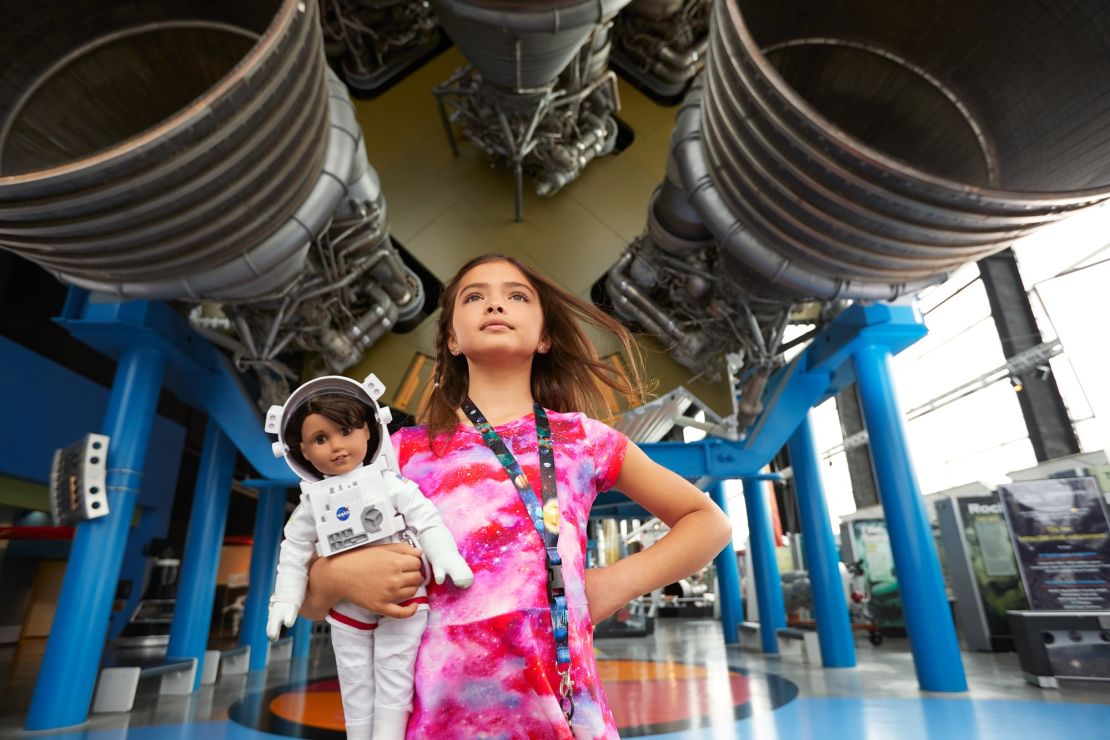 And images of diversity are even more important.
"Diversity is something we really need in the sciences, and we've really not done a good job at," Stofan said. "Letting girls of color around the world know they can be astronauts or achieve other great things if they try, that was important to all of us. We're pleased that American Girl decided to make her of Latina descent. My biggest fear is that young girls of color will think, 'people who look like me don't do that.' There are role models out there, like (veteran astronaut and first Hispanic director of Johnson Space Center) Ellen Ochoa and the first African-American woman to travel in space, Mae Jemison."
Girls who discover Luciana and her stories could go on not only to be one of the first people on Mars but to design the spacecraft that takes astronauts there or to solve the problem of how to keep astronauts well supplied on a long-term spaceflight mission, Stofan said.
Stofan has talked to enough classrooms full of kids excited about Mars to know that the idea of landing on the Red Planet could have an effect similar to the "Apollo Effect" that those missions had for children in the 1960s.
And although Luciana's character is focused on the main prize of becoming an astronaut and taking the necessary steps to achieve that, like attending Space Camp, her stories aren't just about STEM.
Luciana goes after her goals. She wants to be a good role model and big sister for the baby her parents are adopting from Chile. She strives to be a good friend and leader. And she tries to learn from her mistakes and move on.
"We can show girls that creative thinking, collaboration, teamwork and being a decent friend and a kind person, these are things that are more important in their world than ever as we are more divided," Parks said. "Luciana can bring visibility and valuable lessons to girls at a time in their lives when they are learning about their infinite potential and their opportunities to change the world."