Story highlights
Mikaela Shiffrin wins 41st Word Cup race
Five wins in a row not achieved for 20 years
Shiffrin favorite for three gold medals at Winter Olympics
There is one simple secret behind Mikaela Shiffrin's current dominance of women's slalom skiing.
Dedication.
Instead of overindulging and relaxing on Christmas Day, she was out training.
Her festive discipline yielded a fifth straight World Cup win Tuesday, the first time this has been achieved by any skier for 20 years.
The most recent triumph of a remarkable run, in a night slalom in Flachau, Austria, gave her a 10th win of the season and took her tally to 41 World Cup victories.
All at the age of 22.
Fellow American Lindsey Vonn, US skiing's superstar and arguably the only athlete in her sport to boast mainstream popularity, had recorded just seven of her 78 wins at the same age.
READ: Shiffrin nears 'perfection' with 40th win
Mikaela Shiffrin 'scared' by Russian doping
Christmas run
Stories abound of elite athletes training on Christmas Day. One of the best is from Britain's double Olympic 1500m champion Sebastian Coe, who tells of a brutal early morning 12-mile training run on Christmas Day 1979.
After a decent lunch, guilt got the better of him and he wrapped up and went out again in the afternoon, for fear that arch rival Steve Ovett would be doing the same.
Only years later did Coe tell the tale to his countryman, to which Ovett apparently replied: "You only went out twice?"
That summer, Coe won 1500m gold and 800m silver at the Moscow Olympics. Ovett took 800m gold and 1500m bronze.
Mikaela Shiffrin: What's in her ski bag?
'Difference'
Shiffrin's commitment is reaping similar rewards. After back-to-back wins in Courchevel shortly before Christmas she remained in Europe and continued to put in the work on the slopes and in the gym.
She won her next race, a slalom in Lienz, Austria on December 28 and has triumphed in five of six races since then. Last year Shiffrin picked up three straight wins between Christmas and New Year to give her a streak of four in a row.
"When you're over in Europe and away from home and family there's no sense in taking Christmas off, you might as well continue training," her coach Jeff Lackie told CNN Sport. "There's no one on the hill, it's nice.
"We did that last year, too. We trained all the way through Christmas and went to Semmering (Austria) and swept all the races. The competition, the Europeans, I'm sure they were at home with their families. That's the difference between Mikaela Shiffrin and her competition."
After Shiffrin's 38th win in Zagreb, Croatia on January 4, Austrian rival Bernadette Schild told CNN it effectively felt like "a race for second place."
American Bode Miller – the retired Olympic gold medalist and two-time world champion – added: "I think she's maybe the best ski racer I've ever seen, male or female."
READ: Stunning images from a color blind ski photographer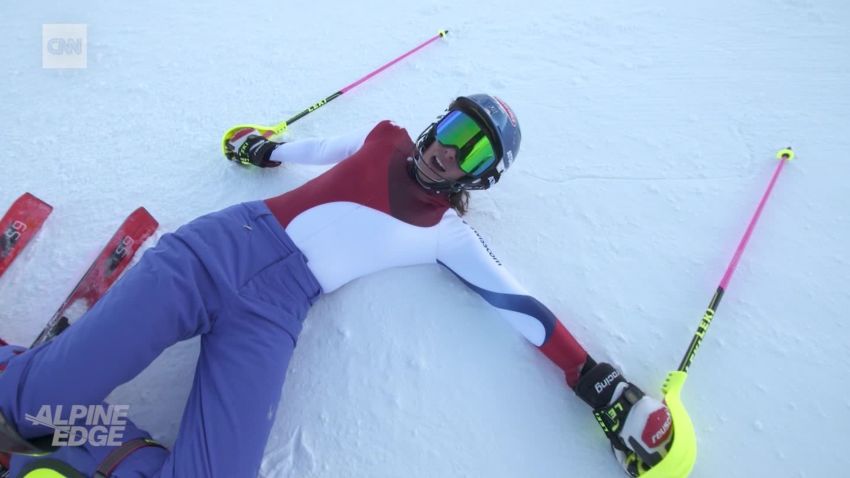 Chasing Vonn
Shiffrin became the youngest Olympic slalom champion ever when she triumphed at the Sochi Games in 2014 and is the red-hot favorite to add to her haul in the giant slalom and super combined in South Korea next month. Three golds would match the record for an alpine skier at a single Olympics.
Her victory in Flachau made her the first skier to win five World Cup races in a row since German Katja Seizinger in 1997.
She also tied Austrian Annemarie Moser-Proell's record for the most World Cup wins before the age of 23.
Vonn is second only to Ingemar Stenmark's record of 86 World Cup wins, but the speed queen, who last won in December, is 33 and her aging body is faltering. Shiffrin has time and fitness on her side.
Vonn: I won't represent Trump at Winter Games
'Mentally prepared'
Shiffrin said she skied "very close" to a perfect run when she clinched her 40th win in Sunday's slalom in Kranjska Gora, Slovenia, but admits she had to win the hard way in Flachau.
She trailed Schild by 0.37 seconds after the first run but surged from behind on the second descent to win by 0.94 seconds.
"This was the first time [this season] that I was coming from behind in the first run, and I had to make a statement," she told reporters.
"That was really important for me, a really big checkmark on the way to the Olympics because when we are there, anything can happen, and I want to be mentally prepared for all those possibilities."
Visit CNN.com/skiing for more news, features and videos
The Winter Olympics run between February 9 and 25 in PyeongChang, South Korea.