Editor's Note: This feature is part of Colorscope, an award-winning series exploring our perception of color and its use across cultures, one shade at a time.
Story highlights
"Pink being a decided and stronger color is more suitable for the boy," a 1918 article says
But in 1918, the generally accepted rule was pink for boys and blue for girls
When you think about the color pink, you are probably conjuring up images of little girls in pink dresses, with pink toys like Barbie or a Disney princess in a pretty gown.
The color is overwhelmingly associated with delicacy and femininity.
That, however, is a recent development.
"If you go back to the 18th century, little boys and little girls of the upper classes both wore pink and blue and other colors uniformly," said Valerie Steele, director of the Museum at FIT, the Fashion Institute of Technology, in New York.
In fact, pink was even considered to be a masculine color. In old catalogs and books, pink was the color for little boys, said Leatrice Eiseman, a color expert and executive director of the Pantone Color Institute.
"It was related to the mother color of red, which was ardent and passionate and more active, more aggressive. Even though you reduce the shade level, it was a color that was associated with boys," Eiseman said.
An article titled "Pink or Blue," published in the trade journal The Infants' Department in 1918, said that the generally accepted rule is pink for boys and blue for girls. "The reason is that pink being a decided and stronger color is more suitable for the boy," it said.
So when did the reversal happen?
Lack of consensus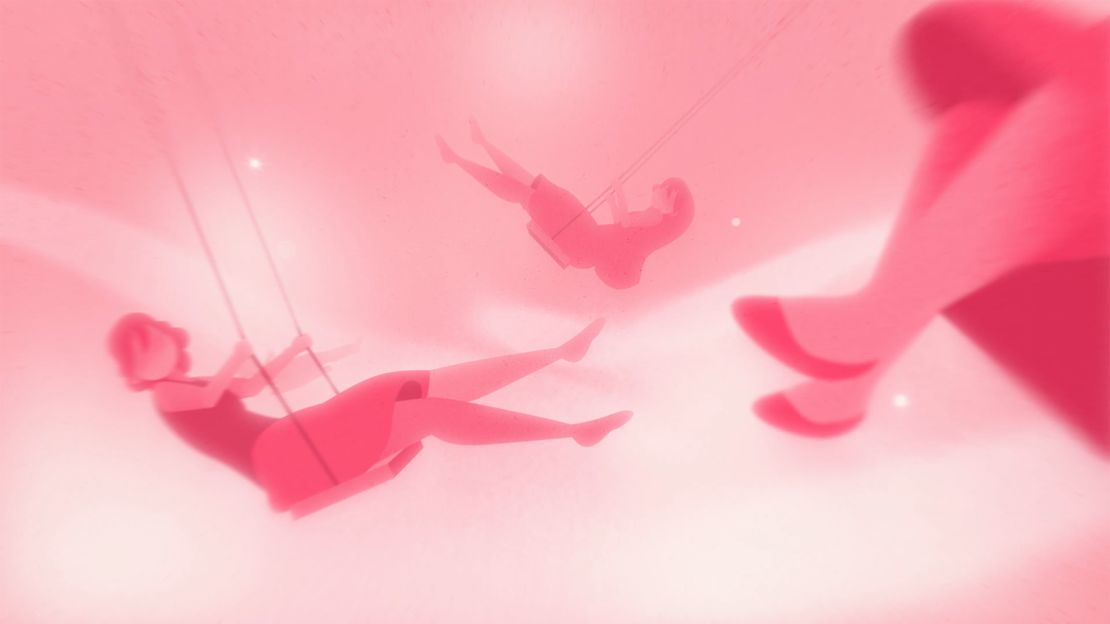 According to Steele, the gendering of pink in America is complicated.
"In America by the 1890s and the early 20th century, manufacturers attempted to sell more children's and infants' clothes by color-coding them," she said. Some manufacturers branded pink for boys and blue for girls, and vice versa.
In 1927, there were a lot of regional differences reported between how stores characterized the color, Steele said. Stores like Best & Co. in Manhattan and Marshall Field in Chicago branded pink as a boy's color. Others like Macy's in Manhattan and Wanamaker's in Philadelphia identified pink as a girl's color.
"There was no unanimity at all," Steele said. "People were starting to think by the 1920s, because of the manufacturer's attempt, that there was a distinction between pink and blue for boys and girls."
Steele believes that the acquisition of two 18th-century paintings by American millionaire Henry Huntington started turning the tide in favor of pink being a girls' color. "The Blue Boy" depicted a boy dressed in blue, and "Pinkie" portrayed a girl in pink attire.
Huntington's purchase was widely publicized in the American press, Steele said. People started thinking that for hundreds of years, blue had been for boys and pink had been for girls. But this wasn't true, she said.
"If you look back, little boys in the 18th century wore blue and pink, and grown-up men wore blue and pink, and ladies and little girls wore blue and pink," Steele said.
Making a statement
Today, a boy or man can't wear pink without it being some kind of statement, said Jo Paoletti, academic and author of "Pink and Blue: Telling the Girls From the Boys in America."
Paoletti said that if a male friend of hers was wearing a pink tie or pink shirt, they would point it out. "If it was just a color, you wouldn't have to do that. You are using a pink tie to show that 'I am a feminist' or that 'I am not tied to gender roles.' "
Eiseman agrees that there has been a steady growth in the usage of pink for men. "But it does take a man who would look at it and say, 'I am not threatened by wearing pink' or 'I don't think I am going to be viewed by other people as being too effeminate if I wore pink,' " she said.
However, researchers at Pantone found that the color pink is being adapted more by men than it ever had been before, Eiseman said. Shirt makers like Pink in London and Ralph Lauren's pink polo shirts have helped make it a popular color among men.
Eiseman said that for some men, the bias against pink comes naturally. But things are changing.
"I think in general, the younger generation simply don't have some of the prejudices about certain colors that perhaps the fathers and grandfathers do, who were raised with that idea that pink is only for little girls or a boy should never wear pink," she said.
Paoletti believes we haven't yet reached the point where pink is just a color, but she is hopeful this can change. She noted that in the late 1800s, if a young woman was wearing black, people would assume that someone had died and that she was in mourning.
"Now, we see young women wearing black all the time, and nobody asks them who died. It's just a color," she said.
Paoletti is hopeful that pink may eventually be just a color, but it won't happen unless men stop justifying or defending wearing it.
See more from our Colorscope series here.