On the path of Hurricane Maria in Puerto Rico
CNN
—
Each morning before work, Héctor Luis Rodríguez Nieves showers with a garden hose behind his tattered home. He uses the jungle as his restroom.
He sleeps on a mattress in what once was the kitchen. Above the bed, clothes hang from the rafters – like Spanish moss from trees. The floor in his old bedroom turned to cardboard and sags like a trampoline. A hole opened up. Few places in the house stay dry. That's because, three months after Hurricane Maria, he still doesn't have a functional roof.
Others might have given up, or moved away, but Rodríguez, a 35-year-old with boyish freckles and a ruler-straight hairline, lived in this house as a child. After his father passed away a few years ago, he says, he moved back in. This is home; he doesn't want to leave.
So he's saving up paychecks from his part-time hardware store job to buy cinder blocks to rebuild. A couple dozen or so are piled in the yard. And he tried to install a tarp on his own. It doesn't do much.
What's brought me to Rodríguez's house in San Lorenzo, Puerto Rico, on December 16, is none of this. It's a yellow piece of paper nailed to the wall, near the front door.
The Right of Entry Form indicates Rodríguez has applied for a professionally installed tarp – or Blue Roof – from the US Army Corps of Engineers. These free roofs, which are meant to last 30 days, may not sound like much. They can be everything in post-hurricane Puerto Rico if you're dealing with sun and rain inside your house. Operation Blue Roof is not the only housing program for Maria's victims, but it is one of the main ways a person like Rodríguez can protect his belongings and try to return to some semblance of normalcy.
To qualify, a home must have less than 50% structural damage. Homes with metal or flat roofs, and those made out of concrete, generally are ineligible for the program because of the difficulties of installing tarps on those structures, according to the Army Corps.
Rodríguez's house was approved for a Blue Roof, according to a government database CNN obtained through a Freedom of Information Act request. He said he applied on October 25.
Yet, when I visit, he's still waiting.
That's true for tens of thousands of Puerto Ricans, the records show.
When I ask Rodríguez about the yellow paper on the wall – the prospect of a tarp – he brushes off delays, citing the crazy magnitude of Maria. Others have it worse, he says.
Then I show him a photo that, for him, changes everything.
I took this image on December 13 in Carolina, about 20 miles north of where Rodríguez lives. The photo shows a warehouse filled with about 20,000 tarp rolls – each representing at least one house, like his, without a roof. There's another warehouse like this in Ponce, to the south. That one holds 40,000 tarps, according to Mike Feldmann, temporary roofing mission manager for the Army Corps of Engineers, who gave me a tour of the Carolina warehouse.
More than 70,000 people like Rodríguez requested Blue Roofs between the day Hurricane Maria hit and December 18, according to a CNN analysis of Army Corps data.
Yet only about one third — less than 25,000 — had received them by that date, the analysis shows.
The Army Corps' own guidelines say homeowners "should expect work within 14 days of the request." However, following inquiries from CNN, agency officials acknowledge the database used to track the work does not show how long residents have been waiting for tarps.
The Army Corps could look at paper records to determine how long applicants have been put on hold, an agency spokesperson says. But the agency declined to say whether such an assessment has been done. Blue Roof installations, according to the spokesperson, are prioritized by location and other factors, not by the date a person applied for a tarp.
"Our mission is to install temporary roofs on all eligible structures as quickly as possible," Patrick Loch, an agency spokesman, says in an email. "Our priority is to maximize the rate of installations across the entire island, and ensure each installation meets the program quality standards. The number of temporary roofs remaining to be installed, along with their location, is the information we use on a daily basis to drive execution of the program."
As for the room full of tarps?
"That warehouse full of roofs is evidence that we've been able to overcome at least one part of that challenge," which was bringing tarps to the island, says Feldmann, the mission manager. Difficult working conditions in Puerto Rico, including unsafe structures, also contribute to the slowdown, he says. "We've done everything we can to address every challenge when we have discovered it and experienced it. There's always things that you can do better and as we learn about a new challenge we find every opportunity to make it more efficient."
It doesn't seem that way to Rodríguez, who's still waiting for a roof.
"I'm speechless," he says, looking at the image of the warehouse. "The Army is immensely big, and there are many people with many talents who know how to work in situations like this.
"God would cry over this injustice."
• • • • •
Two days before I met Rodríguez, I started driving the route the eye of Hurricane Maria bulldozed across Puerto Rico. I'd already spent weeks reporting on conditions after the storm – on people desperately searching for clean drinking water; on the likely undercounting of deaths related to Maria and the storm's aftermath. I wanted to see for myself whether life was returning to normal anywhere along Hurricane Maria's disastrous path.
In particular, I wanted to know whether people still were living without shelter.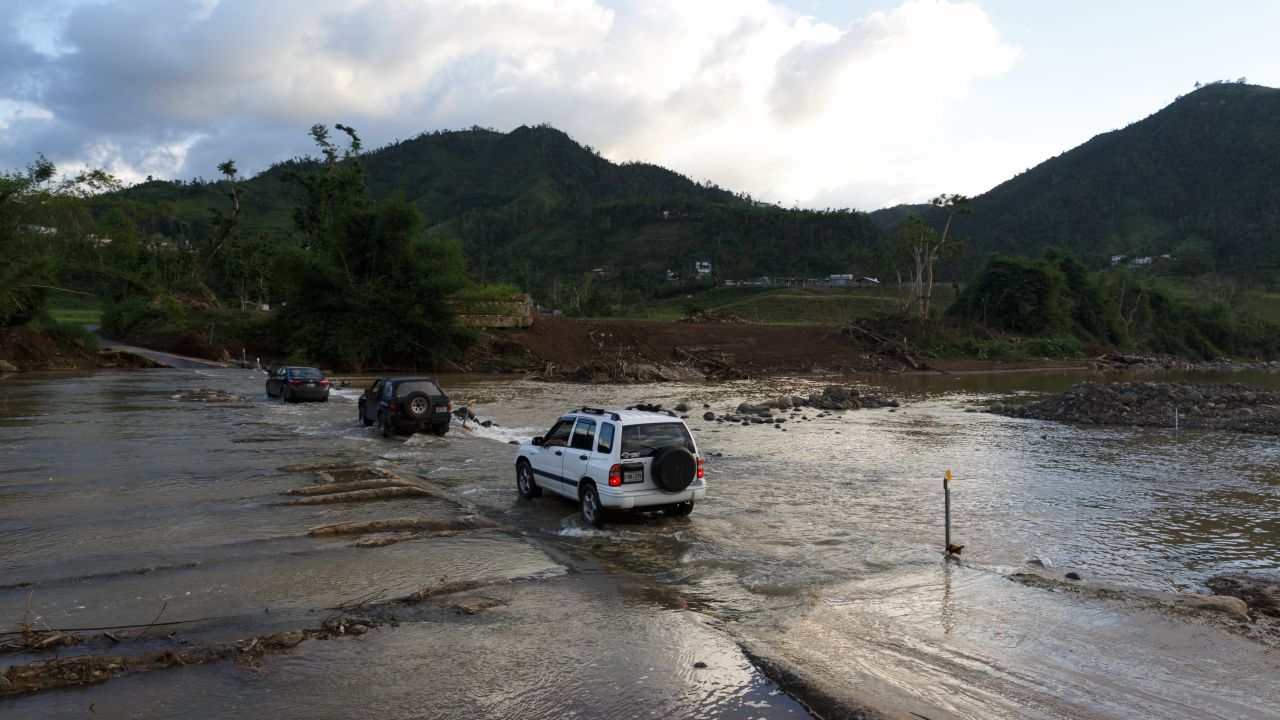 I already knew that tens of thousands were waiting for Blue Roofs in Puerto Rico. And I knew that contracting issues at the Army Corps had slowed the installation of tarps. The Corps had told me as of December 6 that only 26% of Blue Roofs requested had been installed. I didn't know, however, where the temporary roofs were being installed or how long people were waiting. In the void, I decided to try to follow Hurricane Maria's path across Puerto Rico. I wanted to survey housing conditions overall – not just the Blue Roof program.
Maria's eye flew about 70 miles – through plantain fields and stegosaurus-ridged mountains, shanty towns and pastel cities – in roughly eight hours on September 20.
It would take me about a week in a rented minivan to follow the same route. I set out on December 14. I would hit closed roads and downed bridges. I would see repairs being made but also dozens of houses like Rodríguez's that were shells of their former selves. I would meet a baby born after Maria and, later, the relatives of a woman who died in the aftermath.
I begin in Yabucoa, on the southeast coast.
This is where Maria made landfall at 6:15 a.m. with 155 mph winds.
Three months later, you don't have to search hard for problems.
On the shore, I find a family of five living in a home without a roof.
They have a dog named Snickers and two threadbare horses.
Loose tarps cover about half of the structure, but Luis Oscar Morales Martinez, 36, and his wife stay awake all night when it rains, he says, holding broomsticks against the blue plastic; they are human tent poles, trying to keep water from spilling into the single bedroom where they all sleep. Other rooms are open to the sky entirely, leaving rain and tropical sun to rot and warp the toys of their son and two daughters, ages 9, 10 and 15. The two youngest have all but stopped speaking because of the trauma of the storm, their father tells me. I ask one her name and she motions for my pen. "Jailyn," she writes without a word.
"It's not easy," her father says, resigned.
A neighbor tells me this journey will not be easy, either.
"Right now," he says, "people don't have hope."
• • • • •
I drive from the coast into the mountains.
The interior of Puerto Rico generally is the most damaged and least accessible. The valleys and river deltas near the coast grow into lumpy mountain ridges. My ears pop. I come to a spot marked "Carretera Cerrada." Road Closed. Workers say to keep driving anyway.
It can be difficult to reconcile the conflicting messages coming out of Puerto Rico. A utility pole has fallen on a home; the family decorated it with tinsel for Christmas. There are crews untangling power cables, but about 40% of power customers remain without electricity, according to the Puerto Rican government. Many buildings – especially the concrete ones – are standing in Puerto Rico. But that fact only underscores the stark class divisions on the island. Poorer people tend to live in wooden houses, and many of those structures were stripped bare by the 91 mph wind gusts that tore through the highlands here.
What remains, often, is a wooden skeleton.
In a basement lives José Ángel Gómez Ortiz, age 63. The second story of the property was damaged in the storm, and now water pours down through empty light sockets.
Black-colored mold grows on the walls.
Gómez tells me that after living in these conditions he's developed a deep chest cough and a rash on his body. He shows me red splotches on his arms. "It itches," he says.
In a bedroom, stuffed animals are piled on a bed.
Are there children living here?
No, he says, they moved to the continental United States with their mom, his daughter, after the storm.
His brother and sister-in-law moved away, too, he says. After the storm, his brother was living in a school bus because his nearby home had been virtually destroyed, Gómez tells me, walking outside and pointing at the bus downhill. Its nose is demolished. The yellow vehicle's hue is conspicuous against the greens and browns of the surrounding hillside.
Do you want to move to the mainland?
"I'm not going to leave what I have here just to go somewhere else."
• • • • •
Farther inland, in Comerío, another yellow paper.
This one on the home of Carmen Rivera.
That paper – which allows workers to install a Blue Roof – has been there for two months, she says, far longer than the two weeks the Army Corps guidelines suggest. It's hard to say exactly when she requested the tarp because the Army Corps says its own database is unreliable – and because her yellow form was not filled out completely.
Other forms I saw on the drive were so faded by sun and rain they'd become illegible.
"Unfortunately, we have found that sometimes the yellow forms posted at a residence get wet, the ink bleeds and is eventually no longer visible," says Loch, the agency spokesman. "It was recommended to residents that they post in a visible but protected area and/or place them in a clear plastic binder sleeve."
I first met Rivera in October. She told me then that she'd broken her arm while trying to sweep water out of her living room. It was raining and dark, and water seemed to be everywhere in her home that night. Raindrops rippled across the floor. A cast was on her left arm.
Her home is right on the route the hurricane's eye took across Puerto Rico.
When I see her again, on December 16, her roof is still damaged.
Relatives helped install a tarp over part of the property, but water creeps across the floor and her arm is still in the cast. She's strapped a purple, plastic glove over her hand to try to keep the arm dry. Paperwork shows a doctor did surgery on December 12.
"I'm in a lot of pain," she says, clutching a sling.
She sobs inconsolably, shaking, her eyes bloodshot.
She looks up.
"Please don't forget me."
• • • • •
I post about that encounter on Twitter, where I'm keeping an open journal of sorts, under the hashtag #LaRutaDeMaria. Among those who take an interest: The Army Corps of Engineers.
I tag them in a few posts, and they start writing back, providing stats on the Blue Roof program and tweeting the number – 1-888-ROOF-BLU – that people can call to sign up for help.
I don't give the interactions much thought – until I return to see Rivera.
I double back because my last conversation with her haunted me.
That morning, Rivera is standing on the porch smoking a cigarette, watching the occasional car struggle up the steep incline that leads to her neighborhood.
A professionally installed tarp sits on top of her home – a blue roof.
She says it was installed on December 17, the day after my visit. Loch, the Army Corps spokesman, calls the timing of the installation a "fantastic coincidence."
Rivera doesn't buy it.
The publicity led them to come, after weeks of waiting, she says.
"It's so frustrating that I had to wait so long. Because of their delay, I fell and broke my arm."
And that's the thing about shelter: The wait truly matters.
• • • • •
Farther into the mountains, in Orocovis, I meet a family that already has a Blue Roof.
The tarp was installed about a month ago, they say. Until then, however, they'd been living in a home where water dripped on them at night and mold inched up the walls.
Karla Zayas, a 23-year-old with big brown eyes, frizzy hair at the temples and rosary beads around her neck, was pregnant when the storm hit. She gave birth to a marshmallow-cheeked son, Sebastian, on November 18, nearly two months after Maria barreled through.
The morning I stop for an interview, the baby is in the hospital with respiratory problems, according to medical records. It's the newborn's second trip to the hospital with those issues, his family tells me. In all, they say, he has spent 10 days in the hospital. Karla's father, Carmelo Zayas, says he was hospitalized for nine days with similar problems. And a 4-year-old child in the house also was hospitalized for five days with respiratory issues, they say.
Medical records do not state specifically whether the wet living conditions contributed to the illness. But Paula Schenck, who directs indoor environments and health programs at the University of Connecticut, says wet and moldy environments can pose "very serious" health risks, including respiratory illnesses. Installing a tarp may not solve the problems, she says in an email. Water-damaged materials may also need to be replaced.
Baby and mom arrive while I'm talking with the rest of the group.
Karla Zayas says she feared for her son's life.
"He's a baby – a very small baby," she says, "and I was afraid his system was not going to be strong enough to defend himself from conditions like this."
The Blue Roof is nice, says Carmelo Zayas, but it came far too late.
"I do think we got ill because of the delays."
• • • • •
Others have not survived the conditions Maria left.
In Corozal, Pilar Guzmán Ríos died on September 29 without the power she needed to run an oxygen machine and without adequate refrigeration for her insulin, according to family members. Calls to an ambulance didn't yield help because of closed roads and downed communication networks, they say. The woman's sister and brother-in-law, Paula Guzmán and Manuel Morales, are still living nearby in a makeshift shelter, a closed elementary school. They power a light bulb with a car battery and sleep on beds hidden by purple curtains. I met them on a previous trip and decide to return to see how they are doing.
Morales says he and Paula Guzmán – whose eyes are sunken and who speaks only in a whisper – could move back into their home if only they had a roof, or even a tarp.
A yellow paper is tacked to the wall of the house, which is just down the street from the shelter. "They left me waiting," Morales says. "These guys said they would come in a week or two. It's been more than one month since (then). It seems like they forgot us."
Morales shows me the home, popping shutters to let out the stench of mildew. A ceiling fan droops like a wilted flower. Images of Mother Mary and Jesus stare blankly across the room.
I ask him where they'll be in three more months, a year.
He seems unable to think in those terms.
When they moved into the shelter, he says, he thought it would be for just a week or two.
Now they're beginning month three.
He wants his family to think he's fine. "But I'm not OK," he tells me.
"There's nothing better than your own home."
• • • • •
Federal Emergency Management Agency offices. Guaynabo, Puerto Rico.
Two press officers sit me down across a wide conference table from Justo Hernandez, FEMA's deputy federal coordinating officer here.
I tell him some of what I've seen.
How is it possible so many people don't have their needs met when it comes to housing?
The island poses unique challenges, Hernandez says.
Other hurricanes have devastated parts of Puerto Rico, he says, but Maria hit all of it.
"This one impacted the whole island – completely," he says. "When we're working with 3.4 million people, we're working with every municipality heavily impacted. We're working with local utilities. We're working with the loss of the whole communications system in the island and the infrastructure was heavily impacted then. That complicates the recovery process."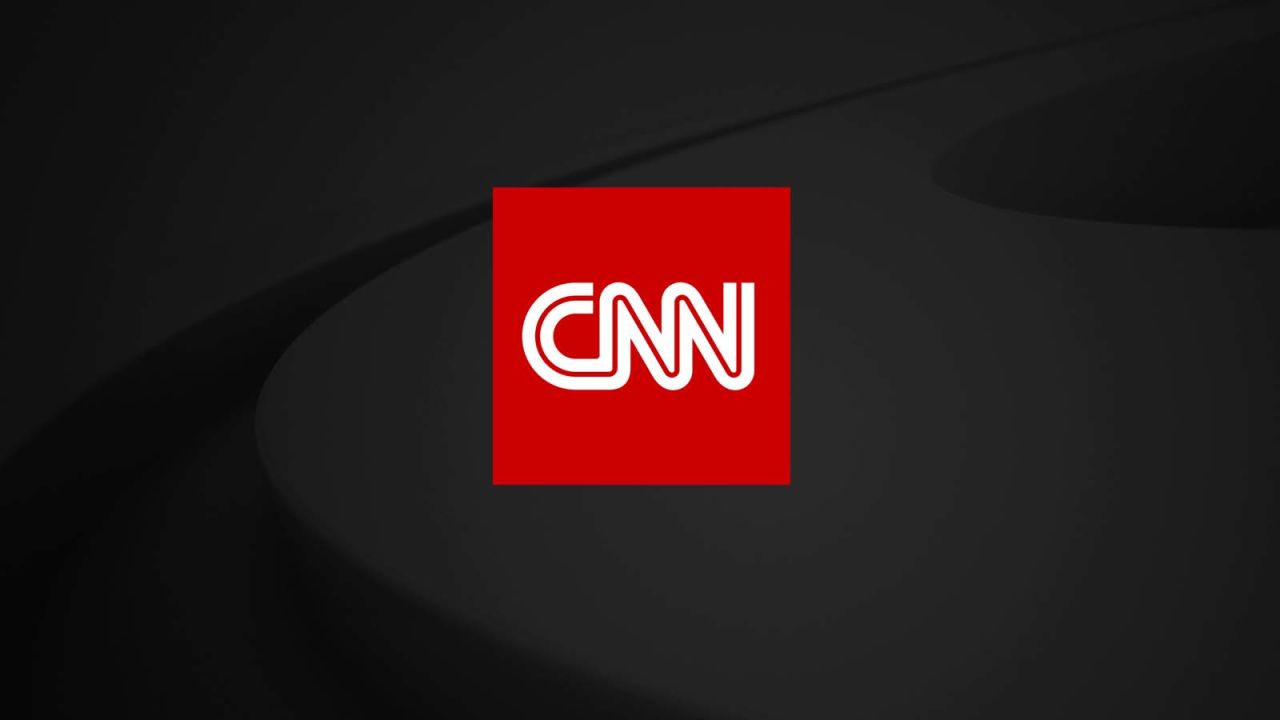 Hernandez provides a verbal list of some ways FEMA is helping.
The agency has distributed 169,000 tarps to municipalities across Puerto Rico for self-installation, he says on December 18. That's in addition to the Army Corps' Blue Roof program. The number of shelters, which are managed by the Puerto Rican Department of Housing, is down considerably, to 39, with 551 people living in them, he says; others are being transitioned to better housing. FEMA can help pay motel bills for those displaced by the storm, including those who move to the mainland US. There's even a program that would pay to move people there. When we talk, no one has taken advantage of it, though, according to a FEMA spokesman.
They don't want to leave, he says.
I've met people who do want to leave, but who say the process has been too difficult or unclear to them – or that they were unaware this FEMA program exists.
What about trailers?
FEMA trailers are fixtures of hurricane response in the United States.
Hurricane season returns in six months, Hernandez says.
"We're an island. When you have 175 mph winds, that trailer is not going to survive."
He also cites logistical and potentially cost-related problems with this form of housing. Trailers can be driven to states on the mainland, but "here you have to put them on barges."
Delivering temporary trailers to Puerto Rico "is going to be, first of all, inadequate," he says. "It's going to be unsafe for the families because I'm putting them in harm's way. And so we decided to then use other forms of assistance here."
I still don't get it, I tell him. I'm meeting people who, three months later, are living without roofs, or without solid ones. It rains on them at night. How is this happening?
"You can find the people that are living through that," he tells me, referring to unsafe conditions, "but you can also find thousands and thousands and thousands of people that got their money, that got their assistance – they got their Blue Roof in place. They've got their own tarps in place; (they) went after the mayor to ask for help; (they) called FEMA and maintained contact with FEMA to get the systems that they provide.
"I mean, you can find thousands of cases like that."
That's true, but not for the majority of people who have applied for Blue Roofs. Our analysis of federal data would find only about one third of applicants had received Blue Roofs by December 18. Again, that's about 25,000 installations out of more than 70,000 requests.
Those numbers track with information provided to us by the Army Corps press office.
Hernandez says some responsibility rests with storm victims.
"I can tell you the one thing that I tell every survivor," he says. "'What are you doing to take ownership of your situation? What are you doing to assist us in assisting you? Are you waiting for stuff to happen to you? What is it that you're proactively doing for yourself?'"
Many people without adequate shelter, he says, are squatters. "We still have shelters open," he says. "So there's no reason why they're living in those conditions."
I relay some of these comments to Carmelo Zayas, the man who was hospitalized and whose newborn grandson was hospitalized after weeks of wet conditions.
He bristles at the suggestion survivors are to blame.
"I moved Earth and heaven," he says. "I've done everything possible to get help."
Still, he says, mold keeps growing on the walls.
"After I clean it, it comes right back," he says. "And it's spreading."
• • • • •
Government warehouse. Carolina, Puerto Rico.
Mike Feldmann, from the Army Corps, looks across that sea of 20,000 tarps and tells me that this is a sign that supplies are here and work is happening in Puerto Rico.
Contracting issues and other bureaucratic missteps have plagued the delivery and installation of tarps in Puerto Rico. The Federal Emergency Management Agency in November fired Bronze Star, a Florida company it had hired to deliver tarps to the island, according to the Associated Press, after the company failed to deliver tarps to the island.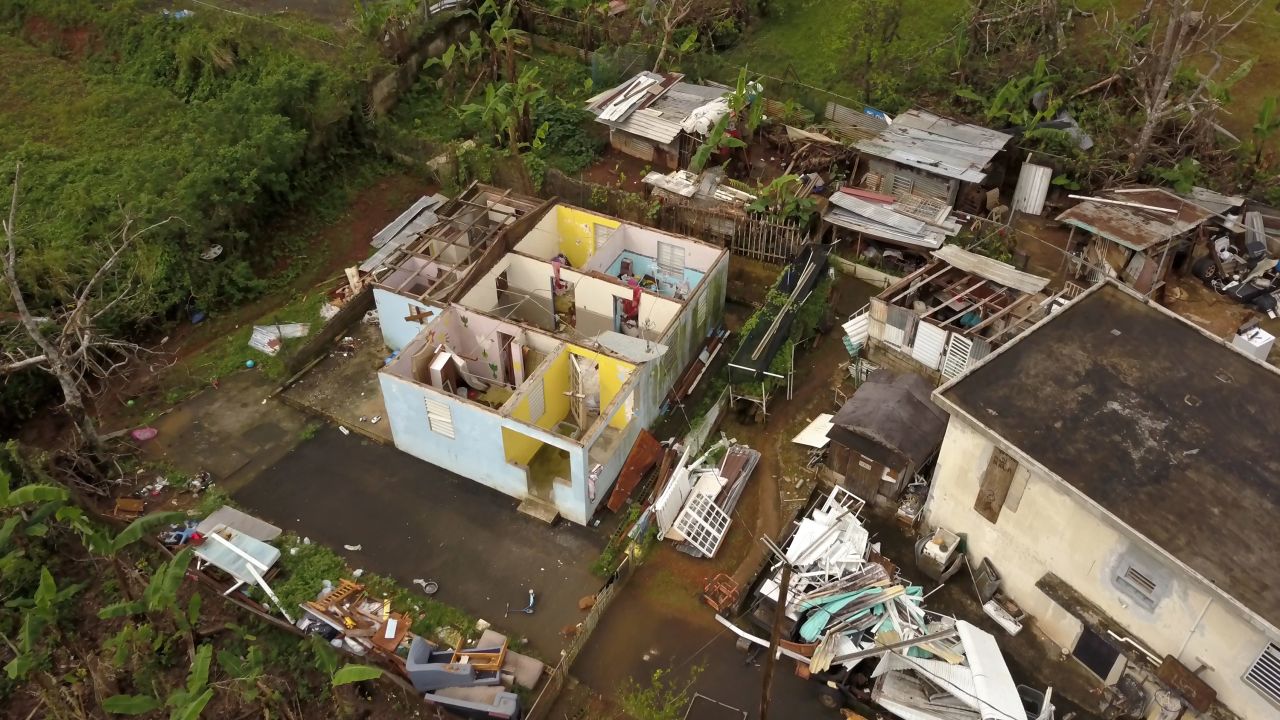 That contracting issue did not slow down the work of distributing tarps, Hernandez says.
He says there are enough tarps on the island to meet needs.
Separately, the Army Corps slowed work on the installation of Blue Roofs for at least nine days, a spokesman says, because of a bid dispute over a government contract – a dispute first reported by CNN. Two attorneys specializing in federal contracts told me there was no compelling reason for the Army Corps to slow its work installing tarps during that dispute, which involved a company, Venegas, claiming that the government had unlawfully given work to a non-Puerto Rican competitor. The Army Corps could have made a simple legal case for continuing work while the dispute was being resolved, they said, especially given the humanitarian emergency in Puerto Rico.
In the end, Venegas got a slice of the contract, and work resumed full-tilt on December 13, says Loch, the Army Corps spokesman. But the Corps has estimated about 400 temporary roofs per day went uninstalled during that nine-day period – so approximately 3,600 roofs in total. The Corps was installing about 500 Blue Roofs per day in mid-December.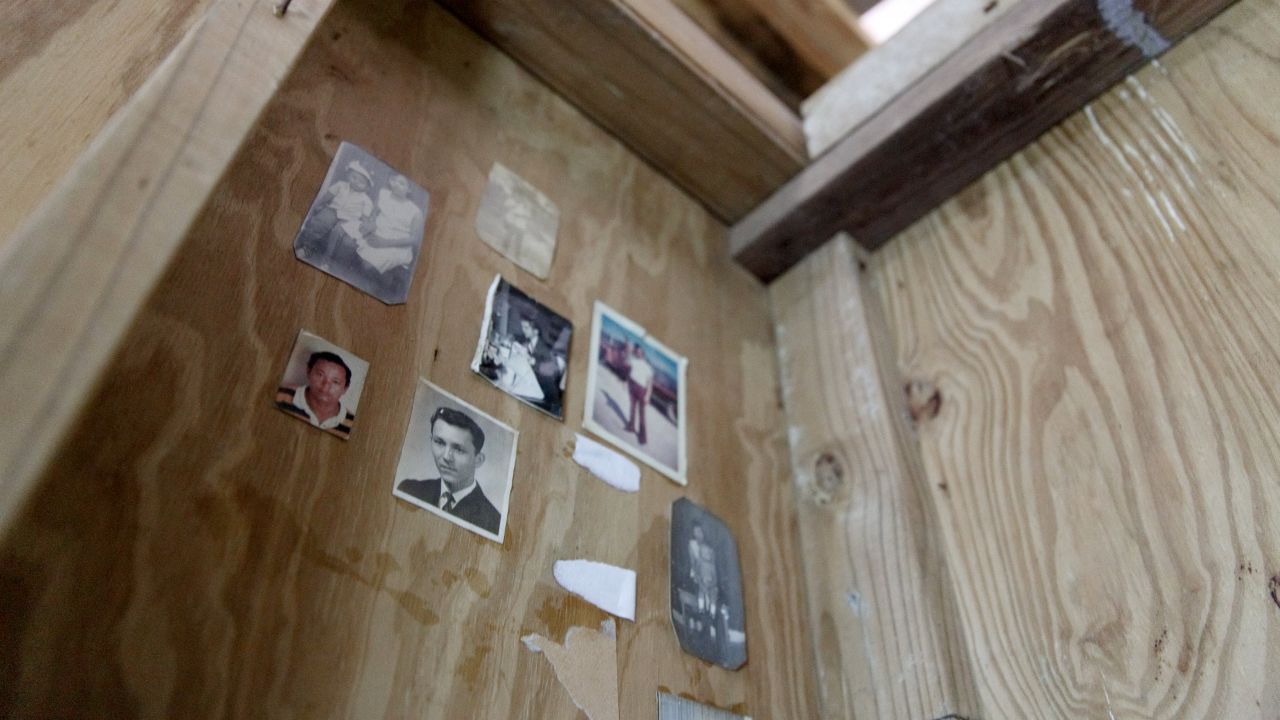 "Ideally, these roofs go up the day after the storm hits, but as we have said many times the level of devastation here, the challenges to getting personnel in a position to assess houses, award contracts and get those workers up to speed in terms of installing blue roofs on unique structures has been tremendous," Loch says in an email.
"We continue to increase the number of roofs installed every day, and will continue to do so until every resident eligible for the temporary roofing has a Blue Roof installed."
The Corps' contractors have about 1,500 workers per day installing tarps, he says.
The project's budget is $200 million.
FEMA says it has approved more than $880 million for individual and household assistance.
• • • • •
Meanwhile, tens of thousands are waiting for help from the Army Corps and others.
There's the retired roofer with a physical disability. He'd like to fix his own roof but can't because of his hip. While he waits for assistance, the mattress upstairs has become so saturated with water that touching it releases a virtual flood. He sleeps in the living room. There's no power to run the oxygen machine he needs for nighttime breathing treatments.
Then there's the family in Barranquitas with a 5-year-old boy. His mother's home was destroyed in the storm, and other family members were displaced. They show me the boy's Christmas list for Santa: "I would like a motorcycle and something for construction."
At a shelter in Manatí: George Rivera, 60, says he became so depressed after the storm that he tried to drive his SUV off a cliff in his hometown. He's doing better now, he says, but his wife has cancer and they plan to move to Alabama to be with family, when they find tickets.
Down the street, Luis Rodríguez Ortiz, 47, spend his work days collecting sewage from septic tanks. Little by little, Puerto Rico will return to its old self, he tells me. It won't be fast, but you have to keep working at it. Meanwhile, there's no wall on the back of his house.
In Morovis, a mother and daughter, ages 87 and 58, sleep in the same bed. They've taped a few photos to the plywood wall – black-and-white images of better times. The ceiling drips at night, they say. They're among the thousands waiting for a Blue Roof. Their neighbor got one, but she tells me it was only half-installed. The workers said they'd be back, she says, but that was two weeks before my visit, and by then they hadn't returned.
Not far from there, a woman lives with her sister because her home doesn't have rafters, much less a roof. When "I feel like I'm losing myself," Carmen Torres says, she lies down on a couch in the only dry spot in her old home and sobs.
For some, it feels Maria never left, like the storm is still pummeling them day after day.
Across the room from Torres, a clock is stopped.
3:27.
• • • • •
I descend from the mountains toward the northwest coast where the eye of Hurricane Maria left this island on the afternoon of September 20. It's a place of extremes, like much of Puerto Rico. The mountains give way to fertile valleys where cows roam – and where pharmaceuticals are manufactured. Fast-food restaurants are open; some homes don't have walls.
In Hatillo, just after sunset, I arrive at roughly the spot on the map where Hurricane Maria left the land and coasted into the Atlantic Ocean. It's hard to find the beach at first amid the suburban sprawl — neat concrete homes with symmetrical driveways. It feels like San Diego. I ask directions, and a family points me down the street and around a bend to the beach.
I want to see where the hurricane's path ends.
I spot two headlamps scanning the shoreline.
It's two fishermen. They're trying to catch food for their families.
I sit in the sand to watch.
I think back on the drive, straining to imagine these post-hurricane conditions lingering in such a widespread way in any US state – Florida to Hawaii. I think about Sebastian, the baby born after the storm, and Pilar, who died in its aftermath; about Carmen with her broken arm, and Héctor saving money for cinder blocks. How many months will it take him to rebuild on his wages? Others have lost jobs because of Maria and have few prospects for regaining them. Puerto Rico was in financial free fall – the government in bankruptcy – before the storm.
Now it's anyone's guess what's left.
Congress in October approved a $36.5 billion aid package for natural disasters, including Hurricane Maria. But critics say the response has been too little too late.
"We can't fail to note the dissimilar urgency and priority given to the emergency response in Puerto Rico, compared to the US states affected by hurricanes in recent months," Leilani Farha, the United Nations special rapporteur on the right to housing, said in October.
"After a natural disaster, with around 90,000 homes totally destroyed, people are at their most vulnerable. It's the obligation of all levels of government to act to protect them, and to ensure that lives can return to some normality quickly."
The 3.4 million Americans living in Puerto Rico have little political recourse. The island is a United States commonwealth. It's home to citizens who, unlike those on the mainland, cannot vote in general presidential elections and have no voting representative in Congress.
This is a territory in limbo – neither state nor nation.
A place that's been made to wait.
I stay with the fishermen for an hour before, finally, a bite.
One of them runs to the shore, tugs on the wooden rod.
It's a struggle, but he drops a fish – big as my shin – in the beam of the headlamp.
This is a ray-finned fish, he says. Too spiny to eat.
He throws it back into the ocean.
I wait another hour before asking: How long do you stay out here fishing?
As long as it takes, they say.
Sometimes, all night.
Postscript: As of January 1, 2018, 30,580 people had received Blue Roofs in Puerto Rico, according to the US Army Corps press office. Yet 45,125 applicants continued to wait. Héctor Rodríguez was among them until he received a Blue Roof on January 31, he tells CNN.
Freelance journalist Cristian Arroyo contributed to this report.