USA Gymnastics, the national governing body for gymnastics in the United States, has suspended one of its most prominent coaches amid a scandal over sexual abuse by a former national team doctor.
John Geddert, the 2011 USA World Team and 2012 USA Olympic Team head coach, was suspended Monday under a provision in the USA Gymnastics bylaws that allows interim measures to be taken to "to ensure the safety and well-being of the gymnastics community."
USA Gymnastics said in a statement that it's "unable to comment further as this is a pending matter."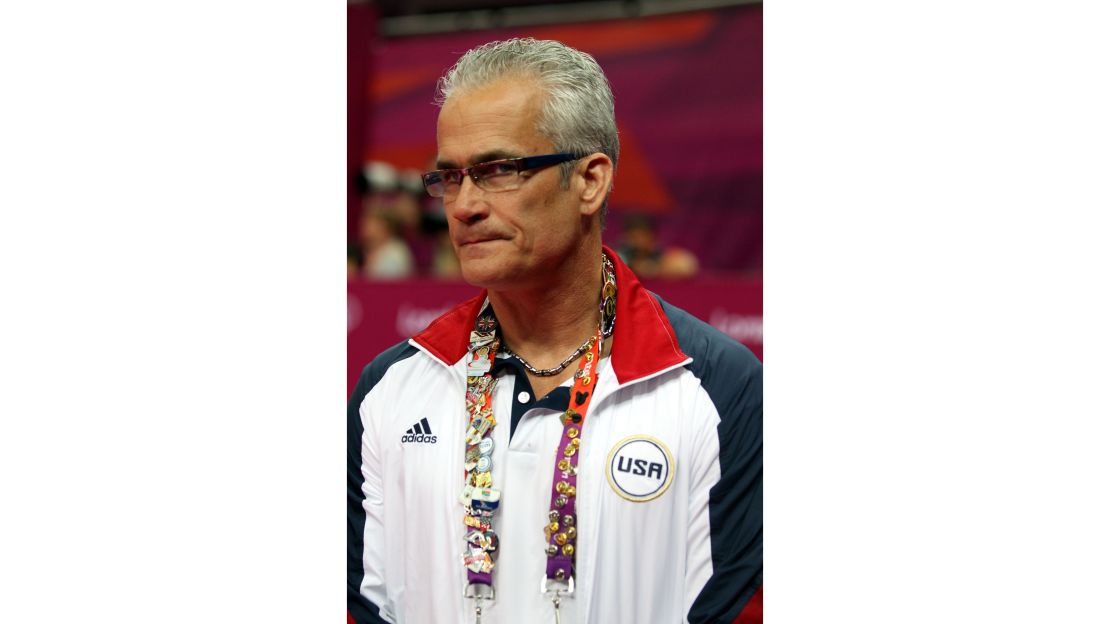 Geddert, 60, coached the 2012 USA "Fierce Five" Olympic gymnastics team and is also the owner of the Twistars Gymnastics Club in Michigan, one of the locations where Larry Nassar, a disgraced former gymnastics physician, has admitted to sexually abusing young female athletes. Two alleged Nassar victims, Aly Raisman and Jordyn Wieber, were on the 2012 US team.
Nassar has pleaded guilty to seven counts of criminal sexual conduct in Ingham County, Michigan, and has admitted to sexually assaulting and abusing young girls under the guise of providing medical treatment. Nassar also pleaded guilty to three charges of criminal sexual conduct in Eaton County, Michigan, and already has been sentenced to 60 years in prison for federal child pornography charges.
Twistars Gymnastics Club did not respond to CNN's request for comment.
Competitive coaches who wish to participate in USA Gymnastics-sanctioned events are required to have a professional membership with USA Gymnastics. The USAG provision under which Geddert was suspended also states that action may be taken "where an allegation is sufficiently serious that … (a coach's) continued participation could be detrimental to the sport or its reputation."
Geddert's attorney, Chris Bergstrom, said in an email Tuesday that "at this time, Mr. Geddert only wishes to convey his heart-felt sympathy to all victims of Larry Nassar's abuse. Any further comments will distract from the victims' statements at Nassar's sentencing."
Both Raisman and Wieber have delivered victim impact statements during Nassar's ongoing sentencing hearing before Ingham County Circuit Court Judge Rosemarie Aquilina. Some 158 victim impact statements are expected to be read in court before sentencing concludes.
Raisman called out USA Gymnastics by name during her statement last week, saying the organization was "rotting from the inside."
"USA Gymnastics, where is the honesty? Where is the transparency? Why must the manipulation continue?" Raisman asked. "Both USA Gymnastics and the United State Olympic Committee have been very quick to capitalize and celebrate my success. But did they reach out when I came forward? No."
Geddert's suspension comes amid further organizational fallout surrounding the Nassar scandal. On Monday, the USA Gymnastics announced resignations from its board of directors' executive leadership.
CNN's David Close contributed to this report.