Story highlights
Federer wins over Marin Cilic 6-2 6-7 (5-7) 6-3 3-6 6-1
He collects record 20th major
First man to win 20 grand slam titles
Cilic lost last year's Wimbledon final to Federer
Roger Federer is ageless.
Without a grand slam title from the middle of 2012 to the conclusion of 2016, the Swiss has now won three of his last four following a gripping 6-2 6-7 (5-7) 6-3 3-6 6-1 victory over Marin Cilic in Sunday's Australian Open final.
He has reached the milestone of 20 grand slam titles – the first man to do so – and it is a mark that could stand for decades. Or longer. His six Australian Open crowns also drew him level with the all-time men's leaders of Roy Emerson and Novak Djokovic and he is the second oldest man to win a major in the Open Era.
The 36-year-old has often said other great players will come along when he finally does retire. That could be the case but there might not be another player quite like him.
Much to the relief of his legions of supporters, Federer's form suggests he won't be calling it quits anytime soon. The two sets he dropped against the sixth-ranked Cilic were the only ones he conceded the entire fortnight in Melbourne.
"The fairytale continues for us, for me, after the great year I had last year," said Federer, who captured the Australian Open and Wimbledon in 2017 to end his grand slam drought. "It's incredible."
An emotional Federer then thanked the crowd, who had chanted, 'Let's go, Roger' to get him over the finish line in the fifth set.
"I'd like to thank you for everything," he said, his voice cracking. "You guys make me nervous, you make me practice."
There were indeed tears from Federer a la the 2009 Australian Open final. But on that occasion, they were tears of sadness as he was defeated by great rival Rafael Nadal in five sets.
Federer admitted he was nervous in the buildup as he thought about getting to 20, which would explain why he wasn't his usual efficient self in the second and fourth sets.
He had more time to ponder because the Australian Open is the only grand slam where the men's final is contested at night.
"All day I was thinking, 'How would I feel if I won it, how would I feel if I lost it?' I'm so close, yet so far," he said. "I think I was going through the whole match like this.
"I've had these moments in the past, but maybe never as extreme as tonight. Getting to 20 is obviously very, very special, no doubt."
Federer's late career revival after a knee injury truly began 12 months ago in Melbourne when he overcame Nadal in five sets in the final.
Extreme heat
Sunday's affair was played under the roof at an air conditioned Rod Laver Arena as organizers implemented the extreme heat policy for the second day in a row – the thermometer soared to 37 degrees Celsius outdoors as the match began.
It appeared to contradict an earlier statement from the tournament that stated the temperature had to be at least 40 degrees – as one criteria – to institute the rule.
Some felt it was a considerable boost to Federer, since he is an especially fantastic indoor player. He played his semifinal against South Korea's history maker Hyeon Chung under the roof due to rain.
Just how much being indoors affected the outcome is up for debate and given it went the distance, it probably shouldn't be dwelt upon.
Cilic said he had the chance to practice indoors Sunday to get used to the conditions but chose not to.
"I didn't mind to have the roof closed," said the 2014 US Open champion. "But it was a huge difference in temperature from having outside 38, then when you came in, it was like 23, 24. It was way cooler than I expected."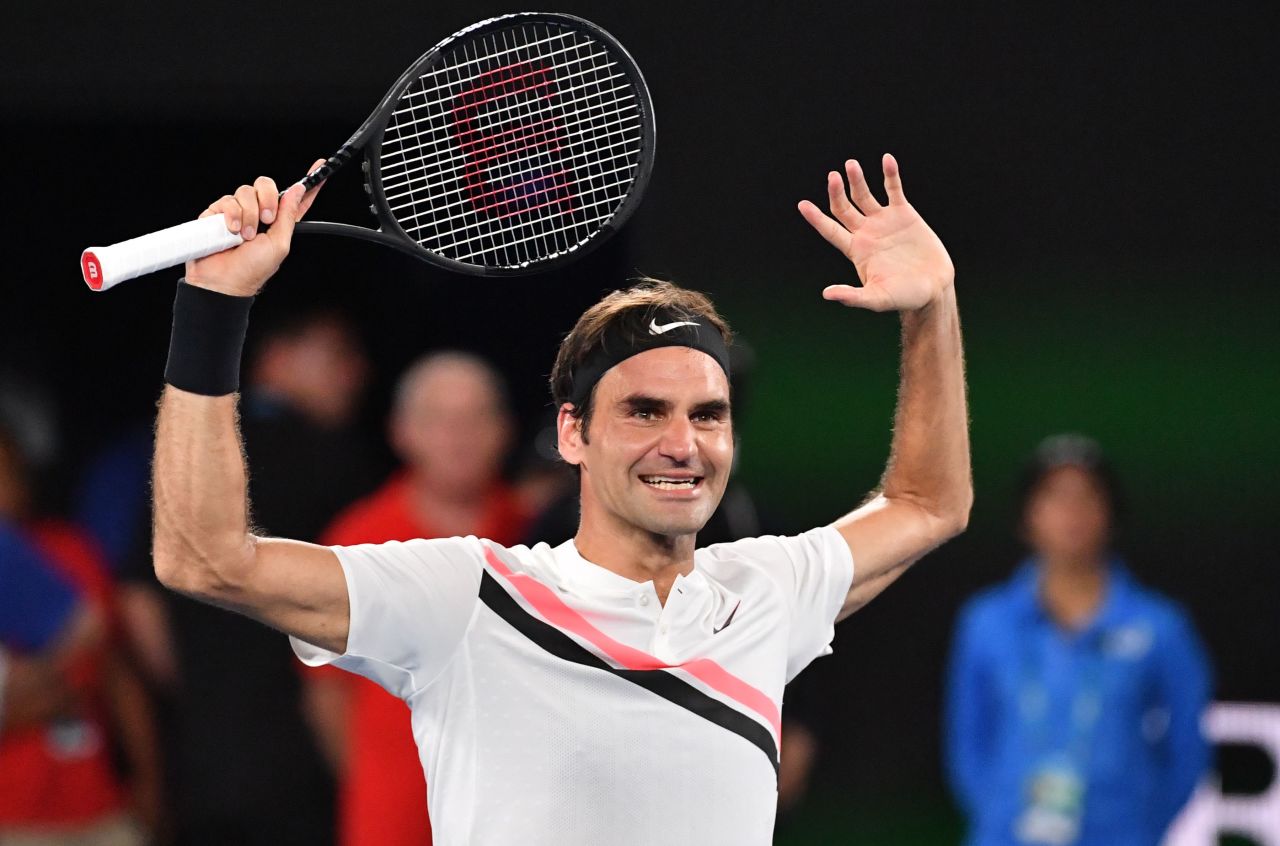 Roger Federer wins Australian Open
Asked if he thought it was an advantage to Federer, he added: "I don't know. Just looking at my own side, I didn't feel those conditions before. I had a slow start in the match, losing straightaway my two service games, then catching up most of the time."
"But looking overall, I'm really pleased with the performance."
For his part Federer said he was surprised the heat rule was in effect for a night encounter but that no matter what the final decision was, it wouldn't have bothered him.
"For me, it doesn't change anything in the preparation," he said. "I was ready for either."
Cilic's journey to the final included beating an injured Nadal in the quarterfinals Tuesday, a large chunk of luck that sometimes foreshadows even better things.
And when Cilic manufactured two break points to begin the fifth, he was certainly in the ascendancy. Could he really upset Federer after losing the Wimbledon final to him in straight sets last July?
A fine serve helped Federer on the second break point but on the first, Cilic put a second-serve forehand return into the net. Overall he went 2-for-9 on break points, not good enough against Federer. And averaging 18 aces leading into the final with only one of those matches going to five sets, the 29-year-old dropped to 16 Sunday.
"I think I served a little bit better with Rafa," said Cilic. "Today I was not finding just rhythm on my serve as good as against Rafa."
He was broken in the next game and Federer – who slammed down 24 aces – registered the insurance break for 5-1.
The "first game of the fifth set was more or less crucial," said Cilic.
Missed chances
Only the aforementioned Federer nerves realistically prevented a three- or four-set win. Cilic faced three break points in three different games in the second set.
On the final one, at 4-4, he delivered a gutsy second-serve ace down the middle. The serve did help him there. It felt like a key moment and Cilic duly earned a set point in the ensuing game after Federer donated two double faults.
Cilic however tamely sent a routine backhand – the backhand is traditionally his stronger side – into the net.
The momentum was thus with Federer in the tiebreak but Cilic overturned a mini-break deficit at 4-3 to level proceedings at a set apiece.
Federer broke for 4-2 in the third and broke again to start the fourth. Yet he was struggling with his first serve in spurts and it caught up with him as he dropped serve to love for 3-3.
The back-and-forth nature of the contest continued, with Cilic fending off a break point for 4-3 and duly breaking for 5-3 thanks to a punishing forehand.
Federer has only ever lost one grand slam final when leading by two sets to one – to Juan Martin del Potro at the 2009 US Open – but could this have been the second occasion? The chair umpire, Jake Garner, was the same as in New York nine years ago.
Turning point
Federer took a rare bathroom break yet it did little to stop Cilic's surge.
In what ultimately was the turning point of the affair, Federer saved those two break points.
Early in the first set the world No. 2 – he is on the heels of Nadal – raced to 10 straight points and he ended the fifth by claiming 18 of the last 19.
Federer had to wait to fully celebrate when Nadal challenged on match point last year and the same thing happened Sunday. But Hawk-Eye showed that Federer's serve out wide struck the line. He smiled and raised his arms in joy.
READ: Wozniacki wins maiden major
Visit our tennis page for more Australian Open coverage
For the 20th time in a grand slam final he was the one celebrating at the end.