Cambodian authorities have accused 10 foreigners of violating the country's anti-pornography laws, after police raided a party in Siem Reap, close to the famous ruins of Angkor Wat.
The group, which includes at least five UK nationals, as well as two Canadians, a Norwegian and a New Zealander, is accused of "preparing pornographic materials," a charge which could see them face up to a year in jail if found guilty.
Cambodian authorities have distributed photos which they allege show the group simulating various sexual positions. It is not clear whether the photographs were taken at the party where the arrests took place.
The suspects, speaking anonymously to Britain's Press Association, said they did not understand why they were being detained, and that none of those arrested are the same people who appear in the photographs released by police.
"Honestly, it was really confusing. Everyone was confused. They raided, rounded us up – there were about 80 to 100 people at this party. Some of them were tourists. There were about 30 of them (police officers)," said the suspects.
The accused were taken into custody by authorities on Thursday, according to a Cambodian police statement.
Sung Sothea, one of the lawyers representing the group, who are all aged between 20 and 33 years old, told CNN they will be held for an initial 15-day period while the investigation continues, with the possibility the police could extend their detention for up to four months should more evidence become available.
CNN has attempted to contact the organizers of the party, which had been advertised on a Facebook group, but have yet to receive a response.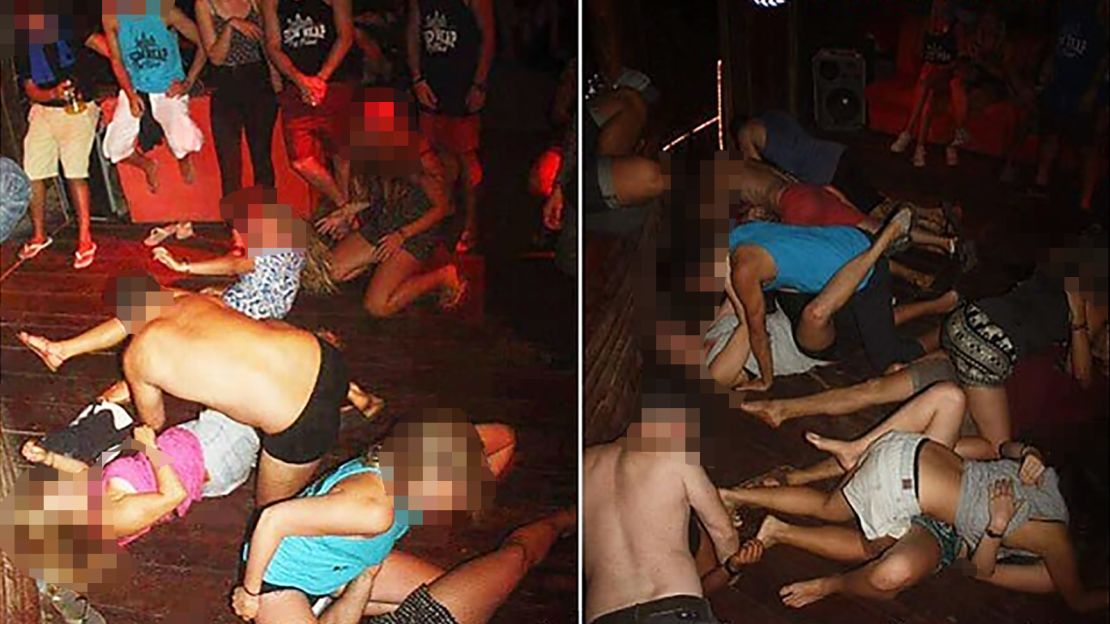 A spokesman for the Cambodian Interior Ministry, Khieu Sopheak, denied the arrest was part of a nationwide crackdown.
"This operation was taken under Siem Reap provincial authority. We welcome tourists but sometimes people commit a mistake against the culture and tradition of Cambodia and the law gets involved," said Sopheak, adding that "well behaved tourists should not worry."
More than two million tourists visited Siem Reap in 2016, up from 599,675 in 2006. The increase in popularity has seen the once sleepy town transformed, with budget hotels, bars, and nightclubs seeking to cash in on the tourist boom.
In September 2017, Cambodian authorities fined and then deported several US tourists for taking nude photos at Angkor Wat, which is considered a sacred site for the country's people.
President of Cambodia Law Services, Sam Onn Kong, told CNN he didn't believe what the backpackers were alleged to have done was actually illegal under Cambodian law.
"It's not illegal to pretend to have sex with your clothes on, (but) it depends on other relevant factors like your intention and outcome," he said. "I don't think the pictures constitute pornography."
Sam Onn Kong said it wasn't clear to him why the foreigners had been arrested. "Usually Cambodian law enforcement, they don't care much about (these kind of things) unless it is a very public show, but if it happens in private it wouldn't be a problem," he said.