Story highlights
US general affirms continued US presence in northern Syrian hotspot
Turkish forces have been threatening to push into the city of Manbij
US troops will not withdraw from Manbij, a strategically important city in northern Syria, a leading US military figure told CNN Sunday.
This means that US troops risk being caught up in Turkey's military push into northern Syria should Ankara follow through with a pledge to advance into the area.
Gen. Joseph Votel, commander of the United States Central Command, said that withdrawing US forces from Manbij is "not something we are looking into."
Manbij is a key flashpoint in northern Syria – located northeast of Aleppo and around 40 kilometers (25 miles) south of Jarabulus, which sits on the Syrian-Turkish border.
Turkey launched a ground operation across the border into Syria a week ago in an attempt to drive US-allied Kurdish militia from the area. The military incursion has raised tensions between Turkey and the United States, which supports and openly arms Kurdish militias fighting ISIS.
The confirmation of US commitment to Manbij comes as parties involved in the conflict prepare to meet in Russia-hosted peace talks in the Black Sea resort of Sochi.
The Syrian National Dialogue Congress will take place over Monday and Tuesday, and will be attended by up to 1,500 delegates from across the Syrian political landscape, Russian state media says.
The UN's special envoy for Syria, Staffan de Mistura, will attend, the world body confirmed.
US general: ISIS fighters defied al-Baghdadi
Differing accounts
Conflicting accounts of a Wednesday phone call between US President Donald Trump and Turkey's President Recep Tayyip Erdogan further muddied the waters concerning Turkish ambitions in the area.
According to the White House's readout of the call, Trump "urged Turkey to exercise caution and to avoid any actions that might risk conflict between Turkish and American forces."
However, the White House version of the call was immediately disputed by Turkish officials.
Turkey's foreign minister told reporters Thursday that Erdogan had asked Trump to withdraw US troops from Manbij.
"The US is engaged with the Turkish government at all levels to develop a solution which addresses Turkey's security concerns and ensures there is no decrease in pressure on ISIS," Department of Defense spokesman Eric Pahon told CNN at the time.
Defense of the the city is the responsibility of the Manbij Military Council (MMC), a primarily Arab force made up of Manbij locals. It is aligned with the US coalition partner Syrian Defense Force (SDF). The MMC was created to defend Manbij from ISIS and assumed the defense of the town in August 2016 after the SDF liberated the area from the jihadi group.
Coalition troops trained, advised, assisted and accompanied the MMC in 2016, and continues to provide material and training support.
"This allows the citizens of Manbij to continue to make progress in restoring the city to its pre-conflict way of life," Pahon said.
"This return to normalcy is an important factor in preventing the return of ISIS."
The city is 60% ethnically-Arab and an approximately 40% mix of Kurdish, Turkmen and Circassia, according to Pahon.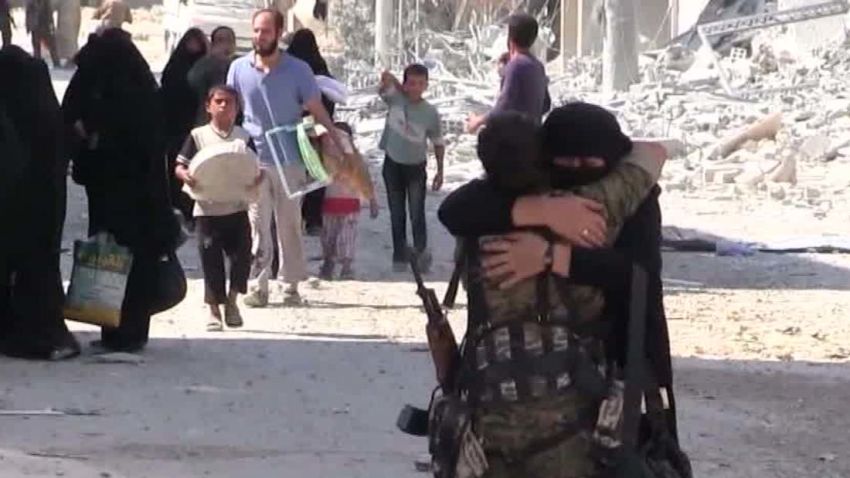 After two years under ISIS control, free at last
Continued activity
Two US defense officials told CNN earlier in January that the US military was carrying out overt patrols in the Manbij area, with the primary mission of deterring conflict.
The officials added that Turkish-backed rebels in the area regularly fire on these patrols and US forces occasionally return fire. One military official said US troops in the Manbij area had come under fire from Turkish-backed rebels "within the last week," and had returned fire in self-defense.
On a visit to London last week, US Secretary of State Rex Tillerson had voiced "concern" about Turkey's offensive against Kurdish militia in northern Syria, urging restraint but stopping short of demanding an end to the operation.
Tillerson said that Turkey had a right to protect its citizens but urged "restraint" on both sides.
Earlier in January, he said the US must remain both diplomatically and militarily engaged in Syria to protect its own national security interests.
CNN's Jomana Karadsheh, Ryan Browne and Barbara Starr contributed to this report