President Donald Trump, in an interview with British broadcaster Piers Morgan, falsely claimed that the polar ice caps which have been melting at historic rates were in fact "setting records" for how much they aren't melting.
The claim is contradicted by hosts of scientists and Trump's own administration, but the President's efforts to downplay the impact of climate change follow his previously stated views that the science around the warming is a "con job" and a "myth."
"Do you believe in climate change," Morgan asked Trump in Davos, Switzerland, earlier this month. "Do you think it exists?"
Trump responded by arguing that climate change is cyclical, but added, "The ice caps were going to melt, they were going to be gone by now, but they're setting records, OK? They're at a record level."
Multiple White House officials did not respond to questions about what Trump was referring to or whether the President wanted to correct his claim.
Ice caps setting record lows, NASA says
The records that the ice caps are setting are for record lows, not highs.
NASA found last year that "Arctic sea ice appears to have reached on March 7 a record low wintertime maximum extent." The same study found that "on March 3 sea ice around Antarctica hit its lowest extent ever recorded by satellites at the end of summer in the Southern Hemisphere, a surprising turn of events after decades of moderate sea ice expansion."
And Arctic sea ice has been dramatically decreasing for years, experts say.
Penn State climate scientist Dr. Michael Mann told CNN that the Arctic is losing ice faster than originally predicted, especially during its late summer minimum.
"We still expect an ice-free arctic to occur during the late summer in a matter of decades", Mann said.
Antarctic sea ice was trending towards a record high a few years ago, but not anymore.
Last year the Antarctic sea ice reached its smallest extent since records began in 1979. But swings in the Antarctic are expected by scientists, according to Mann, as "sea ice extent in the Antarctic has far more to do with changing circumpolar wind patterns than temperatures."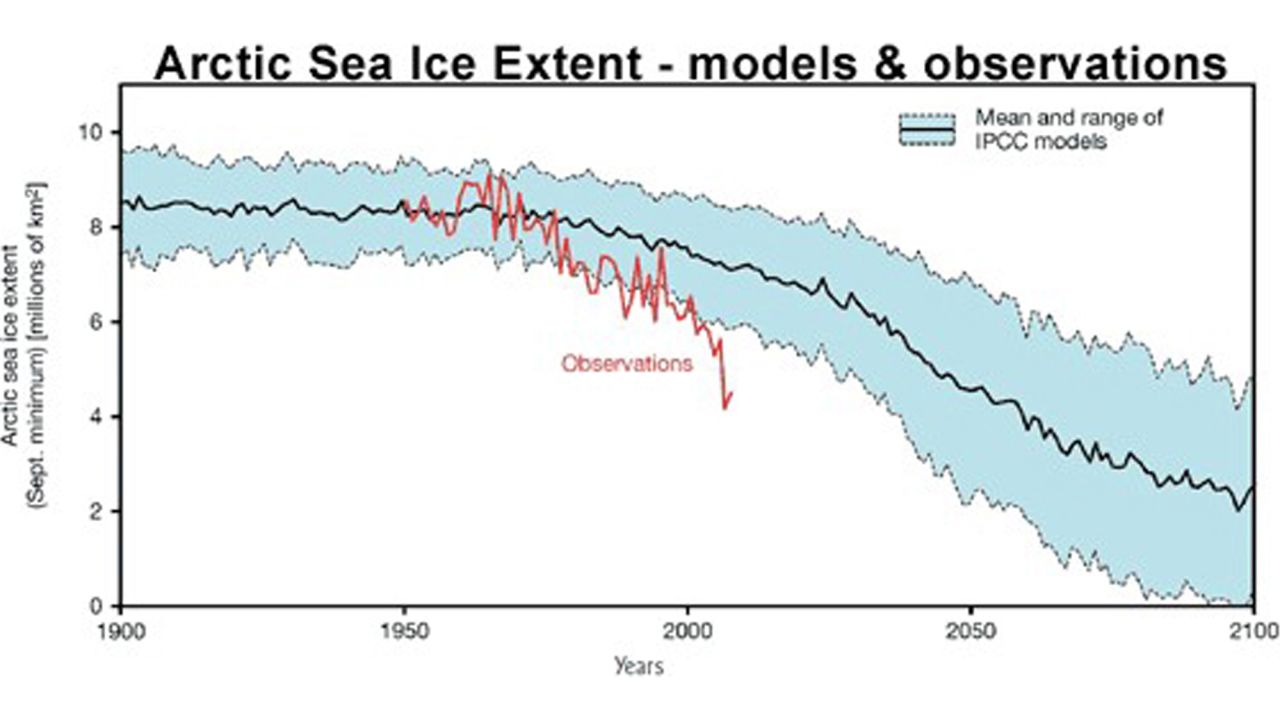 When it comes to the ice sheets in Antarctica and Greenland, the critical players when it comes to sea level rise, they "are losing ice far sooner than the models predicted," says Mann.
Trump also claimed, as he has done before, that "there is cooling, and there's a heating," a suggestion that many climate change deniers have used to say the changes in the atmosphere are cyclical, not due to human actions.
The last four years have been the four hottest on record for the planet, and those records, kept by the National Oceanic and Atmospheric Administration and NASA independently, go back all the way to 1880. And the warming streak goes back a lot farther than that: The last year that was cooler than the average over the past century was 1976.
While the global temperature does not tick upward every single year, as there are other weather and climate phenomena that play an important role in global temperature, the trend remains significantly upwards.
"Yes, the climate changes naturally, but there is now a human steroid on top of that cycle," according to Dr. Marshall Shepherd, director of Atmospheric Sciences at the University of Georgia. "Grass grows naturally too, but if you fertilize the soil, it grows differently."