Cape Town – a city once at the forefront of Africa's green movement – implemented new emergency water restrictions Thursday as the sprawling metropolis prepares for the day its taps run dry.
Residents are now being asked to curb the amount of municipal water they use each day to just 50 liters (a little over 13 gallons). Only a month ago, level six restrictions had placed residents on a daily allowance of 87 liters (about 23 gallons), illustrating the severity of the looming crisis.
Officials estimate that if water levels continue to fall as expected, South Africa's second most populous city will run out of water by April 16, which has been dubbed "Day Zero."
Experts are keeping a close eye on daily consumption in a desperate bid to avoid the disaster, warning residents tempted to ignore measures that they face fines and the installation of water-management meters if they do not comply.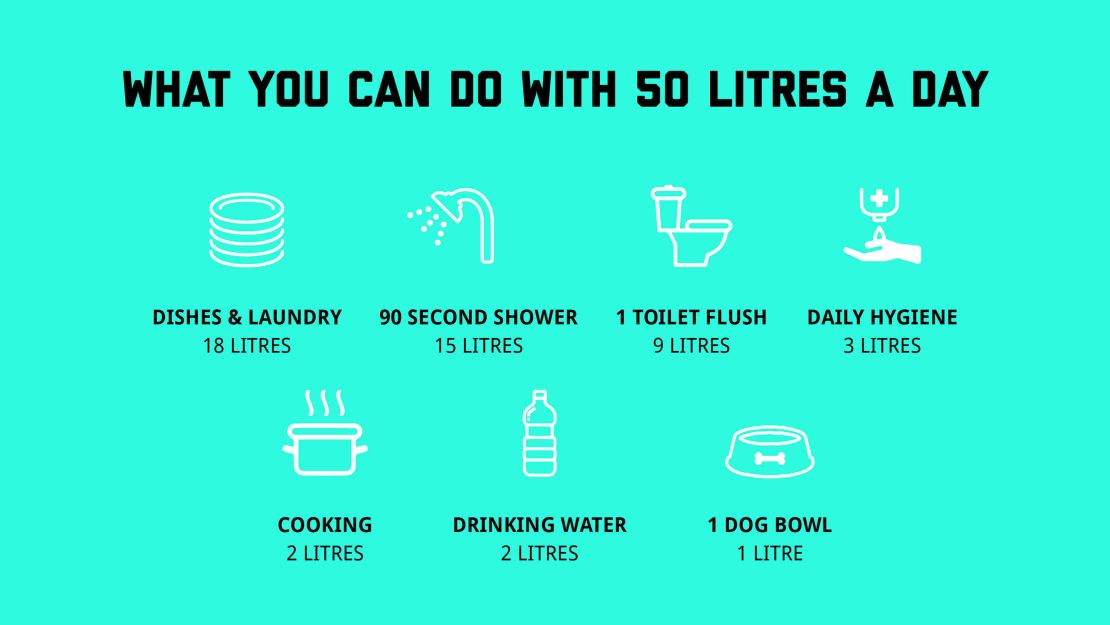 It may seem unthinkable that a developed city of four million could run out of water but it's been a slow-burning catastrophe exacerbated by some uncontrollable factors.
Cape Town been enduring the worst drought in a century for the past three years. A changing climate and rapidly growing population have made matters worse.
And as the crisis has taken hold, Capetonians have not been doing enough to curb their water use, further aggravating the scarcity. Only an estimated 55% of the city's residents are actually sticking to their allotted water per day, according to last week's figures issued by authorities.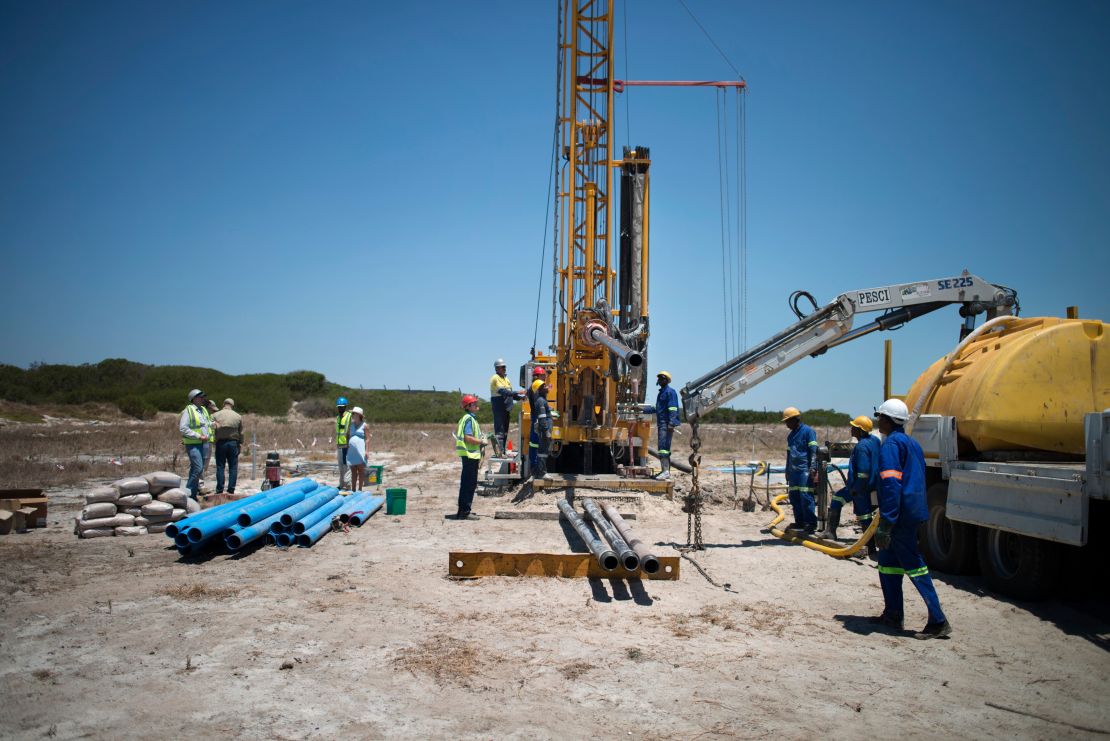 The city is now working to upgrade its water systems – rushing to build desalination, aquifer and water-recycling projects – and help stretch the current supply, but officials say residents need to step up, too.
"It is quite unbelievable that a majority of people do not seem to care and are sending all of us headlong towards Day Zero," the mayor's office said in January. "We can no longer ask people to stop wasting water. We must force them."
Residents already feeling impact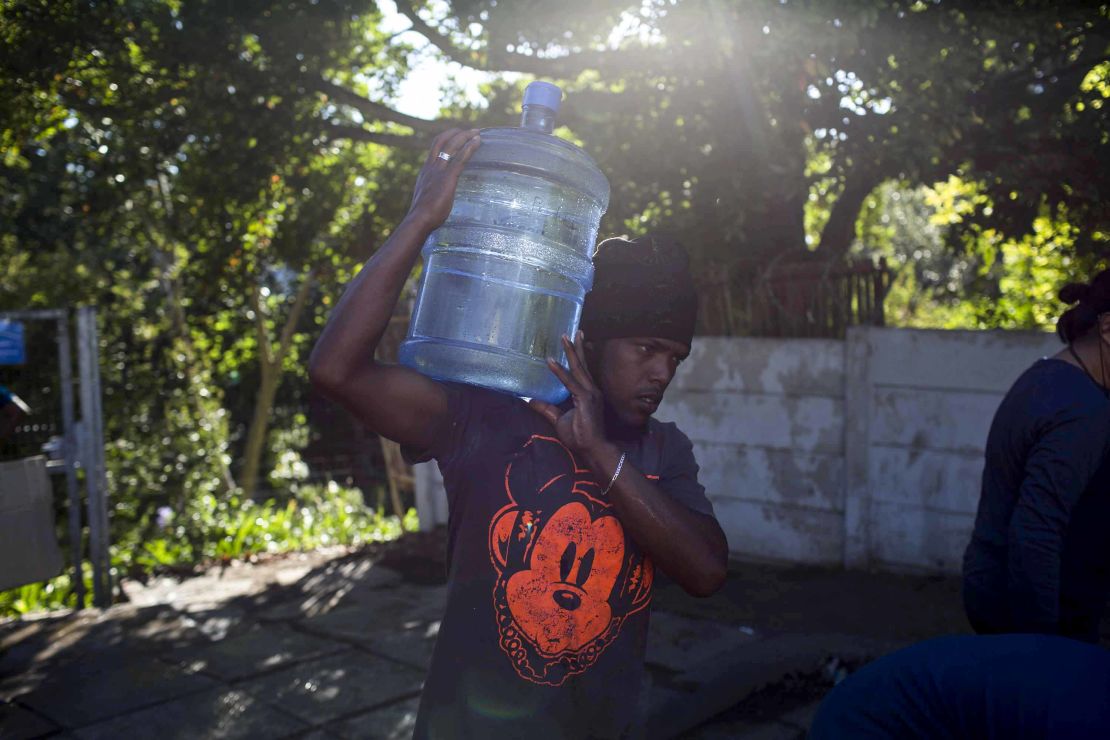 Capetonians immediately felt the latest measures take effect Thursday. Uyanda Precious Purple Mchunu lives in Long Street in the heart of Cape Town. She told CNN she woke up with no water in her apartment and was late to work.
"We got no update about not having water at all. I woke up at 5:00 a.m (10:00 p.m. ET Wednesday) to shower and (not a) drop came out. I am very upset about the situation," she said.
"I feel like I need to get 20 liters so I can store water. But guess what: we don't even have a schedule in terms of when will water come and when will it be off so we can be prepared. Nothing."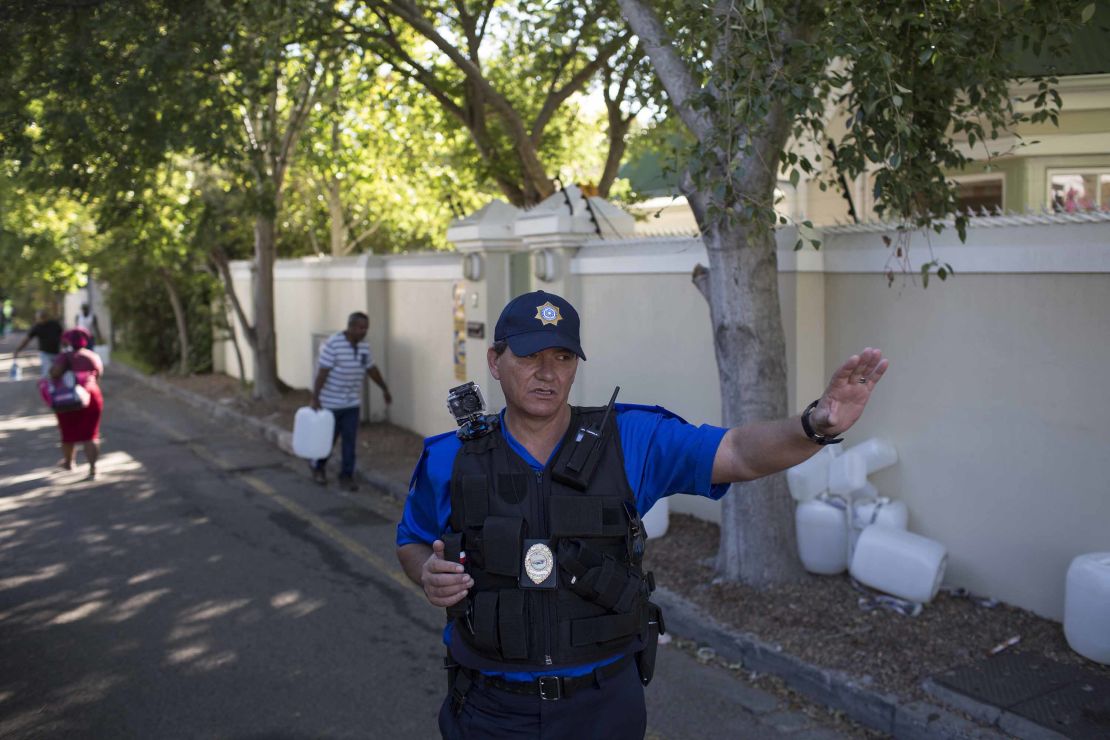 Mchunu, who works for Intellicell, a telecommunications company in Cape Town, added that she couldn't cook yesterday but today it's worse.
"We can't flush the toilet and (we're) running out of water to drink. Buying water is very expensive, I must say," she added.
Apprehension at unknown grows
As the countdown inches closer, residents have been growing increasingly anxious, with many stockpiling water and installing tanks at their properties.
Amanda Stergianos, a blogger who lives in Cape Town's southern suburb of Meadowridge, documented how this latest round of restrictions has affected residents while she was out and about on Thursday.
"I decide to go to the local spring at 6:00 a.m (11:00 p.m. ET Wednesday) to hopefully avoid the queues, and it was just so surreal," Stergianos told CNN. "It was humming with activity."
Stergianos witnessed elderly people who said they were struggling to carry the water tanks, adding there's been a "total lack of forward planning for those who can't collect water."
"I am strong and healthy, but also a single parent. Carrying 25 liters (about 6.6 gallons) of water is nearly impossible for me for more than five meters without setting it down – let alone for long walks from the springs to the cars," she said.
"At collection points, no portage is available, no shade – what about all the elderly? At some points, you may not fill more than one container, meaning if I collect for my household, then collect for my elderly father, I must go back to the back of the queue for another few hours again," she continued.
Another Capetonian, Adele van der Spuy, relayed the daily struggle of so many in a video filmed outside a Makro wholesale warehouse in Cape Town last Friday.
"People were already rushing in and out of the shop to buy water," van der Spuy told CNN. "Some actually went in several times as we were only allowed to buy five boxes at a time."
Van der Spuy, a casino worker, described the scene as something she had "never witnessed before."
"It is eye opening and an indication of the panic and also what lies ahead," she continued.
Her video is just one of several clips doing the rounds on social media that show water selling "like hotcakes," van der Spuy said.
"People are queuing in long lines to buy water. Some shops have been sold out for a few days now. It seems like you have to be at the shop as soon as they open in order to get water," van der Spuy added.
What happens if Day Zero comes?
New satellite images showed the Theewaterskloof Dam, Cape Town's largest reservoir, at dangerously low levels this week. Accounting for over half of all water in the region's dam system, it offered a glimpse at the extent of the deepening crisis.
Should the government declare Day Zero has arrived, faucets will cease to deliver water to the parched city until the skies open and rain falls.
On this day, residents will be further rationed to just 25 liters (6.6 gallons), which they will be able to collect only from one of 200 stations. To put that into perspective, each collection point will have to accommodate the water needs of 20,000 Capetonians.
Key institutions – like schools and hospitals – are expected to continue receiving water, according to officials, who have said contingency plans have been made.
But questions dominate everyday conversation around the city's wider strategy for the general population, which authorities are yet to publicly outline. Given this stark outlook, there are concerns neighbors could turn on each other and fears of unrest erupting the longer the crisis continues.
The city is "in the process of finalizing our our operational plan for Day Zero," Cape Town's Executive Deputy Mayor Ian Neilson said on January 22, before promising residents a briefing within 10 days.
CNN's Emily Smith and Paul Murphy contributed to this report.