Thousands of Uyghur Muslims are currently being detained in cramped conditions at so-called political education camps in China's restive far-western region of Xinjiang – and the trend shows no sign of abating, exiled Uyghur activists and human rights advocacy groups say.
"Every household, every family had three or four people taken away," said Omer Kanat, executive committee chairman of the World Uyghur Congress, an umbrella group for the Uyghur diaspora.
"In some villages, you can't see men on the streets anymore – only women and children – all the men have been sent to the camps."
One recent news report put the number of Uyghurs confined at 120,000 in "overcrowded and squalid" conditions in just one prefecture in southern Xinjiang. Radio Free Asia, a US Congress-funded station known for its extensive Uyghur reporting, attributed the figure to an anonymous security official in Kashgar.
Tensions have remained high in Xinjiang – a resource-rich area long inhabited by the Turkic-speaking ethnic Uyghurs – following a spate of violent attacks in recent years. The Chinese authorities have blamed the incidents on Muslim Uyghur separatists seeking to establish an independent state.
While activists CNN spoke to couldn't confirm the figure reported by RFA, they say it fits with the increasingly bleak picture for the 10 million Uyghurs in Xinjiang, where the government has been waging unrelenting campaigns against what it calls the forces of "terrorism, separatism and religious extremism."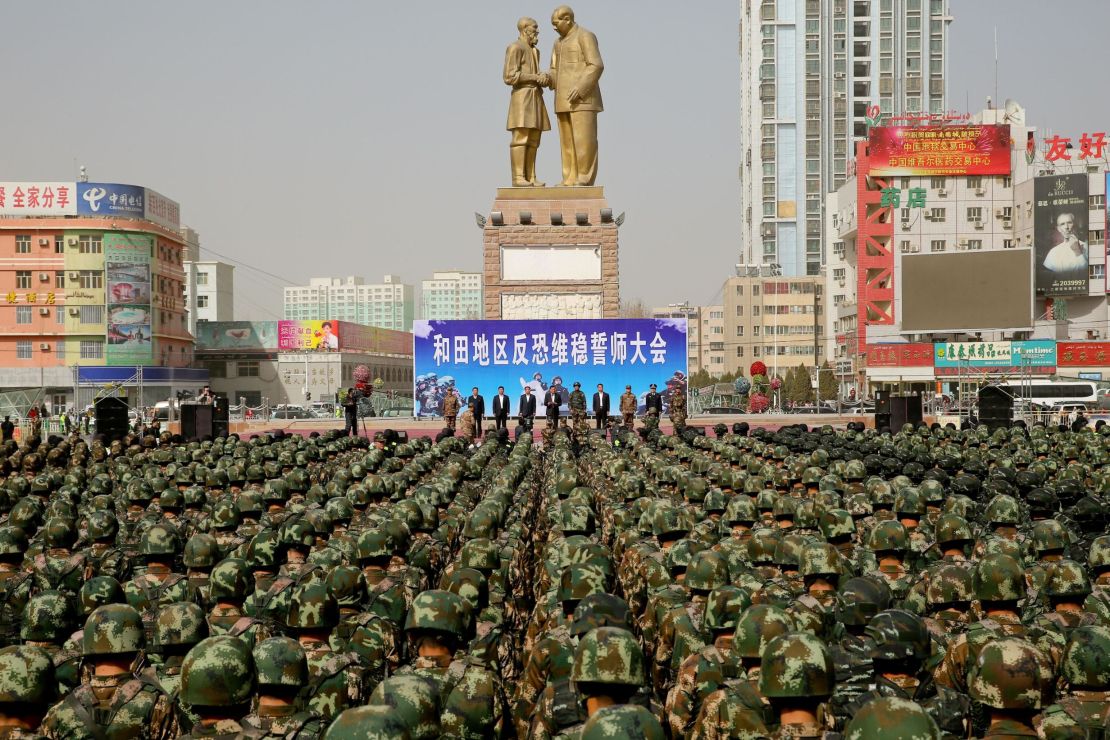 'Brainwashing' process
Kanat and other human rights advocates describe, citing sources on the ground, how people supposedly prone to influences of Islamic extremism undergo a "brainwashing" process inside the detention camps – often housed in converted schools or government buildings.
Detainees are required to praise the ruling Communist Party, sing revolutionary songs, learn to speak Mandarin, study the thought of Chinese leader Xi Jinping, and confess perceived transgressions such as praying at a mosque or traveling abroad, according to activists.
"It's completely unlawful – the authorities provide no legal documentation to the families and there are no time limits (on the length of detention)," said Maya Wang, Hong Kong-based senior China researcher for Human Rights Watch, which published a detailed report on the subject last September and called on Beijing to free all detainees.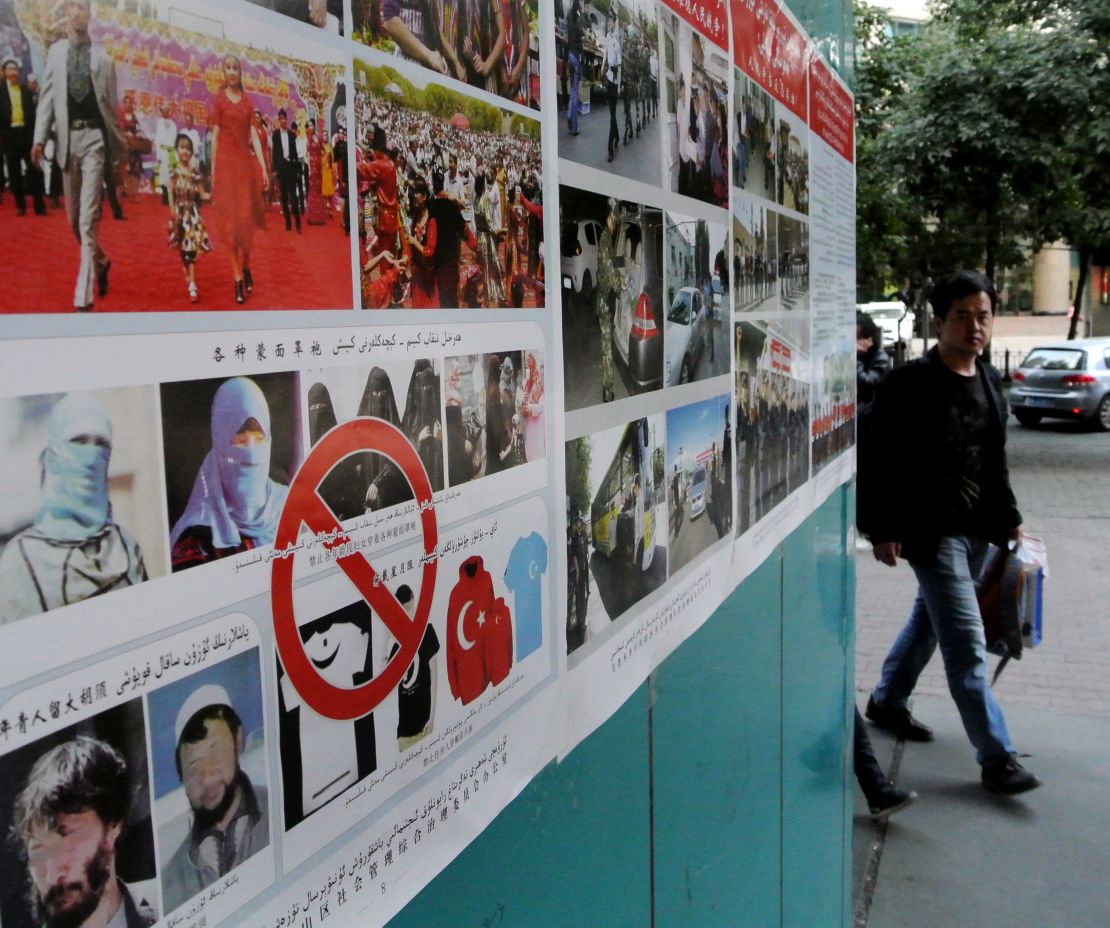 "There's a lot of fear, with people losing contact with loved ones."
Xinjiang authorities have not responded to CNN's repeated requests for information on the political education camps and response to activists' allegations, but state media outlets have covered these facilities and touted their effectiveness in de-radicalizing the locals.
One newspaper article last April said that Uyghur residents "eat and live alongside party cadres" in one such camp that had "already trained 2,008 people."
Calling for a "great wall of iron" to safeguard the region's stability, President Xi has further expanded and strengthened China's vast security forces in Xinjiang.
Ubiquitous surveillance
Activists say the regional government, now led by a hardline Xi loyalist, has not only continued to arrest and imprison many Uyghurs but also increasingly relied on high-tech tools to keep the population in check. They cite examples ranging from ubiquitous surveillance cameras, to mandatory GPS tracker installation in cars and DNA collection for all residents aged 12 to 65.
The authorities also enacted a sweeping anti-extremism law last year, with long beards, veils in public and home-schooling all on the ban list, prompting new denunciations from international human rights groups.
Amnesty International has said Uyghurs face widespread discrimination in housing, education and employment as well as curtailed religious freedom in their homeland. Other critics have linked the rise of violence in Xinjiang to Beijing's repressive reign there – a claim the government vehemently denies.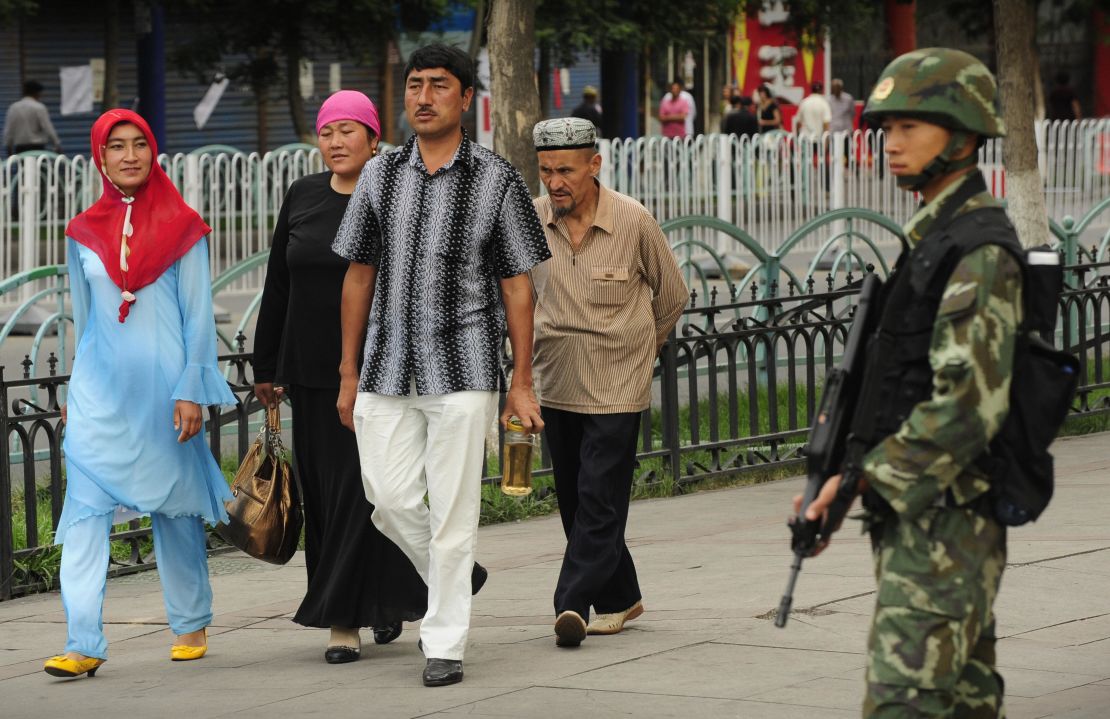 Over the past decades, the arrival in Xinjiang of waves of Han Chinese, the country's predominant ethnic group, has also fueled ethnic tensions, despite the government's best effort to paint a picture of ethnic harmony.
"We guarantee the legitimate rights and interests of all ethnicities and prohibit the discrimination and oppression against any ethnic groups," Zhang Yijiong, a senior Communist Party official in charge ethnic minority affairs, told reporters last October. "The cultures, histories, languages and traditions of all ethnicities are protected and respected by national laws."
Critics of Beijing's Uyghur policy see a starkly different scenario in Xinjiang, as the authorities intensify their crackdown and forced political indoctrination spreads.
"These campaigns are purportedly about counter-extremism and counterterrorism, but … it's really about surveillance, control and assimilation," said Wang, the Human Rights Watch researcher.
"The real intention of the Chinese government is to eliminate the Uyghurs as a distinct ethnic group," Rebiya Kadeer, a longtime exiled Uyghur leader who recently stepped down as president of the World Uyghur Congress, told CNN in an interview in Washington last year.
"Religious suppression, cultural restrictions, Uyghur language ban – all this repression in Xinjiang only makes the Uyghurs hold on to their identity more firmly," she added. "China has awakened the Uyghur people."