Story highlights
US Vice President Mike Pence had suggested he was open to talks
North Korea says it has no intention of arranging a meeting with the US delegation
South Korean President Moon Jae-in will lunch with the sister of North Korean leader Kim Jong Un when he meets North Korea's Olympic delegation on Saturday, his spokesman announced.
Kim Yo Jong's trip to the South marks the first time that a member of Kim's ruling dynasty has visited since the Korean war of 1950 to 1953. Such a high-level meeting would have been unimaginable even a few months ago, but Moon sees the Winter Olympics as a chance to make diplomatic inroads with the North.
The apparent thaw has not been reflected in Washington. US Vice President Mike Pence, who is leading the US delegation to the Olympics, has accused Pyongyang of using the event for its own ends. "We will not allow North Korean propaganda to hijack the message and imagery of the Olympic Games," he said in Japan earlier this week.
Pyongyang has ruled out a meeting with the US delegation during the Winter Games. Jo Yong Sam, department director general of North Korea's foreign ministry, said Thursday the country had never "begged the US for dialogue" and wasn't about to start now.
"We have no intention to meet the US side during our visit to South Korea," Jo said in a terse statement reported by state-run news agency KCNA.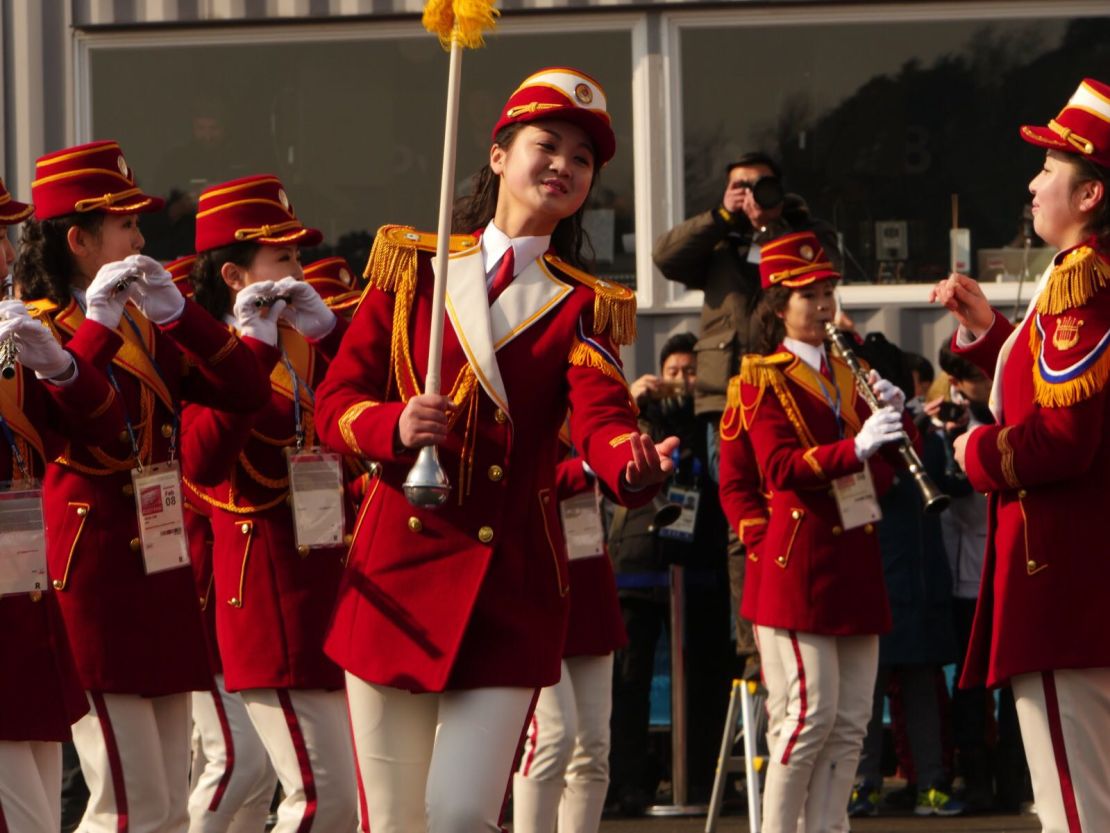 The US has given mixed signals about its willingness to talk. Pence appeared to leave the door open for negotiations earlier this week when he said, "I haven't requested any meeting. But we'll see what happens."
The vice president followed that with threats to impose some of the "toughest and most aggressive" economic sanctions ever against North Korea in a bid to end its nuclear and ballistic missile program "once and for all."
The diplomatic wrangling came as hundreds gathered in the coastal town of Gangwon to welcome North Korea's delegation to the Olympic Village.
Athletes, surrounded by dozens of cheerleaders, watched as the North Korean national standard was raised alongside the Olympic flag, while band members dressed in red coats and gold trim played traditional music.
North Korea's delegation is being led by Kim Yong Nam, one of North Korea's most powerful politicians.
His presence, along with Kim Jong Un's sister, had caused some observers to hope for a diplomatic breakthrough while the two North Koreans are in close proximity to their US and South Korean counterparts.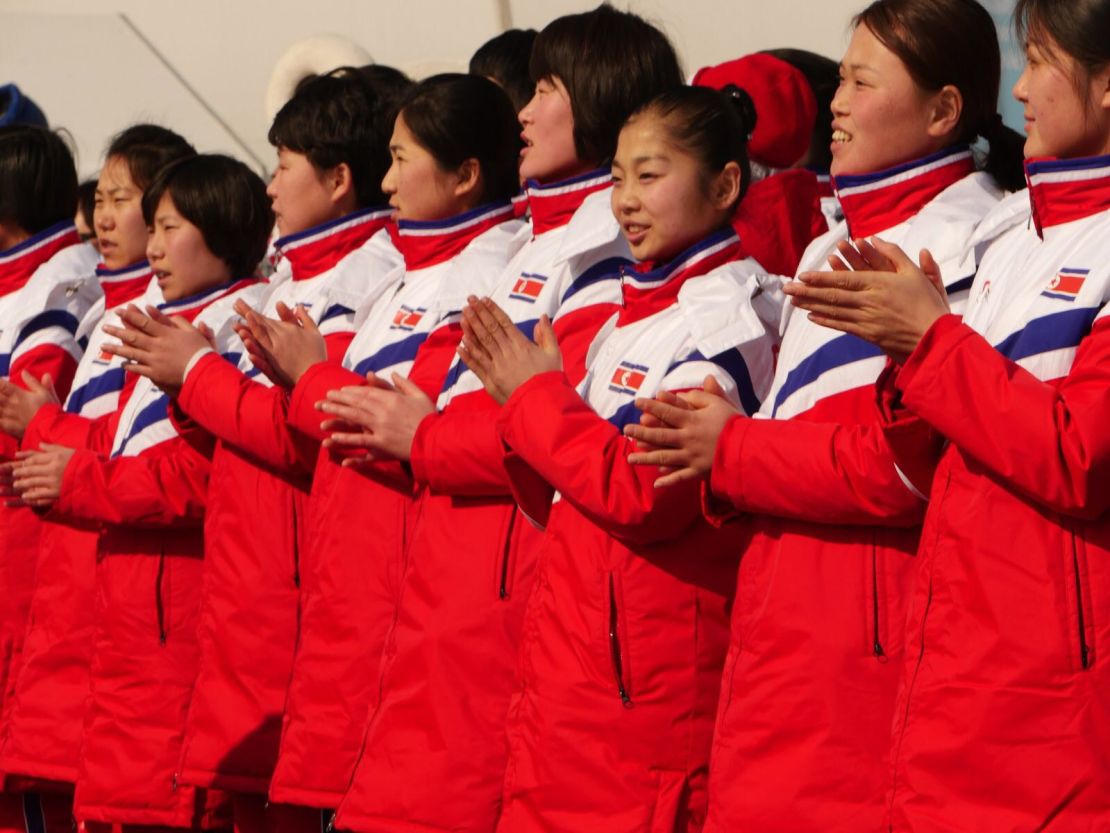 Diplomatic sources with deep knowledge of North Korea's activities told CNN that despite outwardly positive signs and indications of a "charm offensive" from Pyongyang, what's "unclear and bizarre" is there has not been any diplomatic movement shown by North Korea's Ministry of Foreign Affairs in line with current events.
Sources told CNN that the sending of ceremonial head of state Kim Yong Nam and Kim's sibling Kim Yo Jong reads as more of a symbolic act than any concrete diplomatic initiative by North Korea.
Since diplomatic efforts are "almost zero," sources said this may signal a "calm before the storm," with North Korea quietly preparing its next moves for after the Olympics while the global spotlight shines on its delegation in South Korea.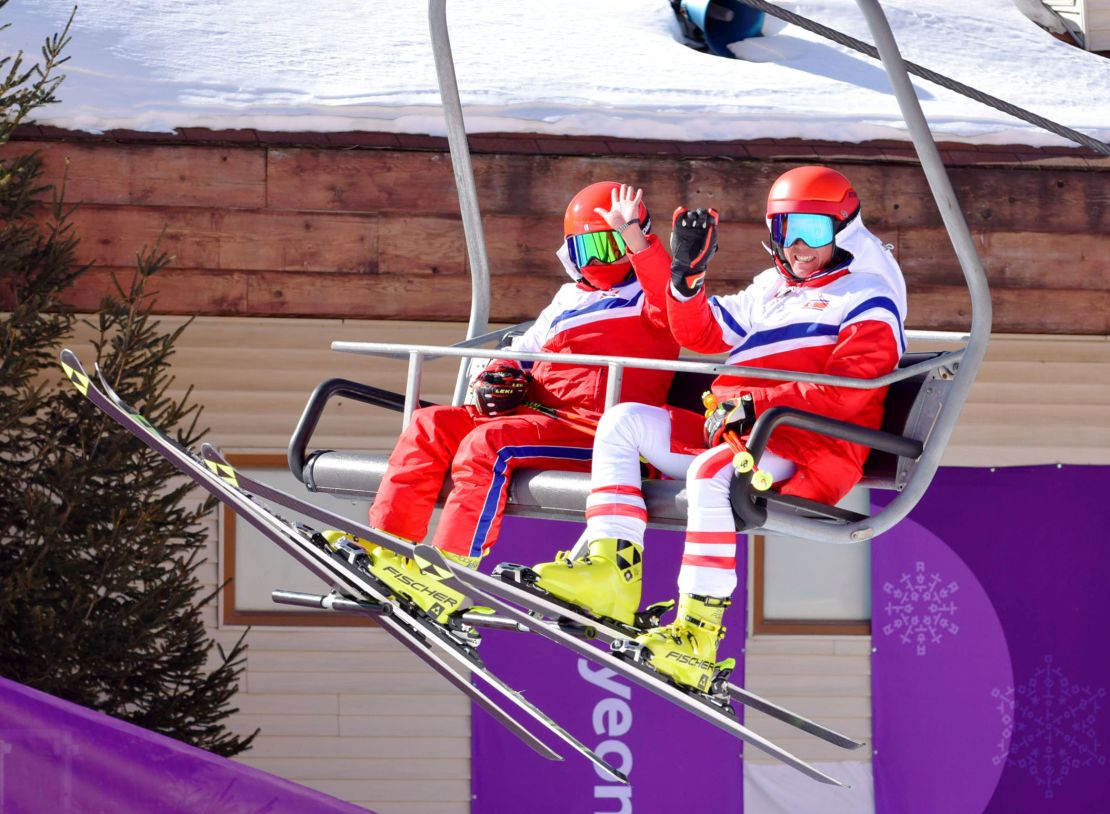 Delegation diplomacy
Before departing for Asia, Pence fueled speculation of a potential meeting by telling reporters that he had not ruled out meeting with the North Koreans on the sidelines in Pyeongchang.
Pence said President Donald Trump "always believes in talking," adding that North Korea "can have a better future than the militaristic path, the path of provocation and confrontation that it's on. Better for its own people, better for the region, and better for peace."
Joint Korean ice hockey team plays first game
However, since arriving in the region, Pence has taken a more strident tone, saying American "resolve" had not wavered in bringing international pressure against Pyongyang.
"We'll be there to cheer our athletes, but we'll also be there to stand with our allies and remind the world that North Korea is the most tyrannical and oppressive regime on the planet," Pence said after a meeting with Japanese Prime Minister Shinzo Abe Thursday.
For its part, South Korea has welcomed the presence of Kim's sister in the delegation, saying it "shows (Pyongyang's) willingness to ease tensions on the Korean peninsula along with a message of celebration."
"It is significant that the delegation also includes Kim Yo Jong, who is Chairman Kim Jong Un's sister and holds an important position in the Workers' Party of Korea," the country's Unification Ministry said in a statement.
The high-level delegation will depart Pyongyang on a private jet Friday, and is expected to arrive at Seoul's Incheon International Airport at 1:30 p.m. local time.
Military might
North Korea staged a highly anticipated military parade in Kim Il Sung Square, Pyongyang, Thursday on the eve of the 2018 Winter Olympics.
Thousands of troops marched in formation carrying guns, bayonets and swords while leader Kim Jong Un watched from a balcony above.
The North Korean leader addressed his people, urging them to remain vigilant against the US and its "hostile policy."
"As long as imperialism is present on the Earth and US's hostile policy against North Korea continues, the mission of the Korea People's Army to be the strong sword that protects the country and people, and peace can never change," Kim said.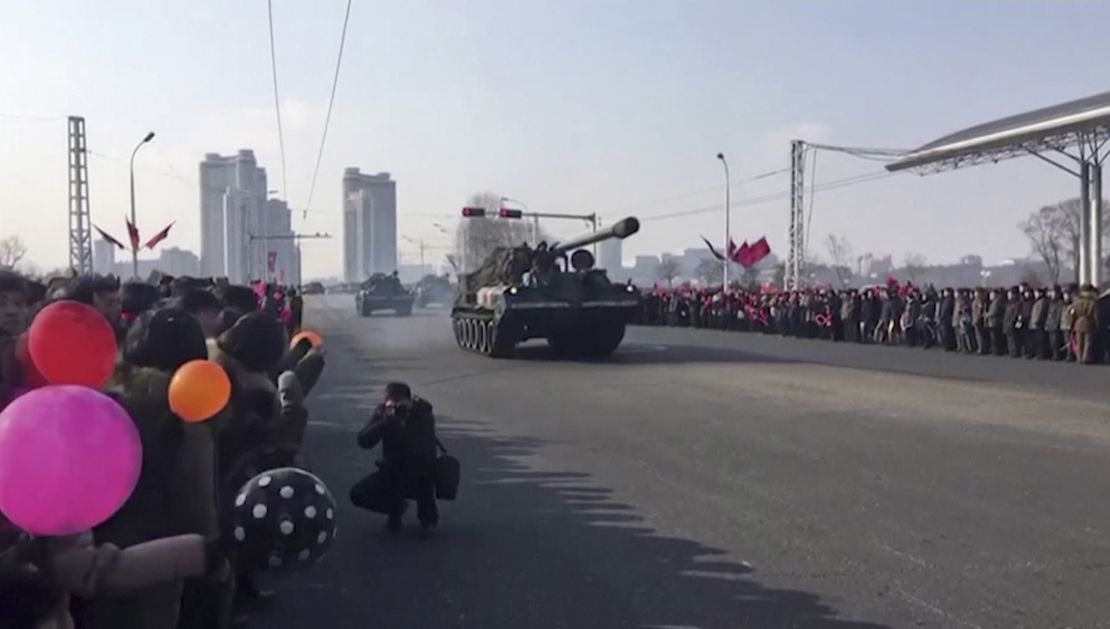 Experts say it's likely North Korea will continue to ignore US demands for it to halt its nuclear and missile programs.
"They're too close to the end of the program to simply stop and give up," Rodger Baker, vice president of strategic analysis at Stratfor, told CNN.
Protests
On Thursday, around 50-100 protesters staged a small, noisy demonstration outside the Gangneung Art Center where a North Korean orchestral concert was taking place.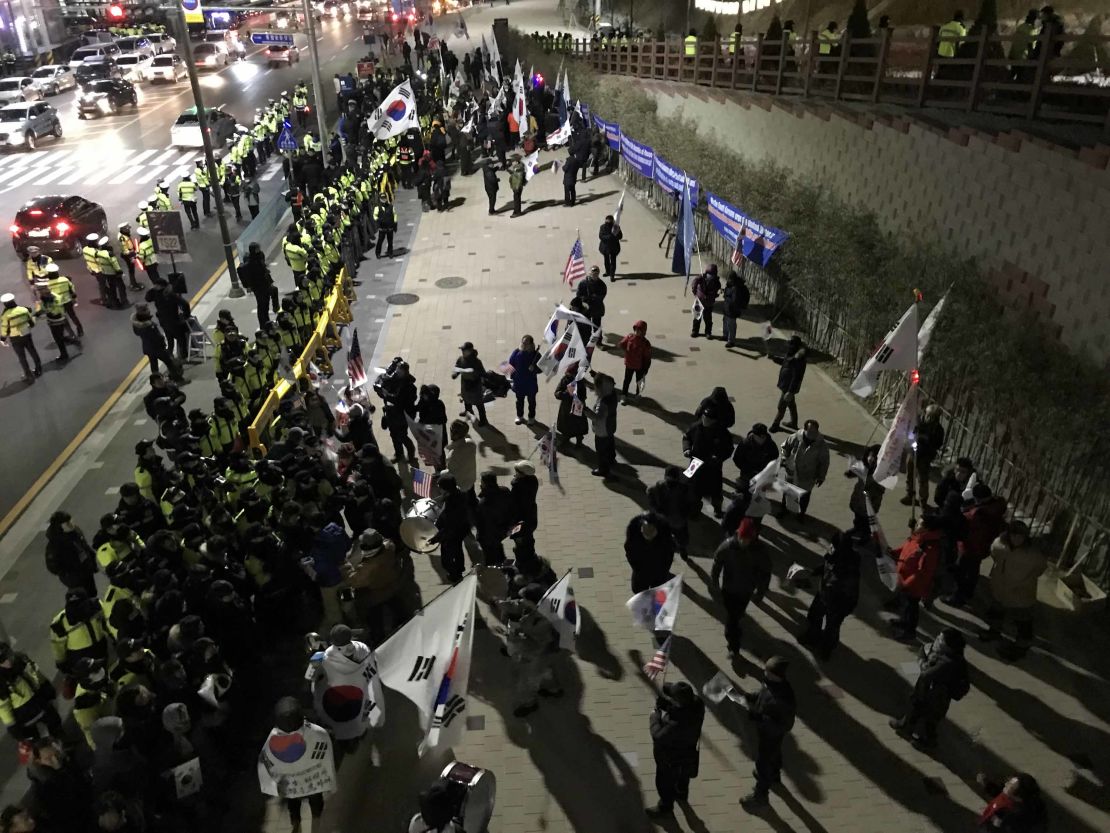 According to a CNN team at the scene, the protest took place several hundred yards away from the concert venue, behind police lines.
At least three times, CNN journalists witnessed police charging into the protest to extinguish fireworks lit by demonstrators. Pushing and shoving ensued, and at one point it appeared police officers detained one demonstrator.
A spokesperson for the Gangwon Provincial Police Agency said more than 2,200 police personnel were deployed to secure the North Korean art troupe performance.
Jang Ok, a 52-year old resident of Gangneung who attended the ceremony with his wife, said the performance was "mindblowing."
"Normally it is really hard to see North Koreans in person. I got to shake hands and take photos with the performers… I almost broke into tears during the performance," he said. "They are like family. It was totally not a political performance. It was artistic."
CNN's Will Ripley and Sophie Jeong reported from Seoul, South Korea, with James Griffiths reporting from Hong Kong. CNN's Aimee Lewis also contributed to this report.