Story highlights
Prodigies Uta Abe and Dario Bilodid prove age is just a number
Clarisse Agbegnenou captures French hearts
Lukas Krpalek unable to win heavyweight gold on Teddy's turf
Over 400 athletes from 71 countries took to the tatami for judo's 2018 Paris Grand Slam this week, with fourteen gold medals and $154,000 up for grabs.
As many as 15,000 fans crowded into the AccorHotels Arena to watch a spectacle unmatched anywhere on the judo calendar.
Here's what CNN Sport learned mat-side at the first major event of the year.
What was your favorite moment of the 2018 Paris Grand Slam? Have your say by tweeting @CNNSport or commenting on our Facebook page
French favorite relishes 'spice' of middleweight category
Rarely was the packed arena more raucous than when Clarisse Agbegnenou stepped out onto the mat.
Showcasing trademark strength and passion, the French middleweight (-63kg) judoka thrilled the crowds on the way to winning her fourth Paris Grand Slam title.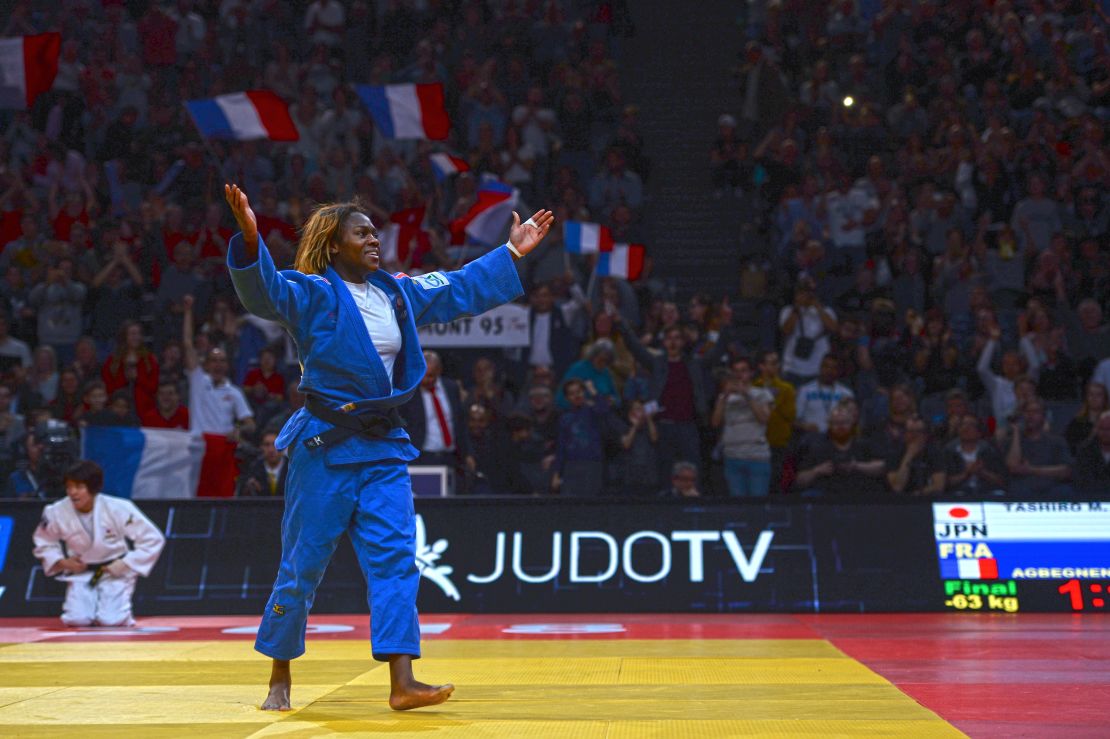 "It's really great," Agbegnenou told CNN Sport. "I'm proud on a personal level and I'm really happy for the public that came out here to watch.
"Sometimes, I was thinking to myself 'I cannot go on, I can't' — but just hearing them shout 'let's go Clarisse!' made me realize 'Yeah of course I can go, I can do it!'
"They were super supporters; that's why I love fighting the Paris Grand Slam."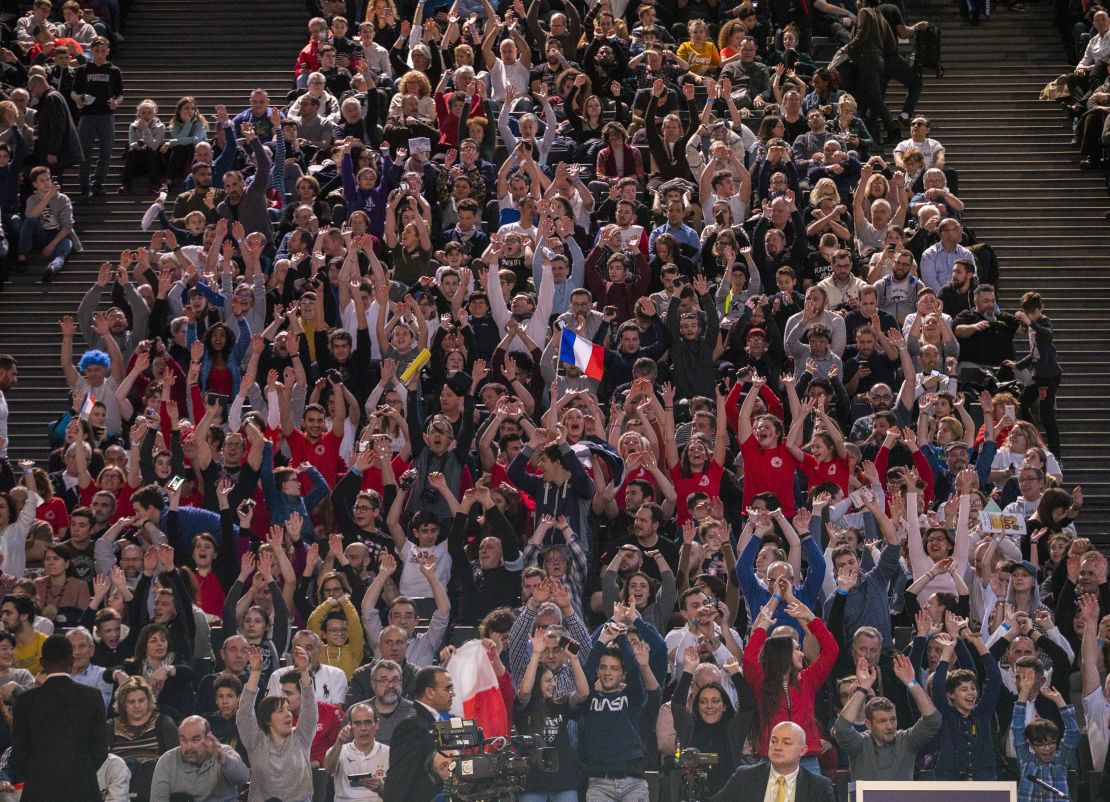 Many regarded Agbegnenou as the favorite coming into the competition, but the 25-year-old reigning world champion shrugged off that pressure, adopting the underdog mentality despite her home advantage.
"I always tell myself that I'm not the biggest in the competition," said Agbegnenou. "For me, I was maybe the outsider, because I lost against the Japanese [Miku Tashiro] some months ago, before the new year."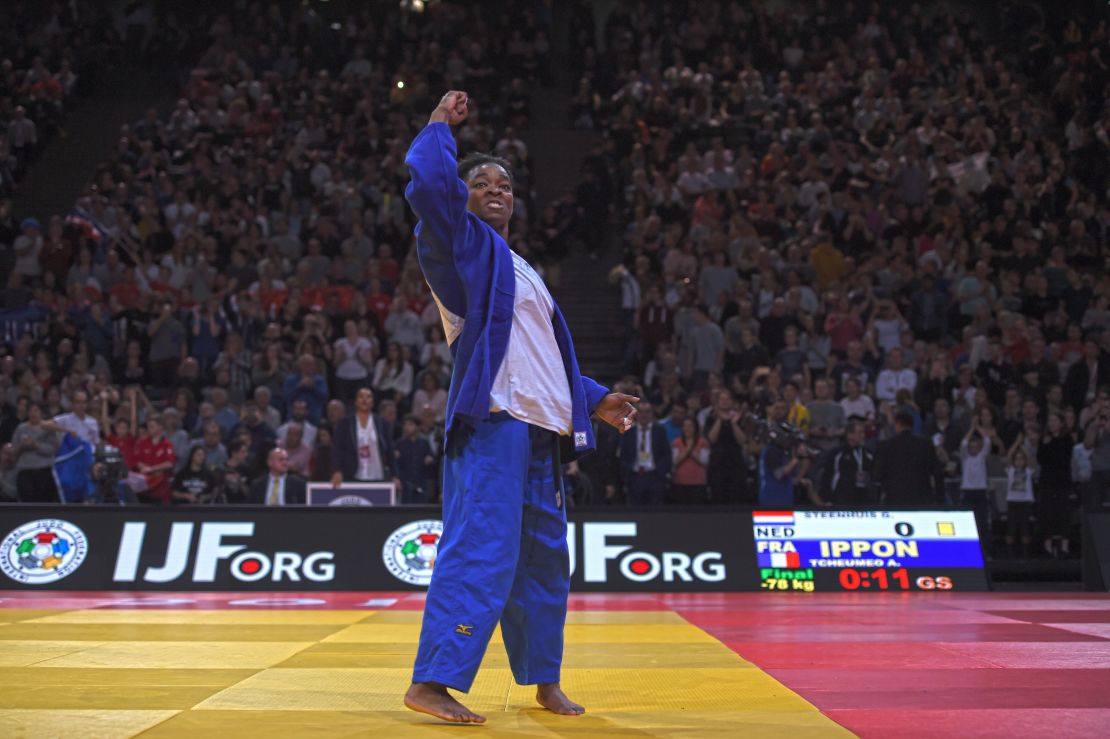 For all her modesty, Agbegnenou's head-to-head lead against Tashiro now stands at 7:1. Still, few would argue with her when she insists the women's middleweight division possesses particular strength in depth.
"Not to say the other categories are not good, but I think this weight division is really competitive," said Agbegnenou, having regularly traded titles with Slovenia's Tina Trstenjak. "There are three, four or five girls that are always fighting against one another, but the rest are also pushing.
"I think this category is really hard, but it's good because it adds some spice!"
Japanese prodigy Uta Abe proves age is just a number
Already the youngest ever winner on the IJF World Tour, Japanese sensation Uta Abe proved she is more than just one for the future in Paris.
The 17-year-old was as fearless as she was relentless on her way to capturing the women's half-lightweight (-52kg) title, dispatching of both her first two opponents by ippon in under 10 seconds.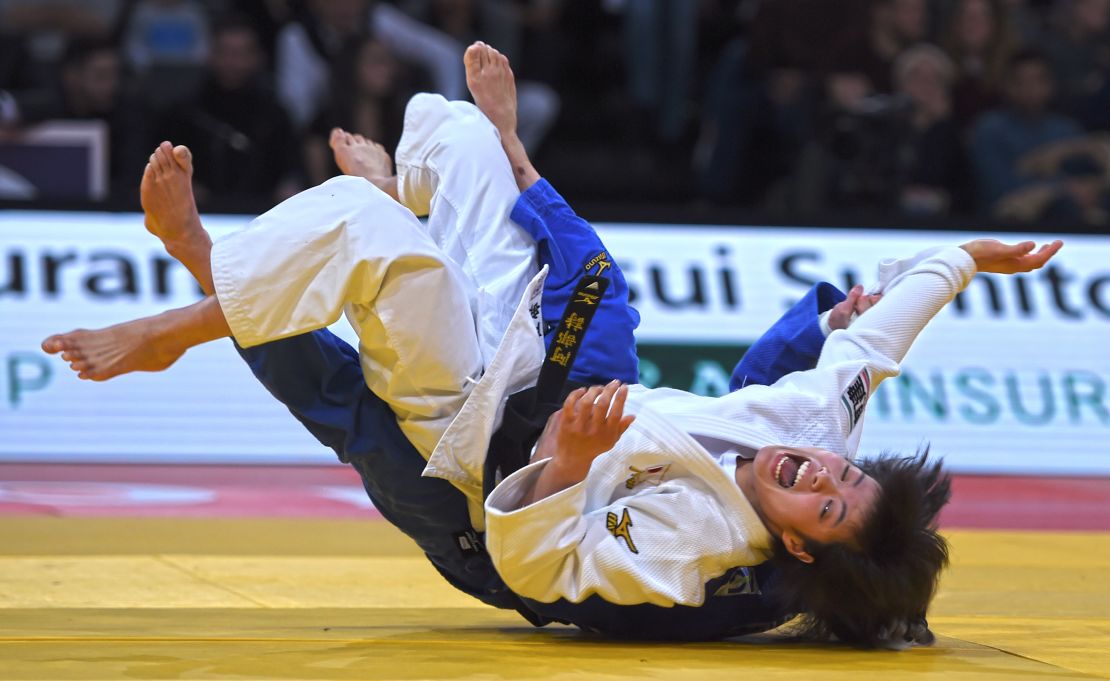 "Something I keep in mind is to never back down – to always move forward and keep attacking," Abe told CNN Sport, having also taken gold at December's prestigious Tokyo Grand Slam.
Watching on, it was hard to believe this was her first Grand Slam assignment outside of Japan, but Abe has always looked destined for greatness.
Her uncle is 43-year-old Tadahiro Nomura, the only judoka in history to win three consecutive Olympic gold medals. Her brother Hifumi, more pertinently, is the reigning half-lightweight (-66kg) world champion.
"I started judo at age five and, ever since the first day, I fell in love with the sport," said Abe. "Since I was very young, I can remember my brother Hifumi practicing. He has always been a role model for me. I look up to him very highly."
Abe siblings lead Japanese dominance in Tokyo
With judo returning to its homeland for the Tokyo 2020 Olympics, the Abes look set to take the Games by storm.
Hifumi, 20, might be the older of the two, but has he ever learned anything from her?
"Not yet," says Abe with a coy smile.
And did they ever fall out like normal siblings growing up?
"A long time was spent on the mat," she laughs, already a deft hand with the media before most have finished high school.
READ: Uta and Hifumi Abe: Japan's judo double act
Off the tatami, Abe says she enjoys "chilling out with friends", and in that sense she is just like any other 17-year-old. On it, however, she is a force of nature few can match.
"My short-term goal is to win the World Championships in Baku later this year," says Abe. "My mid-term objective is to win the Olympic gold medal at Tokyo 2020."
READ: Yasuhiro Yamashita - 'Judo gives us hope in this fragile world'
Krpalek and Tushishvili fail to triumph on Teddy's turf
In the men's heavyweight (100kg+) category, neither Lukas Krpalek or Guram Tushishvili were able to capture gold in the absence of 10-time world champion, Teddy Riner.
Instead the final showdown of the weekend saw South Korea's Sungmin Kim take on Kokomo Kageura of Japan, the latter scoring ippon with an eye-catching ko-uchi-gari throw for his first grand slam title.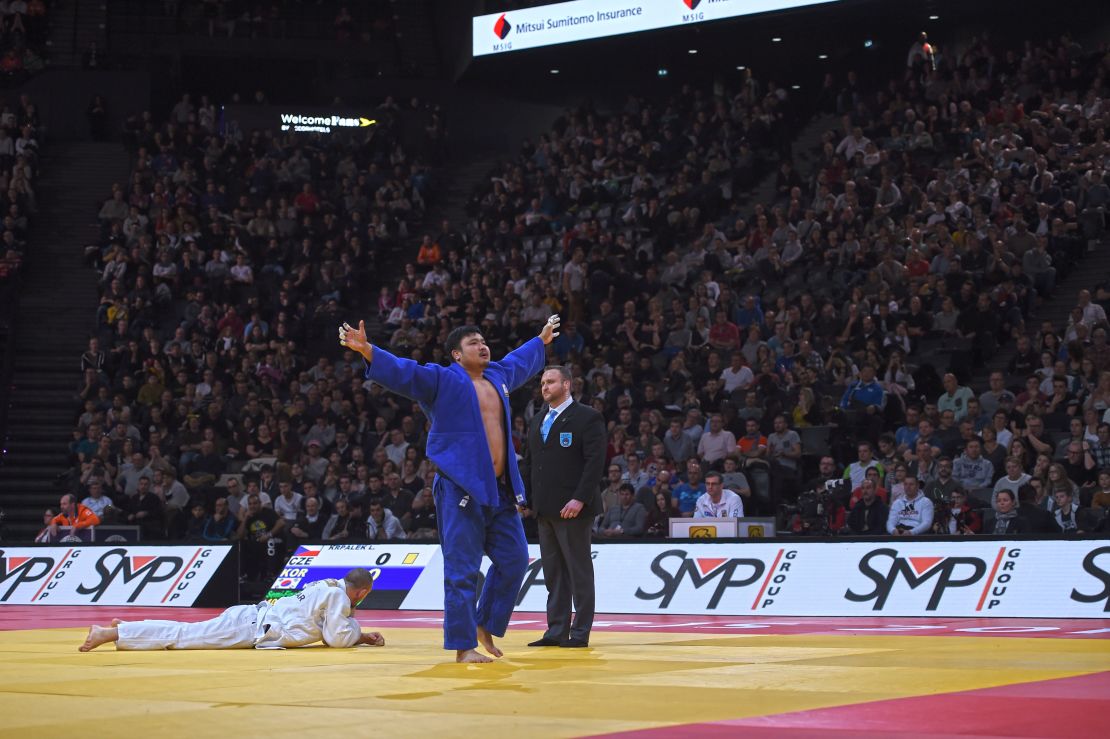 That took Japan's overall tally to five gold medals, a strong showing from what was a relatively new-look team.
Krpalek, though, looked a shadow of the man who won the Czech Republic's first ever Olympic gold medal in judo.
"Today, it was very hard," Krpalek told CNN Sport, having moved up a weight division following his half-heavyweight title at Rio 2016. "I was very tired from my first match and it was not good.
"I feel very bad but I won a bronze medal, which is great. To win in Paris – any medal – it's perfect."
Krpalek has been blighted by injury in recent months and only returned to competitive action at December's Tokyo Grand Slam.
There the 27-year-old was only undone by Japanese fighter Yusei Ogawa after 10 minutes of golden score in the final.
This time in Paris, Krpalek faced his old adversary in his very first contest, this time triumphing when Ogawa received a third shido.
Perhaps expending his energies too early in the day, Krpalek was unable to get the better of Asian Championships winner Kim at the semifinal stage, falling to an ura-nage waza-ari score.
"It was very difficult because I was injured for a long time, maybe five or six months," said Krpalek.
"It was not easy to go straight to the mat and win. Silver in Tokyo and bronze here in Paris is a good comeback, but I must be better."
Krpalek was bashful when asked about the prospect of an eventual showdown with Teddy Riner, insisting he has a long way to go before he's ready to take down a man regarded as the greatest judoka ever.
"I would like to fight with him, but he's a top star a very great judoka," the Czech smiled. "It is not easy to fight with him, and certainly not easy to fight with him if I feel like I do today. "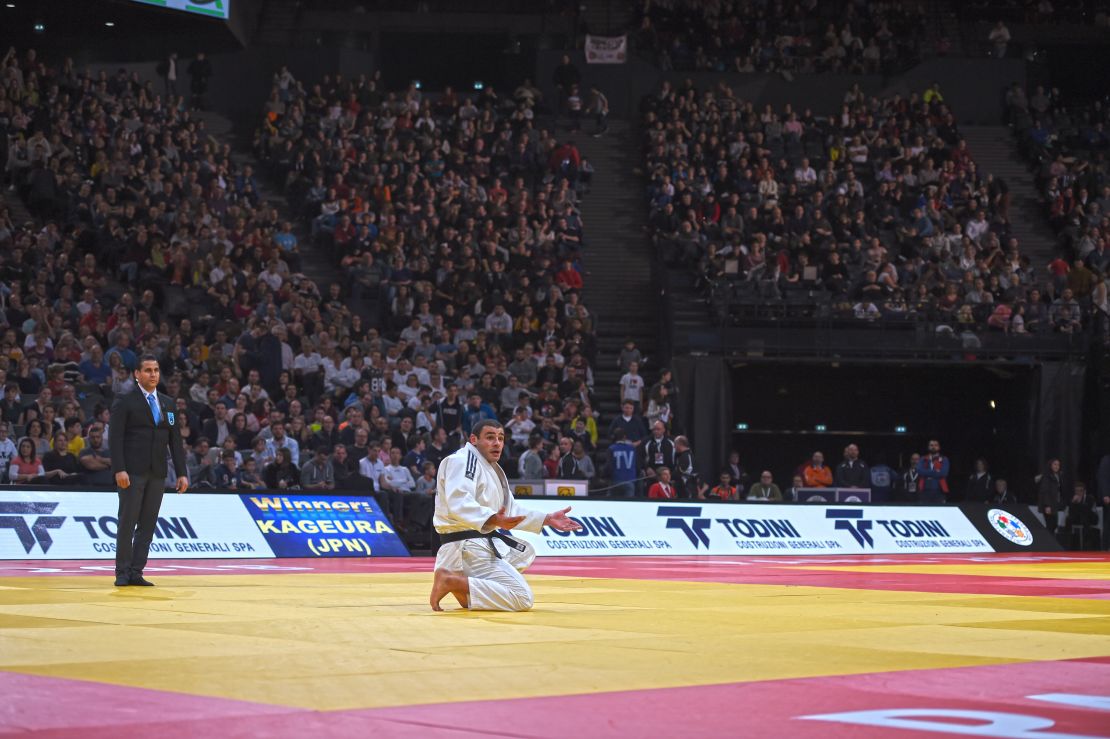 Tushishvili, regarded as the other man capable of ending Riner's 144-match win streak, was disqualified against eventual champion Kaguera at the semifinal stage for foul play.
Legends of Judo: Tuvshinbayar Naidan
Judoka trades Japan for Canada, beats former teammate for gold
Another of the key story lines from the weekend undoubtedly centered upon women's lightweight (-57kg) judoka, Christa Deguchi.
A junior world champion for Japan in 2013 and 2014, Deguchi officially switched allegiances to Canada in 2017, having struggled to make the Japanese national squad.
In Paris, the 22-year-old came back to haunt her former charges in style, beating top seed and former teammate Tsukasa Yoshida for the biggest title of her budding career.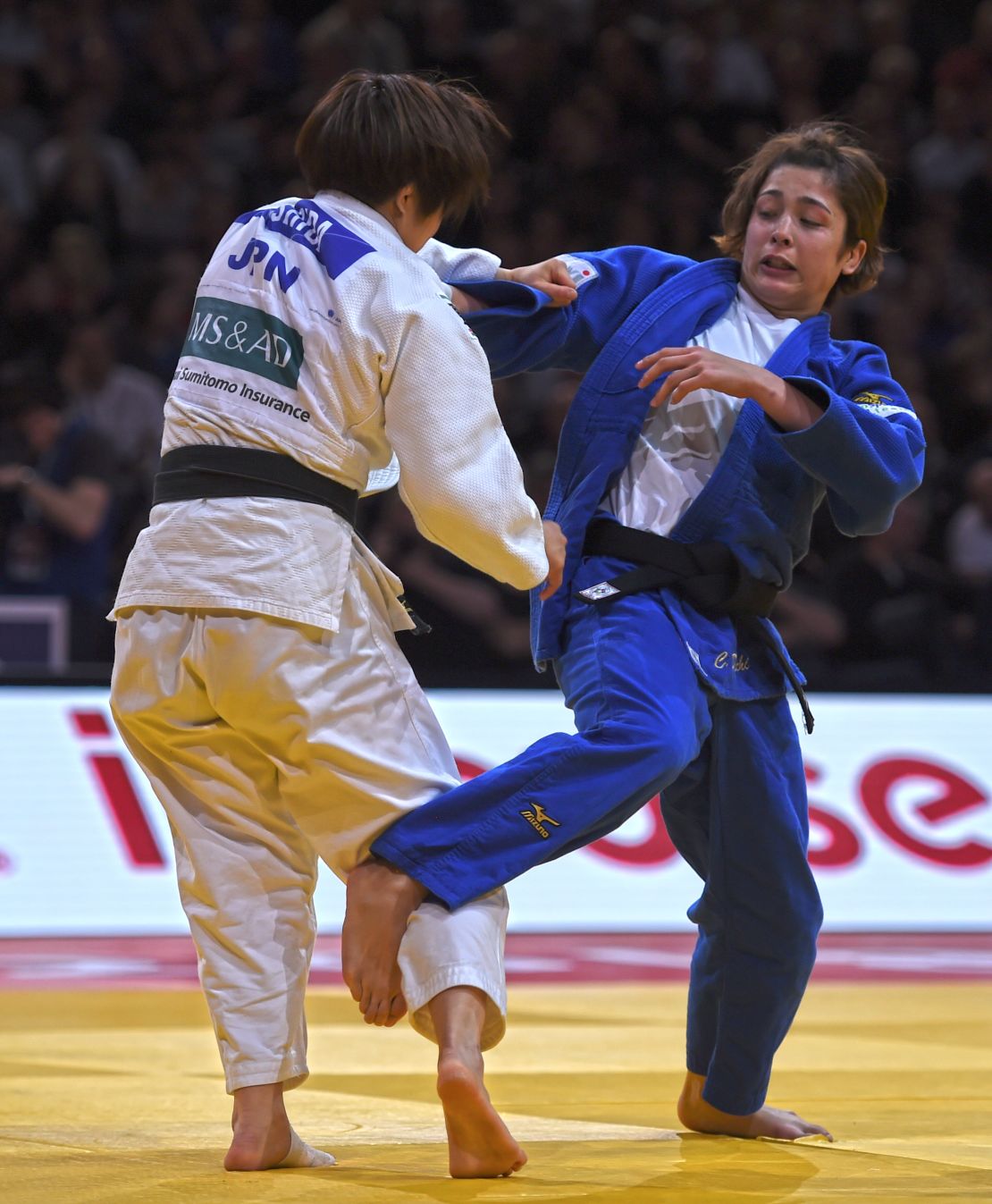 "My dad is Canadian and I'm half-Canadian, so I thought it would be nice to fight for another country," Deguchi told CNN Sport.
"I am happy and so excited because this was my first gold medal at a Grand Slam. To get that medal at Paris – a big, big tournament – I am even happier."
Deguchi, who took last week's European Open in Portugal with five ippons from five matches, could now face Yoshida in the Tokyo 2020 final — something that would have been impossible were she still fighting in Japanese colors.
"Well, my final goal is to get a medal at the Olympics," said Deguchi, admitting it was a little "strange" meeting her former teammate as adversaries.
"There are not many judoka from Japan that have switched their nationalities before. My hope is to win; that I will get the gold medal."
WATCH: Kosei Inoue - 'The battle will always continue'
Daria Bilodid meets great expectations
Abe was not the only 17-year-old to win the Paris Grand Slam at her first attempt.
Ukraine's Daria Bilodid, daughter of two-time European champion Gennady Bilodid, proved judo greatness runs in the family, defeating reigning world champion Funa Tonaki en route to extra-lightweight (-48kg) gold.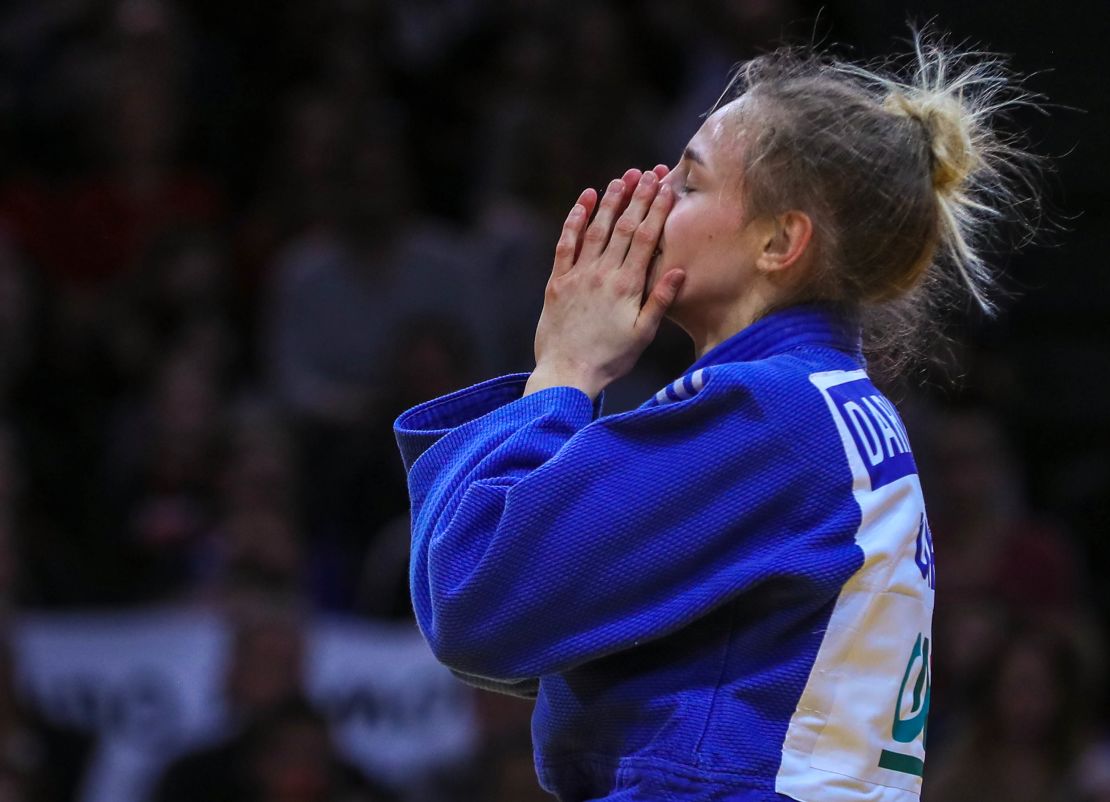 "This victory is a very big step towards my future in judo — to my main goals which are the World Championship and Olympic Games," Bilodid told CNN Sport.
"The Paris Grand Slam is a very strong tournament, with a very nice atmosphere. Today I was just able to seize this moment. For me, it's very cool!"
While her mother Svetlana Kuznetsova is also a former judoka – currently coaching the sport – Daria initially trained in rhythmic gymnastics.
The young Ukranian would sometimes visit her mother's judo cadet classes to do her homework, so she would not be alone at home.
It was there, on the edges of the tatami, that her love of "the Gentle Way" took hold.
"I am a very bad gymnast!" she laughs. "For me, judo is better."
Visit CNN.com/judo for more news and features
Bilodid leaped up from the mat in apparent disbelief when she defeated South Korea's Yujeong Kang with a sankaku-gatame pin for ippon in Sunday's final.
But behind her youthful smile is a steely determination and absolute refusal to settle for second place.
"I lost at the 2017 World Championship and I was very disappointed. It was very very bad. After this, I decided never to give up," said Bilodid. "For me only the gold medal will do."