As far as presidents go, Donald Trump swings a golf club pretty well, for a big man in his 70s. If not exactly dynamite off the tee, he is at least solid. And while his technique around the greens is quirky, he somehow makes it work.
According to our esteemed experts, the US Commander-in-Chief matches up well against his predecessors, Barack Obama, George W Bush and John F. Kennedy.
Critics might say he ought to, given how much he plays – the trumpgolfcount.com website projects that Trump will make 342 visits to golf clubs during this four-year presidency.
Proponents might say it proves that practice makes perfect, or at least almost perfect.
"Trump looks like he's played a lot of rounds, because he seems to know what he's doing," says Clive Tucker, coach at Mannings Heath Golf Club in West Sussex, who oversaw David Howell's rise through the world rankings and has also worked with former US Open champion Graeme McDowell, Open champion Darren Clarke and former world No. 1 Lee Westwood.
Will Donald Trump's Turnberry be a success?
READ: What's it like to play golf with Trump?
"He's got a bit of a flat back-swing, but that might be deliberate. History is littered with players who had slightly 'off' back-swings, but they managed to re-route it and get the club in a good place coming down.
"That's what Trump manages to do, so while he might hit the odd ball left, he'll usually hit it well."
Gary Smith, who has worked with former Masters champion Danny Willett and former US Open and reigning Olympic champion Justin Rose, agrees that Trump has a sound, solid action on the way down, and manages to make light of an unconventional takeaway and an abrupt end to his follow-through.
"His aim is good, he's got great alignment and looks reasonably flexible," says Smith. "It also looks like his arms are hanging great, so one would assume his grip is fine. For someone of his age and size, it's a mighty good action.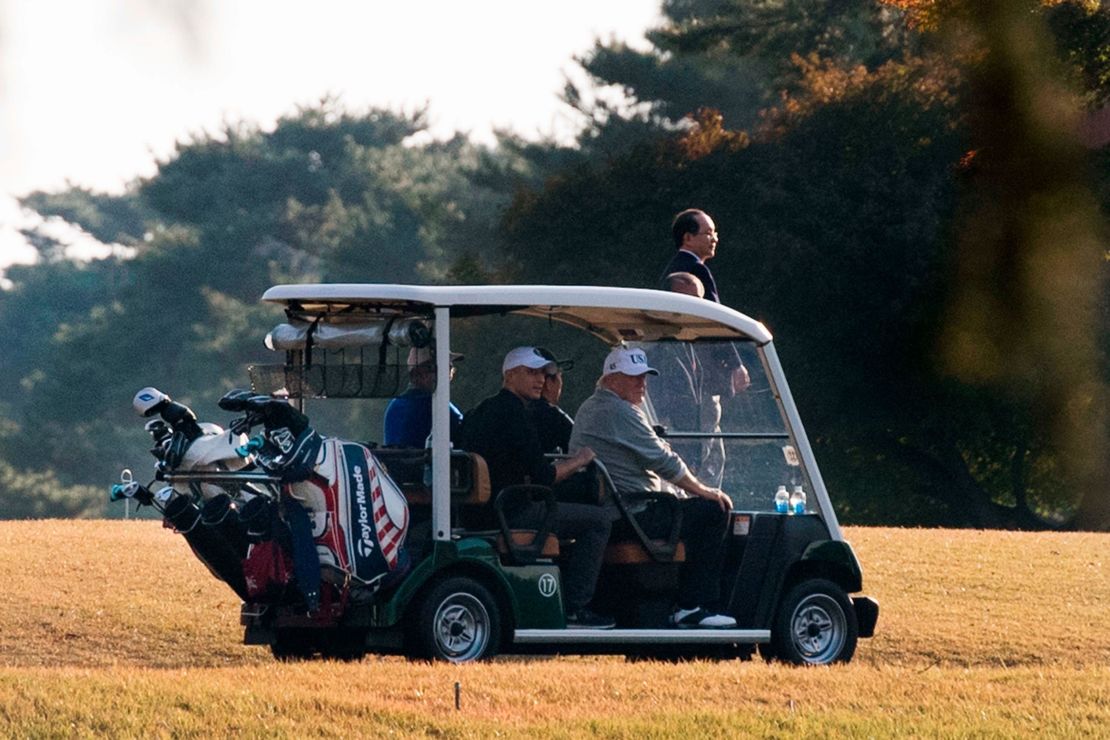 READ: Australian tournament bridges the pay gap
"He does little wrong, although he does start his back-swing with his hips, which is not ideal – you should start with the shoulders, and the hips will follow. Normally if you start with your hips, you lose height and posture, and the whole swing falls apart.
"His doesn't, he keeps good balance and head height. He's got a repetitive swing, because it's short and snappy. Although that means he loses a bit of distance, it also means he's more consistent.
Smith observes that another facet of Trump's swing that the US president could try and improve on is his finish.
"There's one theme running through all the presidents' swings, which is that none of them complete the finish.
"Probably, once the ball's been hit, they just want to move on to the next shot. They don't want to waste time with a showy finish when the ball has already gone, they're very busy men."
Paul Casey: Golf's comeback kid
Tucker and Smith analyzed Trump's opening shot at the AT&T Pebble Beach National Pro-Am in 2012, when he sauntered onto the tee and made a couple of cursory practice swings before drilling a drive down the middle, to the delight of the gallery.
Even for a man who claims a handicap of 2.8, that takes cojones. And it is probably fair to say that Trump's golf game benefits from the kind of self-confidence which is sorely lacking in your average golfer, whose knees start knocking at the sight of a man and his dog looking on from a distance.
Who can forget George W Bush, pulling up in a golf cart and launching into a diatribe against "terrorist killers" before proclaiming to the assembled press, "Now watch this drive"? Sure enough, it went straight down the middle.
"It looked like Trump enjoyed being watched, he wasn't bothered by it," says Tucker of the former "Apprentice" star. "He had a swagger about him, which is what all good players have.
"Bush is also quite clearly a competent and confident golfer. His swing is compact, rhythmical and very stable. In fact, I'd say he was the best (although, it should be noted, most of Bush's footage was from when he was in his 50s)."