Cyril Ramaphosa was confirmed Thursday as South Africa's new President hours after scandal-plagued leader Jacob Zuma resigned.
Ramaphosa, 65, the leader of the ruling African National Congress party since December, was the only candidate nominated during a session of the South African Parliament.
Some lawmakers in the National Assembly in Cape Town greeted the announcement on Ramaphosa, though members of the opposition Economic Freedom Fighters party walked out of the chamber in protest during the debate.
"I truly feel humbled to have been given this great privilege of being able to serve our people," Ramaphosa said in an address to Parliament moments after he became President.
He pledged to act as a "servant of our people" and said he intended to lead with "humility, faithfulness and dignity."
"I will try to work very hard not to disappoint the people of South Africa," Ramaphosa said.
Supporters of the new leader sang and danced outside the National Assembly following his speech.
Ramaphosa's elevation caps a dramatic week that saw Zuma, dogged by corruption allegations for years, effectively pushed out of office by his own party. Zuma denies all the corruption allegations against him.
Parliament had been due to hold a no-confidence vote Thursday to remove Zuma from office.
But in a nationally televised address Wednesday night, Zuma announced his resignation, saying he had been disturbed about what he described as "instances of violence" outside the party's headquarters.
"No life should be lost in my name and also the ANC should never be divided in my name. I have therefore come to the decision to resign as President of the republic with immediate effect," Zuma said.
"Even though I disagree with the decision of the leadership of my organization, I have always been a disciplined member of the ANC."
Second chance to lead South Africa
Ramaphosa made his name as a trade union leader during the apartheid era and as the chief negotiator for Mandela, helping to shepherd South Africa out of white minority rule in the 1990s.
Mandela made it clear he wanted Ramaphosa to succeed him when his presidency ended. But Ramaphosa lost the race to lead the ANC – and the country – to Thabo Mbeki, another anti-apartheid leader who returned to South Africa after living in exile.
Ramaphosa left government afterward and made his fortune in the business world.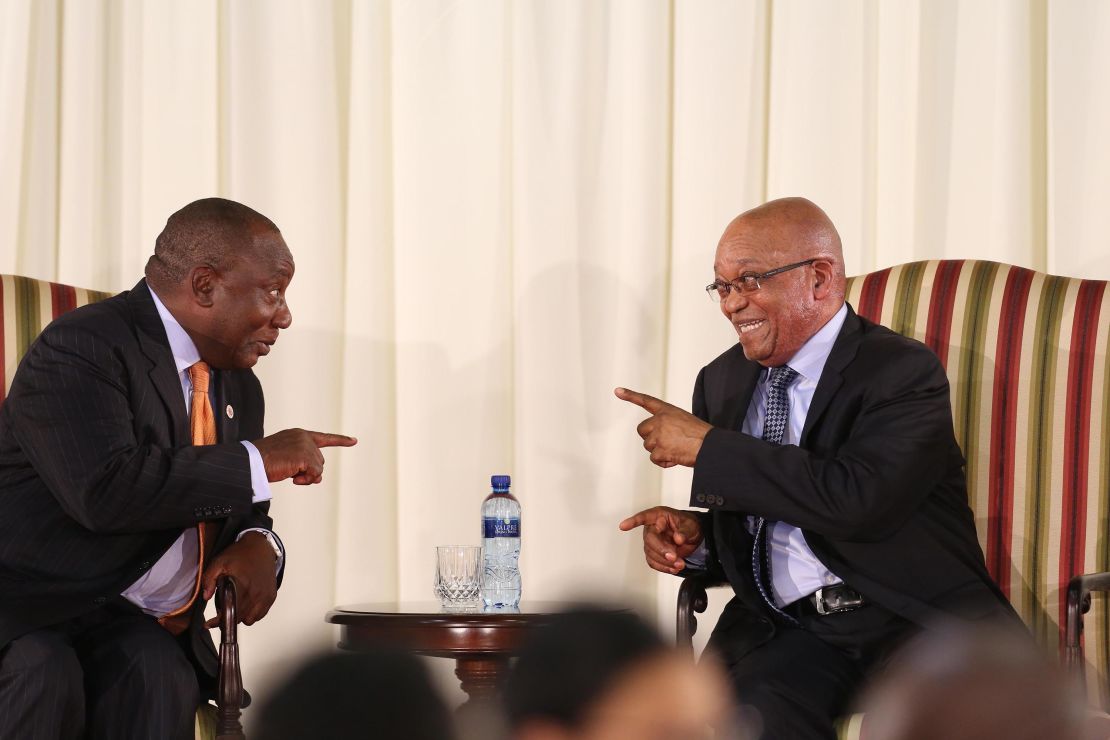 Since returning to public life, he has spoken out against corruption and found significant support in urban areas, in the business community and among ANC stalwarts.
After Ramaphosa was elected to head the ANC in December, he pledged to tackle some of the challenges facing the country.
"We want to clean up South Africa so that we can begin to make it more attractive to investors but at the same time to deal with the issues that are impeding growth," Ramaphosa told CNN's Christiane Amanpour in an interview last month.
Ramaphosa said he believed his anti-corruption campaign would reinvigorate supporters of the ANC previously disillusioned with the party.
"This is not a flash in the pan," Ramaphosa said. "We are going to make sure that we do not disappoint our people."
Raid on home of Zuma associates
In an apparent signal of the change the Ramaphosa presidency may bring, police on Wednesday raided the Johannesburg property of the Guptas, – wealthy allies of Zuma's who are accused of using their ties with him for financial gain. They deny all allegations.
Soon after the new President's speech to the assembly, police revealed that one of Zuma's associates had failed to turn himself in following police raids on his family's property Wednesday.
Hangwani Mulaudzi, spokesman for the Hawks, South Africa's elite police force, told CNN that authorities were actively looking for Ajay Gupta and considered him a fugitive, asking that he surrender.
Gupta is one of three brothers from a family associated with Zuma. Their compound was raided Wednesday in Johannesburg.
The Guptas are wealthy allies of Zuma's and are accused of using their ties with him for financial gain. They deny all the allegations.
Wednesday's operation was linked to the Vrede Farm scandal in which the three Guptas and government officials are accused of stealing money allocated to benefit poor farmers. Zuma has been implicated in the case, but he and the Guptas deny involvement.
CNN's Brent Swails and Josh Berlinger contributed to this report.