Story highlights
Shiffrin adds giant slalom title to slalom gold from Sochi
American targeting multiple golds in Pyeongchang
She will race again in slalom Friday
For Mikaela Shiffrin, it was worth the wait.
The American's quest for Olympic glory finally got under way after days of weather delays and the 22-year-old did as was expected, winning gold in the women's giant slalom.
It was her second Olympic title after confirming her precocious talent by becoming the youngest Olympic slalom – at 18 – in Sochi four years ago.
Ahead of the Games there was speculation the talented all-rounder could target five golds in Pyeongchang, but hours after her win, Shiffrin's mother and coach, Eileen, confirmed to CNN that her daughter would not be competing in Saturday's super-G.
The compressed scheduled forced by the high winds earlier in the week – the giant slalom was originally set for Monday – means the three-time world champion will instead prepare for next week's downhill and alpine combined events.
Shiffrin will race again in her favored slalom event Friday as she bids to equal or better Croatian Janica Kostelic's 2002 record of three golds at a single Games.
READ: Winter Olympics day 6: As it happened
READ: Mikaela Shiffrin – how to train an Olympic champion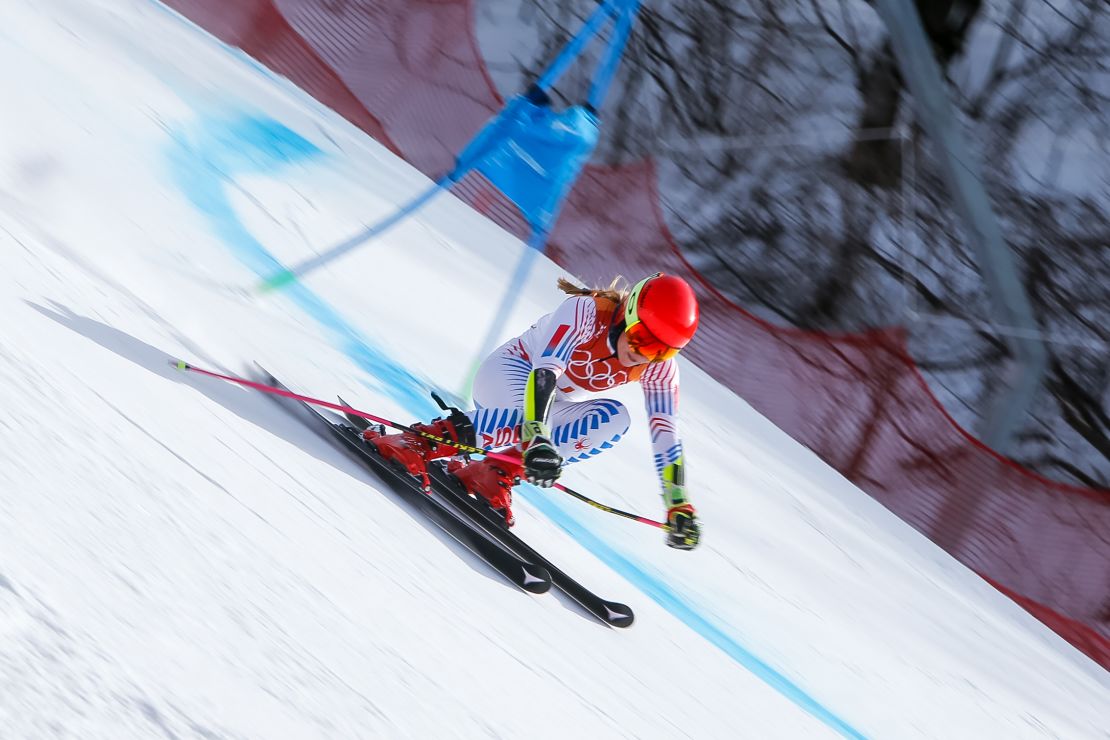 'Mentally taxing'
Hailed a "phenom" even before winning her first Winter Olympic gold, Shriffin could yet become the first Alpine skier to win more than four Olympic gold medals in a career.
Kostelic and men's great Kjetil Andre Aamodt of Norway both ended their careers with four golds.
Before the announcement of Shiffrin's super-G withdrawal, her coach Mike Day said the weather delays had made her bid for five golds difficult.
"It's unfortunate. It's an outdoor sport and we got hit hard by the weather," he told CNN's Christina Macfarlane.
READ: Aksel Lund Svindal becomes oldest Olympic skiing champion
After winning gold to become only the third American Alpine skier to win two Olympic golds, joining Andrea Mead-Lawrence and Ted Ligety, Shiffrin admitted that the weather-hit delays had been "mentally taxing."
"By the end of these couple of weeks I'm going to feel that, even if we had these first two races go the way they should," she said.
"It's mentally challenging to get excited for a race and then have it canceled. It's not easy."
But Shiffrin is a "standout because of her mental toughness," her coach Jeff Lackie told CNN, and she surged from second after run one to beat Norwegian Ragnhild Mowinckel by 0.39 seconds with Italian Federica Brignone in third.
"It's not really relief," Shiffrin told reporters. "It was an amazing feeling. My best effort is good enough and I have an Olympic gold.
"The second run, I loved how the course looked and I just thought 'I've got to go.' Everybody's skiing to win and it left me no choice but to do the same.
"This morning I woke up and didn't feel particularly nervous. I was able to eat my breakfast, which normally on race day I am not able to do. I had moments when I was nervous, I had moments when I felt pressure. At the starting gate I thought 'just go for it.'"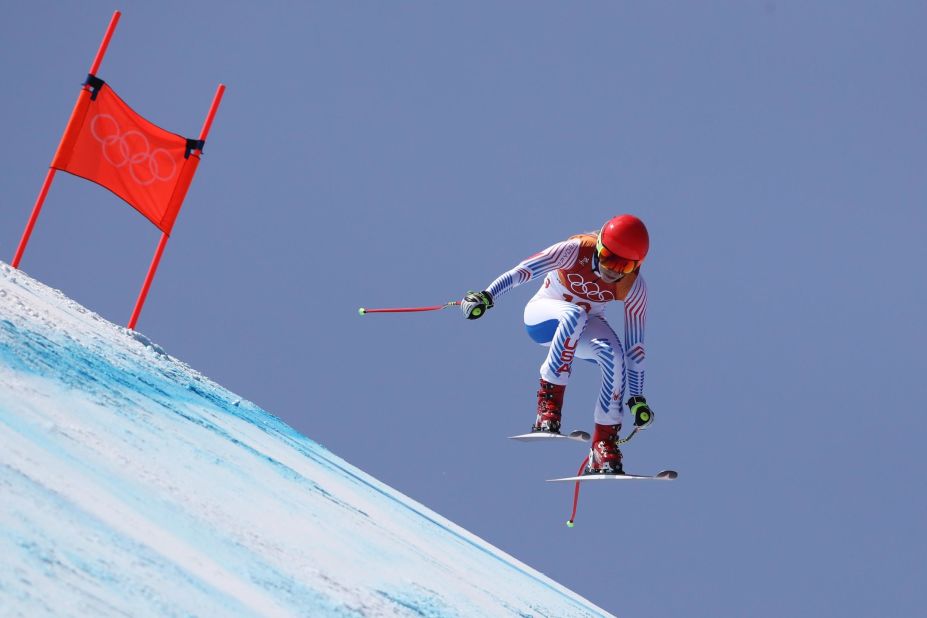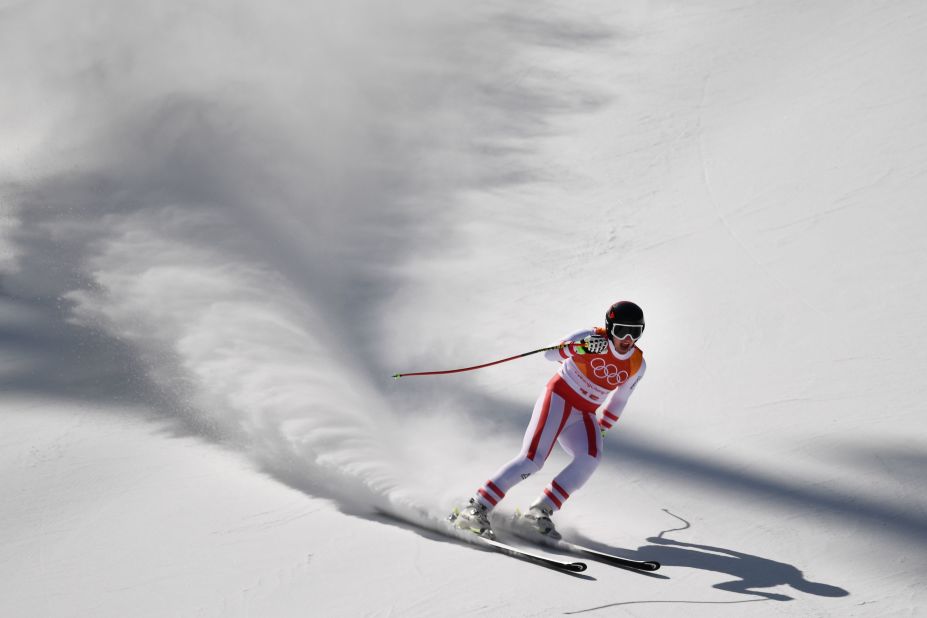 The best photos of alpine skiing at the Winter Olympics
Social media black out
In an attempt to ease the pressure of expectation, Shiffrin told reporters she had not been on social media for a couple of weeks.
"I don't think anybody puts as big an expectations on me as I do myself," she said.
"I've not been on Twitter, Instagram, Facebook for two weeks. If I want to post something I tell my agent this is what I want to say.
"I haven't been looking at what people are saying or watching. I've really been away from that a bit and that helps a lot because if I don't see it I don't know what people are saying."
Cheerleaders in full voice
During the first run, Shriffin wasn't the only competitor attracting attention at the Yongpyong Alpine Center.
North Korea's all-female cheerleading squad, dressed in matching red snowsuits and bobble hats, were in full voice to support North Korea's entry, 25-year-old Kim Ryon Hyang, who finished last.
Joining the squad in their singing and chants was a group of about 50 unification supporters wearing hoodies with a silhouette of a unified Korean peninsula.
The unification group, mainly young people who are from various cities in South Korea, had learned that the cheerleaders would be present through local media and decided to attend the event.
Huh Jung-bin, 22, from Busan, South Korea's second-most populous city, said they were at the Alpine Center to support the cheerleaders and unification of the North and South, two countries still technically at war.
Throughout the competition, the two groups, sitting in separate sections, sang in unison, and waved flags of unified Korea which have been so familiar at these Games.