Editor's Note: Eric Bolling is a former anchor at Fox News. The opinions expressed in this commentary are his own.

My life was forever changed last September.
It was a Friday evening. My wife and I had gone out to dinner to mark a new chapter in our lives. I had just separated with Fox News after a decade as a host of several shows.
After dinner, with Adrienne driving, we headed home. That's when a call from a number with a 303 area code came into my cell phone. Our son, Eric Chase Bolling, was a sophomore at the University of Colorado.
Adrienne pulled over and we received the call every parent dreads.
"Is he alive?" was my first and only question.
Kayla, one of Eric Chase's closest friends, was sobbing: "No, Mr. Bolling."
Adrienne spilled onto the road, grief stricken. I picked her up and we sat on the curb for an hour and cried.
Eric, our only child, died of an accidental opioid overdose at college. Eric Chase was a really good student at the University of Colorado. He was a social kid, liked to go to parties and had joined a fraternity. Over the year or so since he was in Colorado, Adrienne and I had discussed drug abuse with Eric Chase.
Like many parents, we worried about the possibility he was getting involved with harder drugs. He always said, "Dad, I got this." But we never expected this would happen to him. We were guilty of the "not our kid" syndrome.
In the last few weeks of his life, Eric Chase's personality changed dramatically. He became distant. He stopped attending summer classes. He didn't seem to care about talking to us anymore. There were signs we noticed and signs we now wish we had done more to address.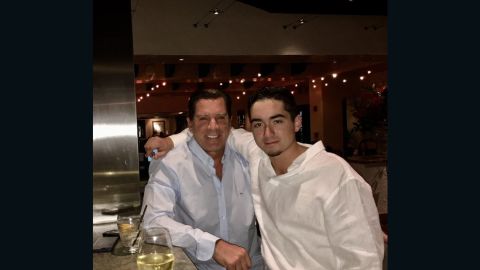 Over the next several months I became the "accidental expert" on opioid deaths.
A few weeks later, on Thanksgiving, as our small group of family was headed to the table for dinner, the empty chair weighed heavily on us all. It was going to be a rough dinner.
Then my cell phone rang.
It was President Trump. "Eric, I know this is your first holiday without your son. I just wanted you to know we are thinking about you." I realized then that President Trump, the man who I supported since the first day he announced his run for the White House, had an empathetic and compassionate side most never see.
For the past few months I've been working directly with President Trump and his senior advisers handing the White House's opioid awareness initiatives.
Sixty-four thousand people died from drug overdoses, including opioids and illegal drugs, last year.
Overdoses are the No. 1 killer of Americans younger than 50.
There is much work to do on both the demand and supply of opioids. And unfortunately, I have become the "accidental expert."
Get our free weekly newsletter
Sign up for CNN Opinion's newsletter.
I pray my voice helps parents realize the importance of getting involved in their kids' social activities.
You see, opioids are the unbiased killer of our most precious commodity, our children.
Opioids kill athletes, straight-A students, white, Hispanic, black, rich, poor, gay, straight, girls and boys alike.
Most importantly for parents, "not my kid" syndrome is dangerous and deadly. I never thought I would be an expert on opioids. No way. After all – not my kid.
Unfortunately I was wrong. Don't be like me. While you still have time.