Story highlights
CNN Sport sits down with Olympic, world & European champion Lukas Krpalek
Czech judo fighter has stepped up weight category since Rio 2016
In his way is all-time great, Teddy Riner
Prague, Czech Republic
CNN
—
The Czech Republic's first ever Olympic judo champion was already plotting his next move before he'd removed the gold medal from around his neck.
Victory in the half heavyweight (90-100kg) category at Rio 2016 had been "the most beautiful moment" of his whole career. But it wasn't enough.
Instead Lukas Krpalek's journey was just beginning. And, not content with reaching the pinnacle of his sport aged 25, he resolved to step up a weight division in a bid to win all new honors.
Standing in his way is a man who hasn't lost for almost a decade.
"One of my great motivations was to get new medals," Krpalek tells CNN Sport, "but it was also a chance to face Teddy Riner on the mat."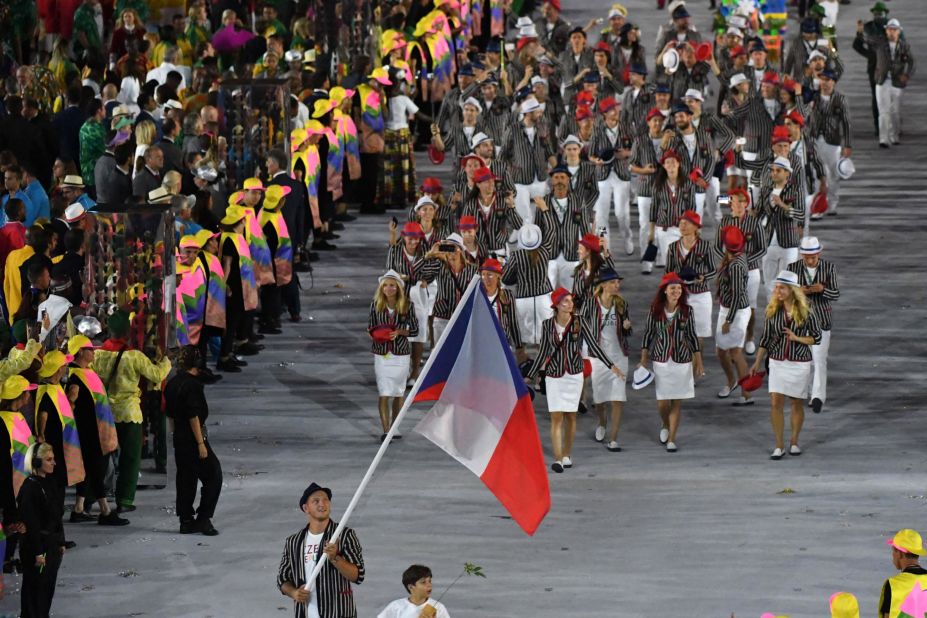 Lukas Krpalek: The Czech contender to Teddy Riner's throne
There can be fewer greater challenges, in any sport.
Riner, a double Olympic heavyweight champion, has won 144 consecutive matches in an unbeaten streak stretching back to 2010. He is, in the words of Krpalek, "an extraodinary judoka."
"This is a man who was able to rewrite history – who was able to win the World Championship 10 times," says the Czech. "Riner has it all worked out, physically and technically. He has no real weaknesses. But definitely I would like to take him on, and try to defeat him."
Krpalek leads a pack of pretenders to Riner's throne alongside 2018 Paris Grand Slam winner Kokomo Kageura and explosive Georgian youngster, Guram Tushishvili.
To date, Krpalek and Riner have fought "several" times in randori – a sort of freestyle practice – but never in a competitive environment.
Fate has thus far kept them apart, preventing judo's answer to "The Rumble in the Jungle". Krpalek missed the 2017 Judo World Championships through injury, while Riner opted not to compete in February's Paris Grand Slam on home soil.
But an eventual clash of the titans feels inevitable. It will be the first time in the history of the sport that two men with gold back patches – awarded to reigning Olympic champions – have stepped onto the mat together.
READ: Teenage kicks at Paris Grand Slam spectacular
A close friend's departure
Krpalek's grand ambition will not let him forget his past.
Every time the 27-year-old takes to the tatami, he fights with the strength of two men, and with a close friend in his heart.
Just months before the Games began, Krpalek's Czech teammate Alexandr Jurečka died in a diving accident. He was just 24 years old.
Rocked by the news, Krpalek released an emotional statement vowing to fight on in Jurečka's honor.
"Anytime anyone needed help, Alexandr was the first one who came," he said. "We will try to achieve the goals which you always wanted to reach, but destiny did not allow you."
It was Jurečka's photo that the Rio 2016 half-heavyweight champion held aloft on the podium that golden August day, after defeating world No. 1 Cyrille Maret in the last four and finally Azerbaijan's Elmar Gasimov for the title.
"In the last two matches I thought so strongly about my friend," Krpalek said, struggling to hold back the tears. "I can't lose the match. I had his picture with me all the time."
READ: "Never be satisfied, the battle will always continue" – Kosei Inoue
A hero's welcome
It took him a long time to appreciate the magnitude of his achievement.
"When I came back home from the Olympics, it was something that you can't imagine," he smiles.
Tens of thousands flocked to Lipno Lake to welcome the Czech Republic's Olympic heroes – among which stood their country's first ever judo gold medalist.
A three-hour drive away in Jihlava, where Krpalek grew up, it was as if the prodigal son had returned.
"This was something I won't forget as long as I live," he says. "As a boy, I used to walk through Jihlava square to school every day; suddenly, I was standing there as the main attraction, with all of Jihlava having come to welcome me.
"It was such a wonderful experience. I will never get it out of my head."
Krpalek still watches the Olympic matches back from time to time, "recalling that day, the Olympic day."
But even before Rio 2016, Krpalek had a sense his time in the half-heavyweight category was coming to an end.
READ: "Judo gives us hope in this fragile world" - Yasuhiro Yamashita
A new challenge
Standing almost two meters tall and naturally heavy-set, Krpalek spent years shedding pounds to make the weight ahead of competition weekends – a routine he didn't deem healthy.
"Even if I had lost at the Olympics in round one, I knew the change would come one day," he shrugs. "In the under 100kg category, I used to drop many kilos, and I don't think it's very healthy to be losing weight throughout one's career, just to fit into some category."
Besides, in the half heavyweight division (90-100kg), Krpalek had already won everything there was to win, "be it from Europe, the world or from the Olympics."
This was a chance to explore, and conquer, all new territory.
Legends of Judo: Lukas Krpalek
Tel Aviv 2018 European Championship: Gold (+100kg) Paris Grand Slam 2018: Bronze (+100kg)Tokyo Grand Slam 2018: Silver (+100kg)Rio 2016 Olympic Games: Gold (-100kg)Chelyabinsk 2014 World Championship: Gold (-100kg)Montpellier 2014 European Championship: Gold (-100kg)Tokyo Grand Slam 2014: Gold (-100kg)Paris Grand Slam 2013: Gold (-100kg)Paris 2011 World Championships: Bronze (-100kg)
"For me, it is a huge motivation to achieve something else; to try something new in another weight category," Krpalek explains.
"I know it's going to be extremely hard – I am new in this division – but I believe that if you work hard in training, you can achieve anything."
Krpalek has already successfully seen off several judo giants since, notably Romania's Daniel Natea (183kg).
Still, stepping onto the tatami with the sport's heaviest men – some of which have been known to tip the scales at over 200kg – is a "very different" challenge.
"This weight category is more about sheer power," Krpalek explains. "It's not as technical, it's not as dynamic or as fast, but great strength dominates here.
"Certainly I would like to gain a few kilos, but it's not as important for me as the strength that I would like to gain."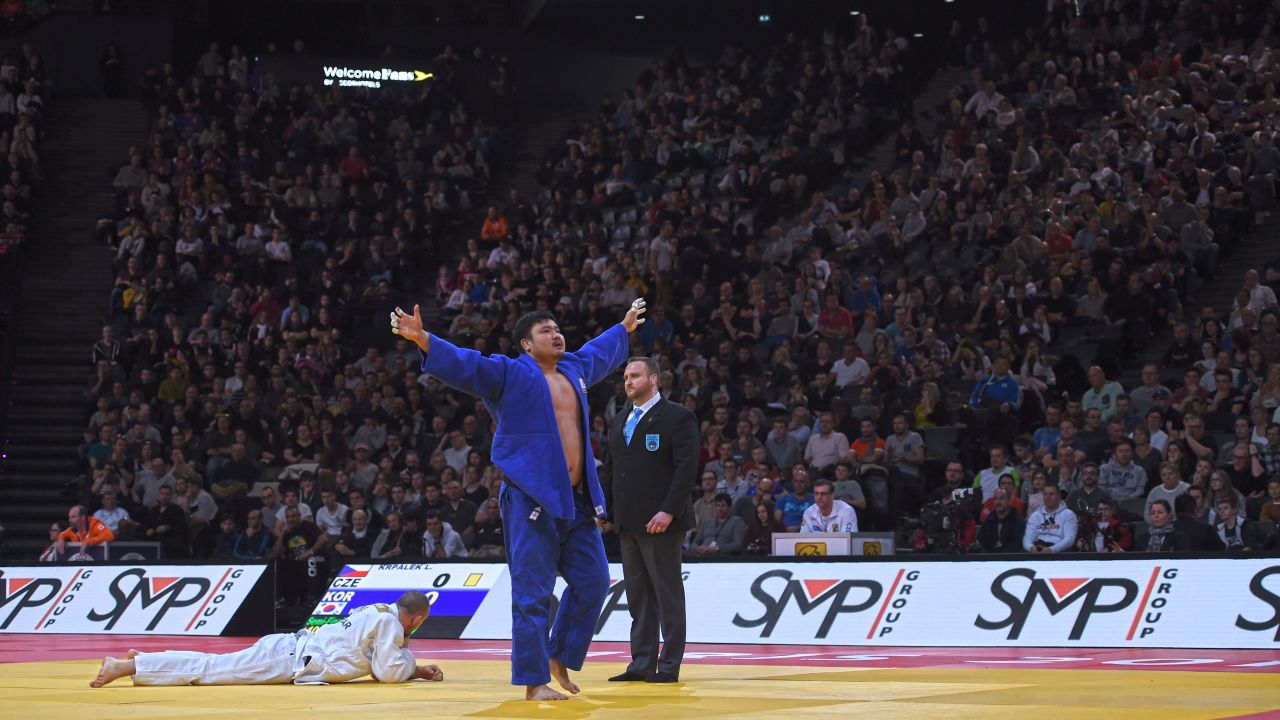 Now around 115kg, Krpalek anticipates he'll reach his peak at 120kg. Bulk up too much, and the Czech fighter would sacrifice his secret weapon: stamina.
One Czech Judo Federation official privately believes Krpalek would also thrive in cross country skiing, such is the fighter's capacity for endurance.
He'll need to summon all his energies if he's to fulfill his ultimate ambition: taking down the six-foot-eight, 141-kilogram Riner.
READ: Legends of Judo – Mongolian icon Tüvshinbayar Naidan
An idol and inspiration
In his bid to make the step up, Krpalek takes inspiration from retired Japanese great Kosei Inoue, who similarly fought in both divisions.
"He is a judoka who achieved outstanding results and one of the best technically in the history of the sport," says Krpalek, calling Inoue "a huge role model."
Legends of judo: Kosei Inoue
"It was wonderful to watch his matches, but not only is he an excellent judoka, I also feel that he is an excellent person too."
Krpalek, himself a gentle giant off the mat, is reminded of a particular tournament attended by the Japanese contingent in Prague. Long after the competition had come to an end, one man remained on the tatami.
"The tournament was over but Inoue was still there, cleaning up mess on the mat that the others had left," Krpalek recalls. "So I said to myself that this wasn't just anybody.
"Not only was I inspired by his results, I was also inspired by his life."
Krpalek can also take inspiration from the fact Inoue managed to win prestigious events such as the Tournoi de Paris and All Japan Judo Championships as a lighter competitor.
At April's 2018 European Championships in Tel Aviv, the Czech secured his biggest title since stepping up to the heavyweight division.
"I definitely don't want these medals to my last," the 27-year-old says. "I'd like to try and keep fighting for as long as possible.
Can Lukas Krpalek beat 10-time world champion Teddy Riner? Have your say on CNN sport's Facebook page or Twitter
Visit CNN.com/judo for more news and features
"Should health permit, I definitely want to participate at the Tokyo 2020 Games. For us judoka, I think it will be the best possible Olympics. Judo will be in the country where it was first created and I think it could be something wonderful.
"There are more medals to come."