When Ael left home to go to school in Jakarta, his parents warned him to be careful in the big city. "Be a kind person," his mother told him.
He worked hard and found a good job as a teacher in the sprawling Indonesian capital, but seven years later the 23-year-old is fearful for his future as a young gay man in a country which increasingly views homosexuality as a sin and, potentially soon, a crime.
"Many people don't like us … they don't like us being more visible, so they are preparing laws that can criminalize us," Ael, who asked for his surname to not be used, told CNN.
Within weeks, lawmakers could vote on a new law that looks set to criminalize sex outside of marriage and homosexual sex in Indonesia, as part of wide-reaching changes to the country's criminal code.
"If the penal code is approved, I don't know our future in Indonesia," Ael said.
It is just the latest move in a widespread crackdown on Indonesia's gay and lesbian community since 2015, which has shocked and horrified the country's LGBT population.
Indonesia is the world's largest Muslim-majority country, home to hundreds of millions of followers of the Islamic faith, but until recently it was relatively tolerant, if not exactly accepting, of its LGBT population.
But in the last decade a conservative strain of Islam, quietly tolerated by presidents past and present, has gained sway, with conservative Muslim leaders and groups intimidating lawmakers, holding mass rallies in Jakarta and targeting prominent Christian and LGBT minorities.
"(Recently) when LGBT Indonesians open our social media, quickly we find there are lots of people speaking hatefully about us," Ael said.
"As a gay person and a young person in Indonesia this issue has actually become dangerous for us."
The local LGBT community isn't alone in worrying about the developments. UN High Commissioner for Human Rights, Zeid Ra'ad Al Hussein said at a press conference in Jakarta on February 7 he was "greatly concerned" about the proposed revisions of the penal code.
He said the proposed amendments were "discriminatory" and appeared to be planned for "cynical political purposes."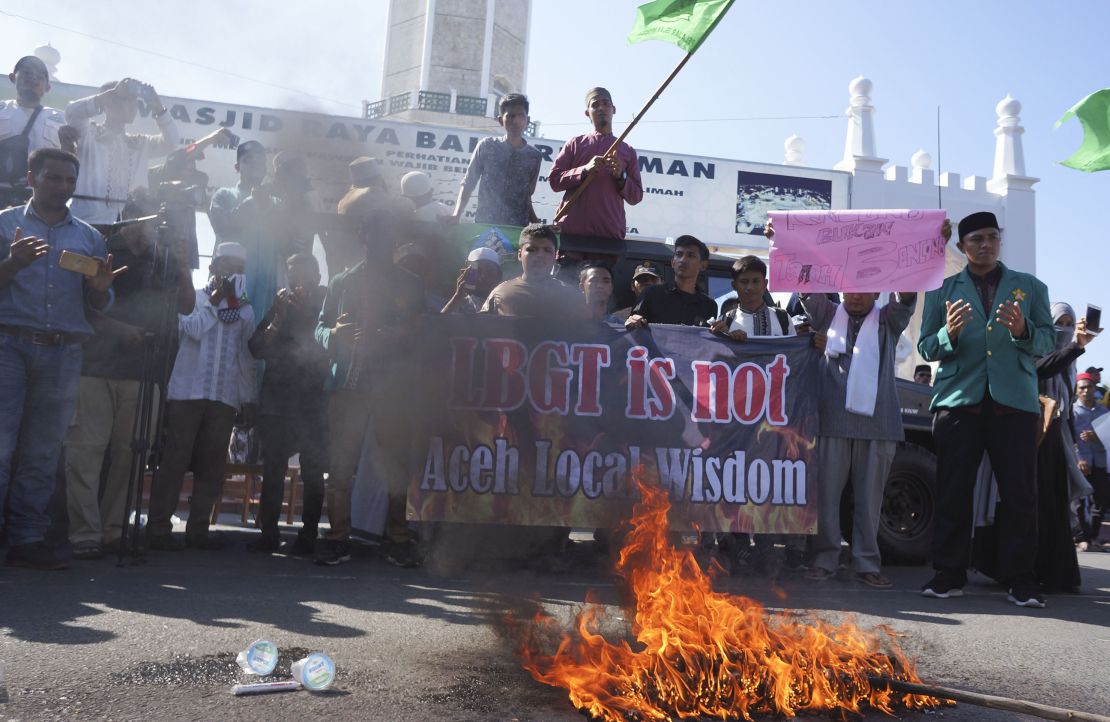 'Indonesian values and culture'
In one of the latest drafts of the bill seen by CNN, committing an "obscene act" with someone of the same gender is punishable by a fine and up to 18 months in jail, if the act is public. It doesn't detail what could constitute an obscene act.
If the acts are "publicized in the form of pornography," the sentence could be up to nine years.
Activists had breathed a sigh of relief in December 2017, when Indonesia's Constitutional Court narrowly voted down a call for the criminalization of LGBT relations brought by a group of conservative Muslims. But the court's decision now appears to have only been a temporary reprieve.
No date has been set for the vote on the new criminal code, but a conservative lawmaker told CNN strict new restrictions against same sex-relations and extramarital sex will be included, no matter what.
"Basically all factions in the Parliament agree on the expansion of extra-marital sex articles and the inclusion of certain deviating acts of LGBT," said Arsul Sani, a politician with the conservative Islamic United Development Party (PPP).
Sani, who has a seat on the influential law and human rights panel that will approve the draft criminal code, said criminalizing sex outside marriage and same-sex relations will bring Indonesia's outdated criminal code in line with the rest of the country's "religious values."
"Those who oppose (the law) base their perspectives on Western cultures and values, whilst we propose this new criminal code upon Indonesian indigenous values and culture," he said.
While many conservative Islamic Indonesian politicians would like same-sex relations to be banned entirely, the existence of large, secular majority parties could lead to the compromise of seeing it only outlawed "in public."
Sani's fellow panel member Ichsan Soelistio, lawmaker with the secular Indonesian Democratic Party of Struggle (PDIP), said while it was true there was majority support for the new criminal code, full criminalization of same-sex relations is out of the question.
"We (will) still protect their private lives, including their sex life, as long as they don't do it in a public area," he told CNN.
Soelistio said the law couldn't reach into people's private lives if there was no complaints from the parties involved.
"This will go to a vote maybe around one or two months after our recess, which ends on March 4 … I believe (the new code) will be good for Indonesia," he said.
Despite its widely held Muslim beliefs, Indonesia's population didn't always openly discriminate against LGBT people.
"Indonesia has a long history of tolerance towards queer communities. It's always been described as one of the most tolerant countries in Southeast Asia to its queer population," Tim Lindsey, director of the Center for Indonesian Law, Islam and Society at the University of Melbourne, told CNN.
But a recent poll by Saiful Mujani Research and Consulting released in January found 87.6% of Indonesians believed LGBT people were a threat to Indonesia, while a 2013 Pew Research poll found 93% of Indonesians thought homosexuality was "morally unacceptable."
However despite many citizens' deeply-held Islamic beliefs, not everyone is in favor of the complete criminalization of homosexuality.
Jakarta resident, Viana, told CNN that while her Muslim faith prohibited homosexuality she didn't want LGBT people to be sent to jail.
"I don't want homosexuality to spread (but) I think it should not be criminalized. Rather people should get better religious education," she said.
More than 70,000 people have signed a petition, started by women's rights activists, calling for lawmakers to throw out the new draft but experts say that secular politicians are unlikely to take up the cause.
'Sissies'
In recent months Indonesian authorities have grown bolder in their attacks on the country's LGBT population.
Before dawn on January 28, police raided beauty salons in conservative Aceh province, dragging 12 transgender women out to the streets. The women were then shaved, taken into custody and forced to act as men.
In a video taken shortly after the raid, North Aceh Police Chief Ahmad Untung Surianata speaks to a crowd that gathered to watch the arrests, describing the group of women as part of a "disease."
"This "disease" is contagious and growing … It is inhumane if I let the number of sissies increase in this area," he tells the crowd.
Speaking to CNN days after the incident, Surianata insisted it had not been an anti-LGBT operation but instead a drug raid to investigate reports of crystal meth being circulated in the area.
Jakarta-based activist Kate Walton said the violence shocked and horrified Indonesia's already nervous LGBT community.
"One concerning element was that the police chief said he had the right to do this because he had consulted with Islamic leaders beforehand," she said.
"So people are starting to ask – who is really in charge in Aceh? The government or the religious leaders?"
The rise of powerful Islamic conservatives in Indonesia, mostly unopposed by senior politicians, has emboldened authorities with a low opinion of LGBT people to act against them.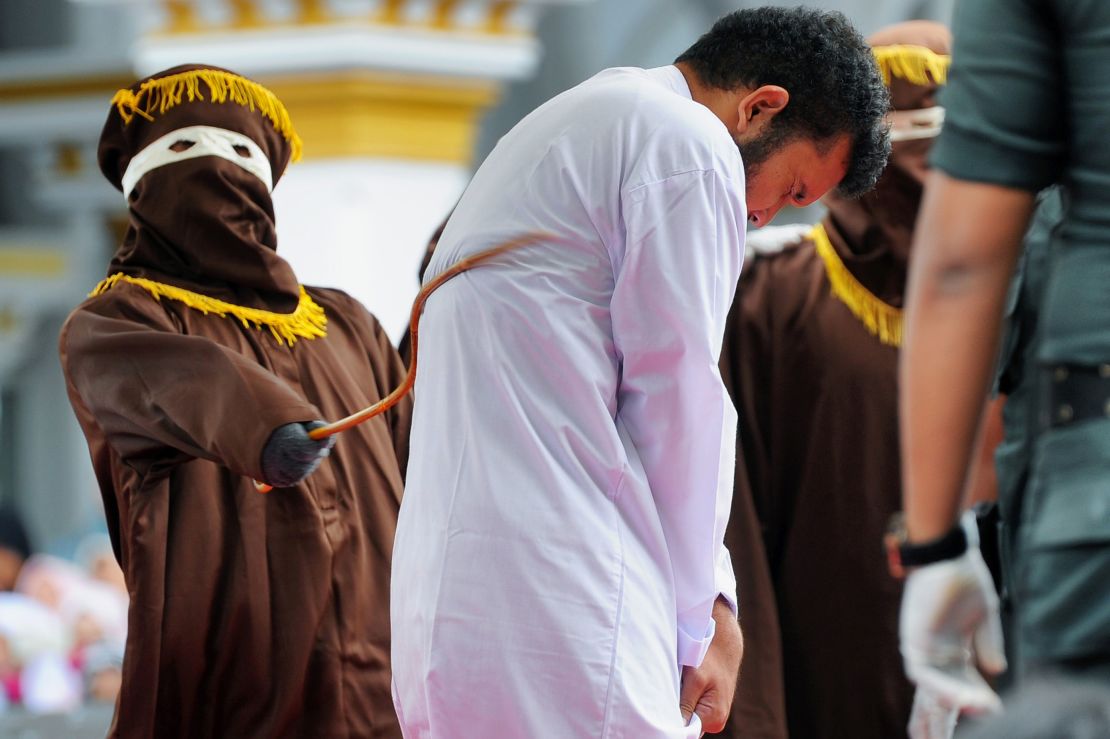 Hundreds of Indonesian men have been arrested by police in raids on gay saunas and private events across Java, ostensibly for breaking pornography laws, while local media reported more than a dozen LGBT apps have been made unavailable inside the country at the government's request.
UN Human Rights head Zeid said he found the recent "extremist views" playing out across Indonesia "deeply worrying," during his visit in February.
"Accompanied as they are by rising levels of incitement to discrimination, hatred or violence in various parts of the country, including Aceh," he said.
"Islamophobia is wrong. Discrimination on the basis of religious beliefs and color is wrong. Discrimination on the basis of sexual orientation or any other status is wrong," he said.
Police: 141 men detained during sex party raid
'We should fight together'
It's no coincidence the brutal crackdown on LGBT Indonesians and the showdown over the criminal code comes just before a series of national elections, set to take place over the next 14 months.
Indonesia's 'archaic' penal code
Lawmakers in Indonesia have been trying to agree on a new version of their criminal code for years – to replace the system of laws first put in place by Dutch colonists.
"Imagine running any modern country with a code which was written in the 1880s. It's not going to work," Tim Lindsey, director of the Center for Indonesian Law, Islam and Society at the University of Melbourne, told CNN.
He says the outdated code imposes inappropriate penalties which are no longer used because they're archaic or fines that are ridiculously low.
So far attempts to bring together Indonesia's fractious national parliament to fix the code of laws have been unsuccessful.
"There hasn't been consensus on a range of difficult issues from the death penalty, to religion and blasphemy, to defamation," he said.
The National Alliance on Reform of the Indonesian Criminal Code (Reformasi KUHP) was formed in 2005 to address this very issue, but even they have come out against the current draft of the new code.
The organization said it was concerned the new criminal code could negatively affect Indonesia's democracy and freedom of expression, while harming the country's "vulnerable groups."
Local elections for governors and mayors across Indonesia's dozens of provinces are due to take place in June 2018, while Indonesian President Joko Widodo faces a battle for re-election in April 2019.
Indonesian politicians are scared to oppose conservative Muslim groups after they were instrumental in the toppling and imprisonment of once-popular Jakarta governor Basuki Tjahaja Purnama, also known as Ahok, in May 2017, Human Rights Watch researcher Andreas Harsono said.
"Many Islamist leaders are going to put pressure on every politician (to pass the criminal code) … Many politicians in a conservative country like Indonesia will think twice before standing up for an LGBT individual," he said.
It isn't unusual for harsh rhetoric against minorities such as LGBT Indonesians to be used prior to an election to gain votes, but unlike in previous political cycles, experts believe the current hostile environment could be here to stay.
There is no confirmed date for when the final vote on the criminal code will come, or what form the final legislation might take. A vote was postponed in mid-February and activists say it could take place in April, when the next plenary session in Indonesia's parliament is scheduled.
Despite the looming possibility of criminalization and even a jail sentence, Ael said he had never for a moment thought about leaving Indonesia, despite the growing hostility towards LGBT people such as himself.
"I've never imagined that situation because we should fight for this issue. Who will work for this issue if all of us young people go out from this country?" he told CNN.
"We are the future of this country so we should fight for this issue. We should fight together."
Journalists Devianti Faridz and Kathy Quiano contributed to this report.