The historic moment of unity that brought them together for the first time in years is now over.
North Korea's involvement in the PyeongChang Winter Olympics has come to an end, and for the optimists hoping that the last two weeks of friendliness and outreach would extend beyond the Games, the moment is here. So what happens now?
"Reality often brings people back to earth pretty quickly. The two states are technically at war, and there's no consensus in South Korea on how to deal with this, just as there's no real consensus in the US on how to deal with North Korea," said Andrew O'Neil, dean of the Griffith Business School at Griffith University in Australia.
"A mistake is often made that there's a hunger for a resolution at almost any cost on the part of the South Koreans. I think there were quite a few South Koreans who are very wary of [South Korean President] Moon Jae-in's attempts to reach out to the North," he said.
VP office: NK proposed meeting with Pence
The two sides may be talking again, says O'Neil, but questions remain about what engagement with the North looks like going forward, and how the South can get Pyongyang to the table for talks. "The summits in 2000 and 2007 were essentially the result of South Korea bribing the elder Kim [Jong Il] to come to the summit," he argued.
It's not clear whether Pyongyang, pleased with the diplomatic wins it sustained during the two weeks of the Games, will pull back, resume its missile tests, and continue with aggressive rhetoric towards not only the South, but also to South Korea's ally, the United States. It has already reacted hostilely to fresh US sanctions, calling them an "act of war."
Some North Korea experts believe the Olympic pause has given the regime valuable time to work on its nuclear program and that another launch is simply a matter of time.
It's been months since Pyongyang has carried out a missile test, and there are some who believe the regime will soon make good on its threat to follow up its alleged H-bomb test last year with a thermonuclear test in the atmosphere.
What matters then, is whether that diplomatic progress is obliterated with another launch, and if the North is prepared to lose that leverage at this point in its renewed dialogue with the South, as the US continues to look to tougher sanctions against Pyongyang.
On Monday, after meeting with Chinese Vice Premier Liu Yandong at the presidential palace in Seoul, South Korean President Moon Jae-in said the US should ease its position on preconditions for talks.
"There is a need for the United States to lower the threshold for talks and North Korea should show its willingness to denuclearize," Moon said in a statement.
In the past the White House has said it was open to a dialogue with Pyongyang if the regime stopped its missile and nuclear tests.
North Korean delegation willing to talk to US
Talks with US?
So far, the North Koreans have said nothing to either echo or discount comments from South Korean President Moon on Sunday that they were willing to talk with the US.
Moon said that he'd met with the North Korean delegation in Pyeongchang before the closing ceremony of the Winter Olympic Games and told them that North Korea-US talks should happen "as soon as possible." Moon in a statement on Sunday said the North Koreans agreed that "the inter-Korean relationship and North Korea-US relationship should develop together."
"We should not take them too seriously given that the North Koreans themselves have not made any public announcement that indicates any willingness to put their nuclear/missile programs on the table as part of a dialogue," O'Neil remarked. "Remember this is a US precondition for any meaningful dialogue."
The White House responded with cautious optimism to Moon's statement.
"We will see if Pyongyang's message today, that it is willing to hold talks, represents the first steps along the path to denuclearization," the White House said in a statement.
"In the meantime, the United States and the world must continue to make clear that North Korea's nuclear and missile programs are a dead end," the statement continued.
Joseph Siracusa, a professor of human security and international diplomacy at RMIT University in Melbourne, Australia, said it wasn't clear what the North Koreans in Seoul were prepared to do to advance peace talks.
"What we do know, is I'm sure that the people who are going to the meetings are empowered to make some move on this," Siracusa said.
The talks didn't include presidential adviser Ivanka Trump, who was in South Korea to lead the US delegation at the closing ceremony. Like US Vice President Mike Pence at the opening event, Ivanka sat just feet away from the North Koreans, but barely gave them a sideways glance although she did stand up and clap as the joint Korean team entered the stadium.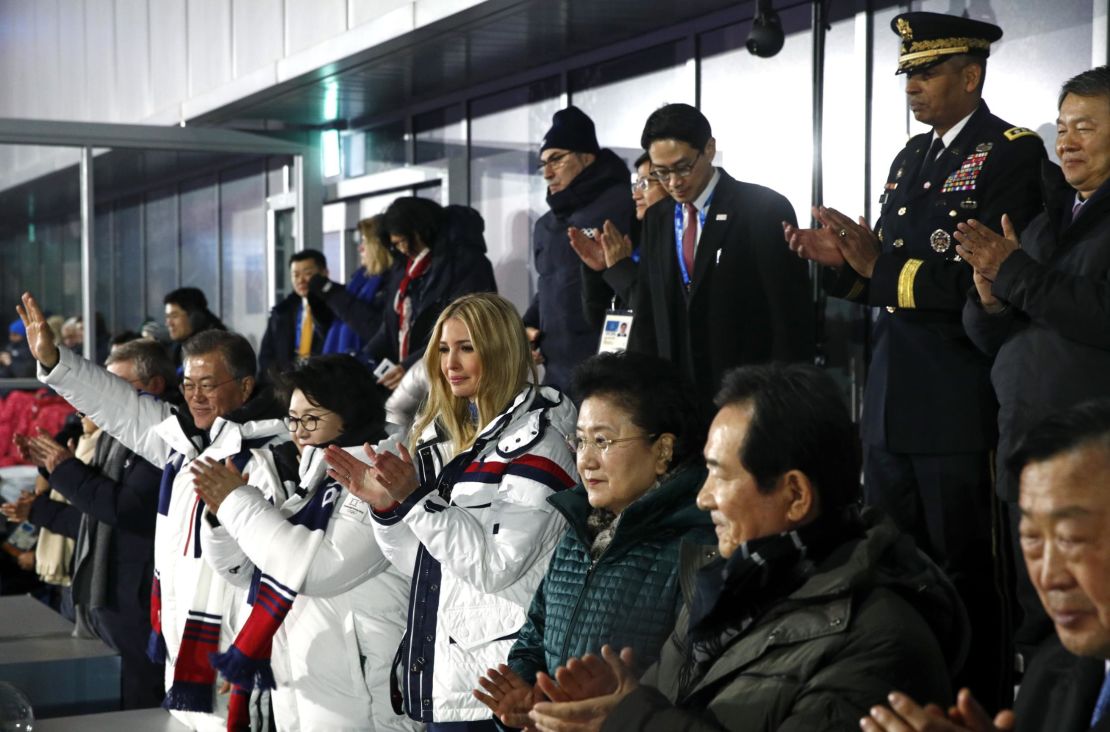 The people attending the closing moments of the Games and staying for meetings in Seoul included Kim Yong Chol, the vice chairman of the party's central committee and the former chief of North Korea's top military intelligence body.
The two sides will discuss the North's involvement in the upcoming Winter Paralympics. The talks will be held in the border village of Panmunjom on Tuesday at 10 a.m. local.
Kim Yong Chol is widely believed to have masterminded the 2010 sinking of the corvette Cheonan, a South Korean navy ship, killing 46 sailors. He is on a list of people sanctioned by both Seoul and Washington. During his recent trip to South Korea, Pence visited the Cheonan memorial and used the occasion to show that the US "stand(s) with our allies."
What N. Koreans are seeing for the first time
Propaganda victory
The Winter Olympics, says Siracusa, was a "propaganda victory" for Pyongyang. "They got themselves invited, they didn't have to pay the bill and for a couple of weeks they looked normal," he told CNN.
Most importantly, he says, North Korea's successful Games appearance – cheering squads, a friendly Kim sibling and no defectors to the South – also succeeded in driving a wedge between South Koreans who want reunification and rapprochement, and those who don't.
The North Korean Olympic team and the official delegation that comprised of Kim Jong Un's younger sister Kim Yo Jong and Kim Yong Nam, North Korea's ceremonial head of state, were closely watched everywhere they went. Competing athletes and cheer squads were met with South Korean protesters in some places, a cogent reminder that not everyone was thrilled with the red carpet rolled out for the visiting neighbors from the North.
"The North Koreans want reunification, but on their terms," said Siracusa. "The South Koreans would rather have a confederation with these people than a nuclear war. And this has also complicated the South Korean alliance with the US," he said.
"I think it has complicated the life of President Moon and whether he will do something with the Americans," he continued. "Moon has a promise through the Americans to talk without preconditions, but sanctions aren't going away until the North Koreans do something positive. What does that mean? It could mean anything."
Moon in the middle
Moon, a liberal who has declared he wanted to be remembered as the leader "who built a peaceful relationship between the North and the South," now has to balance his ambitions for peace with a disgruntled domestic population and an uneasy ally in Washington.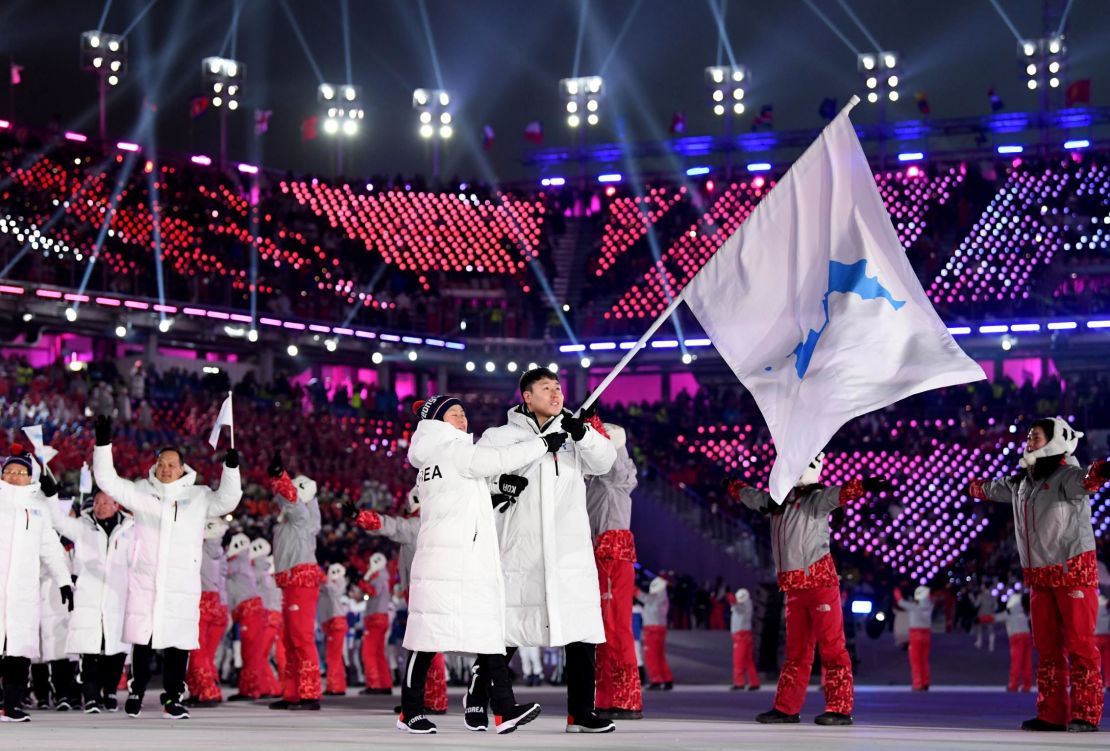 Eurasia Group said in a briefing note it believed it will be difficult for Moon to sustain support for a North-South summit. It quoted several polls showing South Koreans' dissatisfaction with his decisions including the formation of a joint women's hockey team (over 72% opposed it), and having athletes march under a single flag (only 40% supported the move).
"Moreover, a Seoul University poll in January found only four out of 10 respondents believing that unification was necessary," the group said in a statement to the press. "Young people in their 20s and 30s are the most opposed to the idea of reunification."
The political right, the Eurasia Group argues, has been keen to criticize Moon's handling of the Olympics. "Kim [Jong Un]'s decision to hold a military parade on February 8 reinforced suspicions among conservatives and the broader public that he is not acting in good faith."
Undeterred ambitions
While hailing progress between the two countries last week, Moon warned about moving too quickly to talks in a bid to satisfy "impatient" hearts. He said that while the North and the South will move slowly to hold talks, the path to any kind of reconciliation necessarily runs through Washington as well.
"I hope that this will lead to an improvement in inter-Korean relations – not only inter-Korean relations, but we also believe that there has been slowly, but gradually, a growing consensus on the need for dialogue between the United States and North Korea," Moon told reporters on February 17.
"We hope that the dialogue between the two Koreas will be able to lead to dialogue between the United States and North Korea, and eventually denuclearization."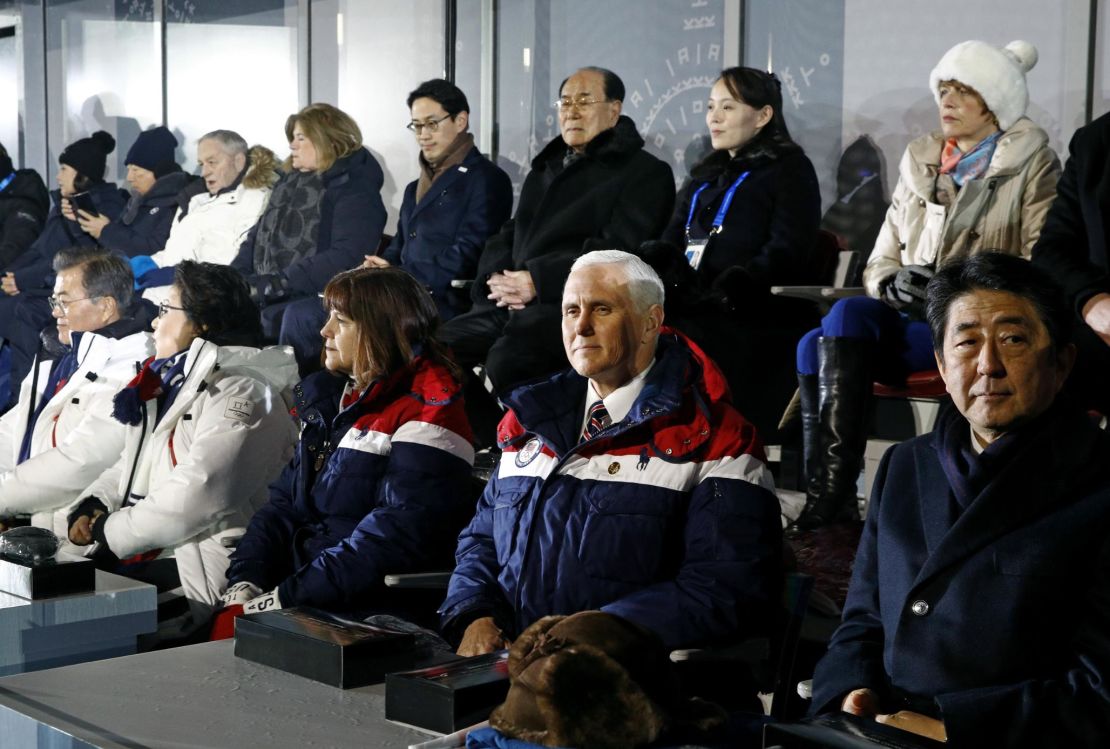 Ever mindful of the US alliance, Moon has continued to include Washington in his comments regarding progress with North Korea, sustaining a view held by US President Donald Trump that North Korea has reached out because of the US' firm stance on sanctions.
On Friday the US showed little sign of lessening pressure on Pyongyang, imposing new sanctions against 27 entities and 28 vessels either registered or flagged in several countries, including North Korea, China and Singapore.
US Treasury Secretary Steven Mnuchin said the US is "aggressively targeting all illicit avenues used by North Korea to evade sanctions, including taking decisive action to block vessels, shipping companies, and entities across the globe that work on North Korea's behalf." He said the move was aimed at shutting down North Korea's illicit maritime smuggling activities.
"The latest US sanctions, which envisage potentially boarding North Korean surface vessels with force, were accompanied by a thinly-veiled reference by Trump to using military strikes if sanctions don't work," said Andrew O'Neil. "This is nothing new in US policy, but it does serve as a major reality check in the afterglow of the Winter Olympics and hopes that Inter-Korean relations may be entering a new phase."
The bond between the US and South Korea is what analysts like O'Neil believe North Korea is trying to fracture. "I also think it's probably a way for the North Koreans to push out further the prospect of military action from the US, because as long as the North is seen to be engaging with the South, they're not testing missiles," he pointed out.
It also gives the North an opportunity to continue to seek funds from the South, and any other accommodations it can get while wrestling with sanctions and maintaining its refusal to de-nuclearize, he added.
"The South Koreans aren't fools either," said O'Neil. "They've been down this path many times before."