The 2018 Winter Olympic Games mixed sport and politics in equal measure.
As well as politicians and Olympic organizers having to navigate the complex relationship between North and South Korea, the issue of Russian doping overshadowed PyeongChang 2018.
One hundred and sixty eight Russian athletes competed for the Olympic Athlete from Russia (OAR) team under a neutral flag, provided they could prove there were clean.
CNN Sport has been in Pyeongchang, South Korea, covering the Games and below are our top 11 moments.
Let us know your favorite moments of the Winter Olympics on our Facebook page.
Illustrated PyeongChang Winter Olympic moments
Chloe Kim
At PyeongChang 2018, a worldwide star was born. The reaction to Chloe Kim becoming the youngest snowboarder to win Olympic gold was on a level which only the likes of Usain Bolt experience.
The 17-year-old ran the gauntlet of TV interviews and negotiated the maze of reporters with equanimity. But hers is a life changed.
According to reports, her limited-edition "Gold Medal" Kellogg's Corn Flakes box sold out in seven hours, a record said the company.
Even before she won gold – and became the first female to land consecutive 1080s in the halfpipe at the Olympics – she could already count Nike, Toyota and Mondelez as her sponsors. More blue chip companies will surely follow.
READ: America's 17-year-old snowboarding sensation
Kenworthy kiss
It was a tender moment between two men in love, an openly gay Olympian kissing his boyfriend at the bottom of the hill during the ski slopestyle event.
Broadcast live to the world and then shared on social media, Gus Kenworthy's kiss with boyfriend Matthew Wilkas was hailed as a celebration of LGBTQ pride. It was another notable occasion at a Winter Olympics which has been full of symbolism.
Four years ago, Kenworthy had wanted to share a kiss with his then boyfriend at the Sochi Winter Olympics. But having yet to reveal he was gay, the slopestyle silver medalist had second thoughts. He was not ready for that to be his coming-out moment.
But in Pyeongchang, despite not winning a medal, he told CNN: "This was actually the Olympic experience I was hoping for. I'm leaving here more fulfilled without a medal than I did at the last games with one."
READ: How a kiss can be more rewarding than a medal
Ester Ledecka
The greatest athlete at the Pyeongchang 2018? That honor must surely be bestowed on Czech sensation Ester Ledecka, even if the 22-year-old herself does not agree.
Seven days after becoming the first snowboarder to win Olympic gold in alpine skiing, the surprise star of these Games followed up her success in the super-G with gold in snowboarding's parallel giant slalom.
It has been 90 years since anyone claimed gold in two different sports at the same Winter Games. She is the first woman, and only the third athlete, to achieve such dizzying success.
Asked whether she was the best athlete in Pyeonchang, Ledecka gave a firm "no."
"There are the greatest athletes in the world here," she told reporters. When it was pointed out to the Czech that she was the only one at the Games who had won gold medals in two different sports, she casually shrugged her shoulders and simply said: "Whatever."
But don't let the nonchalance fool you, she is a once-in-a-generation talent.
Marit Bjoergen
Norway's Marit Bjoergen might reasonably counter she was the standout performer at the Winter Games.
Bjoergen, who turns 38 in March, won the final gold medal of the 2018 PyeongChang Games in the women's cross-country 30-kilometer mass start on Sunday.
Earlier in the 2018 Games, Bjoergen became the most successful Winter Olympian of all time, when she finished third in the team sprint free.
Her bronze with Maiken Caspersen Falla put her on 14 Olympic medals, outstripping fellow Norwegian Ole Einar Bjoerndalen, who has 13 in biathlon.
Sunday's success brought her Olympic medal haul to eight golds and 15 in total. It also brought Norway's total haul at this Games to 39 medals – eight more than Germany – a record for a single Olympic Winter Games.
The 37-year-old skier is the second most successful woman at either the Summer or Winter Games. Soviet gymnast Larisa Latynina has 18 medals.
READ: 'Iron Lady' sends Norway top of final medal tally
Opening ceremony
The sight of athletes from North and South Korea walking in unison at the opening ceremony for the first time in 11 years was a moment that will live long in the memory.
The lead up to these Winter Olympics had been dominated by relations between two nations still technically at war. After a year of escalating hostility over Pyongyang's ballistic missile program, this Olympics gave the two countries reason to talk again.
No matter how affecting the message of peace on the host nation's first night, it would be fanciful to think that a sporting occasion can bring about a truce between a Korea divided since 1953, but it was still a heartwarming evening.
There were selfies between North and South Koeran athletes as they waited to walk into the heart of the stadium.
And when the Koreans emerged – North Korea ice hockey player Chung Gum Hwang and South Korean bobsledder Won Yun-jong both held the flag of a unified Korean peninsula – they were greeted to an ovation from 35,000 cheering spectators.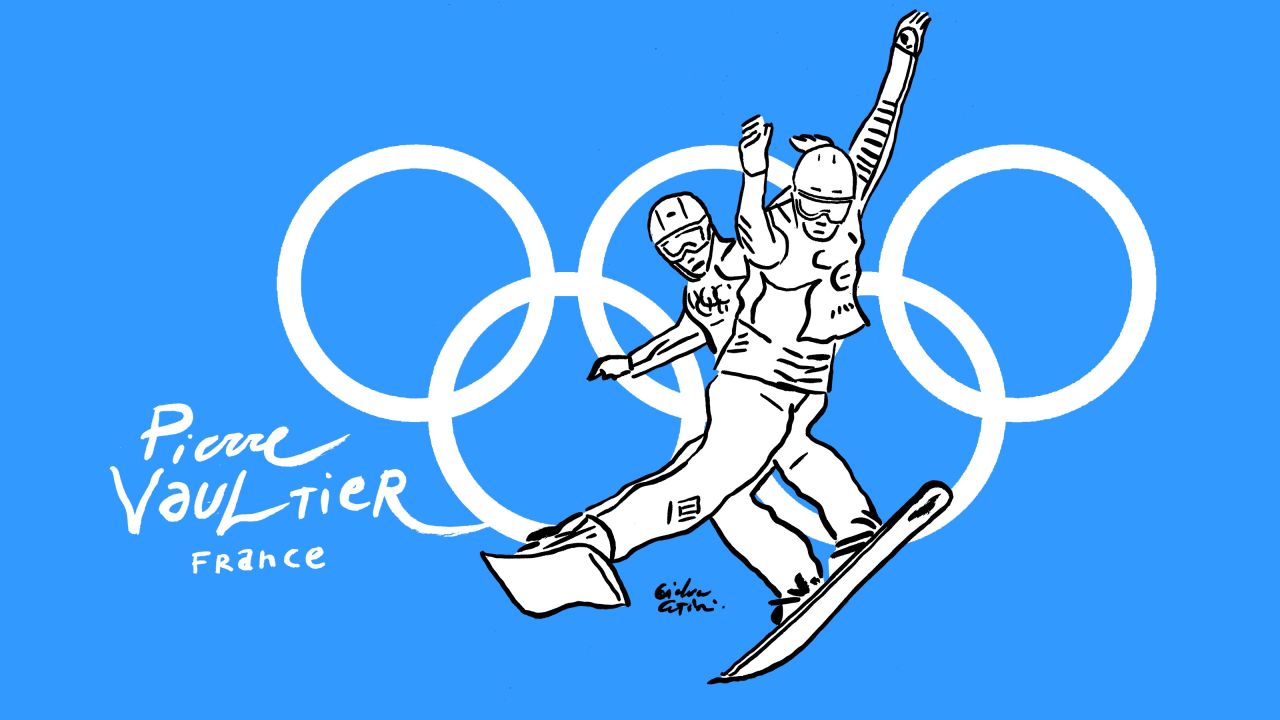 The moments of the 2018 Winter Olympics -- in drawings
Unified Korean ice hockey team
READ: Winter Olympics opening ceremony sees historic handshake
Rarely does sport become secondary on one of the grandest sporting stages of all. But on the night the unified Korean ice hockey team made its Olympic debut, even in comprehensive defeat they sent a message to the world that winning is not everything.
It was not for sporting reasons that this group of 35 women were hastily put together.
READ: PyeongChang Games end with spectacular closing ceremony
Their first outing of the Games, which ended in an 8-0 defeat by Switzerland, captured the imagination. The result mattered little.
No-one expected this combined team to achieve anything on the ice but the political message resonated louder than any fan's roar.
READ: Unified Korean ice hockey team proves that 'winning isn't everything'
Korean cheerleaders
Few at Pyeongchang 2018 could match the relentless enthusiasm of North Korea's cheering squad. Flanked by security wherever they went, the traveling troupe of 230 young women – handpicked from university students, propaganda squad members and music school students, according to China Radio International (CRI) – charmed fans and viewers.
They were as absorbing as any contest.
Dressed in matching uniforms, they were easy to spot, and to hear, and faithfully followed North Korean athletes throughout; chanting, singing, dancing and waving flags in perfect unison.
Photographers focused their lenses on the cheerleaders nearly as often as those performing on the snow and ice. South Koreans were enthralled, too.
It was a rare chance to see a northern neighbor.
Their presence also created some angst with those who believed that allowing North Korea to compete at the Games allowed the country to also spread propaganda.
READ: What are North Korea's cheerleaders singing at the Winter Olympics?
USA women's ice hockey
What a match. The game that had it all. It came down to a sudden-death shootout for gold between four-time defending champions Canada and perennial bridesmaids the US.
In a knee-knocking final, the scores were level at 2-2 after five penalty shots each then came Jocelyne Lamoureux-Davidson.
The American scored and Maddie Rooney followed up with a save from Canada's Meghan Agosta. Cue jubilation as the US women celebrated winning ice hockey gold for the first time in 20 years.
"I just reacted to her, and then everything kind of went into a blur," Rooney, 20, told reporters afterwards.
Canada had won gold at the previous four Olympics, including victories over the USA in the 2002, 2010 and 2014 finals.
Victory was all the more significant as a year ago the US team threatened to boycott the world championships over better pay and work conditions. A last-minute settlement, including substantial pay rises, got them back on the ice.
My PyeongChang 2018 Olympic Inspiration
Red Gerrard
The 17-year-old American overslept the morning of the slopestyle competition, lost his coat, and went into his third run on a blustery morning at the Phoenix Snow Park ranked 11th out of 12 finalists.
He had one last chance and he nailed it, producing a spectacular gold-medal winning run.
Team USA had its first gold of the Games and Gerard became the youngest American man to win an Olympic winter gold medal since 1928.
The teenager is also the second-youngest man to top the podium in any individual event after Finland's Toni Nieminen, who won ski jumping gold aged 16 in 1992.
"Just to land a run would have been plenty for me and to get on the podium, but to get first is crazy," he told reporters afterwards.
READ: Cheerleaders, swirling winds, golden feats – Life at PyeongChang 2018
'Garlic Girls'
They may have lost to Sweden in the final, but South Korea's so-called curling "Garlic Girls" captured hearts in Pyeongchang.
The South Korean women's curling team – given their moniker because of their garlic-producing hometown – attracted worldwide attention during the Games, their surprise winning streak turning them into internet sensations.
Ranked eighth coming into the Games, the underdogs beat Canada and Sweden in the round-robin competitions and went on to defeat Japan in the semifinals, sparking flag-fluttering frenzy.
Four of the five members attended the same high school and the long-time friends all learned their trade on the first curling centre ever built in South Korea.
Two are sisters – Kim Yeong-mi and Kim Kyeong-ae – and their team-mates Kim Eun-jung, Kim Seon-yeong and alternate Kim Cho-hi all share the same surname.
They have endearing nicknames for each other, too, such as "Pancake," "Steak" and "Cookie.' Uiseong used to be better known for its garlic production. Not anymore.
READ: Why Norwary topped the medal table at PyeongChang 2018
Cross-country skiers
Mexico's German Madrazo had never skied until last year and while the 43-year-old may have finished last in the men's 15km cross country, the sight of him crossing the line, holding the Mexican flag aloft, encapsulated the Olympic spirit.
Waiting for him at the finishing line were his fellow late finishers – including Tonga's Pita Taufatoufua who came home in 114th place – and they greeted him with a hero's welcome, lifting him onto their shoulders as he waved to the crowd.
He had finished 116th but that mattered little as he drank in the moment with the men whom he had travelled the world with, spending nearly all his cash, to qualify for the Games.
"Pita and I spent two months, fighting and fighting every day," Madrazo told reporters after his event.
READ: Tonga's famous flag bearer Pita Taufatofua achieves his 'impossible dream'
READ: The venture capitalist making Olympic dreams come true
"One day we were completely out of money and we had one last chocolate bar. There was nothing left and we split that chocolate bar and said, 'Well brother, we live to fight another day."'