Story highlights
Li Baiguang represented Chinese Christians and other religious minorities
He met with US President George W Bush and received an award from the National Endowment for Democracy
A prominent Chinese lawyer, Li Baiguang died Monday in the Chinese city of Nanjing under "mysterious" circumstances, according to Bob Fu, a US-based activist and Christian pastor who has known the lawyer for over 10 years.
Li was admitted to the No. 81 Military Hospital with a minor stomach ache, but had been otherwise healthy, Fu said, citing a relative of Li's. He was declared dead hours later from liver complications, according to the activist.
Critics allege Li has fallen victim to the rights crackdown which has characterized the rule of President Xi Jinping, just as the Chinese leader seeks to extend his grip on power.
On Sunday, Chinese state media said the country's constitution would be amended to drop term limits on the Presidency, clearing the way for Xi to lead the country indefinitely.
The move has alarmed critics who say that Xi's tightening grip on power has come at an increasing cost to human rights and those who seek to defend them.
In a statement, Fu's organization ChinaAid said the "Chinese regime should be totally held accountable" for Li's death, and compared it to the death of Nobel Peace Prize laureate Liu Xiaobo, who died in government custody in August 2017.
Neither the hospital or China's Ministry of Foreign Affairs responded to requests for comment.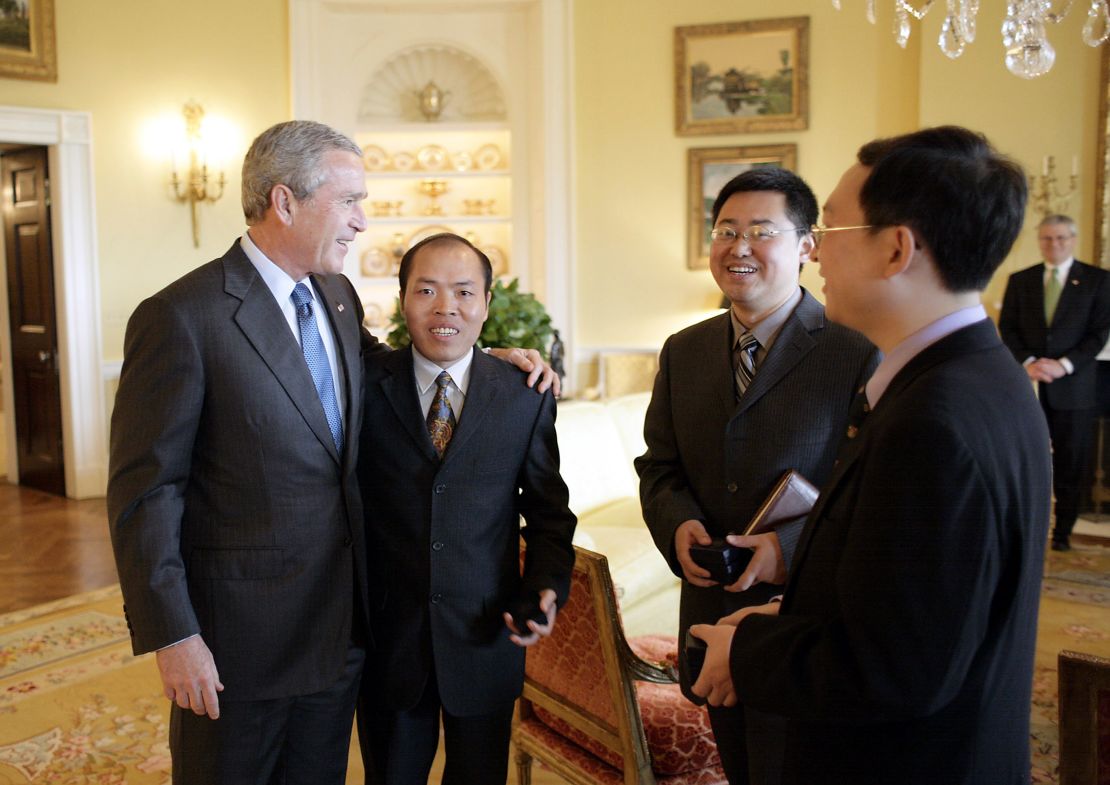 Campaigning lawyer
Li was a prominent human rights lawyer who represented Chinese Christians, many of whom have faced intense repression as they seek to practice their faith outside the government-approved church structure, according to a report from the US-based NGO Freedom House.
Weeks before his death, Li attended a National Prayer Breakfast in Washington, DC, with Fu and a delegation of Chinese human rights activists, ChinaAid said.
In 2008, he was awarded the Democracy Award from the US-government backed National Endowment for Democracy (NED), which Li said was encouragement to "continue to utilize the law to advance religious freedom in China."
He also met with President George W. Bush, who spoke out during his time as US leader for Chinese Christians and other religious minorities.
US Representative Chris Smith, co-chair of the Congressional-Executive Commission on China, said he was "deeply saddened" by Li's death.
"Li was a father and a husband, a lawyer and scholar, and he was a committed Christian who used his legal skills to defend the poor and oppressed in China," Smith said. "There are many unanswered questions about his death and these questions should be answered."
William Nee, China researcher at Amnesty International, said Li had suffered "many injuries" during an alleged beating by plainclothes security agents in October.
"We do not know for certain whether those injuries may have contributed to his declining health, but the Chinese government should, as a party to the UN Convention Against Torture, conduct a prompt and impartial investigation to determine whether those injuries may have played a role in his untimely death," Nee said.
Chinese human rights lawyer sentenced
Rights crackdown
Dozens of lawyers and other human rights workers have been arrested and detained since Xi came to power in 2012.
In December, activist Wu Gan was sentenced to eight years in prison on charges of subversion. He was one of more than 145 lawyers and others detained in a major crackdown in July 2015.
In a report this week, the Hong Kong-based China Human Rights Defenders said dissidents have faced "detention, imprisonment, disappearance, torture, harassment, or administrative punishment for speaking out against government suppression."
"The government continued its persecution of human rights lawyers and obstructed their efforts to conduct their professional activities independent of government interference," the group said, adding many lawyers had been subjected to residential surveillance at a designated location (RSDL), a form of extrajudicial detention that has been widely criticized by outside observers.
Also this week, more than a dozen international human rights groups sent a letter to United Nations member states calling on them to take "clear and concrete actions to denounce China's current rollback (of) human rights" at the UN Human Rights Council, which opened its session in Geneva Monday.
"The Council's credibility is based on its ability to act swiftly and effectively to address human rights situations and to uphold universal values. However, this has come under attack in recent years, particularly from China and like-minded governments," the letter said.
"In this context, it is critical for countries to demonstrate their commitment to the protection and promotion of human rights in China, and to defend the values underlying the international human rights system."
Xi Jinping's rise to power (2017)
Silence from the West
Hopes for increased international criticism may be futile however, if recent history is any example.
Writing for CNN this week about Xi's power-grab in changing the country's constitution, Kerry Brown, professor of Chinese studies at King's College London, said the West in particular values the stability a Communist-ruled China provides in an increasingly insecure world.
"For all the West's unease about a one-party state having such dominance at the moment, because of the stability it gives over such a crucial region, the Communist Party's total control of China is something Western leaders buy into and support," Brown said.
"Xi Jinping might find surprising sources of opposition within China – groups and people inside and outside the party that we, and he, might not know about.
But one thing is almost certain. Western leaders will not be the ones he needs to fear."
CNN's Nanlin Fang contributed reporting from Beijing.