At least six people have been killed in a ferocious storm that hammered the Northeast with powerful winds, relentless rain and historic flooding.
The nor'easter moved out to sea Saturday, but not before it knocked out power to more than 900,000 customers from the mid-Atlantic to New England.
"People in these homes need to plan for a prolonged outage," Kurt Schwartz, director of the Massachusetts Emergency Management Agency, said Friday night. "This is a multi-day restoration event."
By late Saturday the number of customers without electricity had been reduced to around 607,000, with more than 250,000 of those in Massachusetts.
In Massachusetts, Quincy police Capt. John Dougan said it's the worst flooding he's seen in years.
The National Weather Service said gusty winds and coastal flooding will diminish as the storm pulls away from the Atlantic coast. Emergency officials urged residents on higher ground to stay indoors, even after the storm pushed out.
About 92% of customers in Scituate, Massachusetts – home to an estimated 18,000 residents, according to the US Census Bureau – were without electricity Saturday afternoon, according to James Boudreau, the town's administrator. He said then that it would be 72 hours before power was fully restored.
Nearly 15 million people were still under a coastal flooding warning Saturday afternoon.
The storm morphed Friday into a "bomb cyclone" after undergoing a rapid pressure drop known as bombogenesis. It slammed much of the Northeast with heavy snow and rain, prompting significant coastal flooding and hurricane-force gusts in New England.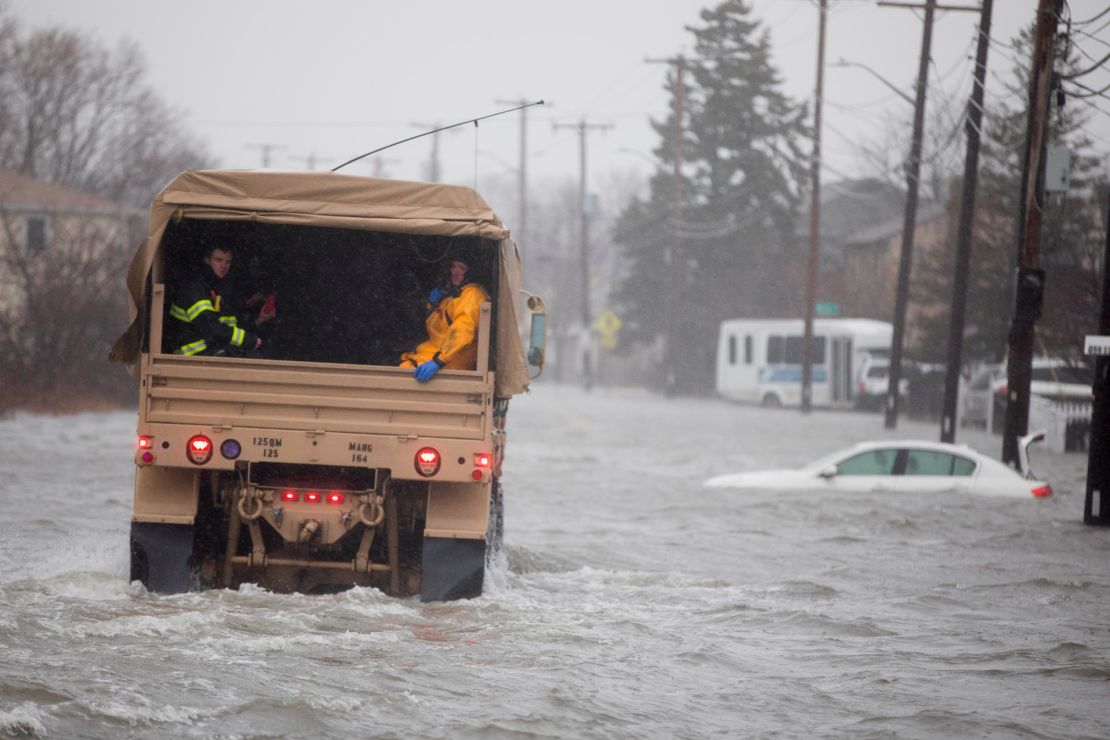 Winds along parts of the Massachusetts coast whipped in excess of 90 miles per hour during the storm.
The storm also dumped heavy snow from Ohio to New England and into upstate New York, where snow accumulations of more than 3 feet were recorded.
Weak phone connection? Click here to read text-only versions of CNN's top stories.
Latest developments
• Power outages: More than 607,000 customers from Virginia to Massachusetts were still without power late Saturday
• Coastal flooding: Shoreline communities saw another round of "moderate to major" flooding Saturday afternoon during high tide, with the Massachusetts Emergency Management Agency forecasting storm surge from 2.5 to 4 feet along the coast.
• Aftermath response: The governors of Maryland, Virginia and Massachusetts issued emergency declarations, allowing state and local agencies to help those affected.
• Flight cancellations: About 250 flights in the storm zone were canceled Saturday, according to the flight-tracking website FlightAware.com. That compares with more than 3,000 US flights scratched Friday, most at the busiest Northeast airports in Boston, Philadelphia and New York
• Train services: Amtrak said nearly all its services between Boston and Washington D.C. were expected to resume Sunday after storm-related cancellations Friday.