Two Turkish journalists from the country's opposition Cumhuriyet newspaper have been released on bail after spending more than a year in pretrial detention on terror-related charges.
Editor-in-Chief Murat Sabuncu and investigative journalist Ahmet Sık were among more than a dozen journalists and staff from Cumhuriyet to be placed on trial accused of supporting terror organizations operating in Turkey.
At a hearing Friday, a court in Silivri, outside Istanbul, ruled the two men should be released but the charges against them still stand.
The newspaper's chairman, Akin Atalay, remains in custody, however.
The trial, which began in July, is seen as a test of press freedom. The journalists and staff of Cumhuriyet, a nearly century-old secular opposition newspaper, were swept up as authorities clamped down on dissent following an attempted coup in 2016.
Cumhuriyet has remained critical of Turkish President Recep Tayyip Erdogan, along with his ruling Justice and Development Party, or AKP, despite the crackdown.
Sık, one of Turkey's most prominent investigative journalists, was tried and imprisoned before for a book he wrote focusing on the infiltration of the Turkish police force by followers of US-based Turkish cleric Fethullah Gulen.
He and his Cumhuriyet colleagues are now accused of aiding members of Gulen's movement – which Turkey says was behind the coup attempt – in addition to the outlawed Kurdistan Workers' Party, or PKK. Gulen has denied involvement in the failed coup.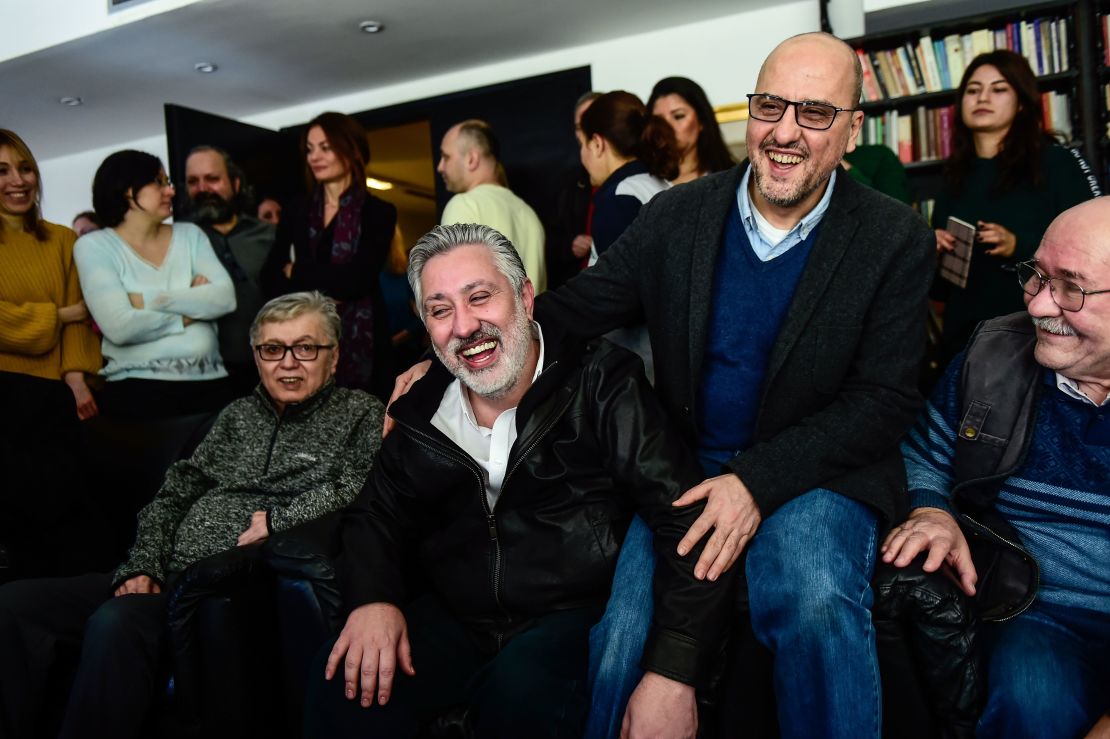 Speaking to reporters after his release Friday, Sık said, "Today is not a day of celebration. Six years ago in March, I was released. It is March again, but the only thing that has changed is that there is one less partner to fascism in this country.
"But the day will come to celebrate – the day will come when the reign of this mafia sultanate comes to an end. I guarantee it. This mafia sultanate will go where it deserves one day, and that will be the day we will be happy."
Since Sık was last freed in 2012, one-time allies Erdogan and Gulen have had a public falling out that reached its nadir in the 2016 coup attempt. The government began purging members of the Gulenist movement from the ranks of the state after the attempted overthrow.
The clampdown has cast a wide net, ensnaring journalists and academics. Critics say Erdogan's government has used the coup attempt to silence all opposition voices, including Sık's, under the guise of rooting out Gulenists.
Free speech group PEN International welcomed the release of Sik and Sabuncu. "At the same time, the injustice of Akin Atalay's continued detention is haunting. We call for his freedom and dismissal of the charges," said Carles Torner, the group's executive director.
Rights group Amnesty International hailed the two men's release at the same time as calling for Turkey to free all journalists and human rights defenders.
On Thursday, a criminal court in Istanbul sentenced 24 journalists and one activist up to 7½ years in prison, Turkey's state news agency Anadolu reported.
All 25 were convicted and sentenced for being associated with the Gulenist movement.
The court accused them of "being a member of a terror group" and of "participating in a coup attempt," Anadolu said.
CNN's Ian lee, Isil Sariyuce and Hamdi Alkhshali contributed to this report.