Story highlights
Amateur sailor Donald Crowhurst entered the 1968 round-the-world sailing race
Fastest sailor would receive £5,000 (or $120,000 in today's money)
Crowhurst disappeared after 240 days at sea
The mystery disappearance of amateur sailor Donald Crowhurst during his attempt to sail solo around the world gripped Britain almost half a century ago.
Now the tragic tale of how an inadequate weekend sailor from Britain took on the world's top yachtsmen in a 30,000-mile, nonstop voyage around the Cape of Good Hope on the southern tip of Africa in a leaky boat has inspired a pair of movies.
Colin Firth and Rachel Weisz star in Hollywood blockbuster "The Mercy" – currently out in cinemas – directed by Academy Award winning director James Marsh.
Meanwhile "Crowhurst" is a significantly lower-budget, British production expected to be released in the UK sometime this month.
The twist? Studiocanal is the film company releasing both movies.
"We worked out a deal to pick ('Crowhurst') up so we could control it," Danny Perkins, Studiocanal's UK CEO, was quoted as saying by the Hollywood Reporter. "It was easier for us to have both of them."
CNN takes a closer look at the story behind one of sailing's longest enduring mysteries.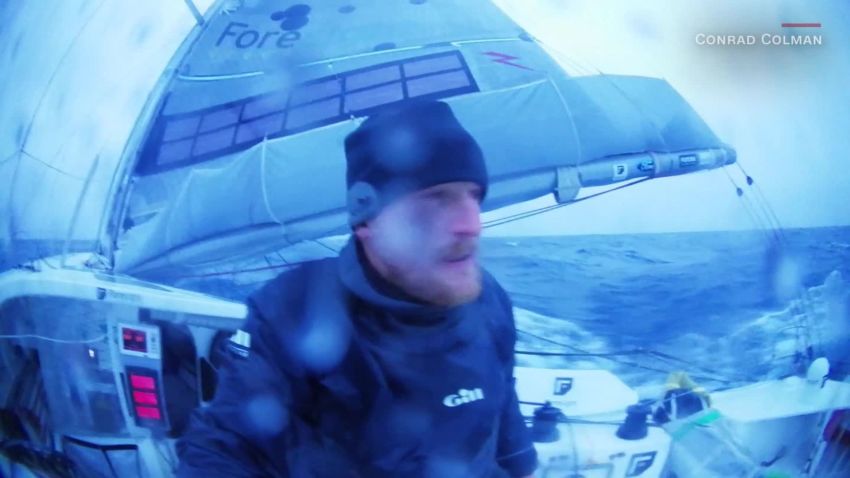 Conrad Colman: Face-to-face with Mother Nature
Cash prize
Having sponsored the hugely popular Francis Chichester – who was knighted by the British Queen in 1967 for becoming the first man to sail solo around the world – the Sunday Times newspaper offered a £5,000 cash prize for the fastest circumnavigation in 1968.
Nine sailors undertook the challenge, an epic journey across some of the most treacherous waters on the planet that had only been completed by about 200 people before the start of this year.
The reward – roughly $120,000 in today's money – for the Golden Globe Race also caught the eye of UK Royal Air Force veteran Donald Crowhurst, a married father-of-four who was struggling to make ends meet running a failing electronics company in Bridgwater, southwest England.
READ: The man who sailed around the world in 42 days
Pot of Gold
Born in British colonial India in 1932, Crowhurst had limited sailing experience. He mostly took his family on trips on his own small boat, ironically named Pot of Gold, just off the British coast.
Nonetheless, Crowhurst managed to persuade a local businessman, Stanley Best, to pay for the building of his trimaran at a Norfolk boatyard. But caravan dealer Best, who was also backing Crowhurst's near-bankrupt electronics business, had one demand – he would have to buy back the boat if his trip failed.
In other words, Crowhurst would go bust unless he pulled off the seemingly impossible task.
In order to meet the October 31 deadline to enter the race, the trimaran was put together in a rush, meaning Crowhurst set off on an a boat that wasn't seaworthy.
"We were watching from the shore. I don't think any of us quite knew what was going to happen next," Crowhurst's son, Simon, told The Guardian in an interview in 2009.
In the late 1960s, there was no GPS, no internet and no modern communication equipment. Instead, long-distance sailing was done by relying on the position of stars and use of sextants.
The Volvo Ocean Race in Australia
By July 1969, some 240 days after he set off from the British coast, Crowhurst's yacht, the Teignmouth Electron, was found drifting in the middle of the Atlantic with its captain nowhere to be found.
"I don't think that my father realized how badly things could go wrong," Simon said.
Hoax?
What happened between the start of his journey and the end is still shrouded in mystery.
Was it all a hoax? Or suicide? Or an accident?
There are clues in Crowhurst's three log books, a tape recorder and 16 millimeter camera found on his yacht, which suggested he began to cable home false trip reports about speed and position two weeks into the race – once he realized his inadequate vessel wasn't going to win.
His reports were publicized back home by Rodney Hallworth, a former newspaper reporter Crowhurst had hired as a PR man for the trip. Hallworth made the British public believe underdog Crowhurst was in fact winning the race.
READ: On board with the "Airbnb of the seas"
The log books also detailed how Crowhurst seemed to be slowly losing his mind as he drifted aimlessly and alone in the ocean, writing a 25,000-word essay on time travel.
"It is finished," he wrote in the log book at the end of June, 1969. "It is finished. IT IS THE MERCY… I will resign the game."
It was his final entry and he was never seen again.
Widow
"I definitely think about Donald every single day," his widow, Clare Crowhurst, told The Guardian in 2009.
She said she "used to be angry with Donald" as well as angry with herself. "It was a terrible thing to do to the children."
Could she have stopped her husband from undertaking the journey?
Visit CNN.com/sailing for more news and features
"You know, I never thought he would raise the money," she told The Guardian. "Then he was so full of excitement. Of course I wish I'd said, 'Don't go.' But at the time I thought he was doing the right thing – I was not being brave, but being loyal to his dream, as a wife."