Welcome to the city of Salisbury, where local market traders sell fresh organic vegetables, amid nervous talk of chemical weapons, and men in protective suits and gas masks walk in and out of the local pub.
It wasn't always like this, of course. But in the wake of the attempted murder last week of former Russian double agent Sergei Skripal and his daughter Yulia, life in this city of 45,000 has taken on a surreal, and some say uncomfortable edge.
For Danny Styles, a fruit and vegetable seller, whose stall is located just steps from where the Skripals were found poisoned by a military-grade nerve agent, the prospect of unknowingly coming into contact with the substance has left him with a feeling of powerlessness.
"I think the fact a nerve agent was used is scaring people," Styles says, between bagging up groceries.
"No one can really do much about it. If you do end up consuming it [the nerve agent], people are concerned they could be at risk of dying."
Lethal nerve agent
That risk was made all the more apparent with the declaration late last week, that hundreds of local people could be affected, after traces of the nerve agent – since identified as the highly lethal Novichok – were detected in the Salisbury branch of Italian restaurant Zizzi and the popular Mill pub.
So far, any serious ill-effects appear limited to those who directly encountered the substance, including first responder Detective Sgt. Nick Bailey, who remains hospitalized in serious condition. Skripal, and his daughter Yulia, also remain hospitalized in critical condition.
However, on Friday, an additional 180 specialist military personnel were deployed to the city to help police investigate and prevent further potential contamination.
This was followed by the removal of the restaurant table where the pair ate on the day of attack for examination. Restaurant employees and diners were also advised to wash their clothes.
For local resident Geoffrey Bennetts the government's latest advice is a case of too little, too late.
"We're not getting much information," says Bennetts. "How can you ask people to wash their clothes a week after. They probably don't remember what they even wore. Its extraordinary."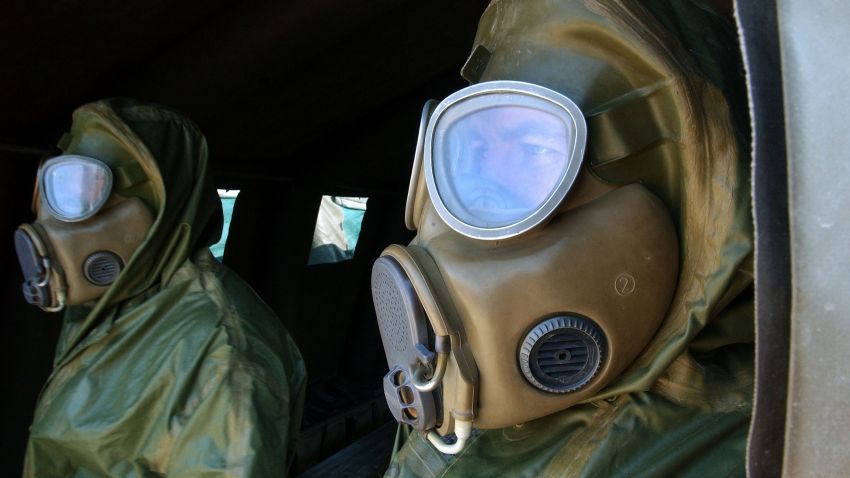 What are nerve agents like Novichok and how do they kill?
Life goes on
But despite the obvious changes to their city, residents continue to go about their daily lives as best they can.
Matthew Dean, leader of the city's local council, said people viewed the arrival of additional military personnel with a mix of nonchalance and trepidation.
"There has been a nervousness about the large police and armed force presence, but Salisbury is very resilient," said Dean. "We're fortunate that we are home to British Army so we are used to seeing armed forces going about their business."
Even before the attack, the UK's Ministry of Defense was an ever present part of life in the city, with tanks and troop carriers thundering back and forth across nearby Salisbury Plain, one of the country's largest and oldest military training sites.
Salisbury is also close to the world renowned Porton Down chemical weapons laboratory, a military research facility that specializes in testing chemicals used in war. There, experts are currently looking at samples of the substance that poisoned Skripal and his daughter.
At a women's 70-plus fitness class, local resident Judy Stefford says she has lived through harder times, but chemical weapons and secret agents are far from what she expects in her hometown.
"Nobody thinks anything happens in Salisbury. It's just a little urban place isn't it really."
That may change after UK Prime Minister Theresa May linked the attack to Russia Monday. On Tuesday, she announced the UK would expel 23 Russian diplomats and suspend high-level contacts between the two countries in the wake of the incident.
According to May, the attack put the city's residents in harms way and may amount to an "unlawful use of force" on the city.
Support ongoing
Back at the market, Styles says the incident is beginning to impact the market "massively" due to a drop in footfall. The city, says Styles, has gone eerily quiet.
"We are struggling badly, we've hardly got any customers or people walking through here let alone buying stuff."
Opposite the restaurant where the Skripals are believed to have eaten on the day of the attack, coffee shop owner Lydia Williams confirms that local residents are choosing to stay away from the city center.
"I think locals don't want to walk around, as it is so busy with so much activity from authorities," says Williams, who admits her own business has yet to be affected thanks in part to the sudden arrival of the international press.
For Salisbury native and tour guide Lorna Matthews-Keel recent developments are just another part of the medieval city's long and colorful history.
"I think we're aware that a profound thing has happened. But I also think we're aware that history is in the making all the time," she says, pointing to the fact that Salisbury is home to one of four remaining copies of the original Magna Carta.
"We will now always in our history be connected to a Russian spy," said Matthews-Keel.
CNN's Steve George in Hong Kong contributed to this report