A generation of students raised in the shadow of gun violence is sending a loud and united message to lawmakers: Enough is enough.
From Maine to California, the 17-minute walkout – one minute for each of the 17 people killed at Florida's Marjory Stoneman Douglas High School one month ago – began around 10 a.m. in each time zone.
Some participants read the names of each victim; others stood in silence around sets of empty chairs. At Granada Hills Charter High School in Los Angeles, students lay down on a football field to spell out the walkout's rallying cry: "Enough."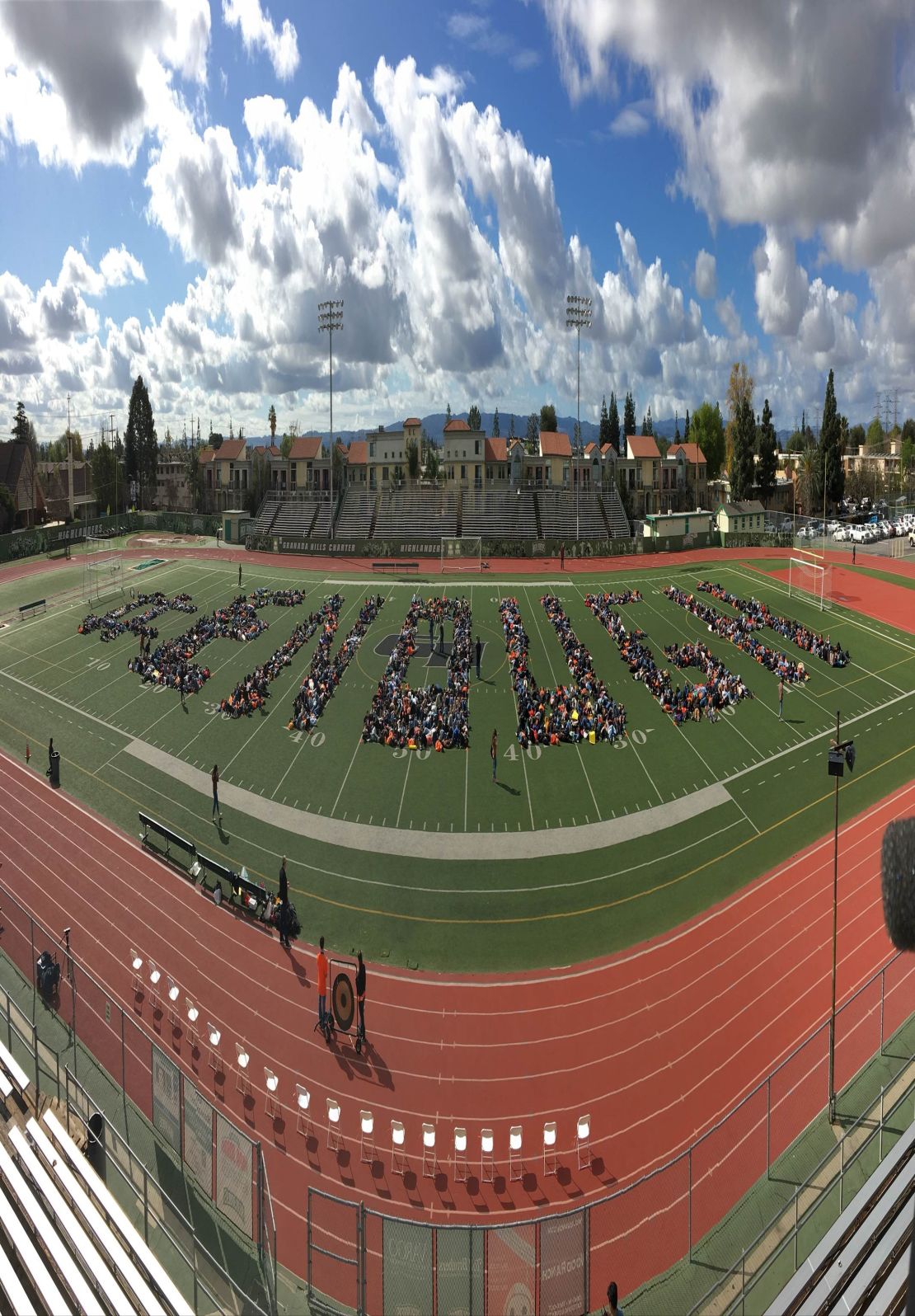 The demonstrations continued throughout the day in numerous cities. Participants waved signs and chanted enough as they marched through the streets and rallied in front of government buildings, including the White House.
They called on lawmakers to do something before another school falls victim to gun violence.
"This is not a matter of left versus right. This is a matter of public safety," said Cate Whitman, a junior at LaGuardia High School in New York. "We're all working together, which is something we haven't seen from the adults in a very long time."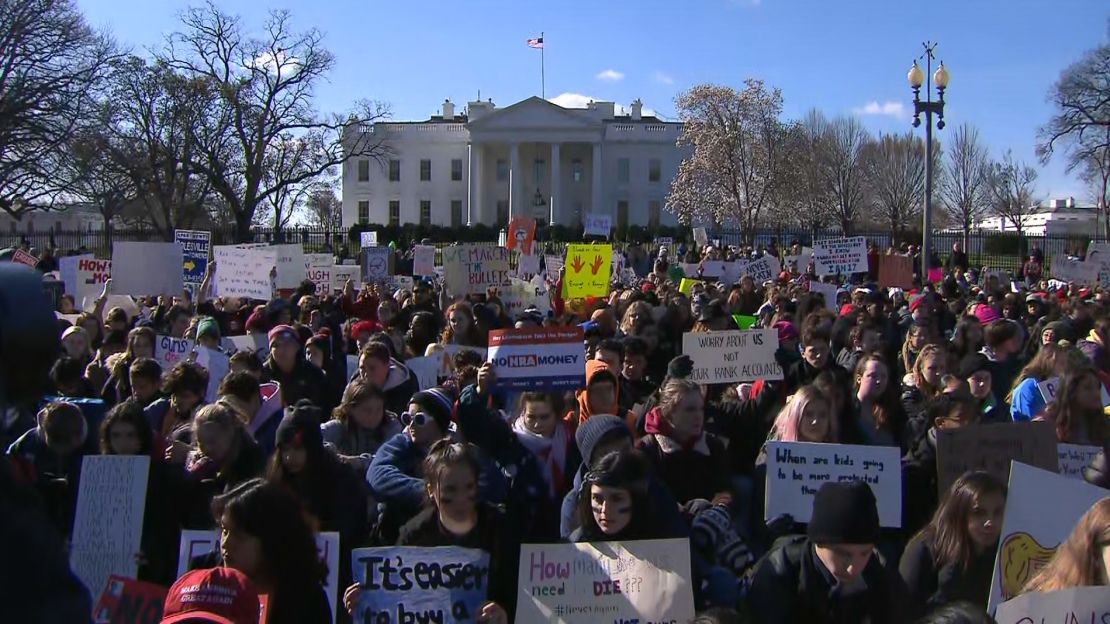 In Parkland, Florida, Stoneman Douglas students rose before sunrise to place hundreds of pinwheels around campus to mark the anniversary. A quote from the environmentalist for whom the school is named hung on a sign near the school, telling students to "be a nuisance when it counts."
Stoneman Douglas students hadn't planned to do anything more than walk out of class for 17 minutes, as many of them are preparing for a March 24 rally in Washington. But as crowds swelled across the country, some students made a spontaneous decision to continue rallying off campus after the walkout.
"By more than one school doing this, it shows politicians and lawmakers that we want change to happen," senior Audrey Diaz said. "And the next generation is prepared to make that happen."
What students want
Initially organized by the Women's March youth branch, the National Student Walkout demanded three key actions from Congress:
– Ban assault weapons;
– Require universal background checks before gun sales;
– Pass a gun violence restraining order law that would allow courts to disarm people who display warning signs of violent behavior.
Parkland survivors and their families did not see the first two demands gain traction in the Florida legislature. But it passed other measures that Gov. Rick Scott signed into law, including one that allows some teachers to be armed.
Student organizers behind the day of action said they feared that introducing more guns or police into schools could turn schools into prisons, with dangerous consequences for students of color.
"We are standing in solidarity with the youth from the mass shooting, but we also know the repercussions of what's going to happen next could fall on black and brown people," said Keno Walker, who helped local high school students organize walkouts in Miami.
Jackson Mittleman of Newtown, Connecticut, said he took heart in how the Parkland families were able to agitate for change, even though he does not agree with of all the legislation.
"The voice of the people is so strong now," said Jackson, co-chair of the Jr. Newtown Action Alliance, who organized the walkout at Newtown High School. "We are motivated and we are fired up to push as hard as they push and fight as long as they fight."
Newtown student: This is why we're walking out
Students sit out
Some students chose not to walk out with their classmates.
Austin Roth, a senior at Lapeer High School in Michigan, said he's "100% supportive" of those who marched to honor victims of gun violence.
"However, I am not supportive of those who use a tragic event to push their political agendas, such as gun control," he said.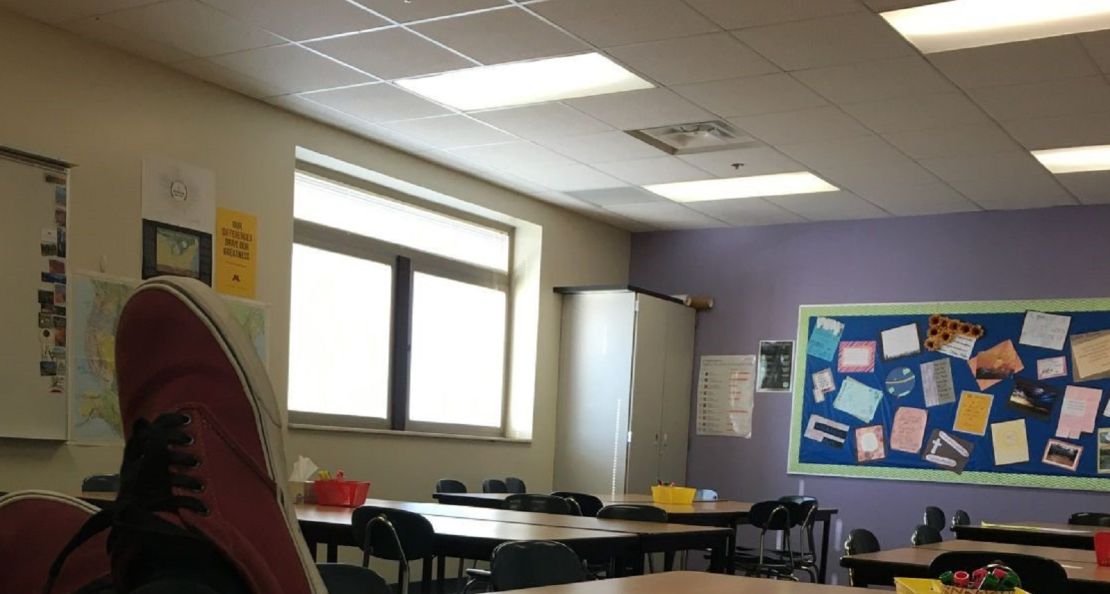 The 17-year-old said he supports federal background checks and is "not completely against" raising the age to buy firearms. But he said he strongly disagrees with the notion of banning assault rifles, arguing they can be useful when confronted with multiple criminals.
"Guns are not the problem. The people are the problem," Austin said.
In Minnesota, Noah Borba, 16, said he didn't walk out because he's unsure of the movement. He said he supports a ban on assault rifles, but he did not think it was logistica