Hours before the National School Walkout began in the United States, students in other countries got up from their desks to protest gun violence.
Tanzania
At the International School of Tanganyika in Dar es Salaam, Tanzania, students and teachers used the walkout as an opportunity to talk about gun violence and US politics.
"We are lucky to live in a country that is relatively (civilian) gun-free, so it's not something our students have to think about," said Courtney Park, a teacher and librarian. "But they are aware of the school shootings in the USA, and some understand the greater contexts of the NRA and its influence in politics."
Some conversations included students' sense of "how lucky they are" that guns aren't a part of their everyday lives, Park said, noting that about a dozen of the school's teachers, plus the principal, are American.
Another teacher wanted to send the message to students and teachers in Parkland, Florida – where a massacre a month ago sparked the walkout movement – that they are not alone.
'WE WANT CHANGE': Scenes from the student walkout to demand stricter gun control laws
"This is not a problem in one school with a limited effect, said Pinckney Steiner, who teaches science. "The conversation is international and includes people of many nationalities. My hope is that the governors of all states, the representatives and senators from all states will listen to us and know that change is needed. The world is listening."
Israel
The walkout at Walworth Barbour American International School in Even Yehuda, Israel, was organized by three students, including Eduard Štrébl.
"I was inspired to organize this walkout because I watched the movement get born online and it moved me. It touched me deeply to hear about this," said Štrébl, a senior.
"I'm from Prague, Czech (Republic), and I'm not American, but to see an epidemic of school shootings in a developed country when it's so easy to limit such things, to see that there is nothing being done against that, that inspired me to organize the walkout here," he said.
Iceland
The walkout just happened to coincide with the International School of Iceland's lessons on world events.
"This idea for us to participate in the walkout came recently during a current events discussion and a discussion on children's rights around the world," said Justin Shouse, who teaches fifth and sixth grades.
Students there also had been studying people younger than 25 who are changing the world. That now includes Emma Gonzalez, the Parkland shooting survivor who has become one of the faces of the #NeverAgain movement.
The Icelandic school's protest did hit a snag, however. "If you are wondering why we are still in school, the Icelandic weather did not cooperate with the walkout today," Shouse said, adding that it was cold, windy and raining.
Great Britain
Students at the American School in London congregated in a nearby park, held a banner and gave speeches during their walkout.
"The American School in London has not taken a position regarding the rationale behind the student-generated protest, but as always, we uphold our students' right to a voice and an opinion, and commend their courage to act, their desire to effect change, and their efforts to make schools throughout the world safe places to learn," Lydia Condon, the school's communications coordinator, told CNN. "We believe this is a great opportunity for students to think about the power of their voices and their actions to bring about change in the world."
Students from the Godolphin and Latymer School in London also took part in the walkout. The student-led event – which included a moment of silence for the Parkland victims and a talk on the recent tragedy – was well attended by girls of all ages. The whole school, from staff to students, showed their support by wearing orange #ENOUGH stickers throughout the day.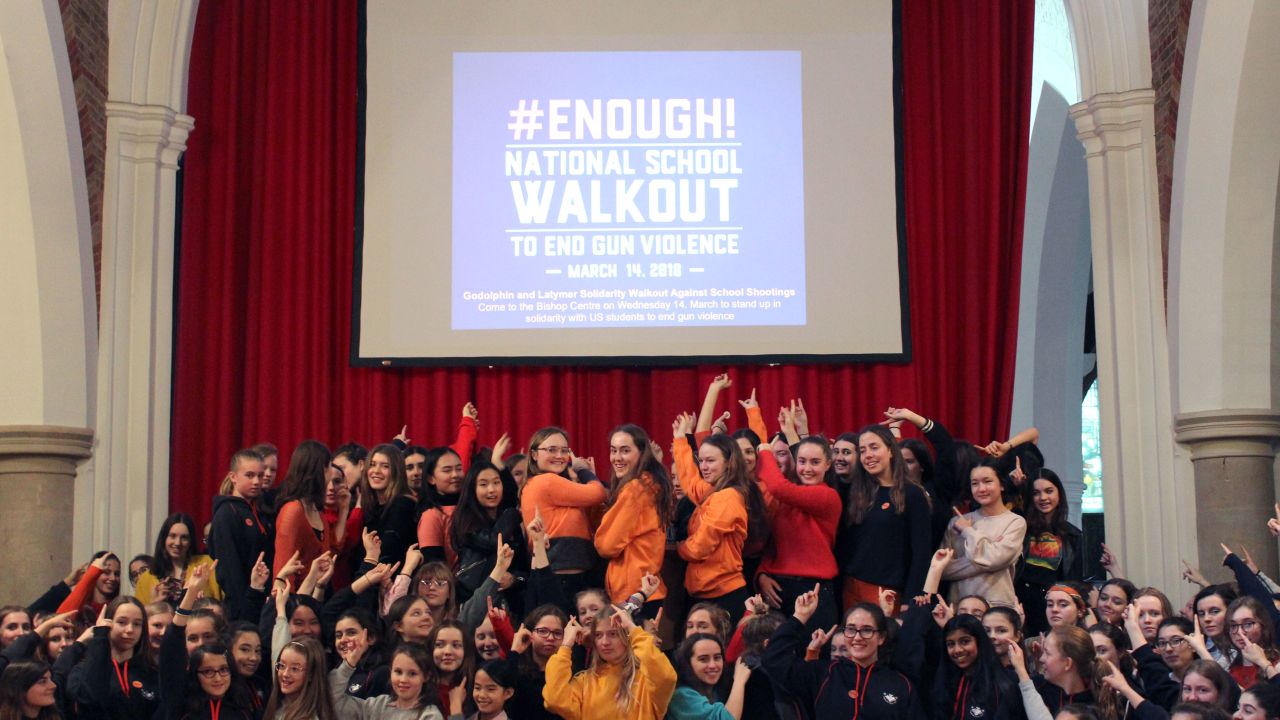 "I was deeply moved by the campaign and inspired by the students leading it; especially after watching videos of their speeches," said a student named Sophia (no last name given), who organized the event with two classmates. "I am really passionate about the issue, so I felt that I had to do something at my school to show support. From tragedy, we can bring about positive change. I wanted to show American students that Godolphin and Latymer are united in supporting their cause and are determined to make a difference."