With just a blackboard and a talent for drawing, a Ghanaian teacher has explained in detail to his students the secrets of Microsoft Word, earning numerous headlines and worldwide admiration.
Now Richard Appiah Akoto, who gained fame last month for teaching computer technology without computers at Betenase M/A Junior High School in the southern Ghana town of Sekyedumase, is starting to appreciate the fruits of his unexpected media attention.
People and organizations are donating desktop computers and laptops to his school. And, as part of Microsoft's promise to offer him free training, Akoto was flown to Singapore to attend the annual Microsoft Educators Exchange.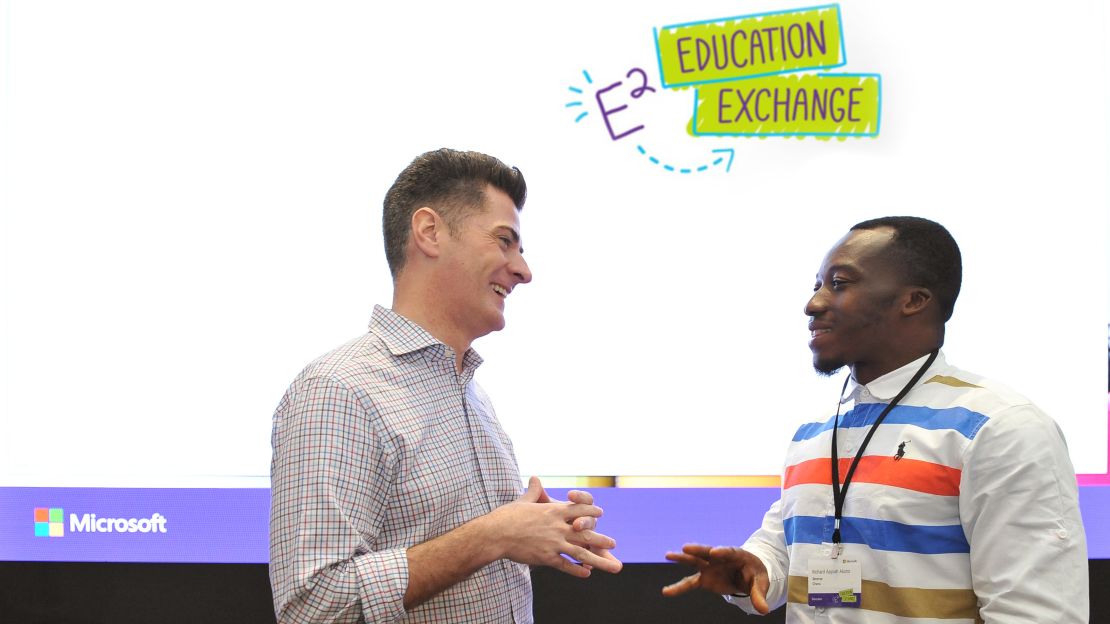 The tech giant had pledged to equip Akoto with a device from a business partner as well as access to the Microsoft Certified Educator Program (MCE) for professional development.
'Knowledge is crucial'
After reading the Facebook post that made Akoto famous, a Saudi benefactor at University of Leeds in the UK sent him a laptop "as a small gift to his students."
"I always understand from the teachings of Islam that useful knowledge is crucial for the benefit of the self and humanity," Amirah Alharthi, a PhD student in Leeds' department of statistics, told CNN.
"Also, I am thinking of how much genius people the world has already lost because these people did not have the fair opportunities comparing to others and that makes me very sad."
Betenase M/A Junior High School hasn't had a computer since 2011, and Akoto's students need to pass a national exam that includes questions on information and communication technology (ICT).
The written exam is a requisite for 14- and 15-year-olds in Ghana to progress to high school.
Five desktops and a laptop
But Alharthi's gift wasn't the only one.
Inspired by the teacher's story, NIIT Ghana, a computer training school based in Accra, donated five desktop computers to the school, along with books and a laptop for Akoto.
NIIT's center manager, Ashish Kumar, told CNN he saw the teacher's photos going viral on Facebook and CNN as well as other media organizations.
"We were so touched by the teacher's dedication for his students that we decided to support the school with the best we can do," he said. "We took (a) printout of the news, pasted on our notice board and shared it with our CEO, Kapil Gupta."
The company's senior management, including business head Yaw Amoateng and senior manager Sanjeev Mishra, traveled to Sekyedumase to present the equipment to the class.
Akoto offered his thanks this week on Facebook. "God bless you all," he said.