Like many small children, Romanian Cosmin Lambru would frequently walk through the streets of his hometown, talking to his friends about football.
It was on one of those daily walks in Ploiești that Lambru, an aspiring footballer in the youth ranks of the city's football team FC Petrolul, was the victim of a freak incident that would change his life forever.
"When I was seven, I was involved in an accident," Lambru tells CNN Sport. "I was with three or four friends on the sidewalk.
"I was at a crossroads and a truck lost its balance and caught my arm, which ended up being trapped between some gas pipes and the truck itself. As a result of the impact, my fingers got crushed."
Living in Ploiești, a modest industrial city of some 200,000 people – 56 kilometers north of Romania's capital Bucharest – Lambru had been playing for local club FC Petrolul since the age of four.
He grew up fanatically supporting the local club and, like many of his friends, dreamed of wearing the brightly colored kit of the "Yellow Wolves."
His dream eventually came true and when an 18-year-old Lambru made his professional debut in a Romanian Cup match for his childhood club in October last year, his name made headlines all around the world.
But it wasn't his debut, a goal or a piece of skill that caught people's attention. Their attention was drawn to a white bandage strapped tightly to his left arm, which supported a prosthetic limb.
Accident
The accident severely and irreparably damaged Lambru's left hand from the middle of his forearm down.
Despite the life-changing incident, Lambru still talks about the "luck" he had that day after being rushed to hospital.
"Of course I was afraid I would never return to play football," he recalls, speaking from FC Petrolul's training base. "At the time of the accident I was building up my career. But I managed to stay strong and my family stood alongside me.
"My biggest luck was the fact that I was treated by a fantastic doctor when I arrived at the hospital, Dr. Otilia Racasan. She managed to save my joint.
"If she hadn't performed the operation, I would have ended up fracturing my hand at every fall and that would've certainly meant the end of my playing career and my dream."
Lambru also credits the support and compassion of FC Petrolul and its coaches in allowing him to realize his dream and make it as a professional.
"I stayed in the hospital for about a month after the accident," he says. "My teammates and my coaches visited me more than once a week.
"They told me to be brave, to keep my feet on the ground and to try and get some motivation out of the whole situation."
His father, himself a former professional footballer in Romania, was the person who initially encouraged Lambru to continue his pursuit of a career in football. Even after the amputation, that support never wavered.
"He told me not to give up on my childhood dream," Lambru says. "The accident made me a more ambitious person and now I give 100% of myself at every training session.
"Nothing will stop me from achieving my dream."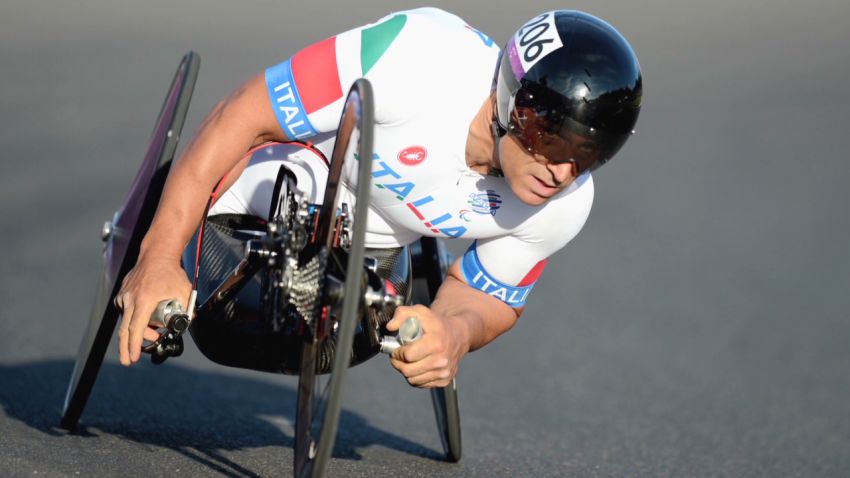 Legless F1 driver masters handcycling
Adapting
After he came out of hospital, Lambru initially found it difficult adjusting to his new prosthetic arm; the way it felt and the changes it made to his speed and balance.
"But in time I managed to adapt to it," he says. "Especially when I fall after a foul on the pitch, I've learned to put my arm under my body, so I can avoid any other injury to my left arm."
Lambru buys his prosthetics from the Alex Zanardi Foundation, a charity set up by the Italian racing driver who had both his legs amputated following a crash in 2001.
Until he was 18, Lambru received the prostheses for free but now pays for one annually. He can't wear it for more than two days at a time otherwise it deteriorates.
"It's made of a lighter material than the ones I previously had," he explains. "This is because I am now a professional and I need the full use of my arm to maintain balance."
Before he made worldwide headlines on his professional debut, Lambru says his prosthetic arm went largely unnoticed in youth matches – even by opposition players.
"I don't think there ever was any other case in Romania of a footballer playing with an arm prosthesis," he says. "And I think no opponent ever knew that I was playing with a prosthesis.
"But I don't want to be protected because of this. I want to be treated just like everyone else and show my worth on the pitch."
The future
FC Petrolul enjoyed success in the 1950s and 60s after relocating away from Bucharest, winning three of their four league titles in a nine-year period.
In recent years, the club has continued to punch above its weight, winning both the Romanian Cup and Romanian Supercup as recently as 2013.
However, in 2015, Petrolul's money problems culminated in bankruptcy and the club was dissolved a year later.
But thanks to the determination of supporters and club legends, FC Petrolul Ploiești was refounded in 2017 under the same name, albeit playing football in Romania's fourth tier.
That's where Lambru comes in. Now an established member of the first-team squad, the 19-year-old hopes his goals can fire the team back to the top of Romanian football.
With the club already achieving promotion in its first season, the signs of back-to-back promotions are promising after the first half of the 2017-18 league season.
As the country's leagues return to playing after the winter break – delayed by a week due to bad weather – FC Petrolul sit top of the Liga III, undefeated after 13 matches.
In the first match following the restart of the season, FC Petrolul beat Sporting Rosiori 1-0 to maintain their narrow lead at the top of the table, with Lambru coming on as a late substitute.
A week later, the club hammered relegation-threatened FC Aninoasa 7-1, with Lambru scoring two goals to take his tally for the season to five.
"Firstly, I want to get as much playing time as I can at my club," he says level-headedly. "To help them by playing well and by scoring goals.
"My aim is to finish at the top of our league, in order to be promoted to the second division. This is the most important thing for me."
On a personal level, Lambru has aspirations of one day representing his country on the international stage.
"Of course I'm hoping to get to the first division in the shortest possible time and of course I am hoping to get to the national team," he says with determination.
"It's what every footballer dreams about, to wear the national team shirt and give everything for his country. The same goes for me."