A costume department employee who worked on the now-canceled Fox series "The Grinder" has accused actor Fred Savage of harassment, discrimination and assault and battery.
In a lawsuit filed on Wednesday, YoungJoo Hwang, a former costume designer on the series, alleges Savage created a hostile work environment and displayed aggressive and intimidating behavior on set, particularly toward women. She also alleges an instance of physical assault.
Savage called the allegations "completely without merit and absolutely untrue" in a statement provided to CNN.
"I have been working in the entertainment industry my whole life and have always endeavored to treat everyone on any set I work on respectfully and professionally," the statement said in part.
"The Grinder" aired on Fox for one season, in 2015.
Twentieth Century Fox Film Corporation is also named in Hwang's suit, as she claims the company allowed Savage's alleged behavior to continue "unchecked," according to a press release provided by her attorney's office.
One time, Hwang claims, Savage "violently struck her arm three times with his hand" after she dusted dandruff off his jacket while on set. She reported the incident to her superiors.
In a statement, 20th Century Fox Television, which produced the series, said it takes "all allegations of improper conduct very seriously" and said it conducted an investigation into the claims made by Hwang. The company said it "found no evidence of any wrongdoing on the part of Mr. Savage."
"We will vigorously defend against these unfounded claims," the statement added.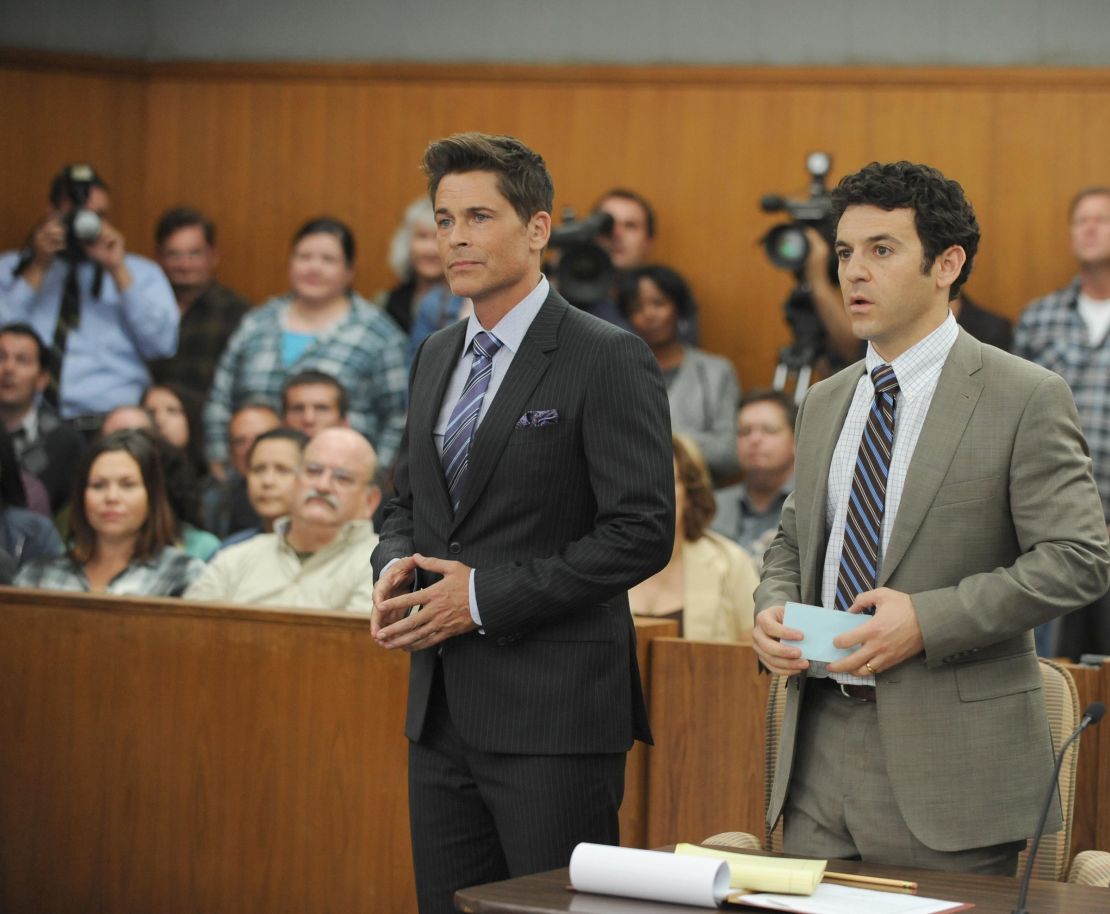 Savage said he "fully participated" in the "extensive internal investigation."
"None of her claims could be substantiated because they did not happen," Savage said.
Attorney Anahita Sedaghatfar of the Cochran Firm, which is representing Hwang, disputed that in a press conference Tuesday, saying they have corroborated Hwang's account. She also said that Savage "had it out for all women on set."
Hwang added: "It took everything in me to be here today. I was inspired by the MeToo movement and the women who came forward before me."
On the comedy, Savage and co-star Rob Lowe played brothers. Savage's character was a lawyer whose actor brother, played by Lowe, joined the family law firm, believing his years playing an attorney on a popular drama series qualified him for the job.
Savage, who first found fame as a child on "The Wonder Years," currently stars on Netflix's "Friends from College."
He is also host of a game show called "Child Support" on ABC, which was recently renewed for a second season.
The allegations against Savage come as Hollywood organizations like Time's Up aim to curtail gender-based harassment in all workplaces.
Savage made a nod to those efforts in his statement.
"While none of the accusations being leveled at me are true, I wholeheartedly support all people who feel they are being mistreated to come forward and speak to human resources and those in charge," he said. "We have witnessed so much bravery from those speaking out recently, but I will just as boldly protect myself and my family from those seeking to tarnish my good name."
CNN's Stella Chan contributed to this report.