Survivors of last month's deadly school shooting in Parkland, Florida, are preparing to take their fight for stricter gun control laws to Washington.
This week's March for Our Lives is the culmination of a monthlong effort to honor the 17 students and faculty members killed at Marjory Stoneman Douglas High School, and rally Americans across the United States to say enough to gun violence.
With momentum from the National School Walkout still going strong, students are demanding that their voices be heard.
Here's what you should know about the March for Our Lives:
What is it?
March for Our Lives is a demonstration created and organized by #NeverAgain, a group of students who survived the February 14 shooting at Marjory Stoneman Douglas High School. Everytown for Gun Safety, a gun control advocacy group, is helping the students plan and coordinate the event.
After the shooting at Stoneman Douglas – the eighth mass school shooting this year – organizers are calling on lawmakers to address the issue of gun violence in American schools by implementing comprehensive gun control legislation.
According to a petition on the event's website, March for Our Lives has three primary demands:
Pass a law to ban the assault weapons frequently used to carry out mass shootings

Stop the sale of high-capacity magazines, restricting the amount of ammunition

Close loopholes in America's background checks and implement laws that require background checks on every gun purchase, including those that occur online or at gun shows
Read more: These are the posters students will be carrying at the March for Our Lives
When is it?
The main march will take place in Washington on Saturday, March 24. It will kick off at noon, when participants gather on Pennsylvania Avenue, just blocks away from the Capitol.
Hundreds of sister marches are also taking place across the country and around the world.
Who's participating?
The march in Washington is being led by #NeverAgain, which was started in the aftermath of the massacre by student survivors like Cameron Kasky and Emma Gonzalez. However, they're encouraging students, faculty, families and supporters from all over the country to join them.
The student activists have also attracted significant star power to lend voices to the cause.
Singer Jennifer Hudson said on Twitter she was "proud to stand with these brave students" and appeared to confirm she would join marchers in Washington.
Marchers are also expecting other celebrities to attend the event. Pop stars Ariana Grande, Miley Cyrus and Demi Lovato will attend the march in Washington, said David Hogg, a senior at Stoneman Douglas and event organizer. Representatives for the singers have not confirmed their plans to CNN.
Florida student to politicians: We call 'BS'
How's the march being funded?
Organizers have raised money through donations made to the March for Our Lives Action Fund, according to the event's website.
They've also raised more than $3 million through a GoFundMe campaign. Half of that money will be used to cover expenses for the Washington march, the campaign says. The other half will go to the families of the Parkland shooting victims.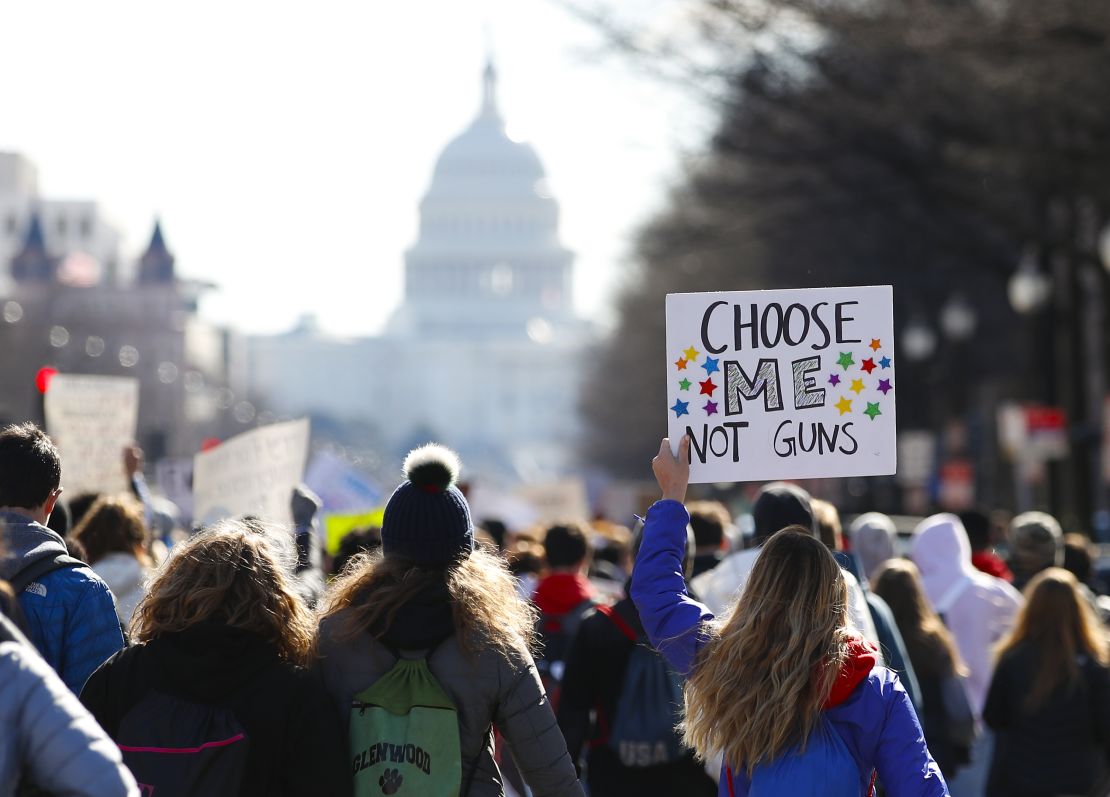 Celebrities – including Oprah Winfrey, George Clooney and Steven Spielberg – have offered financial help to the march organizers. Each of them donated $500,000 to the event's fund last month.
What if you can't attend the Washington march?
If you want to march, but can't make it to the main event in Washington, chances are there's a sister march taking place in your city.
According to the March for Our Lives website, there are more than 800 events across the United States and in cities overseas, including London, Madrid, Paris, Tokyo and Seoul.
If there's not an event already planned for your city, March for Our Lives and Everytown for Gun Safety have provided this toolkit to help you organize your own march.
What happens after the march?
Advocates have called for another national school walkout on April 20, the 19th anniversary of the Columbine High School shooting.
Shooting survivor: You're with us or against us
The Network for Public Education has also called for people to take their own action – whether it be organizing walkouts, sit-ins or rallies – to bring attention to school safety on that day, calling it the "National Day of Action Against Gun Violence in Schools."
Beyond that, #NeverAgain and allies will likely turn their attention to the midterm elections in November to vote out politicians who aren't sympathetic to their cause.
"My message for the people in office is, you're either with us or against us," Stoneman Douglas survivor and student activist Kasky said last month. "We are losing our lives while the adults are playing around. And we have received endless support from your generation and we thank everybody for that immensely because we really appreciate it."
But, he added, "We don't need you."