Ben Enwonwu etched himself into Nigerian history.
His painting of a Yoruba princess in "Tutu" is considered a national masterpiece, with copies of it hanging in Nigerian homes across the country. To much speculation, the sought-after original was lost for over 40 years.
The renowned Nigerian author, Chimamanda Ngozi Adichie, told BBC's Radio 4 in 2013: "This particular painting "Tutu," the print, hung on every wall, of every middle class family in eastern Nigeria when I was growing up."
So when the famous portrait was recently unearthed in a "modest" London flat and sold at auction for $1.6 million (February 28) – four times its estimated price, it sparked huge interest in the art world and amongst buyers in Nigeria – many had set up shop in a hotel in Lagos to make live bids.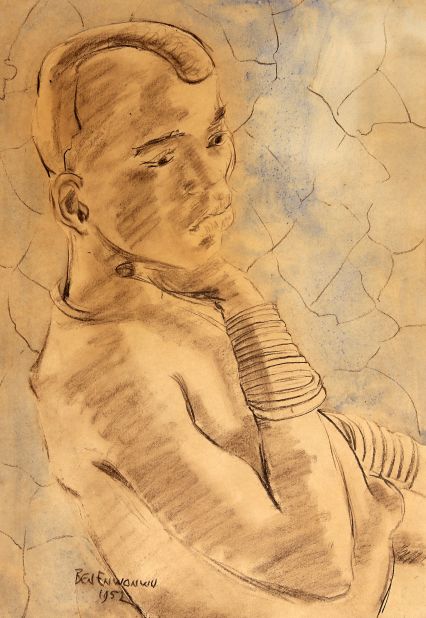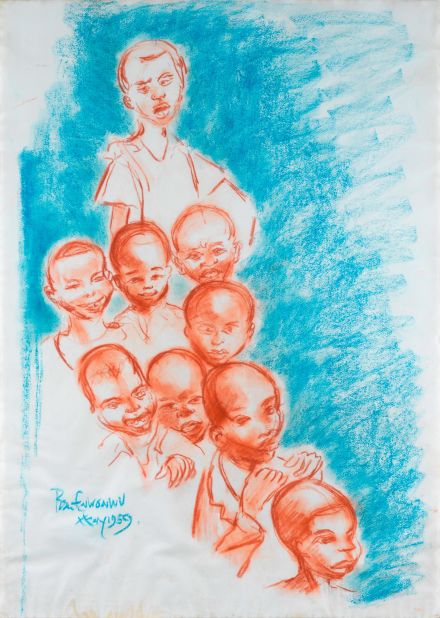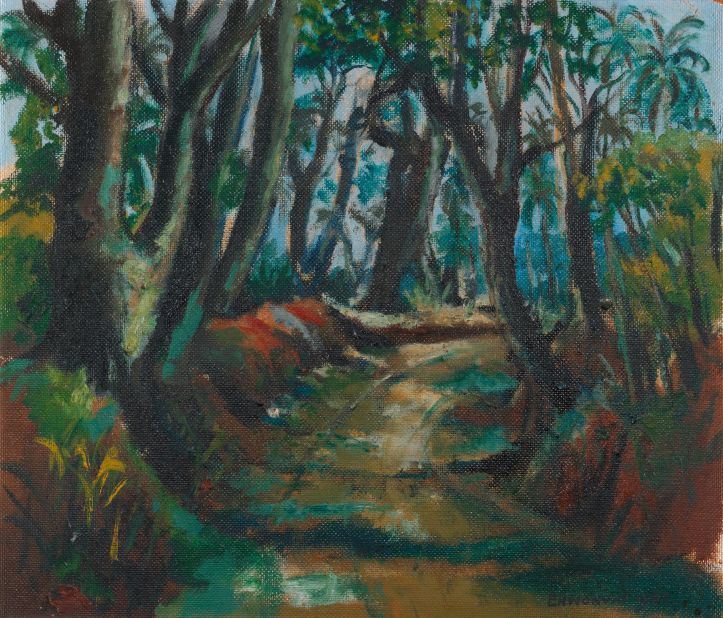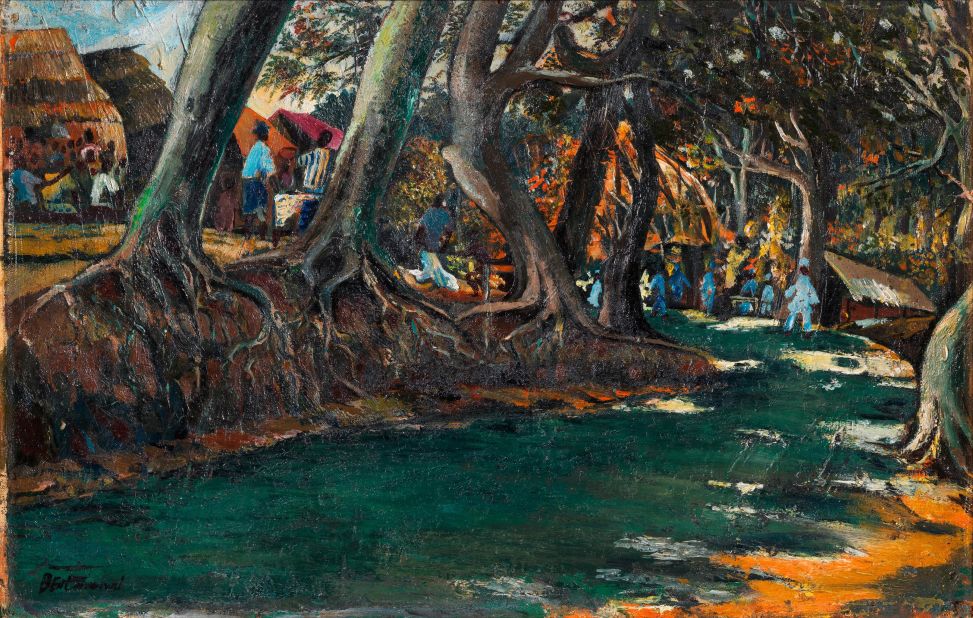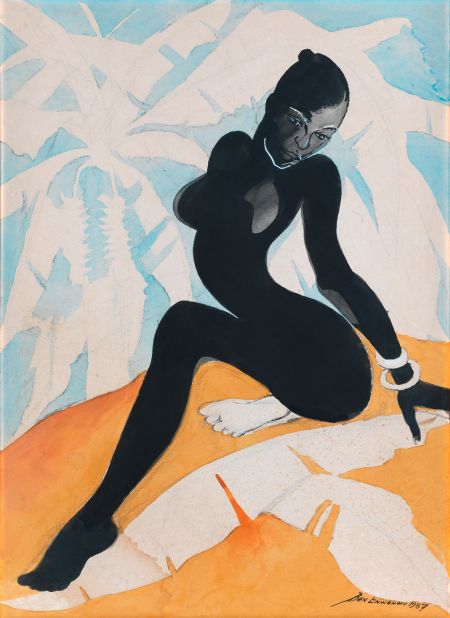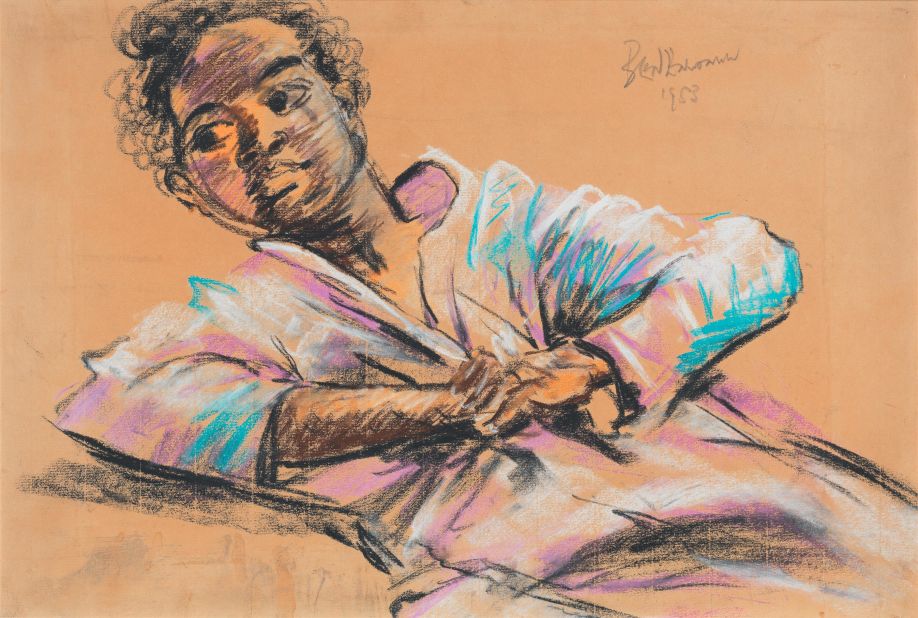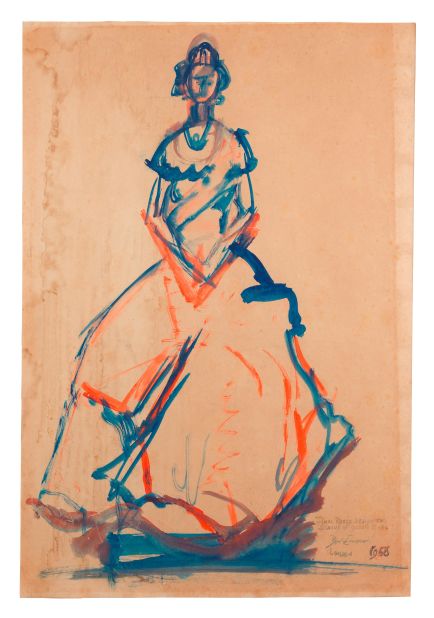 The work of Ben Enwonwu
A story of a lost artwork and the exorbitant price these sort of pieces sell for is always likely to capture interest and imaginations.
Because of the history of stolen and looted art from Africa, its reappearance also raises eyebrows for some in the art community. Nigerian visual artist, Victor Ehikhamenor, said to CNN: "How did this work get to where it is?" Bonham's auction house told CNN the previous owners father bought it, and before then it was last seen in 1975 at the Italian Cultural Institute in Nigeria.
However, the story of the man himself goes beyond this story and the record breaking price (for a Nigerian modern artist) his artwork sold for.
Enwonwu navigated the world's between British and Nigerian royalty. At the same time, his works, according to West African art expert Sylvester Ogbechie, became used in popular black liberation movements. Enwonwu is most revered for his paintings, but always referred to himself as a sculpture. Basically, his life was complex.
But as Ogbechie said to CNN: "He refused to be typecast as an African woodcarver."
In essence, Enwonwu redefined what it meant to be an African artist.
Who was Enwonwu?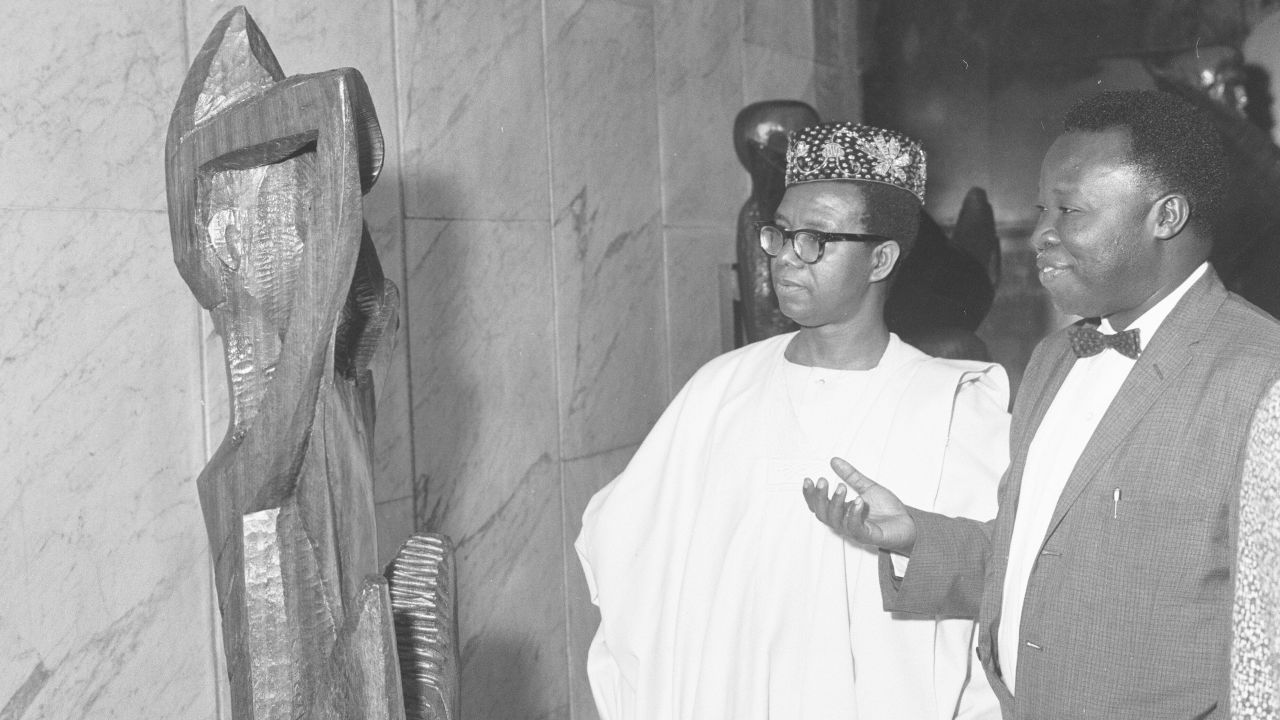 As well as paint and sculpt, Enwonwu wrote significantly about the challenges facing African artists.
In a essay written in 1956, he penned his thoughts: "(The African artist) faces the humiliation of having to listen to lectures on African art in foreign art galleries and museums.
"He visits foreign museums in order to see a collection of the art of his own country, and very often he is shown round the museum by European curators (page 178)."
In the spirit of the French Negritude movement (1930-50s), an attempt by African and Caribbean artists to promote the work of black people and history, Enwonwu believed in an international contemporary African art.
He acknowledged that there were barriers preventing African artists playing an a central role in their practice, being often pigeon-holed and expected to produce traditional ethnographic, not modern and global, African art.
Enwonwu's art history
While Enwonwu railed against the art culture at the time, his training was in established elite institutions. He was classically taught at the Slade School of Fine Art in London and attended Oxford University. Enwonwu quickly rose to international notoriety.
"He was pretty much one of the first African artists to achieve global fame," Ogbechie, who has written a book on Enwonwu's life, told CNN.
He was celebrated for his figurative sculptures and paintings. Enwonwu painted with watercolors and carved abstract-inspired wood figures.
"You have to understand how important his fame was in the 1950s. Enwonwu was so famous that his successes were inserted into black struggles across the globe. African Americans were very much enamoured by the artist," Ogbechie said.
Enwonwu's was also part of the modernist art movement of the mid-century.
"He's a modern artist who got training as a modern artist and moved in modernist art circles. He was very much interested in producing an artwork that framed the condition of modernity," Ogbechie said.
But his style was varied and mixed. "His early work is quite illustrative. Then later on it became a bit more broad and impressionistic. Some of his works from the 60s almost have a slightly cubist feel," Giles Peppiett, an expert in African art at Bonhams auction house in London, told CNN.
His sitters included British royalty of the highest order. "One of his most famous portraits was a bronze he did of her Majesty the Queen," Peppiett said.
Influence in Nigeria
Enwonwu made an impact in London, but his most influential works would be seen in his home country Nigeria.
In the 1970s, Enwonwu was an Igbo artist living in a country reeling from a civil war that witnessed an estimated one to three million deaths.
The Biafra movement, mainly made-up of Igbo people in southeastern Nigeria, fought to secede from Nigeria between 1967-70. The pro-Biafrans lost the war.
It was significant for Nigerian society that Enwonwu, an Igbo, painted a Yoruba Ile-Ife princess, part of one of Nigeria's other major groups, in the aftermath of the war.
"It came from a time when Nigeria was fresh from the dramatic effects of the civil war and we were trying to reunite the country – so it was very important," Enwonwu's son Oliver told CNN.
The Nigerian state proceeded to initiate a reconciliation program to try to heal divisions.
"One of the things they wanted to start doing is to show Igbo people they are being reconstituted into the national body" Ogbechie said. "The Tutu paintings were absolutely vital to the process of national reconciliation in Nigeria."
In the early 1970s, Enwonwu subsequently became a professor of art at the University of Ife, an academic center for the Yoruba people.
It turns out that Enwonwu's legacy has lasted the test of time just as the tensions in southeastern Nigeria have. Some, like Biafran separatist leader Nnamdi Kanu, continue to call for a new state.
The artistic work, though, did contribute to the growth of Nigerian art that continues to the present day. "He gave respectability to art," Oliver Enwonwu said.
A new generation of African artists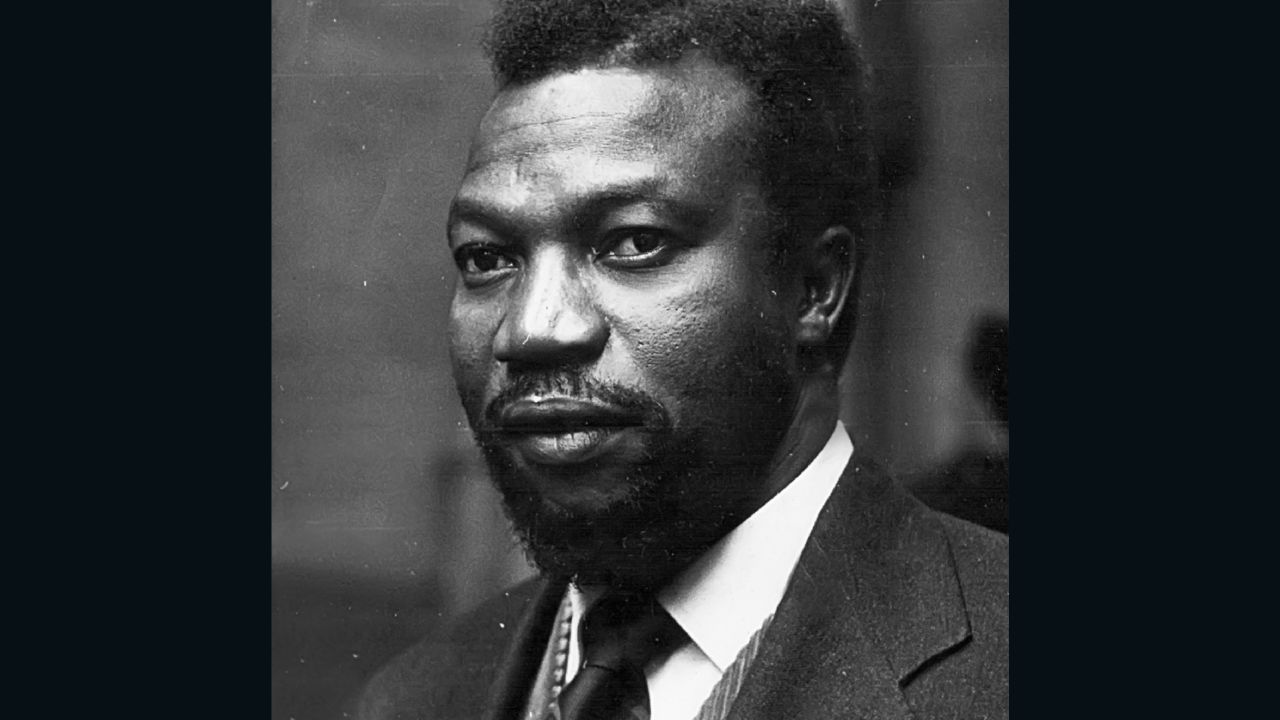 His work influenced current contemporary artists in Nigeria, not least his son who heads up the Omenka Gallery in Lagos. "I grew up smelling the oil paints and watching him chip away at blocks of wood. It was something which had been ingrained in my very fabric," Oliver said.
Enwonwu certainly left his mark on history. "He legitimized the idea of the artist as a viable practice among the Nigerian population," Ogbechie said.
Contemporary Nigerian Artist Ehikhamenor thought the recent auction was positive for the visibility of African art, but showed the inequity that still exists: "When you look at when he was practicing there are other artists which are not African, that are not Nigerian, that are not black whose works have sold twice, three, four times what we are talking about now."
Enwonwu's work reached Nigerian society and future generations of artists, but, according to Ogbechie who knew him personally, he was a recluse.
"I managed to persuade him to attend some openings and he was very shocked by how deferential everybody was to him. He said he thought everybody hated him," Ogbechie told CNN.
So who was Enwonwu? Perhaps, a quietly doubting, groundbreaking African artist.