A primetime dish by Stormy Daniels about her alleged affair with Donald Trump is a reminder that there are some things even a president can't control.
The "60 Minutes" interview Sunday slammed into the White House just at the moment that Trump is acting to stamp his dominance on his administration and wider political story by removing officials who tried to tame him.
But the porn actress' decision to break her silence on their alleged relationship ensures that the President – however he might try to change the subject – will face more questions about his behavior and personal morality.
The second television interview of a female Trump accuser in three days makes it clear that even if he does not sustain immediate political damage, he faces months of litigation and public relations blows from motivated opponents.
And there is very little he can do to ease his predicament.
The pressure of a personal legal storm comes as Trump is already fixating about the deepening threat from special counsel Robert Mueller's Russia probe and as his administration's unpredictability sends shockwaves around the world.
For a man who built his image on launching obliterating return fire when he is attacked, it must be humiliating to watch as his reputation is maligned on television, in the knowledge that fighting back would only make things worse.
It is not publicly known whether Trump watched the "60 Minutes" interview. But CNN's Kaitlan Collins reported Sunday that the President has become irked by the wall-to-wall coverage of the alleged affair on news shows in recent days. The Washington Post reports several people close to the President say watch for a dramatic move Monday in an effort to draw attention away from the story.
But legal cases to which he is linked by three women mean that Trump will find it harder to make questions about his alleged sexual past go away than to purge restraining influences from his Cabinet and White House team.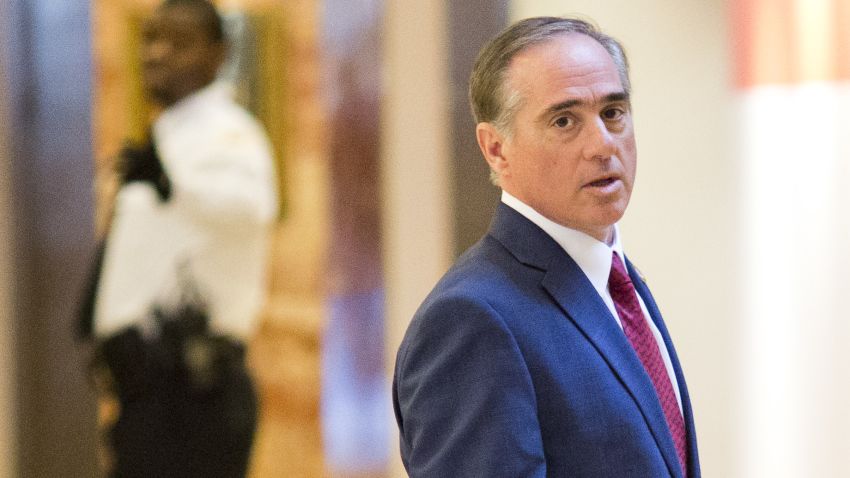 Source: Trump to fire Veterans Affairs secy.
An attempt, for instance, to enact what Trump's representatives say is a $1 million per violation clause in a non-disclosure agreement signed by Daniels will only magnify interest in his conduct.
If Trump takes to Twitter to blast Daniels over the alleged affair over a decade ago, he will have the same effect and risk worsening his legal situation.
Daniels' comments will renew the issue of how much Trump knew about an attempt by his lawyer Michael Cohen to buy her silence with a $130,000 hush payment and whether the move violated campaign finance laws.
That question took on extra relevance after CNN's Kevin Liptak reported that Cohen was among Trump's dinner guests on Saturday evening.
A new claim by Daniels that she was threatened with physical harm in order to stop her telling her story in 2011 will now fuel more questions for a White House desperate to focus on anything else.
"A guy walked up on me and said to me, 'Leave Trump alone. Forget the story,'" Daniels told Anderson Cooper on the broadcast. "And then he leaned around and looked at my daughter and said, 'That's a beautiful little girl. It'd be a shame if something happened to her mom.'"
There was no allegation in the interview that Trump orchestrated the alleged threat or knew about it, and the attorney representing Cohen alleged his client had been defamed during Daniels' interview. In a letter obtained by CNN, Cohen attorney Brent Blakely told Daniels' attorney Michael Avenatti that his client had nothing to do with the alleged threat in the parking lot and demanded that Daniels cease and desist from making further "false and defamatory" statements about Cohen.
Daniels related explicit details of an alleged encounter with Trump in the interview that may boost her credibility because it bore similarities to descriptions provided by another woman, Karen McDougal, in a CNN interview on Thursday night.
"He was like, 'Wow, you – you are special. You remind me of my daughter.' You know – he was like, 'You're smart and beautiful, and a woman to be reckoned with, and I like you. I like you,'" Daniels said.
RELATED: Karen McDougal tells CNN Trump once tried to pay her after sex
The porn actress also said she had raised Trump's marriage and was brushed off, an account likely to train new scrutiny on the relationship between Trump and his wife Melania, and public sympathy at the trial the first lady is enduring.
The White House has denied any affair took place.
Stelter says Trump is the denier-in-chief
The biggest threat for Trump from the flurry of lawsuits to which he is linked by women claiming to have had relationships with him is that they embroil him in prolonged legal action that provide a constant distraction for his presidency.
If the cases require him to offer depositions, they could expose him to serious legal jeopardy if he is not completely truthful – after all, Bill Clinton was impeached for lying under oath in the Paula Jones suit that originated with a relationship that occurred before he was president.
Where once, Trump may have responded to the Daniels interview with a flurry of counter litigation, it's not clear that it would be in his interests now given his political position under the world's most glaring spotlight as the President of the United States. And any attempt to publicly claim Daniels is lying could also backfire since his claims that women who accused him of sexual harassment before the election were liars provoked a defamation suit from one of the women, Summer Zervos, that could force his testimony.
"I think what we can take from this is what worked for him in the private sector is not working for him as president and it should not work for him as president because he is in a position of extraordinary power," Kim Wehle, the former associate independent counsel in the Whitewater investigation, said on CNN.
While Sunday's interview could end up deepening Trump's legal position, it did not seem to significantly worsen his political position.
For one thing, an allegedly checkered past is not exactly a surprise to voters, since Trump lived his life in a tabloid spotlight, and given the pre-election release of a tape on which he could be heard boasting about groping women.
Trump's loyal political base has shown itself unconcerned about such personal transgressions.
"I supported the President because I believed he was a businessman that was going to do the things he said he was going to do to turn this country around," Amy Kremer, co-chair of Women Vote Trump, said on CNN on Sunday.
"I have been pretty impressed with him and happy with what he has done. Did I know that he was a flawed human being and not perfect? Absolutely. Do I agree with a bunch of that? No. … but at the end of the day I know the left is holding on for dear life that this will bring down his presidency, it is not going to."