He's known as the President's longtime personal attorney. But he has been called Donald Trump's Capo. His mini-me. His pitbull.
He's been compared to the Showtime character Ray Donovan who cleans up after Hollywood stars and to Roy Cohn, Trump's former lawyer and the controversial attorney for Sen. Joseph McCarthy during the 1960s red scare.
Michael Cohen described his role in the Trump Organization in his own words in a 2011 CNN interview: "I protect Mr. Trump. If there's an issue that relates to Mr. Trump, that is of concern to him it's of course of concern to me and I will use my legal skills to protect Mr. Trump to the best of my ability."
Now, those skills are under intense scrutiny. There are dueling court arguments over the validity of a nondisclosure agreement he drafted for adult film star Stormy Daniels (who is suing Cohen for defamation), questions about whether Trump knew about the $130,000 paid for her silence and still more questions about the origins of the money itself.
But those who know Cohen – and his relationship with Trump – say there's no question at all about his all-consuming desire to serve his boss.
"He took care of a lot of things for Mr. Trump without Mr. Trump knowing about it. That's part of the overall structure is that Michael had great latitude to take care of matters," said David Schwartz, who has been friends with Cohen since the 1990s. "He's the guy that you could call at three (o'clock) in the morning when you have a problem and you need something taken care of."
Something, Schwartz said, he's witnessed often.
"Every dinner I've been at with Michael, the boss has called," he said.
Cohen's abilities to solve problems for Trump were well-known both inside the Trump Organization and the Trump Campaign.
"He took care of what had to be taken of. I don't know what had to be taken care of. But all I know was Michael was taking care of it," Trump campaign aide Sam Nunberg told CNN.
Trump biographer Michael D'Antonio described it like this: "It's almost like something out of the 1930's, Guys-and-Dolls kind of New York, where there's a guy who knows a guy and he can get things done."
Getting things done
He has been getting things done for Trump since 2007. Cohen, who had bought apartments in some of Trump's New York buildings, lobbied for Trump in a dispute with a group of residents. Cohen – and Trump – won.
"Trump loved him for it, and that was the beginning of it. And then after that they became close," Schwartz said.
Impressed at his ability to represent his interests, Trump hired him away from the New York law firm where he had been practicing.
"If you look where Michael came from in his legal career before he started working for Trump (Organization), it wasn't like he came from a white shoe law firm, he came from you know a hard-nosed New York trial firm. Trump has an eye for talent, and this was somebody that I mean, he used to call him his bulldog, his tough guy, and I think Michael was able to really form a bond with the President," Nunberg said.
Cohen's tasks in the organization ranged from running a Trump-backed Mixed Martial Arts company to real estate branding deals. At one point, he even arranged an engine repair for Trump's plane.
But his most important task was being there for whatever Trump needed.
"They say I'm Mr. Trump's pitbull, that I'm his right-hand man. I've been called many different things around (The Trump Organization). What I am is a loyal employee. I like the man. A lot," Cohen said in 2011.
"It was much more than an attorney client relationship. It was certainly it was something much deeper, almost father and son kind of kind of thing, always hot and cold," Schwartz said. "Donald Trump could be yelling at him one second and saying he's the greatest person in the world the next second. Donald Trump knew that Michael always had his back and, of course, he loved loyalty. And Michael is very loyal to Trump."
Investigations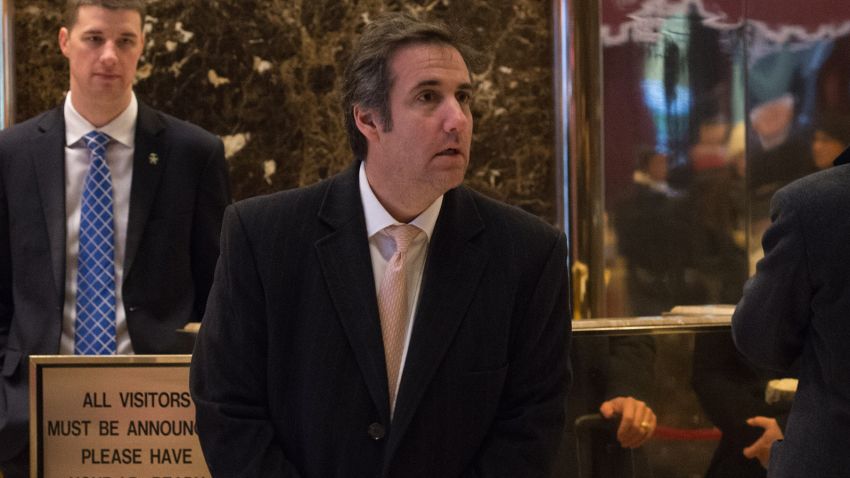 WaPo: Mueller examining Trump's lawyer
That loyalty has put Cohen in the sights of both special counsel Robert Mueller and congressional investigators who are questioning Cohen's negotiations to build a Trump tower in Moscow even though the project never materialized.
Cohen's name is also mentioned in the infamous dossier that was compiled on then-candidate Trump. It alleges he traveled to Prague to meet with Russians – a charge Cohen has denied. He is suing BuzzFeed which published the dossier.
When Trump became President, Cohen did not come to Washington with him – and has also left the Trump Organization to work independently.
Cohen – a sometimes-Democrat – briefly entered politics himself in 2013 when he ran and lost for a New York City Council seat in 2003. But he may have missed out on a White House job exactly because of his past success serving his boss, according to D'Antonio, the Trump biographer said.
"He was such a good fixer for Donald Trump the business mogul that he couldn't serve him in the White House," he said. Cohen "not only knows where all the bodies are buried he buried a lot of them himself. And that ironically disqualified him."