Story highlights
US swimmer Missy Franklin won four golds at London 2012, aged 17
She speaks to CNN about her battle with depression
Moments of glory for Olympic athletes are flashed around the word for all to see and share. But there's a counterpoint to the shock and awe of the photo finish or the podium wave – when the adrenalin rush has gone and you're left dealing with the humdrum of everyday life.
US swimmer Missy Franklin knows this all too well. Olympic success came to her at an early age when she stormed to four gold medals at the age of 17 at London 2012, breaking two world records in the process.
Yet it turns out for Franklin that in many ways that was the easy part of being an elite athlete, as she subsequently grappled with mental health issues.
Six years on from her first Olympics, she has the perspective of an athlete who appreciates that life doesn't start and end in those two weeks once every four years.
And having gone public about her own experiences of depression, Franklin is determined to help younger athletes learn to cope with the often overwhelming weight of Olympic expectation and what happens afterwards.
"I think as role models in sport we often feel this pressure to be strong and tough all the time," Franklin told CNN Sport at the recent Laureus awards.
"You're these Olympic athletes, you're supposed to be really strong, you're supposed to be really confident.
"I think people sometimes forget that we're human too, and we have days when we're exhausted and not motivated and don't want to go to practice and I think it's so important for young athletes to see that."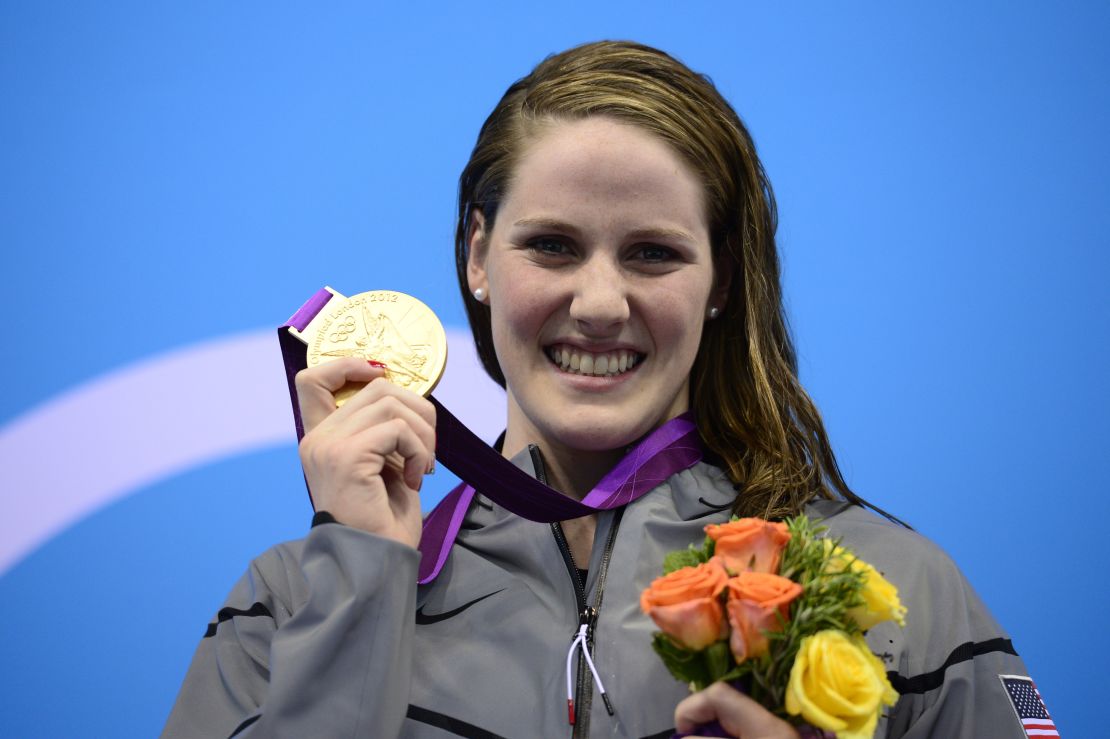 'My body was useless'
Franklin went into her second Olympics in Rio with expectations charged by her success in London and though she added another gold to her tally in the 4x200m freestyle, she failed to medal in any of her individual events.
That meant ultimately Rio 2016 proved a disappointment for her.
"Going into Rio I was in the best physical shape of my entire life, I had the best year of training I'd ever had, and that meant nothing because mentally I was in such a terrible place that I was useless, my body was useless, I couldn't have the power or control over my thoughts that I had had before and so when that's not there it doesn't matter how much training you do."
Franklin attributes her ability to deal with the issues she faced to two other US swimmers who talked openly about depression.
"I feel so fortunate because I had so many incredible athletes pave the way for me. I had Michael Phelps and Allison Schmitt, who were two of my really good friends and teammates for so long; both really openly talk of their depression and what they went through. I just think we need so much more of that." she said.
Phelps spoke earlier this year about his own battles with depression, sharing his experience of severe anxiety and even contemplating suicide.
Returning to the 'real world'
For Phelps, Schmitt and Franklin, along with many others, depression is often linked to dealing with day-to-day life after the intensity of an event like the Olympics is over.
"You hear about so many athletes coming off and having post-Olympic depression, and it's something people don't even realize happens," Franklin explained.
"People watch us for two weeks and then they go back to their normal lives, and there we are having the most exhilarating two weeks of our lives, something we've trained for forever, and then it's over and the transitions that some athletes have to go through, trying to find their way in the 'real world,' trying to find a job, trying to figure out another passion for themselves after doing one thing for so long."
That transition back to the "real world" was the toughest part for Franklin, having taken a full year out of college ahead of the Games, but her decision to study psychology when she returned to school after Rio provided new understanding of how her own mind works.
"I learned so much about myself and other people through learning about psychology. That's not necessarily the reason I got into it but it's still so fascinating to me.
"The older you get the better you get at prioritizing and organizing so with it being a little bit harder, also comes to tools to deal with it better," she added.
"I think we need to start putting importance on self-confidence, on positive thinking and most importantly on perspective for athletes that are feeling so much pressure, so they understand that their value is not intrinsically placed on a medal or a time, that they're so much more than the person they are when they're competing."