On Friday, Jewish families around the world will gather to celebrate Passover and recount the exodus from Egypt.
But for many British Jews, an altogether more contemporary subject is also likely to be on the agenda at the festive meal.
On Monday, the leadership of Britain's biggest Jewish groups organized an unprecedented demonstration outside the UK Parliament, accusing Labour leader Jeremy Corbyn of turning a blind eye to a resurgence of anti-Semitism in British politics, particularly within his own party.
For some at the protest, the prospect of Corbyn becoming the next leader of Britain – which came into sharp focus when Prime Minister Theresa May's working majority was wiped out in last year's general election – is a sobering one.
"As a Jewish community in London, we're pretty scared," protester Freddy Clode told CNN.
"Being Jewish myself, it frightens me what he's about."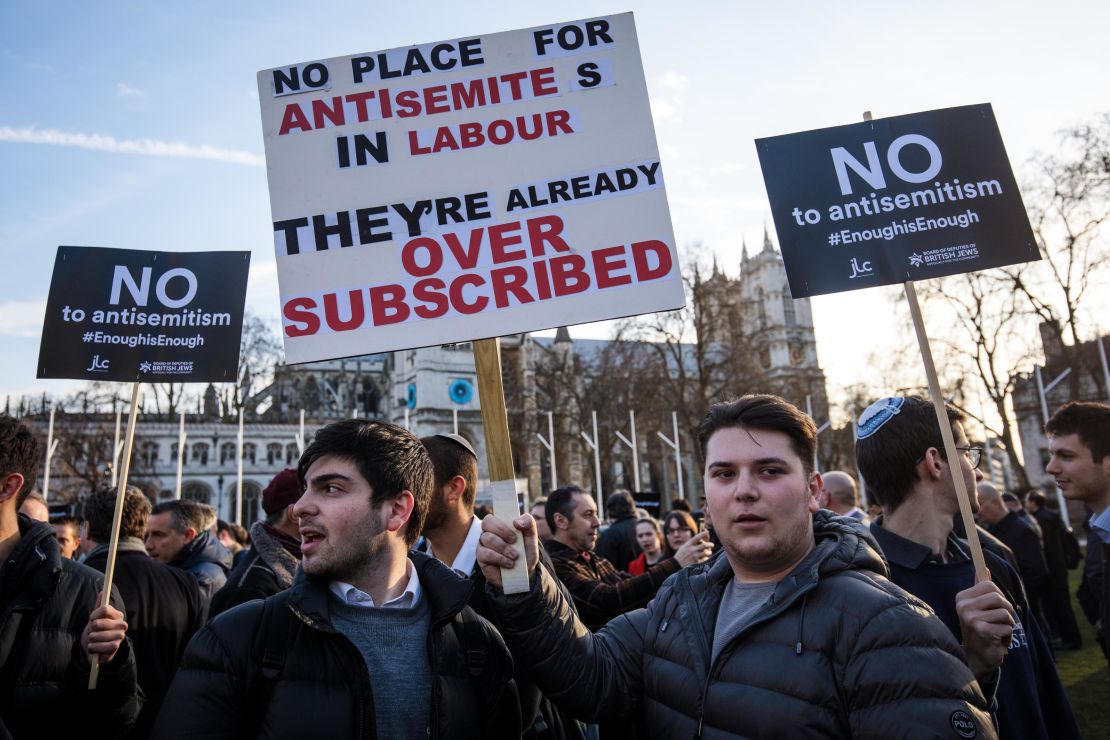 This week's demonstration was the culmination of frustration that has simmered since Corbyn's surprise election as Labour leader in 2015 catapulted him from a marginal figure on the far left of British politics to the mainstream alternative to Theresa May.
For much of his career, Corbyn, an outspoken critic of Israel and a fierce campaigner for Palestinian rights, remained on the fringes of his party. But his victory in the 2015 leadership election has drawn scrutiny to some of the company he has kept in the past – and has coincided with a rise in anti-Semitic rhetoric directed in particular at some of those within the Labour Party who opposed his candidacy.
Corbyn's detractors point to his association with Paul Eisen, a Holocaust denier, his defense of Reverend Stephen Sizer, who shared materials online linking Jews to the 9/11 attack, and welcoming visitor Sheikh Raed Salah to Parliament, who has allegedly used the blood libel – the false accusation that Jews have murdered Christian children to use their blood in rituals.
He has also referred to Hamas and Hezbollah as "friends" though he later said he regretted using such language.
More recently, it was also revealed that Corbyn was a member of two Facebook groups, "Palestine Live" and "History of Palestine" in which anti-Semitic commentary and imagery was prevalent. Corbyn said he was added to the groups by other people and removed himself after their content was brought to his attention.
Corbyn's allies have also drawn fire. Former Mayor of London Ken Livingstone was suspended after claiming Hitler was a Zionist. Another Labour lawmaker, Naz Shah, was also suspended over remarks she made over Israel on Facebook.
A number of Labour local councilors and supporters, predominantly from the Corbynite left of the party, have also been caught up in allegations of anti-Semitism.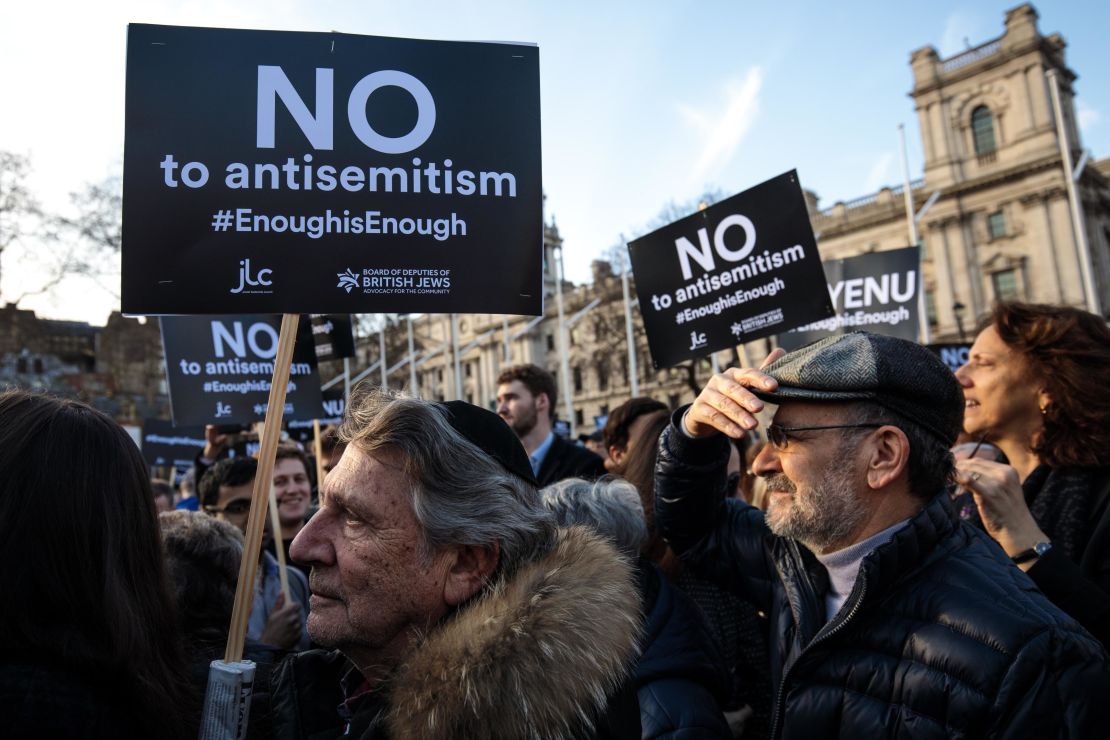 While his critics do not believe Corbyn to be an anti-Semite, he has, according to Labour lawmaker Margaret Hodge, allowed himself to become the "poster boy for anti-Semites everywhere."
Corbyn has repeatedly defended himself, insisting he is committed to tackling anti-Semitism and all forms of racism.
But his efforts have been widely criticized, including a 2016 Labour party inquiry into anti-Semitism which led the author of the report, Shami Chakrabarti, to conclude there was "too much clear evidence… of ignorant attitudes". Corbyn described the report as important and said it would help the party set the "gold standard" on anti-racism. But the Vice President of the British Board of Deputies, Marie van der Zyl, called it a whitewash.
There was also further consternation when Corbyn appointed Chakrabarti, who had been cast as an independent figure, to the House of Lords and made her a member of his shadow cabinet.
But the defining moment came last week, when a Labour MP demanded to know why Corbyn had offered his support in 2012 to a graffiti artist whose mural featured several anti-Semitic tropes.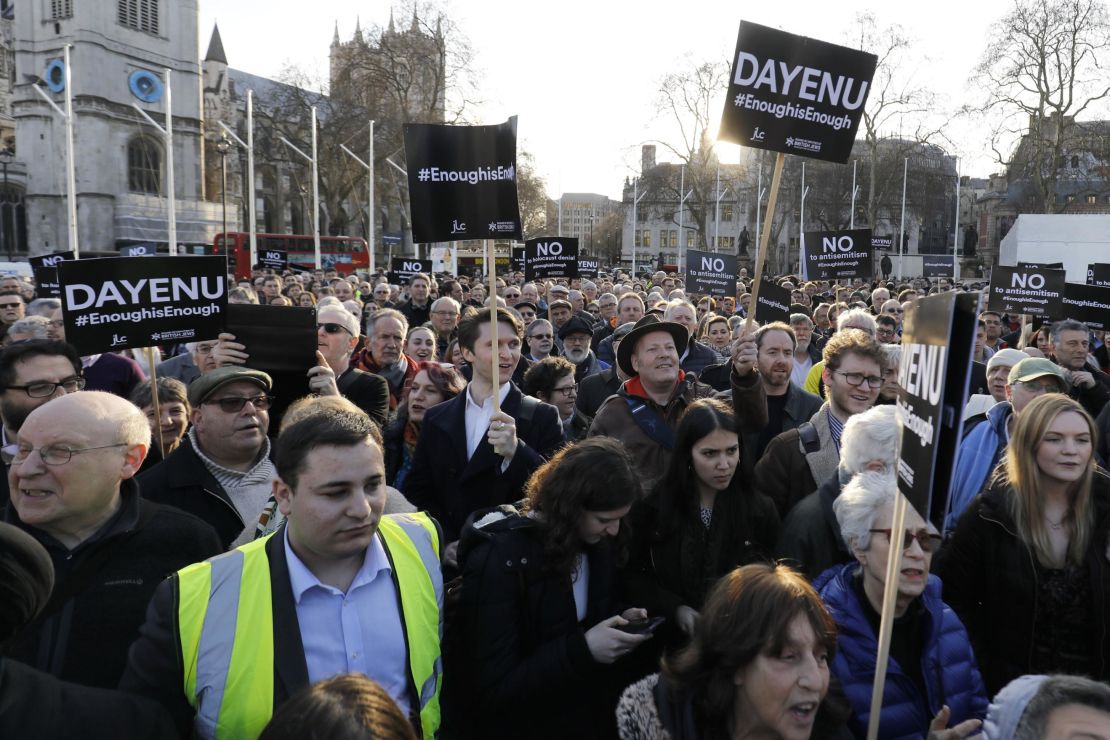 The mural, by a street artist known as Mear One, appeared to show Jewish bankers playing Monopoly with their table resting on the backs of bent-over workers. It was threatened with removal by a local London council.
"Why," asked Corbyn in a Facebook comment. "You are in good company. Rockerfeller [sic] destroyed Diego Viera's [sic] mural because it includes a picture of Lenin."
Labour badly fumbled its response. An initial brief statement, issued by a spokesman for the leader, was widely derided as inadequate. Only after Corbyn's own MPs expressed fury was a further statement issued, this time in Corbyn's name, which offered a more expansive expression of regret.
"I sincerely regret that I did not look more closely at the image I was commenting on, the contents of which are deeply disturbing and anti-Semitic," Corbyn said."I am opposed to the production of anti-Semitic material of any kind, and the defence of free speech cannot be used as a justification for the promotion of anti-Semitism in any form."
But it was too late, and at the weekend the British Board of Deputies and the Jewish Leadership Council, two bodies which represent mainstream British Jewry, called for a demonstration.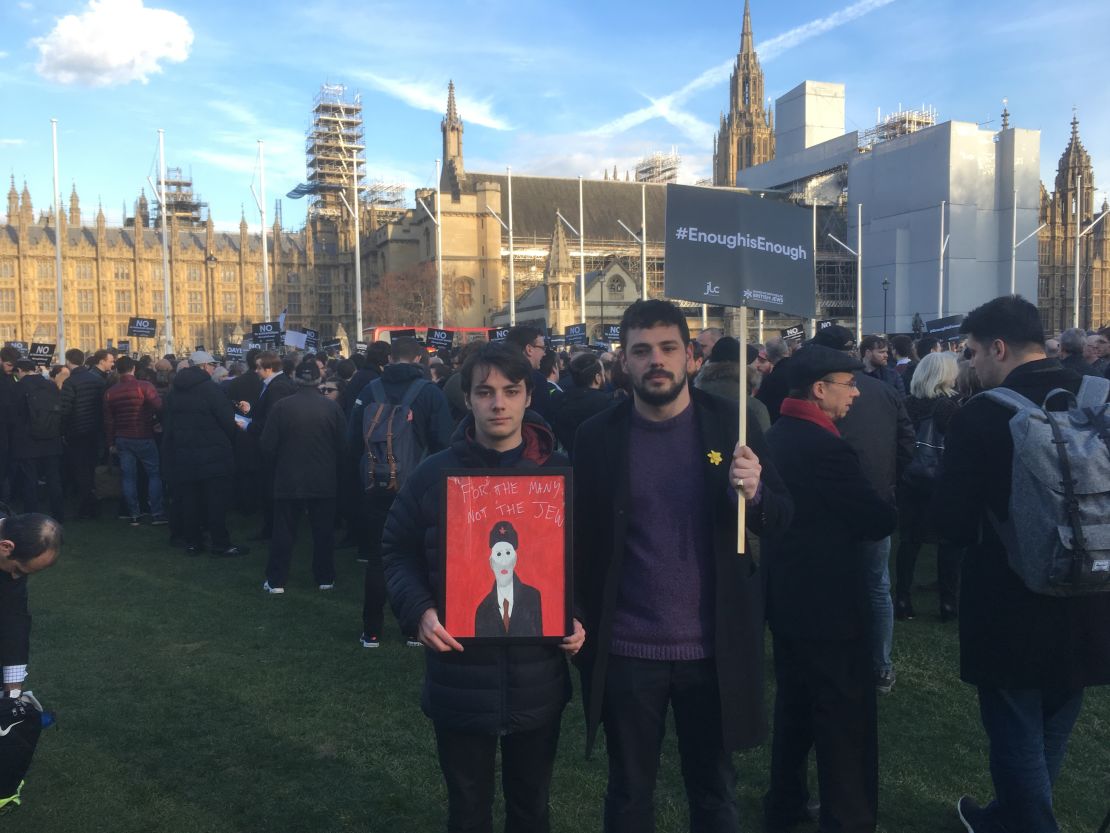 Freddy Clode, 25, felt he had to come out and protest, despite the short notice. At the protest, his brother Gus held an image of Corbyn's face with his famous slogan of "For the many, not the few" rewritten as "For the many, not the Jew."
The brothers said the complaints of anti-Semitism leveled at the Labour leader have been ignored.
"When they came up for that caption, 'for the many, not the few,' it just seemed to be the ideal opportunity to get the point across," Freddy Clode said.
"It's not that his hatred for Jews has got stronger over the past year, it's that he could get into power. It's very scary to have that as a possibility."
Standing opposite Parliament, Naomi Stanley, a retired health worker with Britain's National Health Service (NHS), told CNN she is even preparing herself to leave the UK if Labour forms the next government.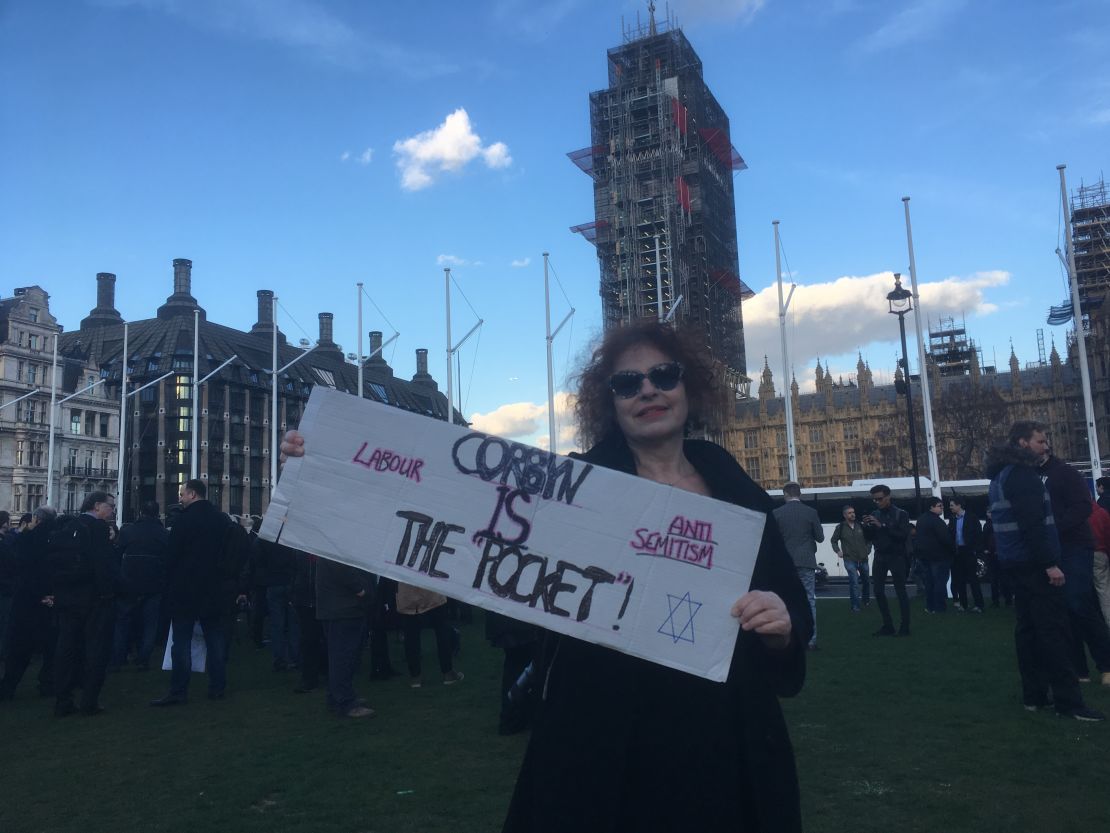 "I will absolutely leave the country and I tell you that with an incredibly sad heart. I'm British, I love England. I love everything here. I love the British birdsong, I have an English garden, I built my home here."
"I'm a retired nurse after years of working in the NHS but I tell you what, if Jeremy Corbyn gets in with the Labour party then I'm out of here."
"I'm going over to Israel next month to do a recce. I don't want to have to leave but I'm not an idiot and I can see what is happening."
"This is dangerous and serious stuff."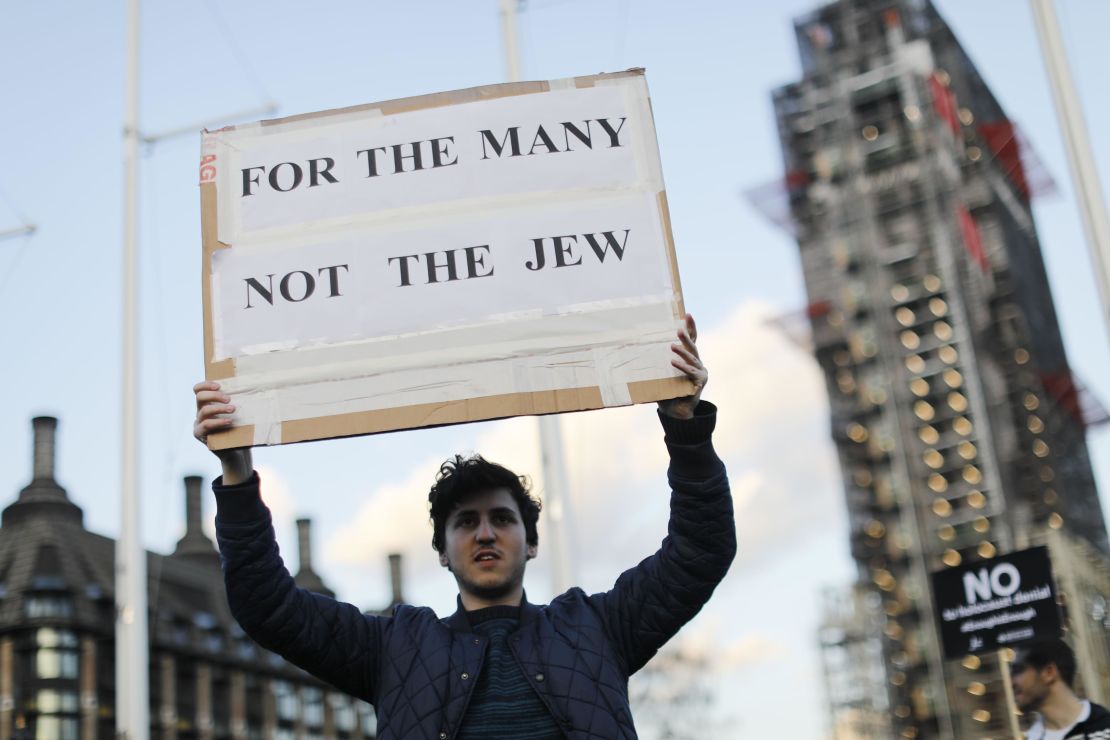 The growing concerns of the British Jewish community come at a time when anti-Semitism is on the rise in Europe.
In Poland, the ruling Law and Justice Party has been accused of attempting to rewrite the history of the Holocaust by introducing a controversial new law, leading to the country's Jewish organization saying it has created a "growing wave of intolerance, xenophobia, and anti-Semitism," leaving many within the community feeling unsafe.
Hungary has faced accusations of anti-Semitism in the lead-up to this year's election with critics of President Viktor Orban claiming he has used anti-Semitic tropes during his campaign.
In Austria, the far-right Freedom Party were welcomed into the governing coalition, much to the consternation of the country's Jewish community.
France, home to the largest Jewish community in western Europe, has been the subject of violent attacks for a number of years, including the murder of four people at a Paris Kosher supermarket in 2015.
Last week, a Holocaust survivor was murdered in her Paris apartment in an attack which police are investigating as anti-Semitic.
In Britain, physical anti-Semitic attacks are rare and no mainstream politician would advocate openly anti-Semitic political positions. So it feels shocking that any member of Britain's 263,000-strong Jewish community would feel so disillusioned by the Labour Party's attitude to the issue as to contemplate leaving.
"We've reached this point because the completely legitimate concerns which have been expressed by the mainstream Jewish community over the last two and a half years have mostly been ignored," Daniel Sugarman, a journalist for the London-based Jewish Chronicle newspaper, told CNN.
"Mr Corbyn has had a number of invitations from us to sit down for an interview and make his position clear. He has declined in the past to do so. You would think that, facing large-scale accusations and seeing support for his party plummet among the Jewish community, Mr Corbyn would have made it a priority to sit down with Jewish communal figures and the Jewish communal media.
"Two and a half years later, he is yet to give an interview to a Jewish newspaper. Mr Corbyn's Jewish acquaintances come, as a whole, from the tiny minority of far-left Jews. He doesn't seem to understand that such people are not all representative of our community. It is hard to see how someone who, regarding some issues, appears not to have changed his mind for 40 years, is suddenly going to change his mind on this."
Corbyn's supporters say that the accusations leveled at the 68-year-old are "smears" and are the work of the Conservative government and British media.
'Hurting themselves'
At a nearby counter-demonstration by the relatively new fringe group, Jewish Voice for Labour (JVL), protesters argued that Corbyn was being targeted by Britain's right-wing press.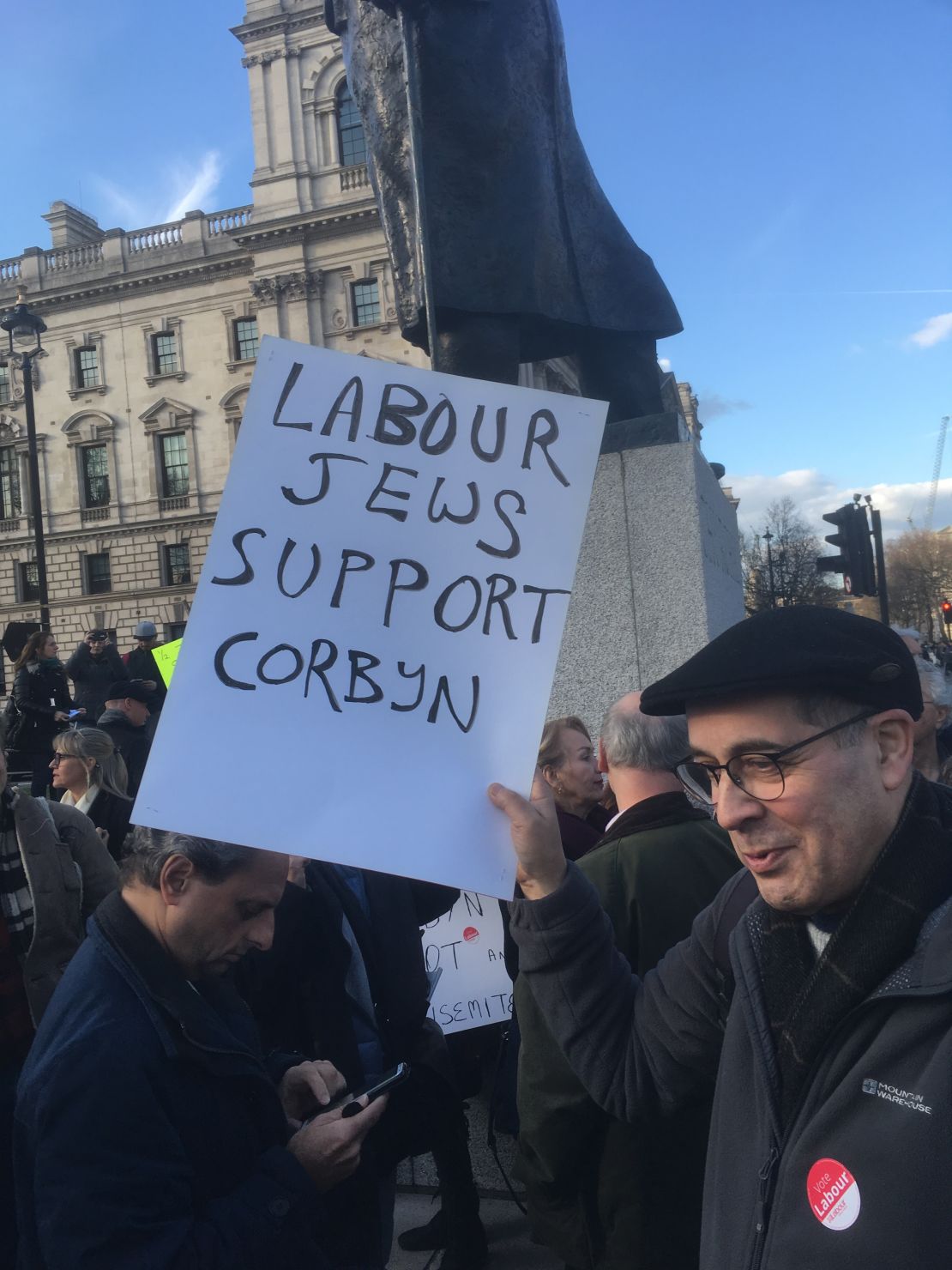 "Anti-Semitism is used here in the way that 'crooked Hilary' was used in the US election," Brian Chinnery told CNN.
"But it's also made worse because it's being used by the right-wing of the Labour party against Corbyn. Anyone who supports Palestinian rights will be attacked one way or another. These sorts of dog whistle politics are very effective since the media present it as fact."
Another JVL protester, who did not want to be named and told CNN she was not Jewish, said that the "Jewish people were hurting themselves" by holding the protest.
"They are actually like a magnet for more anti-Semitism," she added.
'Mural'
That view is not shared by the mainstream Jewish community, nor many Labour lawmakers, who concede that Corbyn has not done enough to negate anti-Semitism within the party.
On Sunday, after following the announcement there would be a protest, Corbyn released another statement, this time saying that he recognized "that anti-Semitism has occurred in pockets within the Labour Party, causing pain and hurt to our Jewish community in the Labour party and the rest of the country."
He added: "I am sincerely sorry for the pain which has been caused."
On Monday, he sent a letter to the Board of Deputies and the Jewish Leadership Council, offering to meet with them and condemning anti-Semitism as the "socialism of fools."
He offered his apology again, and said he would "never be anything other than a militant opponent of anti-Semitism. In this fight, I am your ally and always will be."
For some, that apology may have come too late.