After years of diplomatic isolation, suddenly everyone wants to talk to Kim Jong Un.
Japan revealed it was seeking a summit with the North Korean leader, as some in Tokyo expressed concern they were being left out as the situation on the Korean Peninsula continues to change rapidly.
Kim made a surprise visit to Beijing Monday to visit with Chinese President Xi Jinping, and next month Kim will sit down with South Korean President Moon Jae-in.
Plans are also underway for a potential meeting between Kim and US President Donald Trump sometime later this year.
"Japan and North Korea have been negotiating through various opportunities and in various channels, such as through the embassy in Beijing," chief cabinet secretary Yoshihide Suga said Thursday, following reports in the Japanese press that Tokyo was becoming "increasingly worried about being left out of the loop regarding North Korea."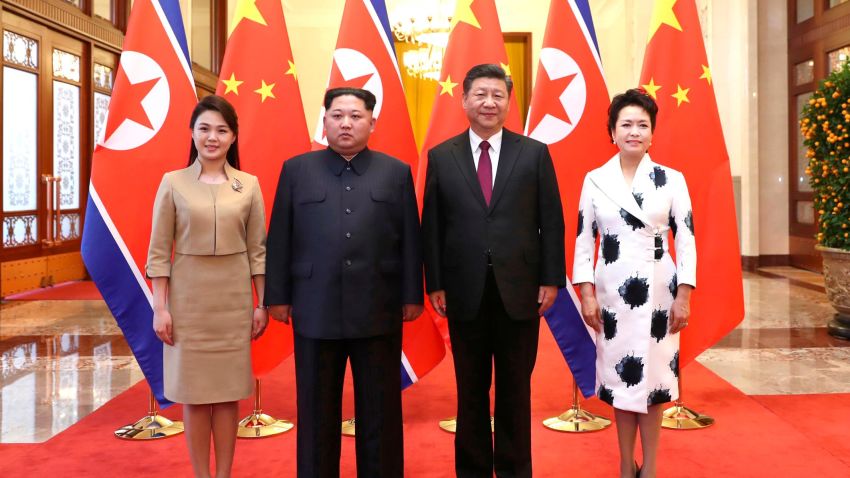 Kim Jong Un makes surprise visit to China
Out of the loop
Since tensions suddenly relaxed in January – when North Korea reopened diplomatic ties with the South and agreed to participate in the Winter Olympics – Japan has been noticeably left out.
Following the Olympics, Japanese Prime Minister Shinzo Abe seemed to be in lockstep with the US when he said "dialogue for the sake of dialogue would be meaningless."
Within weeks however, Trump had agreed to a meeting with Kim, leaving Japan in the lurch.
"Japan was completely blindsided by Trump," said Jeff Kingston, director of Asian studies at Tokyo's Temple University. "Until then, Abe thought they were on the same page."
Japan's new ambassador to Washington, Shinsuke Sugiyama, told CNN that Tokyo's "fundamental posture has not changed" toward North Korea.
"We are in the midst of possibly a new beginning. Possibly not," Sugiyama said. "We'll see."
Before a Trump-Kim summit was on the table, Abe's administration was one of the most hawkish voices in the region, pushing for maximum pressure on Pyongyang, especially after North Korea fired two missiles over the Japanese island of Hokkaido.
In an editorial last week, North Korean state-run newspaper Rodong Sinmun criticized Tokyo's stance, saying it was "aggravating the situation on the Korean Peninsula" and warning "Japanese reactionaries" that their "illiberal moves would result in pricking their own eyes."
"If Japan continues to do as now, it will be an outcast," the paper said.
Officials in Tokyo appeared to be thinking along the same lines: several told the Asahi Shimbun they were completely taken off guard by Kim's sudden visit to Beijing, as well as other recent moves.
"The Japanese public is concerned that Japan may be the only one being left behind as the Northeast Asian situation shifts dramatically," the paper quoted Nobuhiro Miura, a ruling coalition lawmaker, as saying on Wednesday.
Abduction talks
Talks so far have focused on security issues on the Korean Peninsula, particularly denuclearization.
While a drop in tensions and a lessening of the North Korean threat would benefit Japan, Tokyo has reason to be concerned about being left out of negotiations, as it hopes to raise the issue of Japanese abductees with Pyongyang.
More than a dozen people remain missing after been abducted by alleged North Korean agents in the 1970s and 1980s, and the issue remains highly charged in Japan today.
During a visit to Japan last year, Trump said it "would be a tremendous signal if Kim Jong Un would send them back."
"That would be the start of something I think would be just something very special if they would do that," he said.
Since then, however, there has been little mention of abductees. While Japanese media said Abe would raise the issue in a meeting with Trump next month (before the Kim-Moon talks), Kingston, the Temple University professor, said it was unlikely Seoul or Washington would want to broach the issue when more important matters still need to be settled.
"Japan's insistence on this in the Six Party Talks (in the 2000s) was one of the factors that eventually led to a breakdown in those talks," he said.
"Many people wondered why the fate of a few dozen Japanese was more important than getting North Korea to give up its nuclear weapons."
CNN's Junko Ogura and Laura Koran contributed reporting from Tokyo and Washington.