Editor's Note:
Story highlights
Investigation found allegations against Luiz Loures were 'unsubstantiated'
Martina Brostrom says UN doesn't take harassment seriously enough
A United Nations employee who says she was sexually assaulted by a top UN official has spoken publicly for the first time, alleging she was offered a promotion if she accepted an apology from the man and claiming that the organization failed to take her complaint seriously.
In an exclusive interview with CNN, Martina Brostrom accused a UN assistant secretary general, Dr. Luiz Loures, of grabbing her in a hotel elevator, forcibly kissing her and trying to drag her to his room during a conference in 2015. He denies the allegations.
"I was pleading with him, and I was just bracing with all that I could just to not leave the elevator," Brostrom, a policy advisor at UNAIDS, the United Nations' global AIDS program, told CNN's Christiane Amanpour.
Loures told CNN he co-operated fully with a 14-month investigation, which concluded that her claims were unsubstantiated. But Brostrom criticized the investigation as "deeply flawed."
Loures, who was also the deputy executive director of UNAIDS, is leaving the UN at the end of his contract this week; the UN says it was his decision to leave. A spokesman for UNAIDS told CNN that the investigation into Brostrom's allegations followed "due process" and she is welcome to appeal.
Brostrom is one of three women to describe similar encounters with Loures. Another, Malayah Harper, told CNN that Loures assaulted her in a strikingly similar way at a hotel in 2014. A third told CNN of an assault a few years ago; she spoke on condition anonymity because of her current job.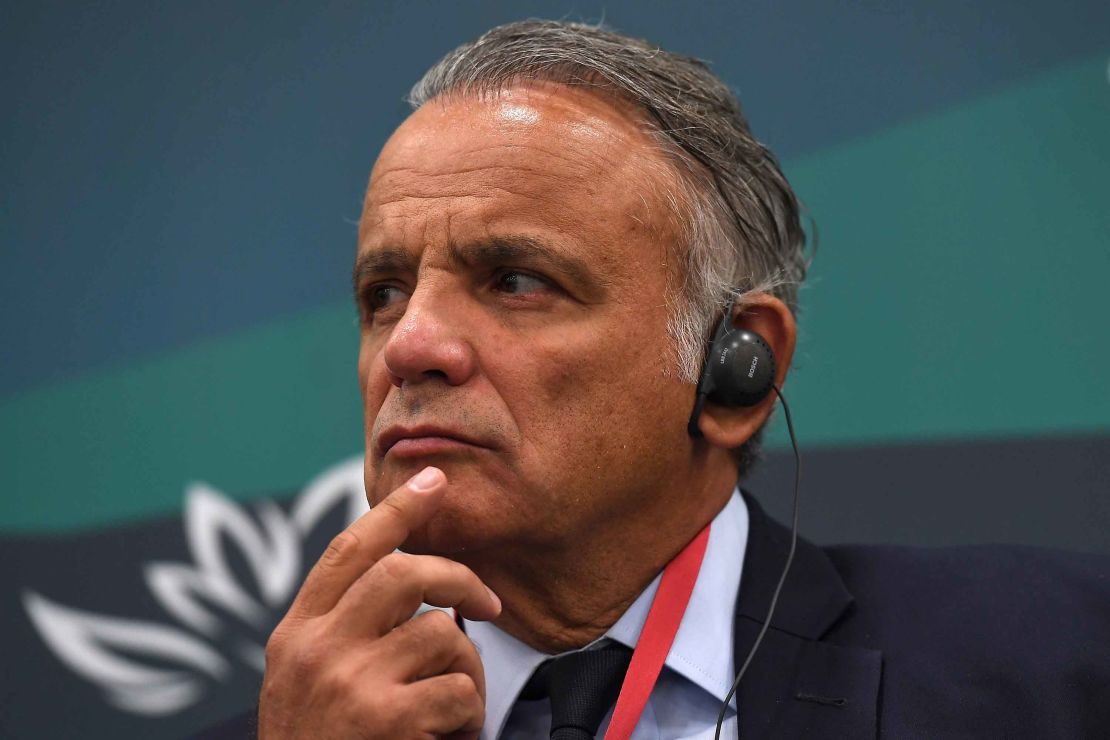 Several people close to the head of UNAIDS, Michel Sidibé, say that they warned him about Loures over a period of at least three years.
At a staff meeting at the end of February, audio of which has been obtained by CNN, Sidibé denied being warned. He also praised Loures' decision to leave the UN as "courageous" and attacked employees who spoke publicly about sexual harassment claims at the UN, saying "they don't have [a] moral approach."
The allegations point to a deep irony: While the UN's HIV/AIDS program has long promoted the empowerment of women as crucial to ending the epidemic, multiple activists and former UN employees tell CNN that the organization has also long protected an executive dogged by claims of sexual harassment.
Those critics of the UN say it has failed to take allegations of sexual assault seriously, prioritizing the reputation of the organization over its obligations to protect employees.
The UN says it is redoubling its efforts to combat harassment, encourage reporting, and protect accusers from retaliation.
Paula Donovan, whose campaign group Code Blue is pushing for changes in how the UN handles sexual harassment complaints, has spearheaded Brostrom's public appeal and raised concerns in open letters to the UN Secretary-General, Antonio Guterres.
Donovan said the UN should not be allowed to police itself. "I think the term that is not used often enough is the obvious conflict of interest. The UN simply cannot possibly play this role." Code Blue is calling for an "external, neutral, and independent body" to handle such allegations.
Stephen Lewis, a former senior official at UNICEF who now co-runs an NGO that works on AIDS policy with Donovan, says UN officials hold to a view that its reputation is sacrosanct. "There is an understanding that under no circumstances can you put the UN at risk," says Lewis, who has advocated on Brostrom's behalf.
Bangkok conference
By the time Martina Brostrom arrived in Bangkok, Thailand for a conference in May 2015, she says she already knew to be wary of Luiz Loures.
He would "let his hand slide, you know, over your hair and sort of hold you behind the neck," she recalled of a typically unwelcome interaction.
At that Bangkok conference, following what she described as a reluctant work chat after a reception, they got into the hotel elevator. Then, she said, he lunged at her.
"I'm pushed towards the wall," she told Amanpour. "He starts shoving his tongue into my mouth, trying to kiss me. And he is groping my body, including my breasts. The elevator door opens and he tries to forcefully pull me out of the elevator – drag me towards the corridor of his room."
"He says, 'Come, come in my room.'"
She managed to hold him off, she said, escaping back into the elevator and to her own room.
A colleague with whom she spoke on the night of the alleged incident confirmed to CNN the story Brostrom relayed at the time, saying she had been "absolutely distraught."
Her mother, supervisor and two other coworkers who say they saw or spoke to her that night gave investigators similar descriptions of her demeanor – "upset, crying, and distressed," as the investigation put it.
Brostrom did not immediately file a formal complaint. She said she feared that her allegations would be disregarded, or that she could face retaliation. A year later she said she made Sidibé aware informally, a claim he denies.
Several months later – about a year and a half after the alleged assault – she says it became clear to her that a reorganization could make Loures one of her direct supervisors, with only a "weak manager" – whom she says was unaware of the alleged assault – separating the two.
She asked Sidibé to open an investigation, which he did.
Brostrom said she has been on paid sick leave more or less continuously since April last year. According to a medical evaluation from June that she provided to CNN, she is suffering from post-traumatic stress from an incident in May 2015.
"What has happened to me, how the situation has been mishandled – it mustn't happen to any other woman," she told Amanpour.
Confidential investigation
CNN has obtained a copy of the confidential inquiry that cleared Loures, as well as transcripts of interviews conducted by investigators. In interviews with investigators, Loures vehemently denied that an assault took place, calling it "a false story."
He at first suggested to investigators that she had had too much to drink, then told him something he briefly suggested could be subject to doctor-patient confidentiality.
Loures suggested that Brostrom had spoken about "how she behaves sexually" and told him "you could never handle me." Loures also raised the fact that Brostrom is now in a relationship with her then supervisor, who also spoke with investigators.
She told CNN she was not drunk, has never been Loures' patient, and had "absolutely not" spoken with him about her sexual preferences. She called Loures' reference to her current relationship as an attempt to "draw attention from what really matters," and said the romance "evolved as a consequence of what has happened to me" and the support her partner offered.
Similar allegation
Malayah Harper, who used to run UNAIDS' programs in Uganda and Kenya, told CNN that she nearly fell off her chair when she first heard of Brostrom's account.
That's because Harper says Loures assaulted her in an almost identical way, a year earlier, also at a hotel.
"He got into the lift with me, and then kind of lunged forward to – you could call it – kiss me, but I thought a kiss had to be consensual."
A third woman, who still works in the UN system and wished to remain anonymous, described a very similar incident with Loures.
"He forced himself on me," she told CNN. He "stuck his tongue in my mouth, tried to touch me all over, into my blouse."
Loures' behavior had "become a joke in Geneva," said a person who has worked with the UN and has known the UNAIDS executive director, Michel Sidibé, for years.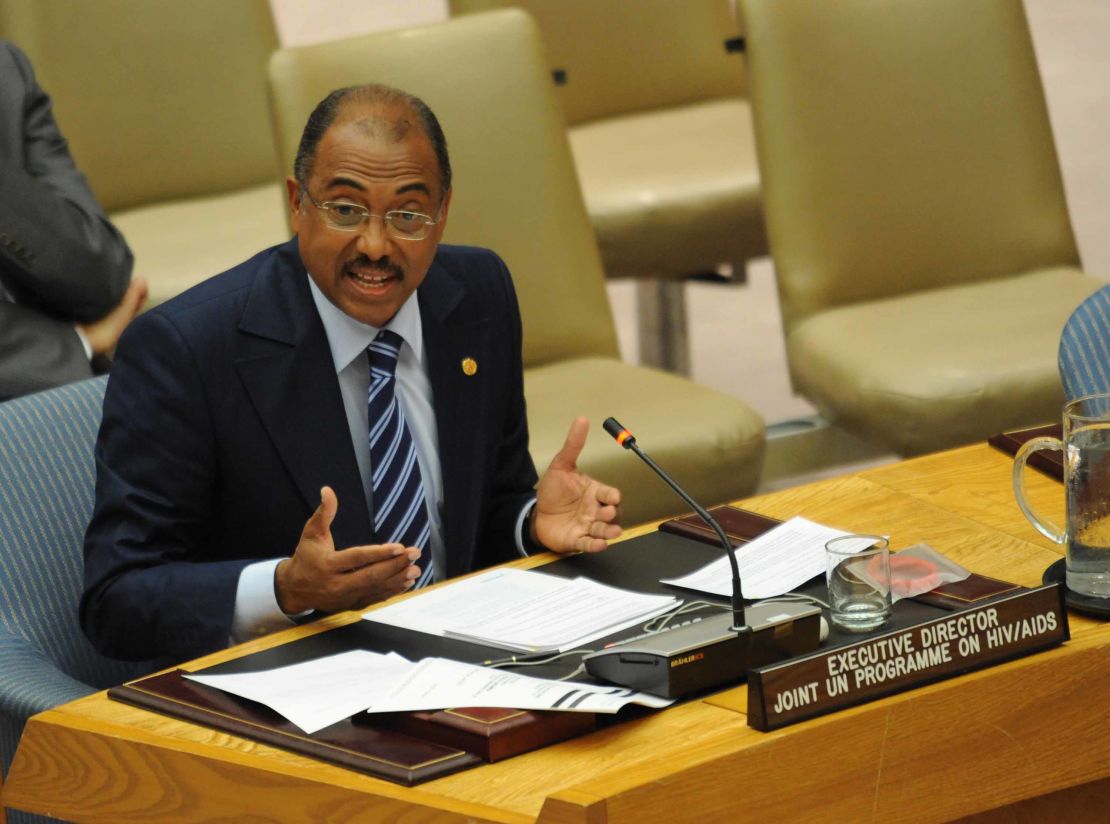 "Someone said to me the other day you'd see a bunch of young women in tight skirts somewhere around UNAIDS and you'd say, 'Oh, Luiz must be nearby.'"
CNN offered Loures an on-camera interview. He declined, but sent a statement denying Brostrom's allegations. "I cooperated fully with the independent investigation and provided proof of my innocence," he said. "The claims against me were unsubstantiated."
He also denied Malayah Harper's allegation, saying he was "surprised" to hear it. Harper never filed a formal complaint but UNAIDS told CNN that it would investigate her allegations if she did.
Promotion claim
Months into the investigation into Brostrom's allegations, she said, Sidibé pressured her during a trip to Stockholm to abandon it and accept an apology from Loures in exchange for a promotion.
Sidibé denied to investigators that Loures wanted to apologize.
But he did admit to investigators in a follow-up interview that he told Brostrom that it would be good to "find a way out" in a way that would protect the organization and, he says, "for yourself." Given that he was "very happy" with her work, and she had been talking about her promotion, he recalled suggesting they "have a discussion between us to just understand how that could be evolving [in] different ways."
Brostrom told CNN that her reaction made it clear that she would not consider the offer. Sidibé told investigators he then agreed that they would "leave the investigation going."
Loures told the inquiry that he neither wanted to "apologize" nor meet with Sidibé and Brostrom, but rather wanted a "full investigation," because he believed it was in his interest.
A spokesman for UNAIDS denied that Sidibé offered Brostrom a promotion and reiterated that he had no role in the outcome of the investigation.
By injecting himself into the case, Sidibé had in effect become both witness to and judge of the investigation, said Stephen Lewis, the former UNICEF worker. The inquiry would be given to him to act upon, but he himself gave testimony to the independent investigators.
"I mean, it's just nuts. How in god's name can you get an equitable outcome?" Lewis said.
In November 2017, Brostrom's lawyer wrote to Sidibé demanding his recusal from the case. He did so shortly thereafter, delegating it to a deputy.
Career ambitions
Michel Sidibé "was very, very worried that the stuff around Luiz Loures would necessarily poison his prospects as well as that of UNAIDS," said Lewis.
A native of Mali, Sidibé had hoped over the course of his career to be president of his country, or head of the World Health Organization, or even secretary-general of the UN, the organization's top job, two people who have known him for more than a decade told CNN.
"None of those things have come to pass for whatever complement of reasons," Lewis said. "That's not conjecture – he has confided that to me and to others over the course of the years."
During an internal staff meeting at the end of February, Sidibé denied that he had been warned about Loures' behavior, calling it "total lying."
"Nobody came to tell me that," Sidibé said in the meeting, the audio of which was obtained by CNN.
CNN spoke to three separate people, including Lewis, who say they did exactly that. One of them tells CNN the first warning came in July 2015, just two months after the alleged assault against Martina Brostrom.
"The very first thing I said to Michel was, 'Your deputy director is a sexual predator, and everybody knows it,'" said a former senior UNAIDS employee who spoke anonymously because of their current position.
"He didn't even try to deny it."
Complex structure
Discussing this case, representatives of Guterres, the UN Secretary-General, have cited a complex governance structure.
Guterres is responsible for appointing the head of UNAIDS, but the World Health Organization handles the day-to-day administration of the organization, including this investigation. WHO, though part of the UN system, operates independently; Sidibé and Loures were named by Guterres' predecessor, Ban Ki-moon.
When questioned at a press briefing on February 6, the Secretary-General's deputy spokesman, Farhan Haq, said that Guterres' office "does not have jurisdiction over these cases."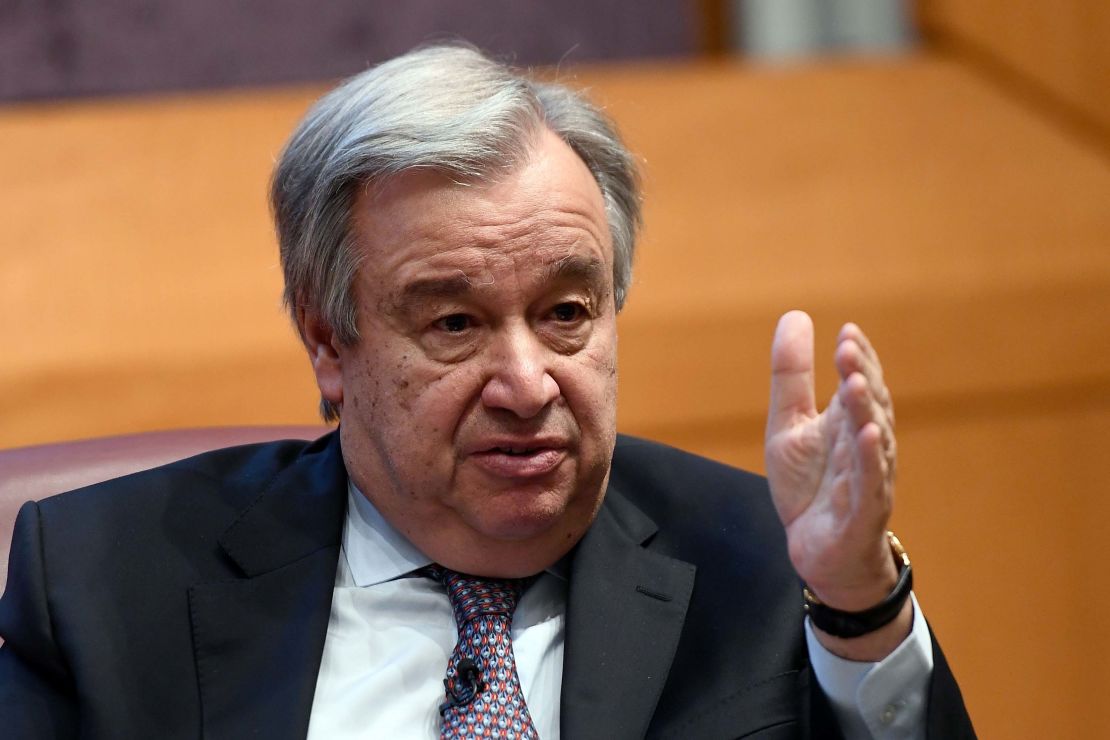 Still, Sidibé thought it worth mentioning at his staff meeting last month – after press reports about Loures began to appear in The Guardian and Foreign Policy – that Guterres had called him the previous weekend "to give me his full support."
Brostrom provided CNN with four separate emails she sent directly to Guterres, asking him to intervene in the case, starting in November last year. She said she has not received any reply other than a confirmation of receipt.
Haq told CNN in a statement that Guterres has made it his "personal commitment" to rid the UN of sexual harassment, and is working to ensure that both staff and managers are aware of "the protections and support for victims and/or complainants, including protection against retaliation."
The UN has launched a helpline "to provide support and guidance for victims," the statement said, and Guterres is "committed to making it easier for people to come forward."
At UNAIDS, Sidibé has announced plans to better identify, document and take action against inappropriate behavior and abuse of authority. UNAIDS said he is creating an external panel to provide recommendations on sexual harassment.
'Insufficient evidence'
The 14-month investigation into Brostrom's allegations cleared Loures of wrongdoing.
It concluded that while Brostrom's account was "detailed," there was "no evidence to corroborate." Investigators said the hotel did not have closed-circuit TV footage from the elevator.
And the report said that while Loures' "reported behavior in kissing and engaging in physical contact with staff may be viewed as inappropriate," there was "insufficient evidence" to back the claim that he sexually harassed her.
Still, in its concluding paragraph, the head of the internal investigations department took the time to recommend that "as a preventative measure," senior managers remind Loures of the harassment policy, "especially with respect towards female colleagues."
Sidibé, in the internal staff meeting a month ago, lambasted those who speak publicly about these allegations: "Some people don't have ethics," he said.
He said he wanted "action" to tackle the crisis, but also took some time to praise Luiz Loures.
"He took the high road so UNAIDS could move on," Sidibé said, and prevented the organization from being "taken hostage" by the court of public opinion.
"I thank him for this courageous decision."
In response to a CNN inquiry, Guterres' office said the Secretary-General had spoken with Sidibé and other UN leaders and asked them to "lead by example."
"My dream job turned into a nightmare," Brostrom told Amanpour. "I have colleagues that stopped talking to me, friends that have turned their backs on me, just because I have been speaking out what has happened."
She told Amanpour that she would love to return to the UN – if the rules were "appropriately implemented" – because she considers the fight against HIV/AIDS to be "my calling."
She said she still believes in the UN mission – "today more than ever" – but that it must lead by example.
In her most recent email to Guterres, Brostrom called herself "the victim of a dual assault – first sexually by Luiz Loures and then professionally and morally by Michel Sidibé."
CNN's Claire Calzonetti contributed reporting