Stillwater, Oklahoma
CNN
—
The 28th richest person in America was there the night Oklahoma raised his taxes, and he was not happy.
Some of the poorest teachers in America were also there as the lawmakers voted. And while this bill would move money from the billionaire's pockets to their own, when it passed … they weren't happy either.
They had organized on Facebook, marched on the State House and threatened to walk out of classrooms en masse. In a bright red state full of Republican fiscal hawks, their cries for higher pay were enough to force the first vote of its kind in a generation to raise taxes.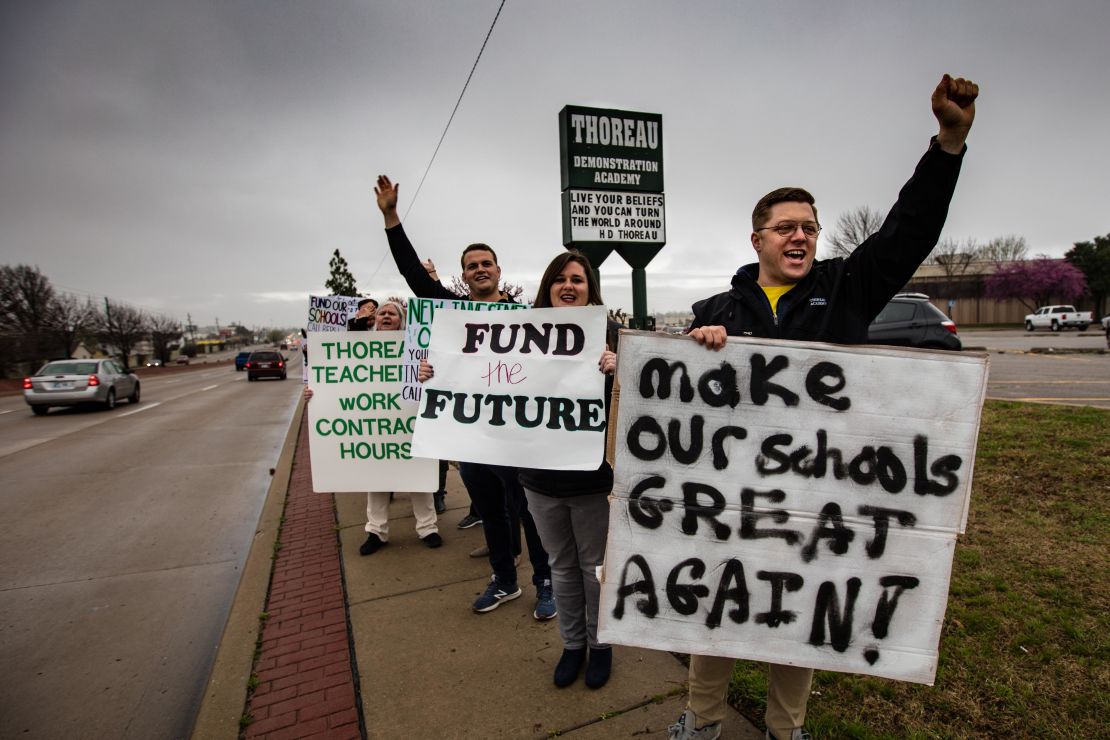 But with modest new rates on fuel, cigarettes and oil production, lawmakers could only meet a fraction of their demands for a $10,000 raise over three years for teachers and $5,000 for support staff.
For teachers, it wasn't enough. But for multibillionaire Harold Hamm, it was too much.
The chairman and CEO of energy giant Continental Resources knew that any new tax on energy production would need a three-fourths' supermajority in both houses of the legislature. The presence of an oil field tycoon and member of the Oklahoma Hall of Fame might sway enough votes to kill the bill, like all the others before it.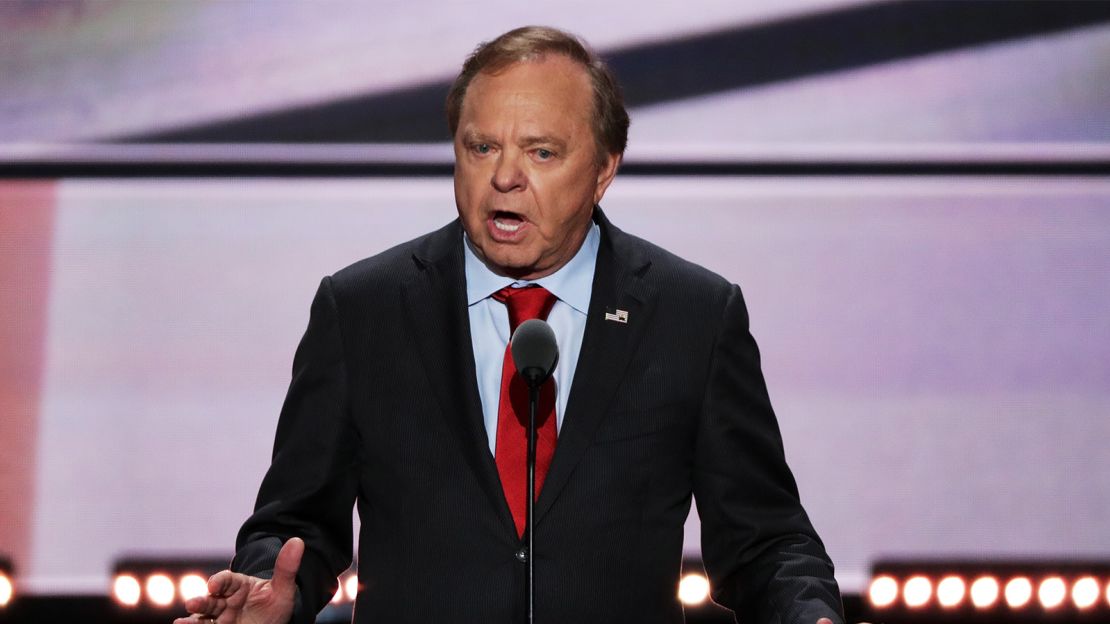 Not this time. The bill passed. The Gross Production Tax on oil and gas wells will go from 2% to 5%, though that is still the lowest in the nation.
The new law will give the average teacher a $6,100 raise – but that's not enough to stop a mass walkout on April 2.
Governor Mary Fallin is voicing hope that teachers will turn their protest into a one-day rally and be back in class on April 3.
But if they stay out, it means this skirmish between "too much" and "not enough" has just begun.
How long it lasts – and whether it sparks another red state revolt among teachers in Arizona – now depends on the determination of the long-suffering educators of Oklahoma, who were themselves inspired after watching the nine-day strike in West Virginia.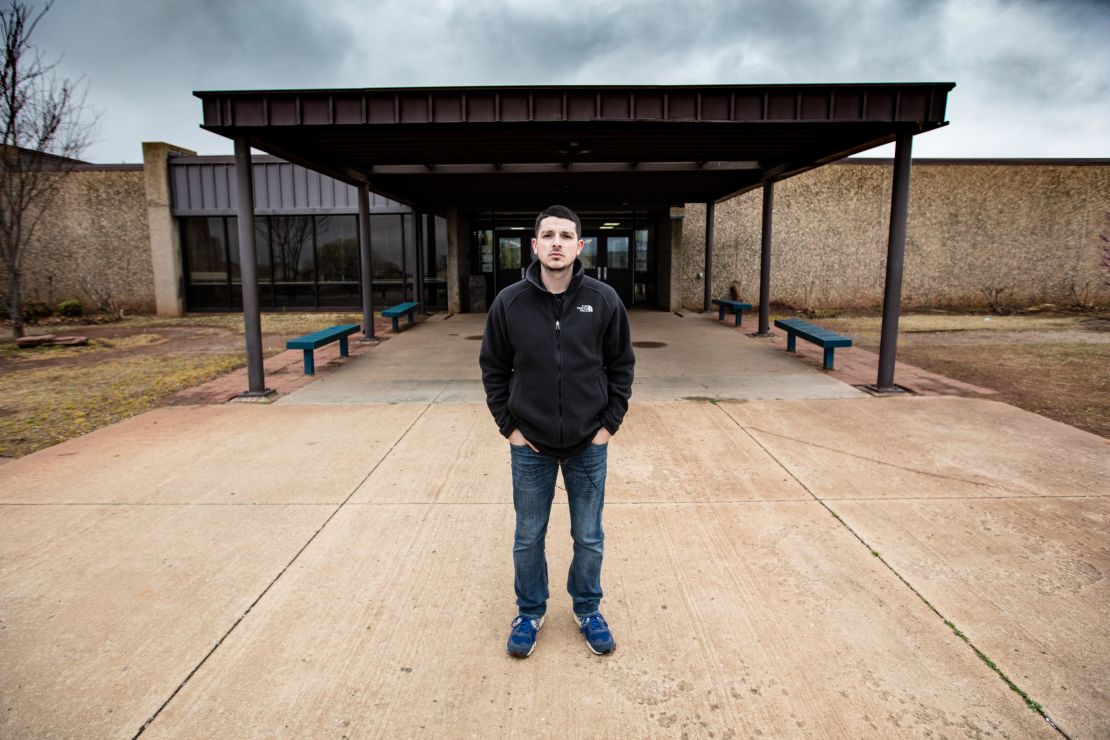 "After I saw them on CNN, I got on Facebook and I typed in 'Oklahoma walk out,'" says Alberto Morejon, a third-year history teacher and baseball coach at Stillwater Junior High.
"Nothing popped up and I thought 'Why not be the guy to make the group?' When I woke up the next morning, there were 21,000 members. Three weeks later there are 72,000. You don't get 70,000 new members in three weeks if there's not a problem."
The Sooner State has long led the nation in the deepest cuts to education. On a list of the 50 states and Washington, DC, Oklahoma ranks 49th. In most districts, a teacher with a doctorate degree and 30 years' experience will never make more than $50,000 a year.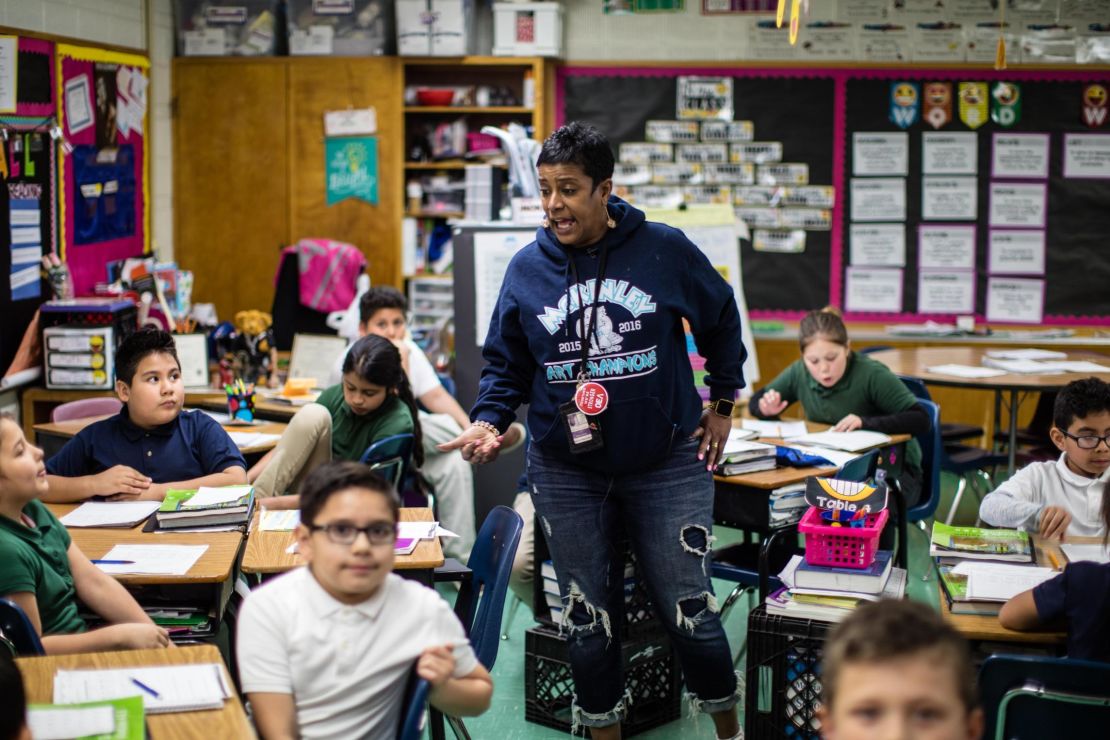 "Three days after payday, I'm back to square one," Donna Rice tells me after dismissing her third graders from McKinley Elementary in Tulsa.
She has a master's degree and 20 years' experience, but drives for Uber and helps cater weddings just to survive.
"A student once saw me waiting tables at a wedding," she says, recalling the humiliation. "I had to go to the ladies' room to compose myself. But he just said, 'Miss Ross, you really work! And you work a lot of places, don't you? You must be rich!' And I said, 'I sure am,'" she laughs.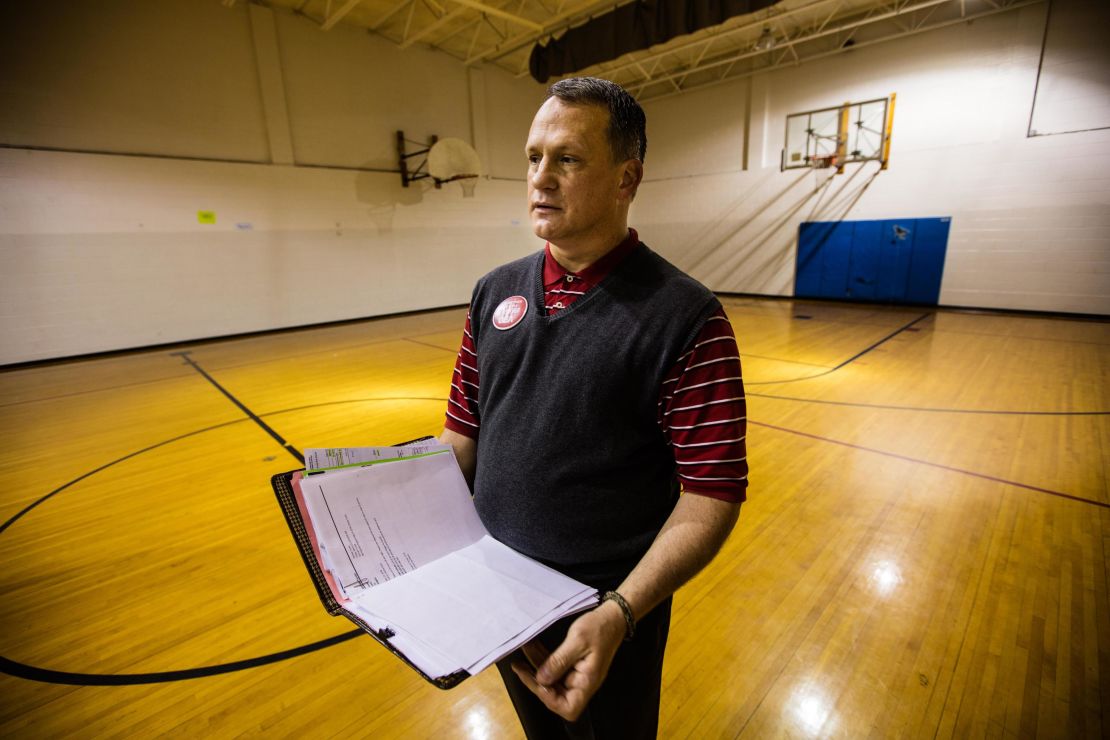 At Union Junior High, Michael Turner, a former Marine and special education teacher, shows me the pay stub that brings him less than $1,200 a month.
He's one of the 2,000 emergency teachers hired without complete credentials to fill classrooms abandoned by educators who found more generous paydays in other states or other careers. Without certification, they make even less than colleagues, and Turner relies on a church food pantry to eat.
"I've helped at food banks, have helped deliver food," he says, standing in the gym with a folder full of overdue bills. "I honestly never thought I would be on the receiving end."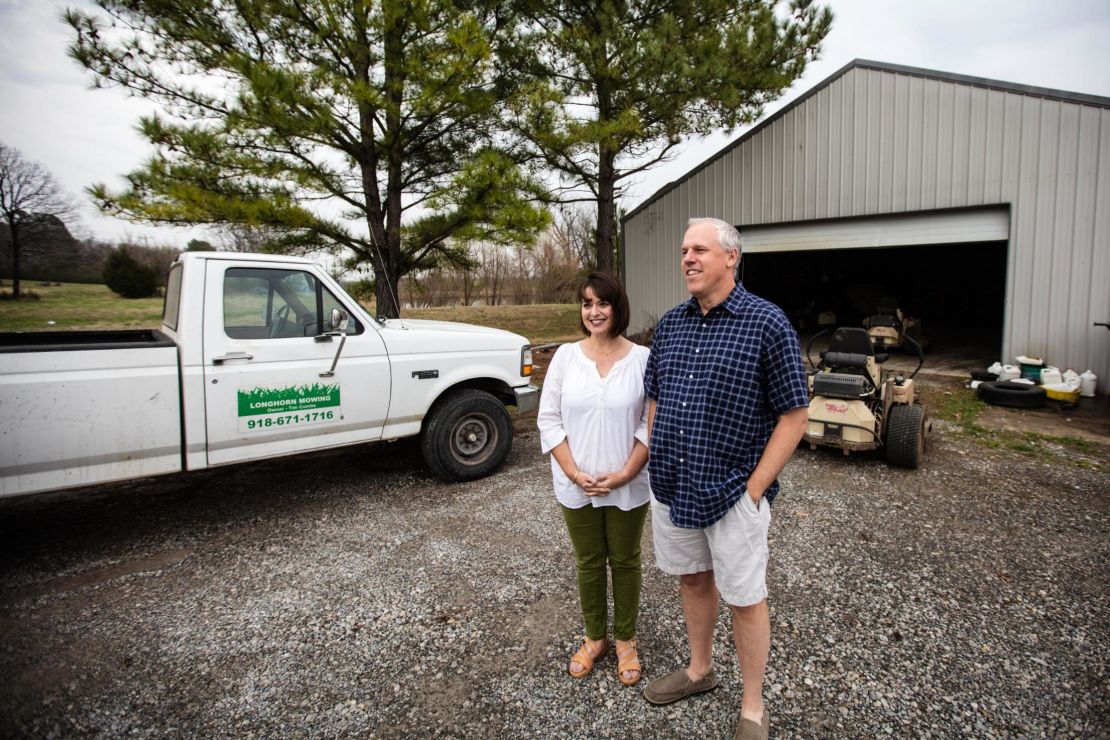 I met math teachers who mow lawns in Inola and heard tales of professors who sell blood in Broken Arrow, but teachers aren't the only frustrated public servants in Oklahoma.
Related: These teachers work up to 6 jobs. Now they're fed up and ready to walk out
State troopers have been told to ration gasoline, social programs are strapped and prisons are overcrowded to dangerous levels.
To fix these problems and give teachers the $10,000 raise they want, the state will have to tax the businesses of oilmen like Hamm even more.
To give $5,000 raises to librarians and security guards, buy new books, equipment and the other basic necessities of education, Oklahoma will have to raise the Gross Production Tax even higher.
The GPT in South Dakota and Louisiana is more than 13%. Texas charges drillers and frackers 8%. But Harold Hamm and the Oklahoma Oil and Gas Association fought tooth and claw to keep it below the new rate of 5%.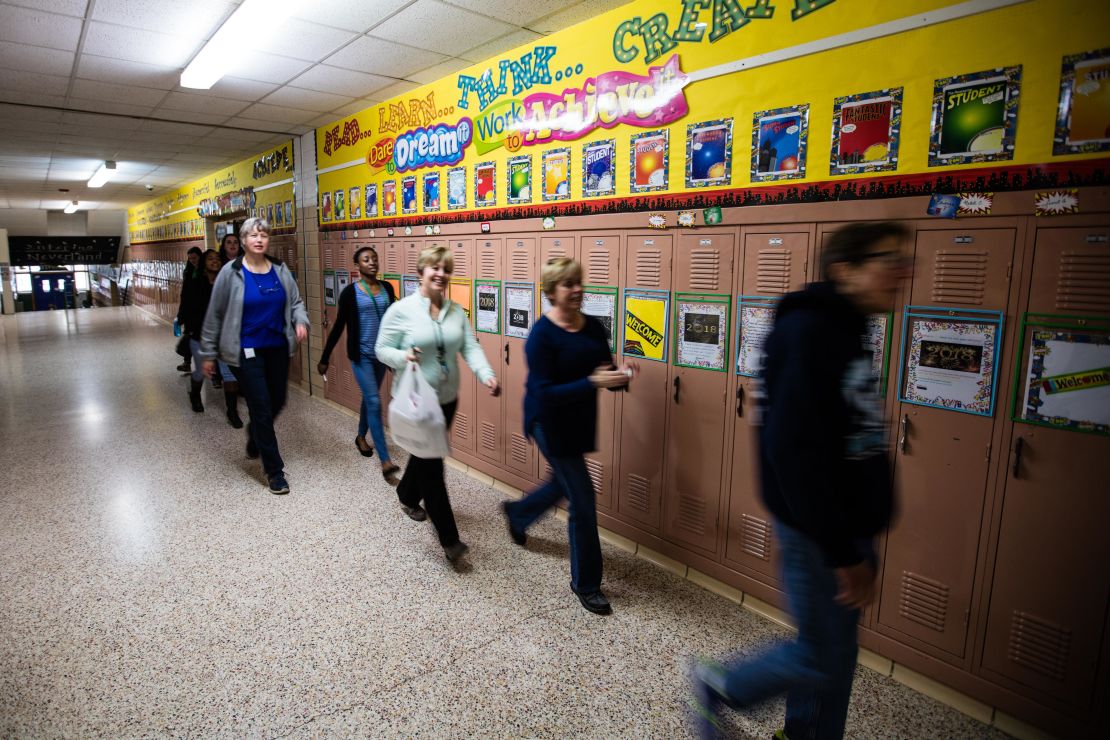 "We have zero confidence today's state leaders will act any more responsibly than those of the past who enacted massive tax increases with promises to fix education and other vital services," OKOGA President Chad Warmington said in a statement. The group declined an interview request from CNN.
"It's almost like the oil and gas people have more say than the people that actually voted (lawmakers) in," Alberto Morejon says as we stroll his campus in Stillwater. He thinks the teachers will stay out indefinitely and that principals, superintendents and parents will support them.
"Because it shouldn't be a struggle to fund education. Every time they cut the Gross Production Tax, it's almost like they're saying oil is more important than our kids."