Story highlights
Emirates Team New Zealand winners of 2017 America's Cup
Next edition of sailing's most prestigious race will be staged in Auckland in 2021
As defenders, Kiwis have opted for monohull boats in 36th edition of the Cup
Auckland, New Zealand
CNN
—
After New Zealand regained the America's Cup from Oracle Team USA last year in Bermuda, what's next for the oldest trophy in international sport?
For this month's edition of Main Sail, CNN headed to New Zealand to find out.
As the defenders of sailing's most prestigious prize, New Zealand won the right to host the 2021 America's Cup finals and decide what class of boat will be used.
For Emirates Team New Zealand, there was really only one option.
Instead of the twin-hulled foiling catamarans that competed at last year's America's Cup finals on the Great Sound of Bermuda, the 36th edition of the 167-year-old competition will be staged in 75ft yachts capable of lifting out of the water on two large canting foils with an additional foil on the rudder.
Team New Zealand beats Oracle Team USA to win America's Cup
READ: America's Cup-winning skipper jumps ship to Italians
Monohull
Although the huge aerodynamic wing sails used in Bermuda will be making way for more traditional soft sails, the 2021 America's Cup yachts may be the fastest sailing boats ever built, capable of reaching top speeds of more than 50 knots (57mph).
"We've decided to go for the monohull and basically push the concept of the monohull as far as we can," Dan Bernasconi, technical director of Emirates Team New Zealand, told CNN's Main Sail.
"We don't want to throw away foiling, everyone loves it, but we want to see how we can bring that to monohull," said Bernasconi, who worked with the McLaren Formula One team for six years before he made the switch to sailing. "It's really exciting for the design team and the sailors to have a completely new type of boat to sail."
America's Cup: Dramatic capsizing Team NZ
READ: America's Cup – sailing's money men
Demons
Having conquered the demons of the 2013 Cup, when the Kiwis blew an 8-1 lead against eventual winners Team Oracle USA in San Francisco, with an emphatic 7-1 win in Bermuda, the team are now focused on retaining the Auld Mug in front of a sailing-mad home crowd in 2021.
"The boats are going to be ballasted, so they'll be heavier than a multihull," Bernasconi said. "And you won't be foiling in all wind conditions, so there is a really important transition of who can actually get up out of the water and that brings hull design back into the America's Cup, which is really exciting."
The switch back to the more traditional America's Cup monohull class was partly driven by the location of the 2021 finals, which will be held in Hauraki Gulf off Auckland.
"There is no doubt the cats are cool, but basically Bermuda was a lake," Grant Dalton, Emirates Team New Zealand chief executive officer, said. "Hauraki Gulf is not a lake. So you're sort of forced into either a very clunky-ish multihull that wasn't going to tip over or a monohull that had the same performance characteristics as a multihull."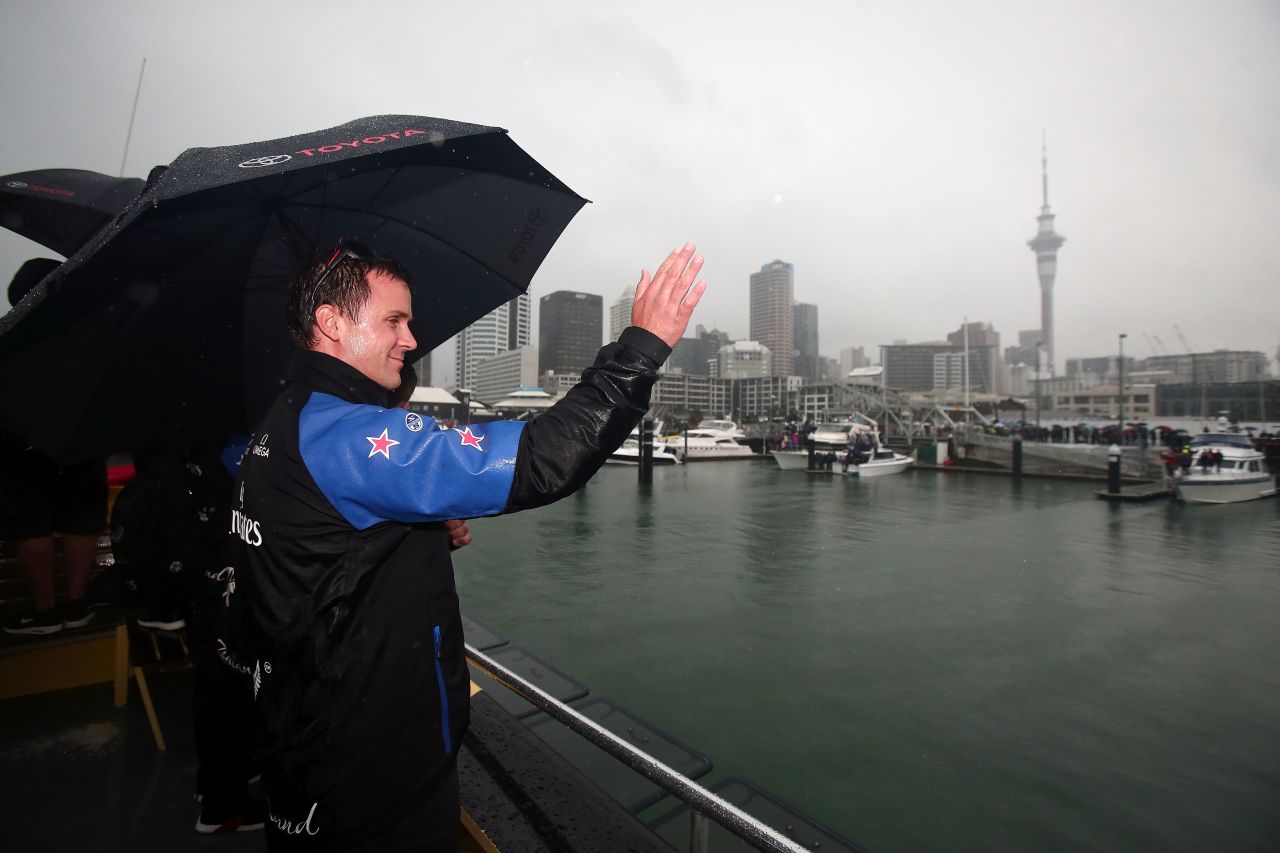 Life after America's Cup glory
READ: The battle to win the "Everest of the seas"
Expensive
After the 2013 and 2017 America's Cup finals were held in hugely expensive high-tech twinhull catamarans, the decision to go back to basics has another benefit.
"We want innovation, but innovation that relates to someone that might own a boat," Dalton said. "So therefore we went to monohull."
Last year, New Zealand managed to pull off its third win in America's Cup history thanks to a combination of superb sailing by the likes of helmsman Peter Burling and Blair Tuke and a big gamble: replacing the traditional arm-powered winches with cycle-style grinders.
America's Cup: Team NZ 'cycling' to glory?
"We knew that if we went the same way, if we'd try to match them bullet for bullet, they were going to beat us every single time, because they were just going to outspend us three-to-one," Dalton said.
"We had to be really experimental and not hold back on innovation," said Bernasconi.
Further innovation will be required to record a fourth triumph in 2021.