To play with the weight of a nation on your shoulders is never easy.
It's even harder if you're a golfer from a country with a population of 1.3 billion people.
India has only ever had a handful of individuals on the PGA Tour, and has never looked likely to produce a first major winner.
That, though, could be about to change.
With two wins on the European Tour already this season, Shubhankar Sharma leads a new generation of young Indian golfers with the game's biggest prizes in their sights.
Outside the top 500 as recently as last November, the 21-year-old has triumphed twice in quick succession in recent months, winning both South Africa's Joburg Open and, more recently, Malaysia's Maybank Championship.
Those victories have placed him on the fringes of the top 50 in the official world golf rankings, made him his country's youngest golfer to win on the European Tour by six years, and put him in pole position in the season-long Race to Dubai.
But the best could be yet to come.
While the headlines will naturally focus on a resurgent Tiger Woods, Sharma has received a special invitation to play in this year's Masters, crowning a remarkable rise from the Asian Development Tour to the game's most prestigious event.
"I always knew that I would get here and I've always believed in my ability, but I never knew I was going to get here so fast," Sharma tells CNN Sport ahead of the tournament, which takes place from 5-8 April.
"Things have changed for me so much; I would never have thought in my wildest dreams I'd be playing the Masters this year."
Golf in India: The growth of the game
Sharma isn't short of confidence.
"I absolutely believe I can win," he says. "Obviously there's a lot of pressure and a lot of people, but at the end of the day you're just playing golf.
"I'll just try to play the course; that's my objective for the tournament. I'm playing well and I know if I play well I can challenge anybody."
The obstacles
Fewer than 150,000 people play golf at any level in the entirety of India, compared to 500 million budding cricketers.
There are only 270 golf courses in the whole country – that's 4.9 million people per course – and only two are completely open to the general public.
Kapil Dev: From India cricket hero to golfer
"Nowadays it is expensive to get a membership of a club," says Uttam Singh Mundy, CEO of the Professional Golf Tour of India.
"There is no dearth of youngsters with a wish to take up the sport, but they need a place to go out and play."
According to Indian journalist V Krishnaswamy many of the courses are in "sensitive" areas where civilians are not allowed to play, restricting the number that have access.
Meanwhile the secretary general of the Women's Golf Association of India, Champika Nanda Sayal, believes there's "a fear" that the game is too difficult and has too many rules.
A seismic shift
In a land mainly in thrall to bat and ball, Sharma is the first to acknowledge most people "didn't really know what golf was" a decade ago.
But, as the young man from Chandigarh contends, things are changing … fast.
"If you'd seen about 15, 20 years ago, things were a lot different," says Sharma. "Sport was pretty much cricket. Everyone would want to play cricket, otherwise nobody would even consider sport as a career.
"But things have really changed in the past decade, and especially for golf. A lot of kids are taking it up now that they know what the game is."
Fellow Indian golfers Anirban Lahiri and SSP Chawrasia are in agreement.
"When we were kids, it was practically non-existent," says the 30-year-old Lahiri, who's also a two-time winner on the European Tour. "Tiger definitely popularized the sport in our country, just like pretty much everywhere else in the world. But over the last few years there has definitely been a rise in awareness."
"Every year the Indian Tour is growing," says the 39-year-old Chawrasia, who grew up in the servants' quarter at Calcutta Golf Club, initially earning money as a caddie.
"In the next few years you'll see more numbers on the European and PGA Tours."
Sustained growth
Should Sharma maintain his swift ascension through the ranks, the number trading cricket whites for greens will surely continue to rise.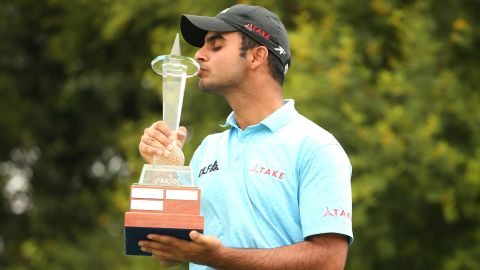 As recently as March 2018, the Indian youngster stood shoulder to shoulder with golfing giants at the WGC Mexico Championship, leading an elite field that included major winners Dustin Johnson, Sergio Garcia, Bubba Watson and Justin Thomas through 54 holes.
Other Indians that have played at the Masters
Jeev Milkha Singh (2007, 2008, 2009)Arjun Atwal (2011)Anirban Lahiri (2015, 2016)
"A lot of kids, a lot of my friends and a lot of people came up to me and said they woke up in the middle of the night just to watch me in Mexico," says Sharma.
The experienced Phil Mickelson eventually went on to triumph, ending the longest drought of his professorial career, but not before mistaking his inexperienced rival for a member of the press.
Sharma ultimately fell back to 10-under-par, tying for seventh position in what was his PGA Tour debut, but "Lefty" will certainly know all about him now.
Asked about what Sharma could mean for Indian golf ahead of the Masters, Mickelson told reporters: "I think the growth potential in that country is enormous, and what he's doing to help grow the game could well be similar to what Tiger has done to grow the game in the US and world."
And he's not the only one already looking to the future.
"Seeing players like Shubhankar come out and play so well has motivated a lot of kids to come out and pursue careers in golf," Shubhan Jaglan, a junior world champion from the Northern Indian state of Haryana, tells CNN.
"I want to see many more players on the PGA Tour, and I do see myself among them for sure!"
READ: How Gary Player helped take the Masters global
Idols
Sharma's father, a former colonel, has been there every step of the way, once saying "every penny has gone into our passion."
"Obviously with dad being in the army, discipline has been instilled in me since i was a kid," says Sharma, crediting his military background for his noted mental strength on the course.
"Dad's had a big impact. He's been with me all along — and not only him, dad and mum both. I've learned so much and I am the person that I am today just because of them."
Sharma's father once said his son's success could be a "Sachin Tendulkar moment" for Indian golf.
And the player himself believes it's "absolutely possible" that India can become a force to be reckoned with in the decades to come, following in the footsteps of South Korea, a now dominant nation on the LPGA Tour.
"In any sport, you need idols," he says. "You need players who kids can look up to, so they can say: 'We have players from India that have done it, so nothing stops us from doing it.'
Indian golf a decade on
Shubhankar Sharma
"We might have a bunch of players on the PGA Tour. I'm sure if we have a major winner – which will be fantastic for the game – there will be more and more kids taking up golf."
Uttam Singh Mundy, CEO of the Professional Golf Tour of India
"It should be right up there, by way of popularity, prize money and number of events. I think we should be one of the top tours in the world."
Journalist V Krishnaswamy
"I am quite sure that India will have a major champion in ten years' time, and there will be a bunch of winners on the PGA Tour."
Shubham Jaglan, teen golfer, winner of over 100 junior tournaments worldwide
"I want to see many more players on the PGA Tour, and I do see myself among them for sure!"
Former India cricket captain Kapil Dev, who now plays off a single handicap
"The youngsters need to follow a hero; we have to produce more heroes in golf. If we can I think this game will be here forever."
"That is what is going to motivate them. It's just like a cycle. You need more and more players coming out, more and more icons doing well; you need a major winner.
"Things like that are totally going to change the landscape of golf in India."
READ: The search for a male South Korean major champion
Sharma grew up idolizing Woods.
Still starstruck to be sharing a locker room with the likes of Rory McIlroy, Henrik Stenson and Jordan Spieth in recent months, he will play alongside the 14-time major winner for the first time at Augusta.
"It's great for the game of golf that Tiger is back," says Sharma. "He's hungry for a win and you can see that in the past few tournaments.
"The Masters is something like Wimbledon for tennis; it's what every player dreams of. There is sure to be a lot of excitement and it's great to be a part of it."
READ: The search for a male South Korean major champion
Where will Indian golf be in a decade's time? Have your say on CNN Sport's Facebook page
Visit CNN.com/golf for more news and features
"If I can motivate anyone back home to start playing golf, that'll be the biggest victory for me."
CNN's George Ramsay and Shane O'Donoghue contributed to this report