The woman who opened fire at YouTube headquarters Tuesday practiced shooting at a gun range hours before the attack, police said.
She then took her 9 mm Smith & Wesson handgun to the Silicon Valley campus and shot three people she apparently didn't know, San Bruno Police Chief Ed Barberini said.
All this because Nasim Najafi Aghdam was upset with YouTube's practices and policies.
"We know she was upset with YouTube, and now we've determined that was the motive," Barberini said.
Aghdam shot and wounded three people before killing herself. Two of her victims have been released from the hospital, and one remains in serious condition.
Barberini said the shooter did not have a link to the three people she shot.
Website reveals angst against YouTube
Police are investigating a website that appears to show the same woman accusing YouTube of restricting her videos.
CNN is working to confirm the authenticity of the website, which lists four YouTube channels: one in Farsi, one in Turkish, one in English and one devoted to hand art. It also lists an Instagram page that focuses on vegan life.
The woman's grievances against YouTube appear to focus on censorship and revenue.
"There is no equal growth opportunity on YOUTUBE or any other video sharing site, your channel will grow if they want to!!!!!" one post reads. "Youtube filtered my channels to keep them from getting views!"
Another post accuses "close-minded" YouTube employees of putting an age restriction on videos, saying it's aimed at reducing views and discouraging the woman from making new videos.
Differing reports on shooter's final hours
Aghdam's brother said he warned police his sister "might do something."
His concerns started over the weekend when Aghdam stopped answering her phone in Southern California, her brother told CNN affiliate KGTV.
Then, early Tuesday morning, Mountain View police said they found Aghdam in her car.
The discovery worried her brother.
"I Googled 'Mountain View,' and it was close to YouTube headquarters. And she had a problem with YouTube," said Aghdam's brother, who did not want to be identified.
He said he warned police that "she went all the way from San Diego, so she might do something."
But Mountain View police said they didn't notice anything alarming after encountering Aghdam, whose car was parked in a lot, around 1:40 a.m. Tuesday.
"At no point during our roughly 20 minute interaction with her did she mention anything about YouTube, if she was upset with them, or that she had planned to harm herself or others," Mountain View police said. "Throughout our entire interaction with her, she was calm and cooperative."
Police discovered Aghdam had been reported missing from the San Diego area and called her family.
"At no point did her father or brother mention anything about potential acts of violence or a possibility of Aghdam lashing out as a result of her issues with her (YouTube) videos," the department said.
An hour later, "Her father called us back to let us know that she made a series of vegan videos for her channel on YouTube, and that the company had recently done something to her videos that had caused her to become upset," Mountain View Police said.
"Once again, at no point did her father or brother mention anything about potential acts of violence or a possibility of Aghdam lashing out as a result of her issues with her videos. They remained calm throughout this second phone call."
Agents from the Bureau of Alcohol, Tobacco, Firearms and Explosives were at the father's home in Menifee much of the day. ATF Los Angeles spokeswoman Ginger Colbrun said the agency is assisting San Bruno police, who have obtained search warrants for several locations and vehicles in Southern California.
The family handed a statement to reporters Wednesday afternoon from the father that said the family was in "absolute shock and can't make sense of what has happened."
The family offered its regrets to the victims and said it was praying for their speedy recovery.
Family members also asked "God to bestow patience upon all persons hurt in this horrific senseless act," the statement said, according to CNN affiliate KTLA.
Shooter yelled: 'Come get me!'
'Panic' at YouTube headquarters shooting
YouTube senior software engineer Zach Voorhies said he bolted when the fire alarm blared shortly before 1 p.m. Tuesday.
"I went outside with my electric skateboard and I started skating down, because I thought it was a fire," Voorhies told CNN affiliate KPIX. "I heard some yelling and I saw somebody down on his back with a red spot on his stomach."
As they fled the building, he said, the shooter was in the courtyard yelling, " 'Come at me,' or 'come get me!' "
Product manager Todd Sherman said he was at his desk when he heard what sounded like rumbling as people ran.
"First thought was earthquake," Sherman said in a series of tweets. He dashed toward the exit, where someone said there was a person with a gun.
"At that point, every new person I saw was a potential shooter," he said. "I looked down and saw blood drips on the floor and stairs."
He fled downstairs, peeking around him to ensure the shooter was not around before dashing out of the building.
A sprawling tech complex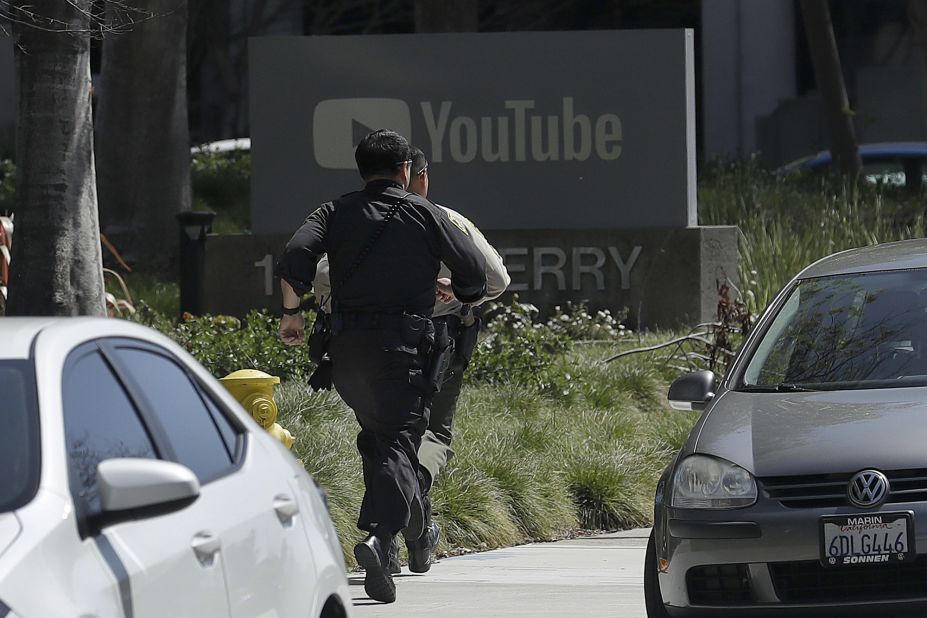 Shooting at YouTube headquarters
YouTube, which was founded in February 2005, quickly became the most well-known of several online video sites. In 2006 Google said it was purchasing YouTube for $1.65 billion in stock.
More than 1,100 people work at the YouTube office in San Bruno. Employees there include engineers working on site search, infrastructure, content channels and ad products; and sales teams that work with advertisers and content creators.
A statement from YouTube on Wednesday said the company would increase security at all its offices. Security protections already in place prevented the shooter from entering the building from the courtyard.
It said employees can take time off from work or work from home if they want.
CNN's Amanda Watts, Chris Boyette, Steve Almasy, Cheri Mossburg, Joe Sutton, Sonya Hamasaki, Dan Simon and Augie Martin contributed to this report.