Ultimate Fighting Championship star Conor McGregor made a $50,000 bond Friday and will be back in court in June over allegations that he and others attacked a bus carrying UFC fighters in Brooklyn.
The incident Thursday at the Barclays Center left at least two athletes injured and unable to fight in Saturday night's UFC 223, set to be held at the same arena, UFC said.
McGregor, who wasn't on the UFC 223 card, is accused of three counts of criminal mischief, two counts of assault, one count of attempted assault, five counts of menacing and one count of reckless of endangerment, a court document says. Two of the criminal mischief charges are felonies.
His also was was ordered to stay away from five people involved in the incident. McGregor, who was not asked to enter a plea, left the courthouse without saying anything to the media.
Ira Judelson, a bail bondsman, said that McGregor, an Irish citizen, would be able to keep his passport. McGregor will have to check in with Judelson once a week, the bondsman said.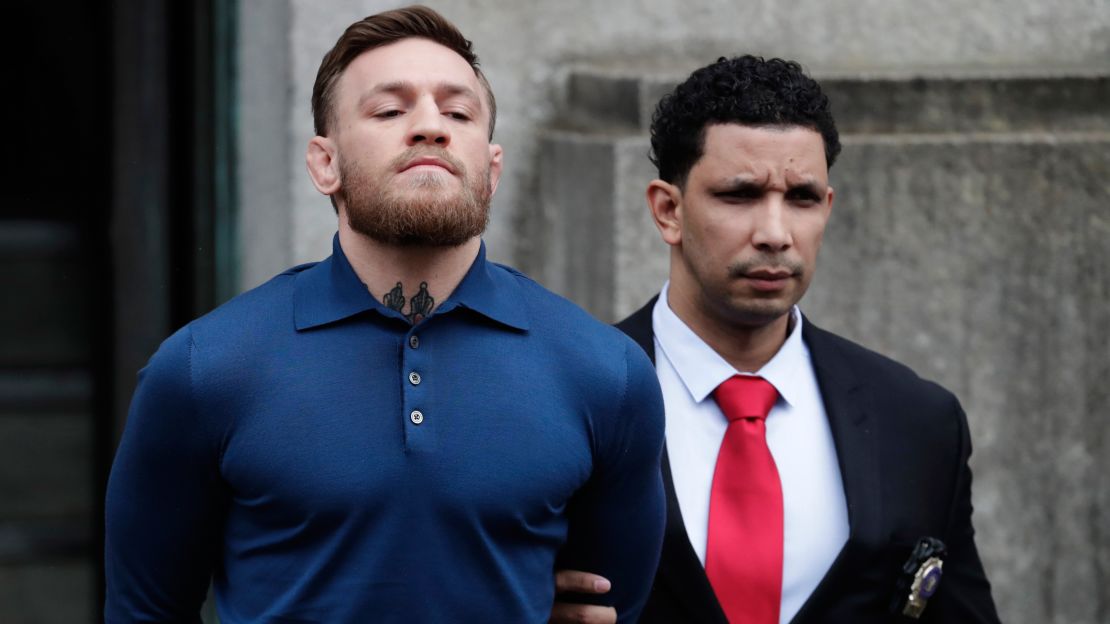 McGregor is accused of throwing something through the window of a bus, injuring a passenger, according to an NYPD source with knowledge of the event. Video from TMZ Sports shows someone picking up a two-wheeled dolly and throwing it into a bus window, smashing the glass.
Prosecutors said in court that McGregor punched a security guard at Barclays Center during the melee. The person was treated at a hospital and released.
A second mixed martial arts fighter, Cian Cowley, faces three criminal mischief, one assault and one reckless endangerment charge, police said. Cowley allegedly threw a chair at the bus. His bail was set at $25,000.
Their next court appearance was scheduled for June 14.
CNN could not immediately reach representatives for McGregor or Cowley for comment.
Ahead of the court appearance, McGregor and Cowley were seen separately being escorted out of the NYPD's 78th precinct building and into cars, with their hands apparently restrained behind their backs.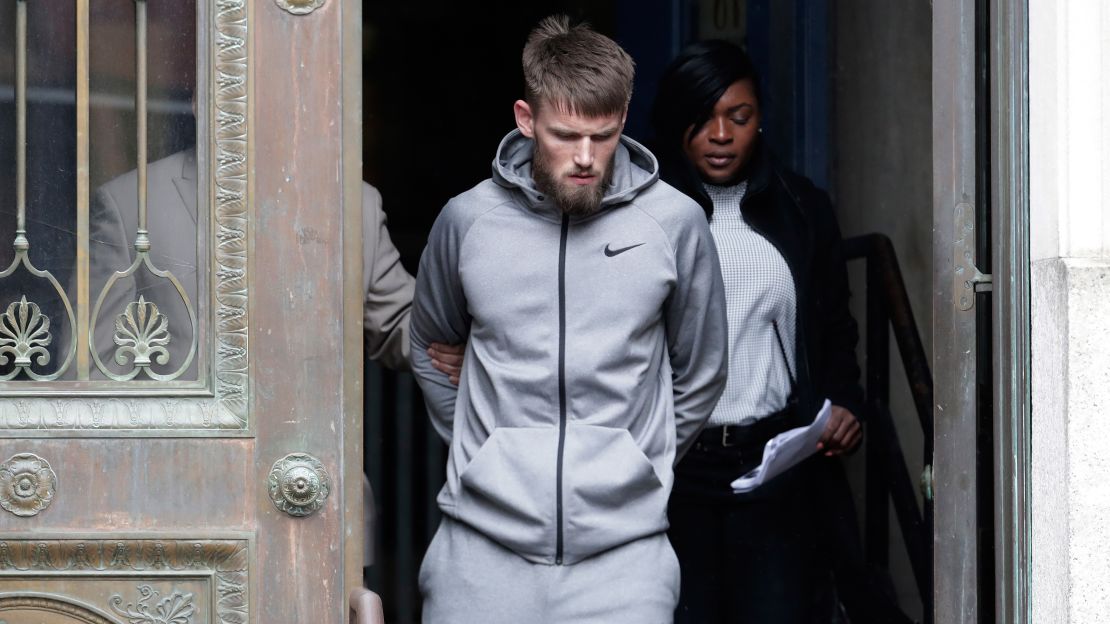 The bus attack is just one issue clouding Saturday night's events. Fighter Max Holloway tweeted Friday that he'd been forced to withdraw from his top-billed match against Khabib Nurmagomedov for the lightweight title, which UFC is stripping from McGregor because of his long absence from UFC fights.
Holloway – who'd only just accepted the match days ago after another fighter was injured – was deemed unable to safely cut his weight to the required 155-pound limit in time for the event, ESPN reported.
UFC announced Nurmagomedov will fight Al Iaquinta, who didn't make the weight limit and will not be eligible to win the title. Should Nurmagomedov prevail, he will take the title that was held by McGregor.
Customers can receive a refund where they bought their tickets, if they choose, UFC said.
McGregor had 'beef' with fighter, UFC president says
McGregor and his entourage of about 20 people were let into the arena through a door during a media-day event by someone affiliated with a credentialed website, UFC president Dana White told the website MMAjunkie.
The group went down to the loading dock where some fighters who were to participate in Saturday's event were getting on buses.
McGregor's group attacked a bus using trash cans, metal barricades and the dolly, White said.
"This is the most disgusting thing that has ever happened in the history of the company," White told MMAjunkie, adding later, "This was a real bad career move for him."
White said McGregor had "some sort of beef" with Nurmagomedov, who was on the bus and is fighting Saturday for the lightweight title McGregor is vacating.
Two fighters injured; another removed for alleged attack 'involvement'
Two fighters were injured in the bus attack, UFC has said, and their UFC 223 bouts have been canceled.
Lightweight fighter Michael Chiesa and suffered head and facial cuts from broken glass, White told MMAjunkie. Chiesa later said on Twitter that the New York State Athletic Commission determined he would not be allowed to fight on Saturday.
Flyweight Ray Borg, who was scheduled to face Brandon Moreno, is also unfit to fight due to multiple corneal abrasions, according to the UFC.
"The organization deems today's disruption completely unacceptable and is currently working on the consequences that will follow," UFC said in a statement.
UFC's statement also alleges featherweight fighter Artem Lobov was in McGregor's entourage during the attack.
It said Lobov has been removed from his scheduled bout Saturday against Alex Caceres "due to Lobov's involvement in the incident." The UFC did not elaborate on what that involvement entailed.
ESPN reported that Lobov, a teammate of McGregor's, had been involved in a minor scuffle this week with Nurmagomedov at a hotel.
Despite the lineup shuffles, "UFC 223 will proceed … with 10 bouts," the UFC said. "Moving to the Pay-Per-View main card is the featherweight bout between Zabit Magomedsharipov and Kyle Bochniak."
McGregor (21-3) last fought for UFC in November 2016, when he won the lightweight (155-pound) championship, according to Bleacher Report.
McGregor last competed eight months ago, losing to undefeated Floyd Mayweather in a boxing match that reportedly paid Mayweather more than $100 million and McGregor at least $30 million.
CNN's Julia Jones and Joe Sutton contributed to this report.